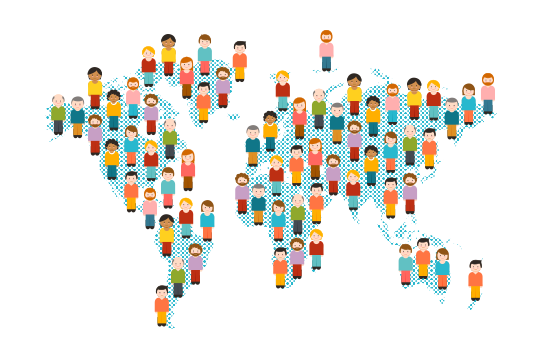 Engage with billions of people on WhatsApp, the world's favourite messaging app.
Reach 1.5 billion global WhatsApp users and build a brand presence where your customers already are
Securely enable private conversations with WhatsApp end-to-end encryption
Drive customer engagement with Rich, Interactive and Conversational brand experiences on WhatsApp
Quickly enable rich conversational customer experiences with WhatsApp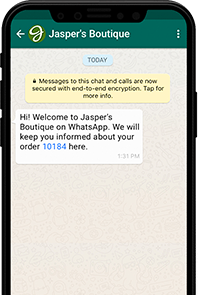 Notifications
Keep customers informed anytime, anywhere with real-time notifications for booking confirmation, delivery alerts and service
reminders.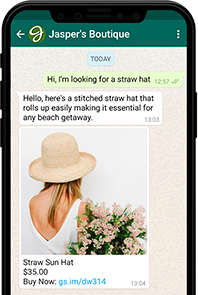 Product Discovery
Help customers discover products and services they need, all through WhatsApp's natural and rich conversational interface. Convert conversations
into transactions.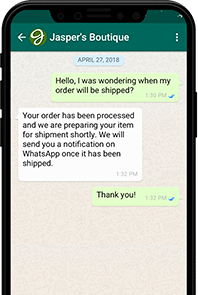 Customer Support
Enable support teams to respond instantly to customer queries and troubleshoot faster using rich media sharing. Automate replies to FAQs
for quicker resolution.
Build quickly and operate at scale with Gupshup's out-of-the-box WhatsApp Business solution

Single API
Use Gupshup's programmable Smart Messaging API to reliably send and receive rich messages on WhatsApp and 30+ other channels. Start integrating now using our sandbox environment so you're ready as soon as WhatsApp grants early access.

Auto Intelligent Routing
Define message routing logic for WhatsApp such as SMS Fallback in case of non-delivery or, Multi-channel Broadcast for urgent messages. Gupshup's built-in Auto Intelligent Routing algorithm automatically optimizes for best delivery across channels and carriers.

End-to-end User Preference Management
Comply with WhatsApp's strict opt-in requirements by leveraging Gupshup's built-in opt-in and opt-out management solution. Capture and respect customer's opt-in preferences to deliver a meaningful customer experience on WhatsApp.

Automatic Template Translation
Send transactional messages on WhatsApp using pre-approved Message Templates to ensure the content is always brand consistent. Gupshup's Smart Messaging API auto-translates templated messages to deliver personalized content to every customer as per individual and regional preferences.

Rich Conversational Messaging
Build Rich Conversational Messaging workflows on WhatsApp using Gupshup's bot platform that has already launched 30k+ bots. Drive customer engagement and loyalty by sharing and receiving rich media like images, videos, geo-location and documents, to orchestrate better and faster customer service.

Smart Dashboards
Use Gupshup's intuitive Smart dashboards to better manage customer conversations on WhatsApp. Customer support agents can monitor, take control of conversations and reply with pre-defined FAQ templates. Gain deep insights with real-time message delivery and read receipts to shape future conversations.
Ready to connect with customers on WhatsApp?
We're making it happen. Let us know you're interested by requesting for Early Access.
Subscribe to stay up to date with the latest stories on conversational experiences
WhatsApp for Business as a channel


You can now publish your bots on WhatsApp. All you need is a verified WhatsApp for Business account
Ever found yourself juggling between nodes in a complex looking flow? click here to know more.
For your Line bots, please add 34.202.224.208 to your Server IP Whitelist.
Users publishing their bot for the first time will have to provide a valid cloud project ID. Existing users can continue using their bots as is, however if they wish to republish their bot they will have to provide a valid cloud project ID. All the current changes will be reflected in the Google Home publish tab.
Twilio IP Messaging as a channel


Twilio IP Messaging
Microsoft Teams as a channel


Microsoft Teams
Reliance JIO as a channel


JIO
Gupshup intgrates with Google home: You can now build bots (actions) for Google Home on gupshup.io
Google Home
Bot developers for Line: With the release of Line Messaging API, all BOT API Trial Accounts are scheduled to be deleted. Please republish your bot according to new Line implementation, mentioned under Publish tab in My Bots section.
New tool for non-developers- Our Flow Bot Builder helps users create their bot messaging flow with a graphical editor.
API.ai tool is now available for developing your NLP/AI bot.
Gupshup Enterprise APIs (SMS,Voice and Email) are now available directly in the APIs section.
New channels added for publishing bots- Smooch.io and your website as a web widget.
Now you can access our services including the bot builder tool using your Facebook login credentials.
Now you can delete the dummy bots created for testing from the My Bots Dashboard.
You can now access Bot specific data from your Dashboard itself.
Introducing a hassle free bot development experience for users to instantly create bots using our pre-defined restaurant templates. Check out our blog to know more.
Now you can add Gupshup proxy bot on below channels,


Teamchat

Cisco Spark

Skype
Now you can publish your bots on Teamchat.
Revised processes to publish bots on Cisco Spark.
Now you can enable interactive messages(beta) and also you can add your custom page after bot installation on Slack.
We are removing few redundant parameters, that were being sent when a callback happens to your bot (i.e. inbound message comes to your bot).
Following is the list of parameters.
sender
message
context
However, we will continue to send following parameters. If you are using any of the deprecated parameters, we request you to use these alternatives.
senderobj
messageobj
contextobj
You are requested to make a note of this and do the necessary changes immediately to your bot code to keep it working. Should you need any help, please feel free to send an email to support@gupshup.io