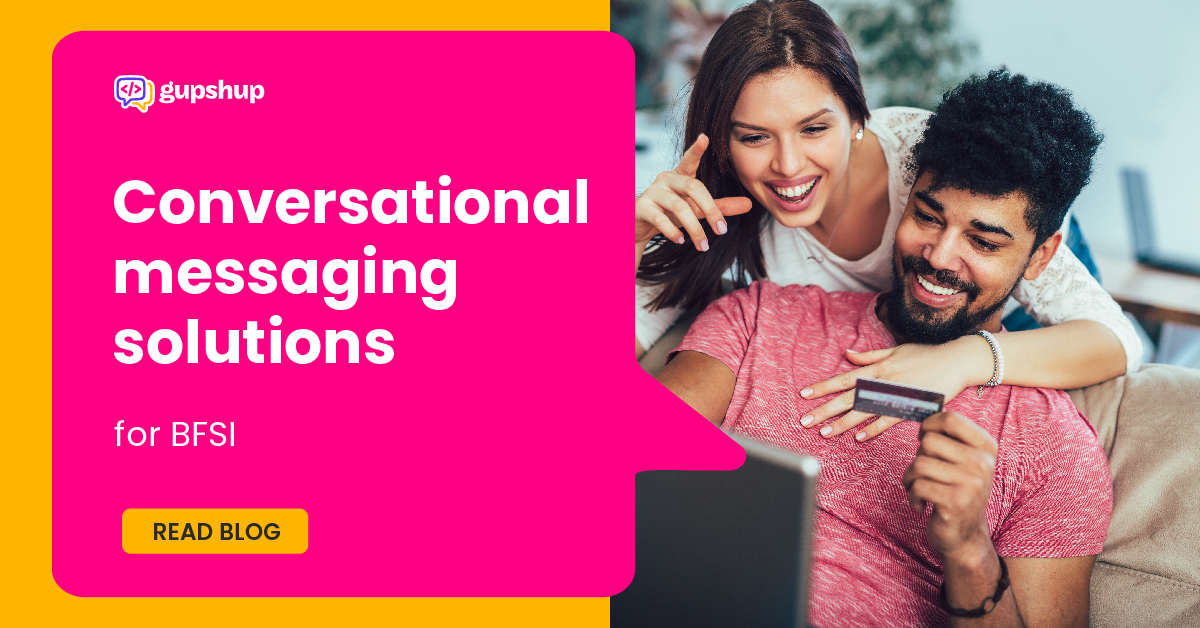 Conversational Messaging solutions for Banking, Financial Services, and Insurance (BFSI)
BFSI, Conversational Messaging
On September 1, 2021
There is an inherent opinion by experts that the use of Artificial Intelligence (AI) in the Banking, Financial Services and insurance (BFSI) sectors can increase operational efficiency and bring about digital transformation in the industry. The reason is simple – conversational AI can bring about two-way communication interactions between these institutions and their customers.
So what are the current pain points that your customers are facing? The list begins right from endless queues in the banks for simple operations like, getting a demand draft, cash deposits, passbook updates, premium payments, etc. Even a simple query like 'how to open a savings account' needs assistance from banking personnel. Secondly, there's the restriction of working hours. It doesn't matter how urgent or long your query is, and you need to show up at a bank at the designated working hours of a bank, not to forget the 'second-Saturdays' and 'bank holidays.' The need for faster services, shorter queues, and enhanced customer engagement cannot be stressed enough.
Today's tech-savvy and mobile-straddling crowd want the ease of interacting with their banks just like they do with all other services, like restaurants and retail – online. The banking and financial sectors have no option but to go digital – the benefits of which are reaped both by the customers and institutions during the ongoing pandemic. Maintaining physical distance was not an option anymore, and with the ongoing digital India drive, the emergence of conversational messaging in the BFSI sector and conversational banking was just organic.
What is Conversational Banking?
Conversational banking is the process of automating conversations with the help of chatbots. In the banking sector where customer interactions are high, chatbots and conversational AI play a big role in automating conversations. Conversational messaging automates customer interactions in the banking and financial sectors to a larger extent. Let us check some areas in the BFSI sector where conversational messaging plays a role:
Balance checking
Cheque book requests
FD / RD requests
New card / Block card
Credit card bill payments or statement downloads
Insurance premium payments, statement downloads
Nominee updates
Buying and selling of stocks, mutual funds, gold bonds, CFD
Offers and deals
Product up-sell like loans, credit cards, insurance, overdraft, shares, mutual funds
Upgrade of existing sold instruments
Lending
Conversational Solutions for Banking and Financial Services
Gupshup helps transform customer engagement for Banking, Financial Services, and Insurance with conversational messaging. Trusted by leading banks such as YES Bank, Axis Bank, Citibank, Saraswat bank, HSBC, IndusInd Bank, HDFC Bank, Kotak Mahindra Bank, ICICI Bank, etc., our clientele includes Indian and Global banking and financial institutions.
Our custom-built Conversational Solutions for Banking and Financial Services include a world-class bot development team that can custom-build solutions for any banking and financial service use case. Some examples:
SMS-based KYC
Messaging-based payments
Feedback/Complaints bots
Call centre automation
Single-agent, multi-agent support
QR code for offline to online print marketing
In-App Conversational SDK for your mobile apps
No App Download and Save SMS bot icon at the home screen
Lead generation to know what customers are looking for then reply by offering a personalized experience
Listen to Gupshup CEO, Beerud Sheth, discuss how he thinks Conversational Banking is transforming an old system.
Our pre-built Conversational Solutions for Banking and Financial Services include:
Cross-sell and upsell
You can convert credit card payments or payment-due reminder messages into upselling a personal loan.
Generate leads
A chatbot can take probable prospects through different financial instruments, from loans to investments to insurance.
Automate frequently asked questions
Support chatbots can answer frequently asked questions. This will reduce the overall load on human agents. Chatbots can hand over to agents at the appropriate time when there is a complex question to be answered.
Better manage the portfolio  chatbots in place, customers can track or add to their portfolio. They can even buy and sell through the bot.
Buy and renew cards.
Chatbots can ask customers to sign for a new credit card or even suggest existing credit card customers to renew their cards. The chatbot can maneuver and take the customers to the right page.
Capture and process customer feedback
Chatbots can help run surveys, capture NPS, record customer feedback. This reduces the load on human agents and provides the information and data that can be further used for reaching out to customers and providing them need-based assistance.
Our Conversational AI-powered Self-serve tools for Banking and Financial Services include:
No-code AI tools
The no-code AI tools help you choose from a list of pre-built bot templates. You can customize the content and instantly publish it. You can set up and launch a fully functional banking or insurance bot easily.
Low-code AI tools
The low-code AI tools include the Flow builder. You can create your conversation flow with a graphical editor and create a detailed and advanced conversational bot – all this by using just point-and-click tools.
Yo-code AI Tools
Yo-code AI tools are nothing but scripting tools. These are used for modeling dialogs. To link, you can use tools like Dialog Flow and Rasa.
Pre-trained BFSI specific AI models
You can easily automate KYC, payment collections, branch locator, card finder, loan finder, payment options, etc., with our pre-trained AI models that are BFSI specific.
NLP-on-the-Fly
We have our NLP on the fly API that is used to process natural language queries. It's simple to use and requires no training.
Messaging solutions for Banking and Financial Services
Gupshup offers a plethora of conversational solutions for the BFSI sector.
Interact and transact with your customers using our single API across 30+ messaging channels.
Deliver text messages to 195 countries through a cost-effective and programmable Single API.
Handle WhatsApp opt-in through SMS, missed call & web-chat, and large template volumes with auto-translation for WhatsApp delivery and language preferences using the Single API solution.
Google RCS enables the free flow of all forms of mobile communication, including videos, images, documents, audio, and location.
Create a rich, asynchronous and mobile conversational messaging channel that combines entry points on Google Maps, Search, and brand websites.
Our advanced channel offers rich formats and great flexibility to developers in developing conversational experiences.
Our advanced APIs provide access to multi-step conversational messaging journeys that can make your workflow building more efficient.
Get messaging-based KYC process for smooth onboarding of customers.
Initiate one-click payments by embedding payment links in messages to make your payment reminder messages actionable.
The most important aspect – security
Secure messaging is one of the essential aspects of Banking and Financial Services. Customers need faith and trust that their data is private and secure. We ensure that by de-risking information theft from messages sent to customers. With Gupshup IP (GIP) messaging channel, we can make sensitive information like account balance, OTP, etc., secure with 3-factor authentication, captcha, disappearing text, pinched text, and time-bound visibility.
Why Gupshup
Check out some more benefits that ensure that Gupshup is your best bet at integrating conversational messaging:
Provision to integrate with your existing enterprise suites and IT infrastructure
Provide services 24×7, even during lockdowns and public holidays
Gain a competitive edge over competitors in terms of technology and customer experience
Engage your customers on the messaging channels they already are on
Build conversational workflows on your website and apps
Bring down operational costs needed to engage with customers by reducing dependency on customer support.
Reach out to us to know how you can transform customer experience and engagement for banking services, remittance and payments, financial services, and insurance services.
Blogs you will want to share. Delivered to your inbox.
Recommended Resources
What are AI-powered chatbots, how do they work, the benefits of chatbots and why are they...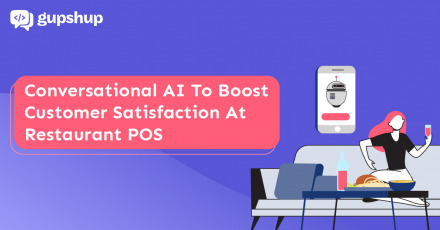 Conversational AI is helping the Food & Beverage industry enhance customer satisfaction at POS. See how...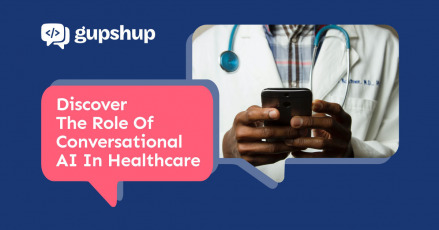 Conversational AI can enhance user journey and offload work pressure in the healthcare sector. Read on...
×
Read: Improve sales and service with Automobile Dealership Bot