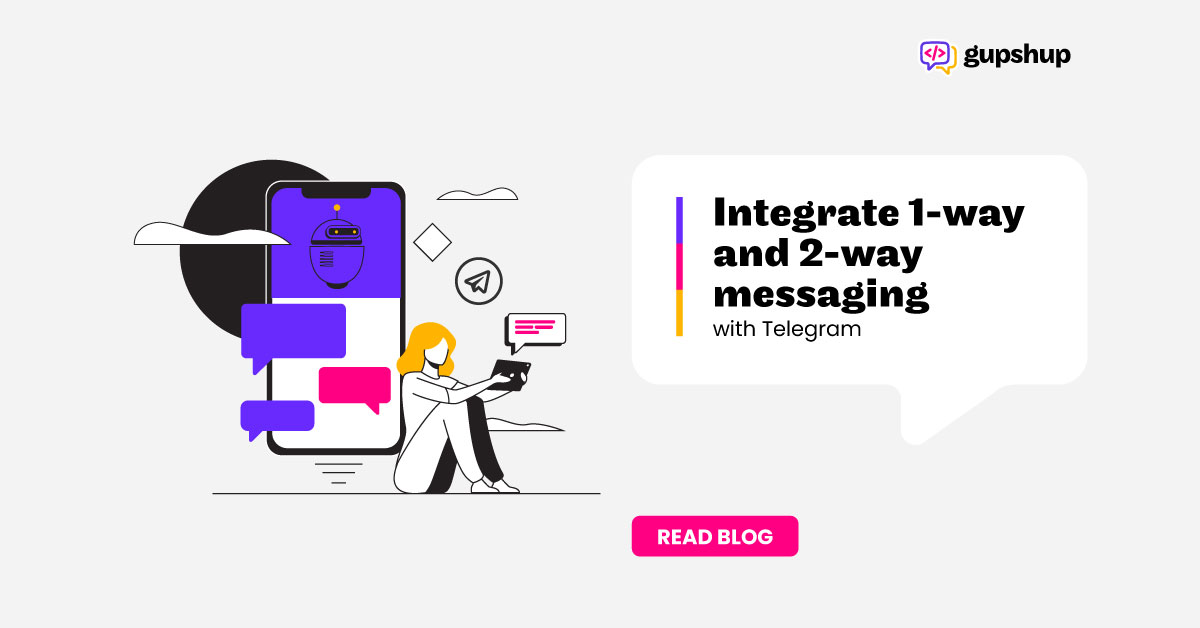 Integrate 1-way and 2-way messaging with Telegram
Chatbots, Conversational Messaging, Generic, Telegram
On August 3, 2021
The COVID-19 pandemic has brought in a new way of living for consumers and brands alike. Contactless shopping is the new buzzword. Add to this, the digitization of every commerce platform, businesses have their plates full with the task of engaging, retaining and making sales to customers amidst thick competition. Making sure to have a solution backed by conversational AI across multiple channels is the best bet for your business today.
If you connect with your customers via messaging, it is easier to acquire them as customers, sell them products and services and also support them. Conversations are more human than other forms of digital communication such as one-way SMS, advertisements, emails, etc. Connect with your customers on a highly engaging platform with an open-source API that focuses on privacy and security.
Gupshup's Conversational Messaging Platform
Gupshup's single API solution helps businesses to easily integrate 1-way and 2-way messaging on channels like Telegram. Telegram is emerging as a popular messaging channel, with over 500 million active users – with 180 million from India. It is among the top 10 most downloaded apps in the world. 
Telegram is a channel among the 30+ channels that customers can use through Gupshup's messaging API which forms the core of the messaging layer of Gupshup's conversational messaging platform.
Gupshup Telegram API
So how does the integration of Telegram bots work? It's fairly simple with Gupshup's capabilities in place. Gupshup's messaging API for Telegram allows you to easily create and deploy bots that use Telegram messages as the interface.
Some use-cases include:
Configure your Telegram bot to send automated alerts, updates and notifications
Resolve issues raised by customers via chat and offer instant and effective customer support
Assist new customers in buying by helping find the right product or service
The Gupshup model includes
Built in messaging templates for –

Opt-ins
Forms
Payment messages

Advanced APIs that provide access to multi-step messaging journeys. This includes –

Two-factor authentication, KYC
Lead generation journeys
Customer feedback journeys
EMI collection journeys
Custom forms based on business requirements

Secure messaging

Protect sensitive customer information like transaction value, account balance with captcha, disappearing text, 3-factor authentication and other security measures
Backed by ISO 27001 certification and a GDPR compliance that supports SSL encryption technique with TLS 1.2 256 bit AES
Benefits of Gupshup – Telegram integration
Engage and respond to your customers with personalized conversations, that too, in near-real-time.
New customer engagement opportunity
Unlike other messaging channels, Telegram has no limit on group sizes which helps in scaling and reaching more people. Telegram supports a higher file size limit of up to 2GB files.
Engage with feature-rich communication
Level up your customer interaction with rich-media. Send and receive media files like images, audio, PDFs, CTA buttons and locations on the map along with the broadcast message.
Lead generation and sales engagement
Lead generation CTAs and intelligent product recommendations help acquire potential customers. These can be converted with reduced turnaround time with the help of instant WhatsApp alert notifications for sales teams.
Higher engagement rate
The pandemic has caused a rise in the number of users on Telegram, which has in turn led to an increase in brand and marketing engagement for businesses.
Telegram-verified badge
Businesses can safeguard the authenticity of their bots with Telegram's verified badge.
Secure application
Amid the rising concerns over security and encryption for messaging channels, Telegram has proven to be more secure for businesses while networking.
Telegram bots for marketing
Telegram bots are very cost-effective in the long-run and can be created to automate marketing activities at scale.
Added privacy features
Secret chats and self-destructing messages are some features offered on the platform to maintain complete data privacy and security.
The Final Takeaway
A lot of people are on Telegram today, and the numbers are increasing by the minute. The chances of your customers being on Telegram thus proportionately increases, so it's only beneficial to make sure you are on the platform that your customers are already on. If you are an enterprise business owner, or a bot developer who works for enterprises/agencies or an ISV who is building solutions around marketing, commerce and support – the Gupshup Telegram API integration solution is for you.
Gupshup's conversational messaging platform with a single API for messaging is the best way to get started and engage with your customers on a fast-growing platform that has gained massive popularity during the pandemic. Get in touch to know how you can leverage the power of conversational messaging to further your business.
Blogs you will want to share. Delivered to your inbox.
Recommended Resources
D2C businesses can personalise user journeys for customers using conversational AI from Gupshup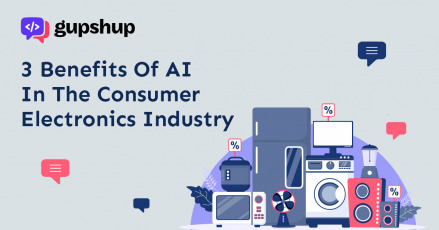 Learn how conversational AI is helping consumer electronics business owners boost user satisfaction and engagement. See...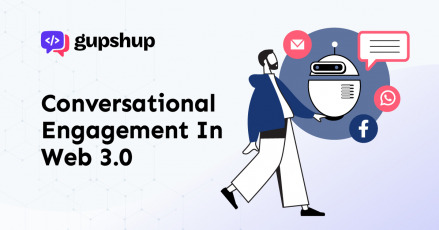 Read on to understand the need for creating conversational engagement in web 3.0
×
Read: Enrich customer engagements with Global SMS API