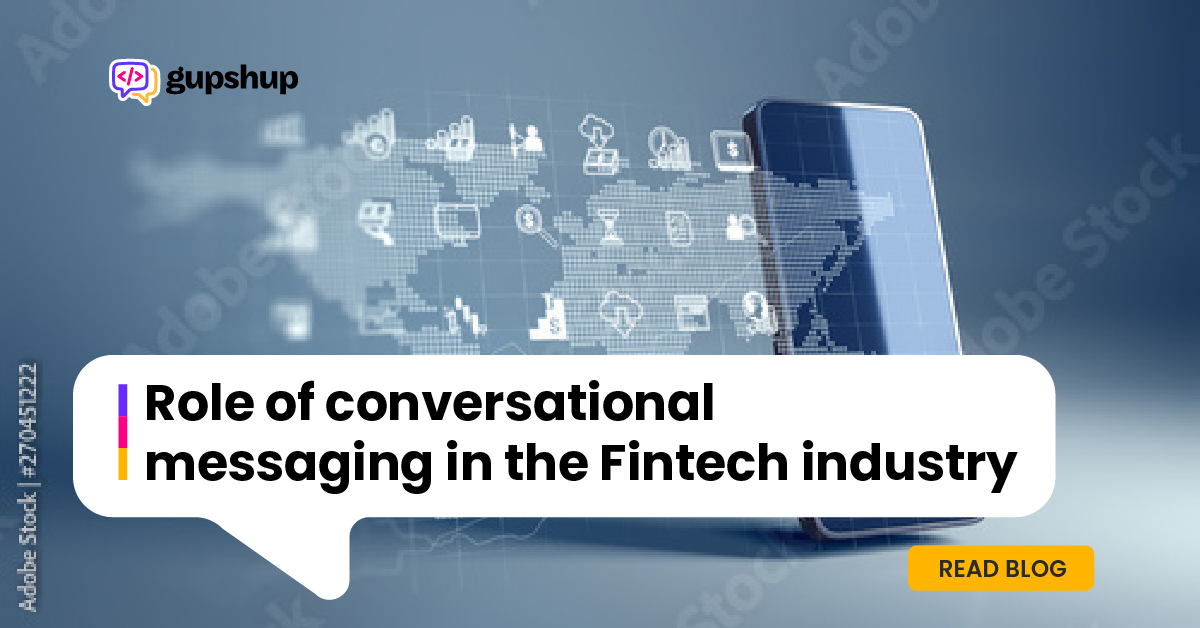 Role of conversational messaging in the Fintech industry
Conversational Messaging, Fintech
On September 3, 2021
Financial technology or fintech is the program specifically designed for the financial industry to help them deliver superior customer support and service with the help of conversational messaging tools such as chatbots. Let us understand what these terms mean.
Conversational messaging is a new customer engagement paradigm that brings businesses and customers closer by enabling human-like conversations in commerce, marketing, and sales. This happens on messaging channels that customers are already comfortable with. Conversational messaging solves the problem of engaging meaningfully with customers in real-time with tools like chatbots. Chatbots are a form of artificial intelligence (AI) powered computer software programs. They assist in stimulating online chats via any platform they are embedded on, such as a website, messaging app, etc. They help customers with their queries by resolving them faster. Recent studies have shown that close to 85% of today's consumers would like to get solutions via chatbots compared to visiting sites and scrolling for answers.
The need for conversational messaging
What are the challenges faced by financial services companies today? Let us break it down into some basic categories:
The Conversational Solutions
So how does the Gupshup solution benefit a financial service company in its three significant areas of functioning, i.e., commerce, marketing, and support? Let us understand with some use cases:
The tools we use
We use advanced tools and leverage our bot-building platform for building world-class bots. Some of the AI-powered Self-serve Conversational Tools we deploy include the following:
Get to know about our API tools: Single API for Messaging and Advanced API
Benefits of integrating the Gupshup solution
We have helped many financial institutions in creating a conversational messaging platform that they can trust. Our clientele includes leading financial service companies like BharatPe, CreditWise Capital, iCanPay, FlexiLoans, Acko, BimaPe, FidyPay, to name a few. Let us summarise some of the benefits of integrating the Gupshup solution for your institution:
Make financial journeys smoother with Gupshup.
The Fintech industry is re-evaluating and restructuring itself to fit into the mold the way that today's customers want. Chatbots enable Fintech companies to provide prompt customer services, resolve their queries, and onboard customers faster. This conversation-based shift ensures an improved customer service experience, leading to more customer satisfaction and building loyalty.
The Gupshup conversational system automates lots of business use cases of the Fintech industry. Gupshup provides Fintechs the ability to offer faster onboarding, support more secured transactions, manage and administrate day-to-day operations and provide seamless service support to customers.
Our messaging solutions include single API and advanced API. Interact and transact with your customers seamlessly across 30+ messaging channels using Gupshup's single API for messaging. Across verticals, thousands of large and small businesses in emerging markets use our services to build conversational experiences across marketing, sales, and support. With Gupshup, several businesses have made conversations an integral part of their customer engagement success. Now, it's your turn to make that change.
Blogs you will want to share. Delivered to your inbox.
Recommended Resources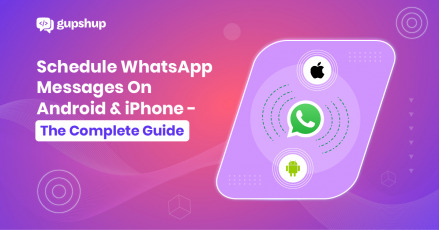 Read our blog to learn how to schedule WhatsApp messages on Android and iOS with simple...
Conversational AI can improve media consumption by incorporating chatbots throughout the consumer journey.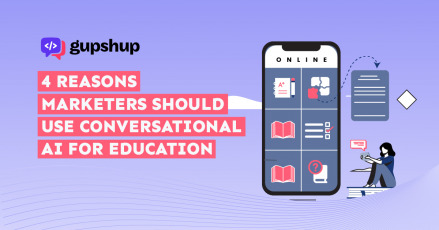 Read this blog to learn how EdTech players can leverage conversational AI to expand their reach...
×
Read: Conversational AI solutions for Edtech