Increased
sales conversions
Broader reach
and engagement
Higher
customer satisfaction
Delight your customers with an end-to-end shopping experience
Recreate the in-store shopping experience
Create an interactive mobile storefront by showcasing your offerings to customers.
Multi-Product Messages - Browse from a selection of 30 offerings
Single Product Messages - Guide your customer to one specific offering from a business' inventory.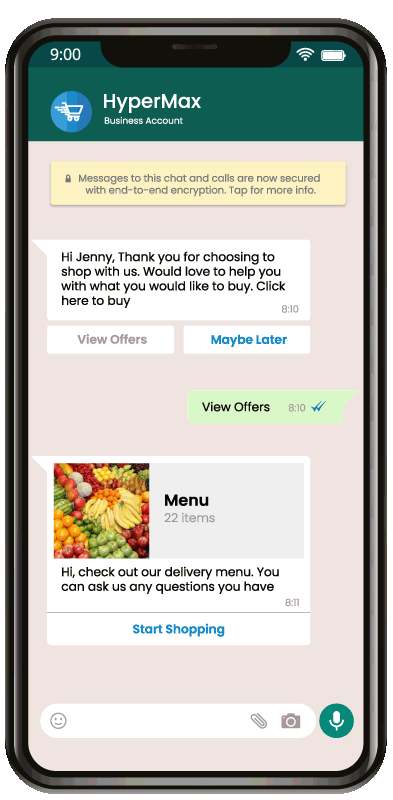 Get your queries answered in real-time
Consumers can connect with the brand to find out more about a particular product. Get faster resolutions with from the bot, a human agent or both with the 'message business' button
Make shopping easier with carts
Browse a catalog, select multiple products and share it with the merchant to place the order directly through WhatsApp with the 'Add to cart' button.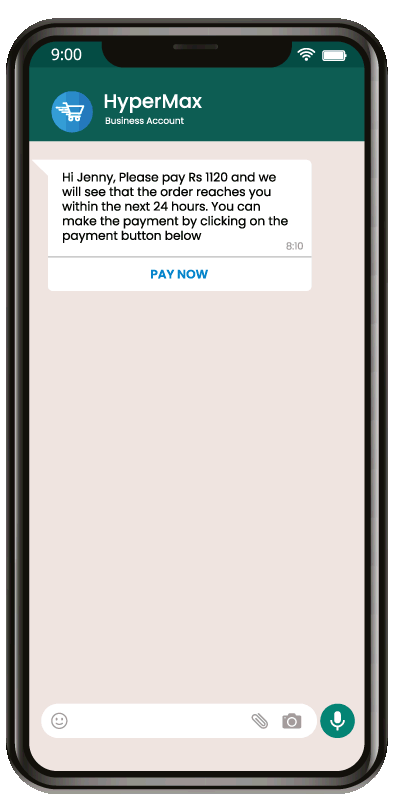 Enable instant and frictionless payments
Allows consumers to make payments directly from WhatsApp without navigating between multiple apps.
Pay from any one of the payment options available or with UPI-driven smart messaging with One-click bill pay enabling customers to make payments instantly within WhatsApp
Gupshup + WhatsApp - The new mobile storefront for business and customers
Hasslefree Shopping
Browse products, order and initiate payments all from WhatsApp while through your purchase journey
Seamless Integrations
Integrate with your existing e-commerce store such as Shopify, Woocommerce, and third-party payment gateways
Ease of Setting Up Stores for Brands
Bring your stores on WhatsApp across multiple industries including e-commerce, travel, property, auto and entertainment & media
Enhanced Customer Engagement
Deliver relevant notifications to customers help with purchase decisions - such as product recommendations, promos and product upsell

Please wait
Added below language support for WhatsApp,
English
Portuguese
Spanish
Russian
Italian
The approval process is up and running now. if still, you are seeing a pop-up message asking for email Id(As shown in below image)
Kindly clear your browser cache memory


WhatsApp for Business as a channel


You can now publish your bots on WhatsApp. All you need is a verified WhatsApp for Business account
Ever found yourself juggling between nodes in a complex looking flow? click here to know more.
For your Line bots, please add 34.202.224.208 to your Server IP Whitelist.
Users publishing their bot for the first time will have to provide a valid cloud project ID. Existing users can continue using their bots as is, however if they wish to republish their bot they will have to provide a valid cloud project ID. All the current changes will be reflected in the Google Home publish tab.
Twilio IP Messaging as a channel


Twilio IP Messaging
Microsoft Teams as a channel


Microsoft Teams
Reliance JIO as a channel


JIO
Gupshup intgrates with Google home: You can now build bots (actions) for Google Home on gupshup.io
Google Home
Bot developers for Line: With the release of Line Messaging API, all BOT API Trial Accounts are scheduled to be deleted. Please republish your bot according to new Line implementation, mentioned under Publish tab in My Bots section.
New tool for non-developers- Our Flow Bot Builder helps users create their bot messaging flow with a graphical editor.
API.ai tool is now available for developing your NLP/AI bot.
Gupshup Enterprise APIs (SMS,Voice and Email) are now available directly in the APIs section.
New channels added for publishing bots- Smooch.io and your website as a web widget.
Now you can access our services including the bot builder tool using your Facebook login credentials.
Now you can delete the dummy bots created for testing from the My Bots Dashboard.
You can now access Bot specific data from your Dashboard itself.
Introducing a hassle free bot development experience for users to instantly create bots using our pre-defined restaurant templates. Check out our blog to know more.
Now you can add Gupshup proxy bot on below channels,


Teamchat

Cisco Spark

Skype
Now you can publish your bots on Teamchat.
Revised processes to publish bots on Cisco Spark.
Now you can enable interactive messages(beta) and also you can add your custom page after bot installation on Slack.
We are removing few redundant parameters, that were being sent when a callback happens to your bot (i.e. inbound message comes to your bot).
Following is the list of parameters.
sender
message
context
However, we will continue to send following parameters. If you are using any of the deprecated parameters, we request you to use these alternatives.
senderobj
messageobj
contextobj
You are requested to make a note of this and do the necessary changes immediately to your bot code to keep it working. Should you need any help, please feel free to send an email to devsupport@gupshup.io