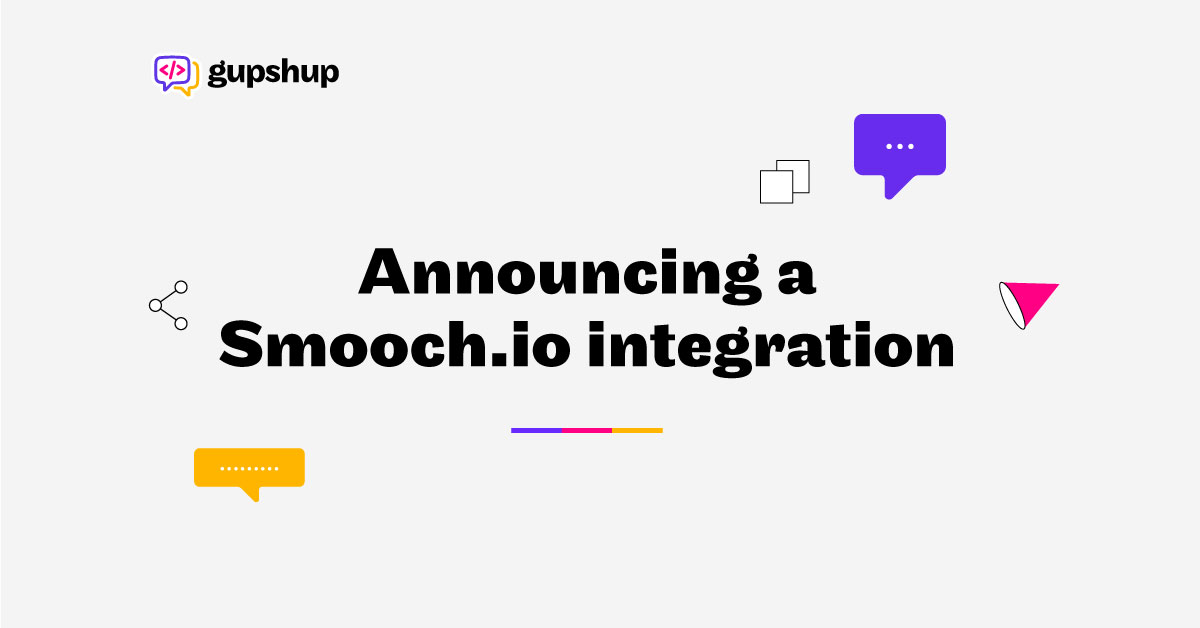 Announcing a Smooch.io integration
Conversational Support, Generic, Integrations
On November 8, 2016
Smooch.io is a platform that enables communication between a business and its customers. Smooch allows businesses to get distribution across channels and talk to customers over social messaging apps, SMS, web etc without additional development time.  
We at Gupshup are excited to announce that we have launched a Smooch integration on our bot platform. Engage with your customers by creating chatbots on the Gupshup platform and publishing them to Smooch. Leverage the power of the Gupshup platform to host, deploy, monitor and get analytics on your bot.
There are several advantages of using the Smooch platform. You can connect with your customers on a number of messaging channels without additional development time. Smooch provides connectors from messaging platforms to business services such as Slack, HipChat, Front, Zendesk, Salesforce, and Email. You can connect these cross-channel conversations to any CRM or business tool you already use for deeper, smarter and more personalized customer interactions. You can also send and receive GIFs and rich media on these channels.
How it works
Publishing a chatbot on Smooch using Gupshup is really simple. Here's how you can achieve it:
Create a chatbot on Gupshup. Read our Bot Builder series on how you can do this.
Go to smooch.io and sign up/sign in to your account.
Create a new app on Smooch.
Click on the 'Settings' tab and scroll to the Secret Keys section. Click on 'Create New Secret Key'.
Go to the 'Publish' column in the Gupshup Bot Builder and click on Smooch.
Copy the Key ID and Secret and hit the 'Submit' button.
You chatbot is now live via Smooch. Follow the instructions on the Smooch integrations page to see your chatbot on a messaging app.
For more detailed documentation on how you can engage with your customers using Gupshup and Smooch.io check out this detailed guide.
Blogs you will want to share. Delivered to your inbox.
Recommended Resources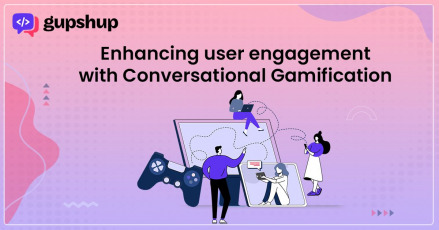 How gamification using Conversational AI builds engagement for customers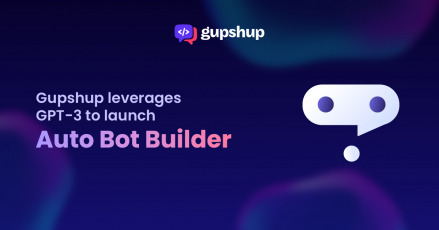 Discover the power of GPT-3 with Auto Bot Builder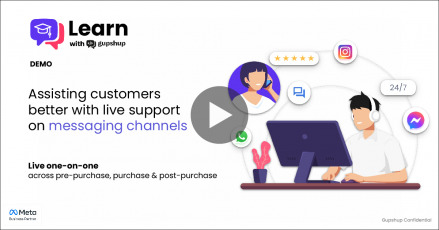 Customers today expect businesses to be there for them on messaging apps. Learn why and how...
×
Read: Bot Building Tools for Everyone