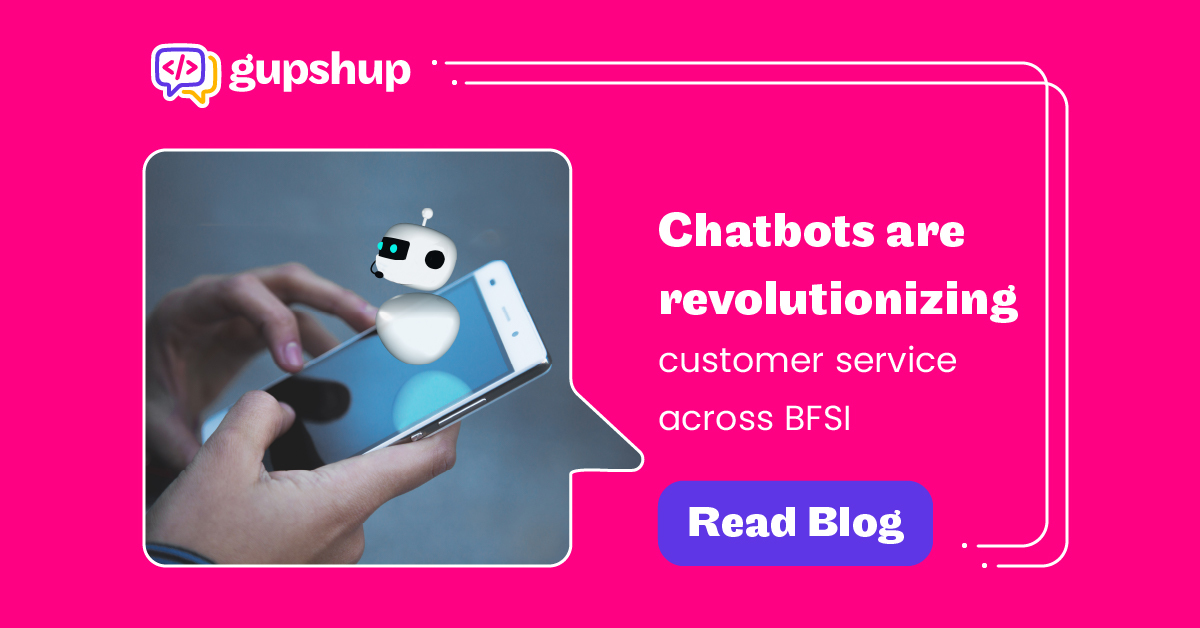 Chatbots are revolutionizing customer service across BFSI
BFSI, Chatbots, Conversational Support
On October 1, 2021
In recent years, financial institutions have undergone a shift towards a digital-first mindset. As society moves increasingly online, consumer perceptions of the most optimal way to manage their finances have also begun to change. By 2024, an estimated 2.4 billion people will utilize online banking, whether that be through branch apps, saas solutions, or various fintech options.
One of the most salient aspects of today's financial technology is the ability for businesses to better engage with their customers. Conversational tools such as chatbots mean that brands can provide high-level, multi-layered customer support, regardless of whether they're a startup or a global name.
Historically, customer service has been restricted by staffing limitations. Whether in-store or online, one-to-one conversations are constrained by time, resources, or skill-set, differing from person to person. The online movement, combined with growing developments in conversational tools, has bridged this gap while putting customer experience at the forefront. One way to envision this in the financial space is a chatbot loan calculator responsive to each visitor's unique situation.
Born from an understanding that visitors place immense value on positive brand interaction, AI & Rule-Based chatbots have created an around-the-clock service environment, with 91% of consumers stating that companies should utilize chatbots to a certain degree.
Importance of communication
The up-trend in digital interaction has been propelled over the past year by the global pandemic. Working from home, lockdowns, and minimal physical contact have pushed forward conversational technologies across all industries. Naturally, the financial sector has followed suit, which, compared to most, is an industry that has always relied heavily on brick-and-mortar locations.
Being able to provide responsive, fast, and efficient customer service is vital. It ranks as a higher priority than price or product, with 86% of buyers willing to pay more for a great customer experience.
Much of what is required from banking requires in-depth question-and-answers:
Credit Checks
Interest rate clarification
Opening checking accounts
Overdraft queries
Fraud checks and preventative measures
Fast, efficient, and personalized responses without downtime are the future of online communication and customer support. Making people wait in a queue, either in-store or on the phone, is an outdated model that will make people think twice before using your services again.
Why Chatbots?
The trajectory of fintech has also gone hand-in-hand with the evolution of chatbots. No-code or low-code platforms allow businesses to build chatbots quickly and with minimal investment. They remove the need for programming experience by utilizing pre-built templates and intuitive, user-friendly interfaces.
Chatbots themselves are built into areas that visitors already feel comfortable engaging in conversation, allowing for a meaningful interaction at any given time. These conversations are personalized, leading the user to a result that is tailored to them. This is what separates a bot from a static website element like a contact form.
AI & Rule-Based
When researching chatbots, there are two main types to consider: AI and Rule-Based.
AI chatbots utilize machine learning and natural language processing to mimic a human conversation as closely as possible. This process allows AI bots to understand nuances within the dialogue better and deliver a smooth, flowing conversation with appropriate answers.
Rule-Based bots are sequenced in the background, with a series of flows that predict the different avenues that an exchange may take. This pre-programming allows businesses to map out the entire customer journey, taking the user to an end goal based on their answers.
The Benefits of Chatbots to Financial Institutions
Many chatbots that are seen commonly on websites won't result in the level of impact we refer to here. Choosing an appropriate platform with results-oriented templates is crucial if you want to roll out conversational tools in your strategy. However, for those that do plan this out, the benefits are:
High-Level Customer Engagement
A common issue facing banks is the restrictions on opening hours. Although some may have 24/7 emergency support lines, others still require wait times for agents to follow up on last night's queries. More than simply answering FAQs, chatbots allow for instant communication in a pre-arranged manner. These tailored responses can resolve the issue straight away or offer some form of initial guidance while passing the user's data across to a team member for the next available follow-up call.
Outside of instant responses, chatbots are also omnichannel and can be accessed on almost any device. Whatsapp and Facebook Messenger are popular choices. A strong brand presence across all potential mediums is essential, as up to 47% of consumers trust social-media bots with their requests.
Brand Humanization
A primary function of conversational tools relies on our natural inclination toward dialogue. Sensitive data can be difficult to acquire, made more cumbersome by using stagnant, static questionnaires or forms that are routinely abandoned before completion. However, this type of information is crucial for loans, debt advice, or mortgages. Take IVA Advisory Centre's debt consolidation chatbot as an example. IVA has utilized no-code to create a bot that can offer stress-free debt advice in a welcoming manner, for a topic that can often be avoided.
It's important to understand your target audience and speak to them in a way that resonates. Brand loyalty is created from small interactions. The more approachable you can be while providing a valuable service will keep retention rates high.
Back-End Efficiency
Large portions of financial services happen behind closed doors. Approval of loans, credit checks, and underwriting are all facets of digital banking which are routinely critiqued for being time-consuming for those on both sides of the counter. Chatbot Q&As, such as the Kutxabank Mortgage Advisor, create a subset of data used as the initial qualification stages. Resources are saved by freeing up time for important tasks rather than ones that a bot can handle. Also, whichever agent is assigned to this outreach can approach it with a strong understanding of who they will be speaking to, their needs, and how they can best assist.
Not only are you able to optimize internal processes, but this data can also be used to develop your customer profiles further. Knowing how your target audience makes purchasing decisions, how they answer questions, or even their language helps you communicate better and refine your product offering.
Cost Reduction
A bot can't replace a team of people, but it can work with them.
The majority of questions asked by visitors are repetitive. A simple FAQ response chatbot can pick these up. Other queries will be more complicated; however, implementing automation in conjunction with a low-cost no-code platform means you can invest in areas that yield a greater return. Scale your support at busier periods by only allocating team members to those that need it most. Build flows based on a wide variety of potential customer journeys, where you can hit as many effective conversation-closers as possible.
Free up your team to work on what really matters.
To Close
The rise of no-code conversational tools has meant that financial institutions can transform their customer's experience across the board. With low-cost, easy-to-use chatbot builders, consumers can access 24/7 support, personalized product offerings, and faster response rates. From a business perspective, resource reallocation means that employees can be assigned tasks that create real value while leveraging bots to handle that initial interaction.
Build chatbots that can revolutionize customer service across BFSI. Come and join the bandwagon.
Blogs you will want to share. Delivered to your inbox.
Recommended Resources
D2C businesses can personalise user journeys for customers using conversational AI from Gupshup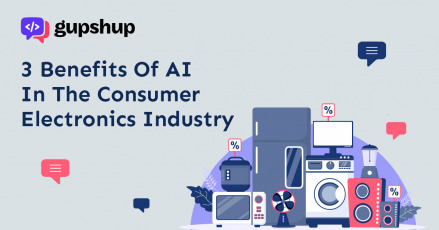 Learn how conversational AI is helping consumer electronics business owners boost user satisfaction and engagement. See...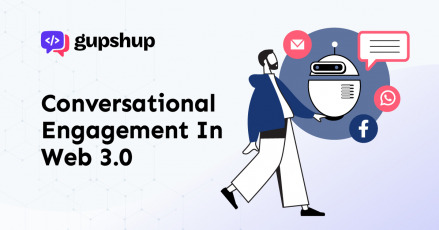 Read on to understand the need for creating conversational engagement in web 3.0
×
Read: A Comprehensive Guide to Conversational AI in Healthcare