Direct and secure AI-enabled payments via Smart Messaging
On July 7, 2021
AI-enabled Payments
Conversational AI
Conversational Commerce
Generic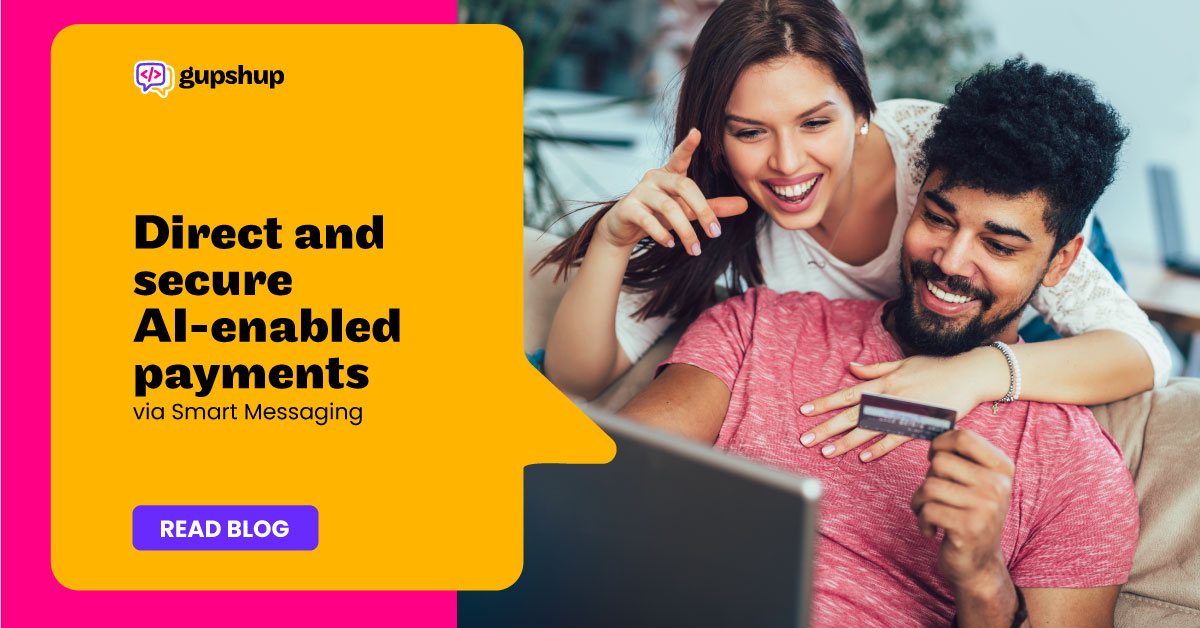 Today everything, from pre-sales, sales, to after-sales, – basically the entire commerce ecosystem – has gone online. Digital storefront, websites and apps contribute to the new age shopping experience. So why should payments stay behind? Online payment modes have been in place for a while, be it cards, net banking or e-wallets but have enterprises made sure that they get paid 'online' 'on time', every time?
Businesses that engage in credit payments for their services often face problems collecting payments from their customers. Enterprises end up spending a lot of money and resources in payment collection and debt collection. Traditionally, businesses send out payment reminders via messages to their customers. These have links that take customers to a page where they can choose to make payments then and there or at a later stage. But what if these payment messages being sent out were more actionable in nature? Imagine the links embedded on these payment messages allowed customers to make the payment in a single click, from right within their device.
Enter – 1-click Bill Pay
What is 1-click Bill Pay?
1-click Bill Pay is a UPI-based 1-click-payment messaging service that helps a business improve its payment collection rate and speed. Gupshup payments AI algorithm fetches the payment information from message content automatically and embeds the payment link in messages. Enterprises do not require any additional development. All that remains for the customer to do is to authorize these payments, often with a 1-click biometric.
The goal of 1-click Bill Pay is thus to help organizations understand and eliminate the complexity of business payments by providing actionable messaging options. Businesses can automate and accept payments from customers by making payment reminder messages actionable with a single click payment link / button.
Where all can enterprises plug in 1-click Bill Pay?
Enterprises can now enable customers to make direct payments from right within their messages. Brands can push payment messages and use Gupshup AI to embed a pay link or button via the channel which the customer is already using. The merchant and bill due amount information is pre-populated into the messages. Customers can select the UPI app of their choice that they already have installed on their mobile devices to make secure payments.
1-click Bill Pay can be used by a business for payment collection across departments:
Commerce – Customers can be sent a direct payment link message via their preferred messaging channel to close the payment due in the digital store.
Marketing – Marketing agents can engage with customers through messaging channels and aid the checkout process by sending out payment messages with payment links.
Support – Support agents can assist customers during their online shopping journey. They can send customers a quick message with payment details, and close the purchase within the conversation.
Once the customer receives the message with the amount to be paid, they can click the payment link and select the UPI app of their choice and complete the payment.
Features & Benefits
Inclusive messages
All the messages sent include pre-populated merchant information and amount due, so the customer has a clear idea before initializing or authorizing a payment.
Faster settlements
Payment messages are embedded with a payment link or button. Customers can initiate payments with just 1 click and make direct settlements faster.
Available in multiple channels
Bills with inbuilt payment link / button are sent through some popular and commonly used messaging channels like WhatsApp, SMS, Instagram Messenger and GIP.
Lower cost of collections
Our UPI-based payment messages are 50% cheaper than any conventional payment gateways.
Increase impact of outreach campaigns
By embedding automated collections in your outreach campaigns, you can increase the overall impact of your SMS and WhatsApp campaigns in collecting due payments.
Actionable links / buttons
You can convert your payment-reminder-messages into payment-mode-messages by including actionable links / buttons.
Integrate with your existing SMS / WABA account
Our AI algorithm fetches the payment information and embeds the payment link in messages. So you can integrate with your existing SMS and WhatsApp business accounts without any extra configuration.
Avoid collection hassles
Enable payments at the point of communication in a simple and effective manner. This helps avoid hassles of sending multiple reminders to the customer for payments.
Better user experience
The 1-click payment feature makes 1-click Bill Pay a quick way for customers to pay bills. This in turn reduces collection time for businesses and increases collection rate.
Give 1-click Bill Pay a try
1-click Bill Pay is a cPaaS offering from Gupshup. It is one among the several smart messaging options that Gupshup offers through its single API for messaging. You can now make informative payment reminder messages actionable and assist customers in making payments with a secure end-to-end encryption process.
Click here to know more about 1-click Bill Pay.
Blogs you will want to share. Delivered to your inbox.
Business Email
Recommended Resources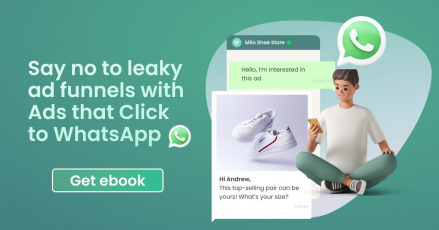 Read the eBook by Gupshup to uncover you can increase your return on ad spends by...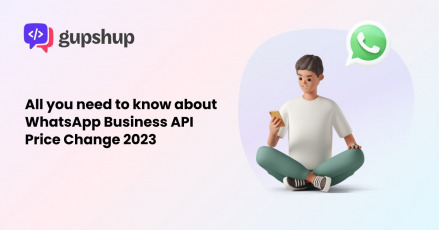 Learn about WhatsApp Business API's new value-based pricing and all the new features to look forward...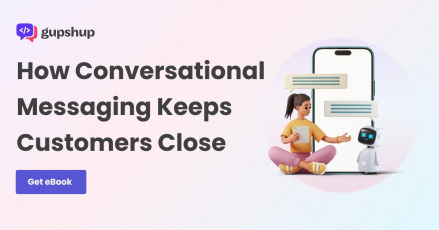 Read the eBook by Gupshup to uncover how businesses are becoming conversational and are leveraging AI...
×
Read: Create your own digital retail store and take your business online