Gupshup launches AutoBot Builder: Accelerates domain specific applications of GPT-3 to drive conversational engagement
On January 31, 2023
Chatbots
Conversational AI
Conversational Engagement
Conversational Marketing
Generic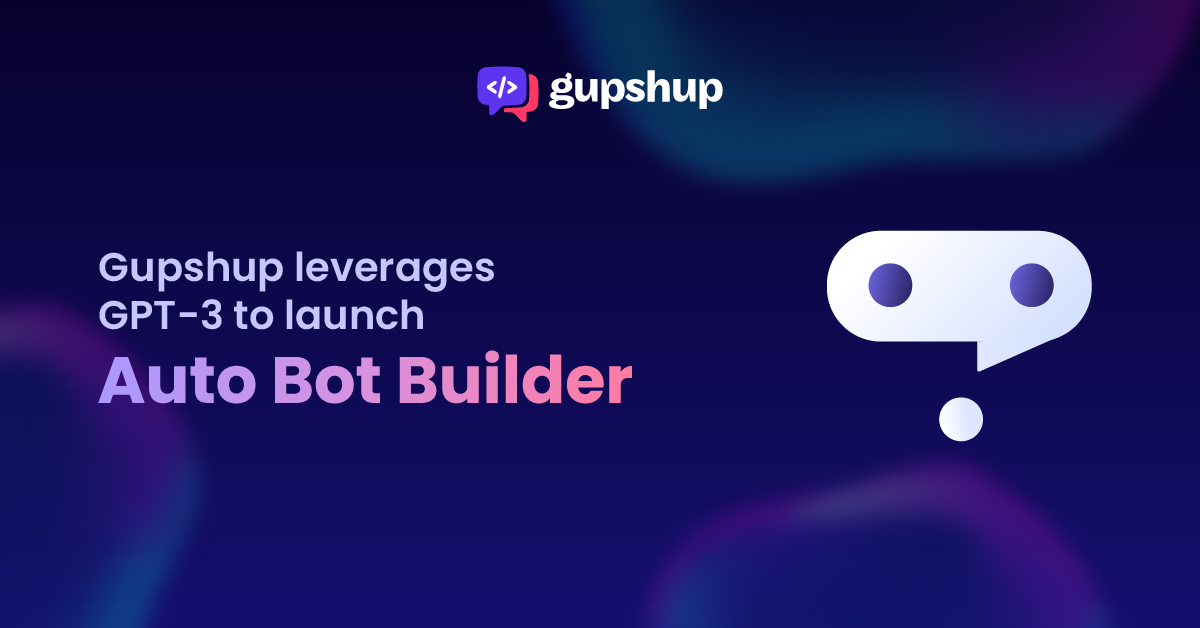 For the last 3 months, the world has been in awe of generative AI technologies. Be it ChatGPT, or DALL-E 2, users have been hooked to automation for things as simple as writing an email or generating an image. But while the commercial use-cases of Large Language Models like OpenAI GPT-3 have created enough flutter in the market, businesses have been waiting to see a generative AI innovation that helps them serve their customers better.
That's where comes Auto Bot Builder, a powerful tool by Gupshup that uses GPT-3 technology to automatically build advanced chatbots for enterprise requirements. With GPT-3's cutting edge technology and Gupshup's domain expertise and fine-tuning to the model, enterprises will be able to incorporate the latest advances in natural language processing and machine learning into their own customized chatbot solutions. 
Unlike ChatGPT which is trained on public content, Auto Bot Builder is trained on private content repositories available only to the specific enterprise. This allows users to create a unique chatbot that understands the nuances of their business and can respond with complete accuracy and fluency. 
Besides, Auto Bot Builder significantly crunches the time required to build a chatbot, from months to minutes. With faster time to market, businesses can build more chatbots that can help them grow revenue, bring down support costs and substantially improve customer engagement.
How does Auto Bot Builder work
With the Auto Bot Builder tool, a user can instantly build an advanced chatbot using content from their website, documents, message logs, product catalogs, database, and other corporate systems of record. The tool accepts content of any size, processes it and fine-tunes the Large Language Model (LLM) to the specific context. 
Auto Bot Builder is capable of handling really large content sets, which need special pre-processing. Moreover, Gupshup has also developed fine-tuned instances of industry-specific models based on its proprietary training data and domain expertise that provides an even greater head-start in developing high-quality enterprise-specific conversational experiences.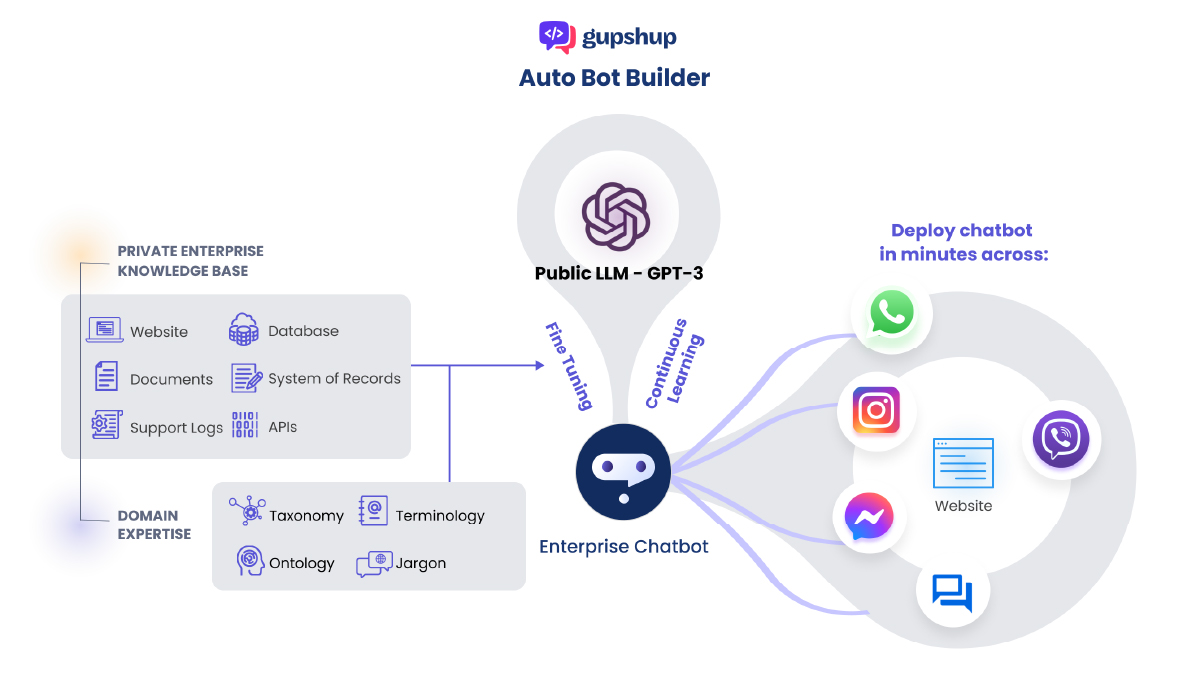 Gupshup's deep domain expertise from years of experience working with companies in numerous verticals including banking, insurance, e-commerce, retail, gaming, healthcare and more makes it best positioned to offer the tool. The above capabilities make Auto Bot Builder truly versatile in supporting a wide variety of enterprise requirements, with in-depth vertical knowledge.
With its intuitive interface and robust features, customers can quickly configure their bots across various channels including web chat, WhatsApp, Instagram, Google Business Messages, Google RCS, Telegram, Line, SMS, Voice and others, without any coding knowledge. 
Chatbots built on GPT-3 technology are able to understand the nuances of human language and can respond in a way that is more natural and conversational. This makes it easier for users to interact with the chatbot and get the information they need. Additionally, GPT-3-based chatbots have the ability to learn from past interactions, which means they can improve over time and provide even better service to users.
How can enterprises benefit from Auto Bot Builder
One of the key benefits of GPT-3-based chatbots is their ability to handle a wide range of topics and queries. This makes them suitable for a variety of use cases, such as customer service, e-commerce, marketing and even personal assistants. Use cases include marketing offers, lead gen, product discovery, product recommendations, shopping advice, troubleshooting, customer support, etc.
By leveraging the GPT-3 LLM (Large Language Model) and fine-tuned using proprietary enterprise knowledge base and domain expertise, Auto Bot Builder creates  specialized chatbots for enterprises, unlike ChatGPT, which is a general purpose chatbot.
Built on large language models (LLMs), these chatbots demonstrate an exceptionally high degree of language capability that truly engages the end user. They can handle virtually any natural-language query posed by the user and provide meaningful responses in almost all scenarios.
Leveraging GPT-3 for building vertical-specific bots
Creating chatbots for specific industries can be a challenging task, especially when
it comes to industries like finance, retail, healthcare and gaming, which have their unique set of
requirements. With Auto Bot Builder, we're making building Industry specific bots easier than ever before. Our platform leverages the power of GPT-3, a state-of-the-art large language model, to make the process faster and more efficient. But that's not all, we've taken it one step further by building industry-specific models using our extensive expertise in various industries such as finance, retail and others.
Our AI- based chatbots for the finance and retail sector are examples of such industry-specific models that are particularly designed to handle the unique needs of the industries. These models are built using our vast industry expertise and are trained on a specific set of data and use cases to fine-tune the bot to handle specific tasks or industries. This ensures that our chatbots have a deep understanding of the industry and can provide accurate and relevant answers to customer questions, and perform tasks such as account management, transaction processing, investment advice, and even product recommendations.
With Auto Bot Builder and our industry-specific models, you can create chatbots that are not
only efficient and accurate but also have a deep understanding of the industry. Not just that,  Auto Bot Builder's advanced natural language processing capabilities powered by GPT-3, allow your chatbots to understand and respond to customer queries in a way that feels natural and human-like. 
In conclusion, the integration of GPT-3 technology into chatbot development has led to the emergence of a new generation of chatbot generating tools that make it easier for developers to create sophisticated and natural-sounding chatbots. These tools leverage the power of GPT-3 to generate responses for chatbots, saving developers time and effort while also providing users with a more natural and conversational experience. 
As businesses around the world continue to look for ways to improve customer experience  while reducing costs associated with traditional methods such as hiring additional resources, Gupshup's Auto Bot Builder presents an innovative solution that enables businesses of any size to create advanced AI-driven chatbots customized specifically for their needs within minutes – no coding knowledge required! 
Request for early access to the Auto Bot Builder here: gupshup.io/autobotbuilder
Blogs you will want to share. Delivered to your inbox.
Business Email
Recommended Resources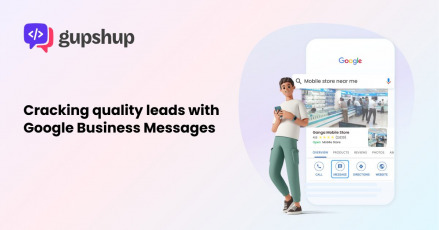 Learn how to revolutionize your lead generation strategy with Google Business Messages. In this blog post,...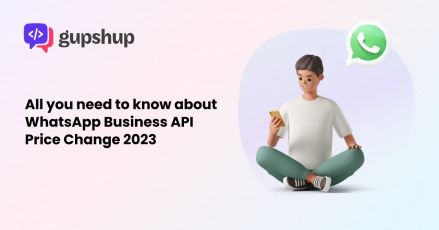 Learn about WhatsApp Business API's new value-based pricing and all the new features to look forward...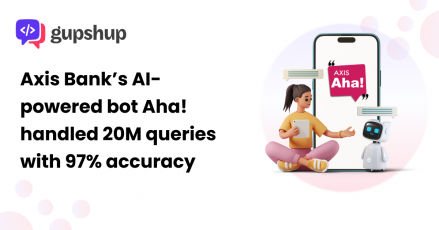 Learn how Gupshup's omnichannel conversational support solution helped Axis Bank increase user growth by 40X
×
Read: Move beyond vanilla gamification; Immersive and Engaging Conversational Gamification is here