Gupshup unveils revamped brand look with refreshed messaging and design
On February 16, 2023
|
3 Minutes Read
Chatbots
Conversational AI
Conversational Engagement
Generic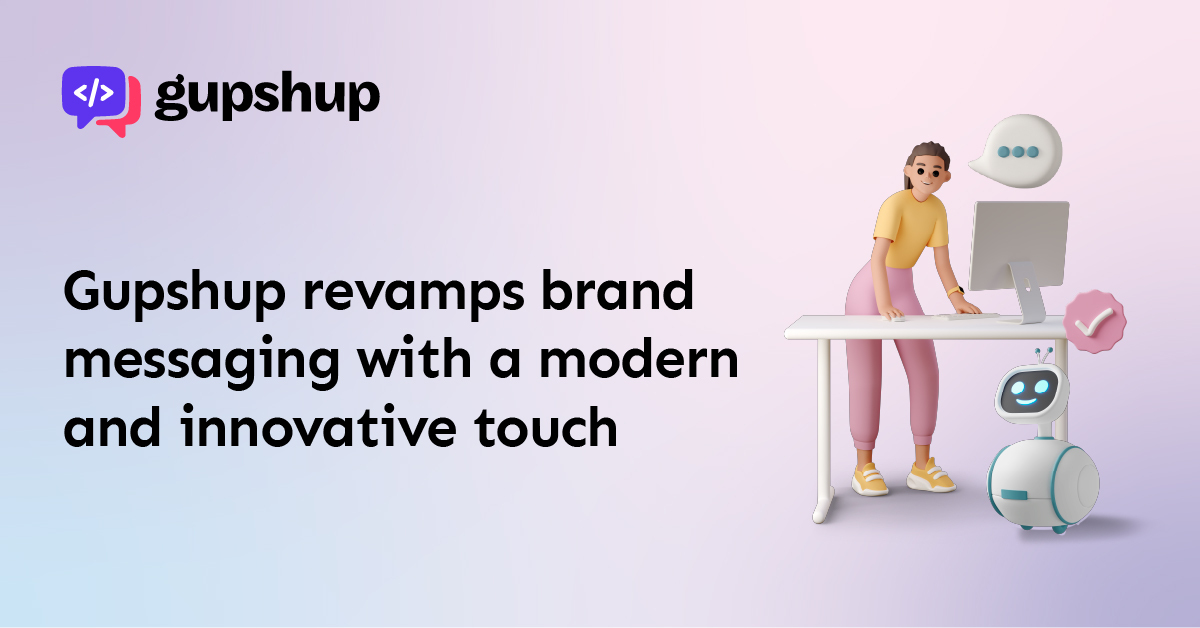 Brand Gupshup is getting a makeover. By now, you would have already noticed our chic new website. From new age color gradients to 3D illustrations, bold headers to subtle shapes… And if you're wondering why did we decide to freshen up our image and positioning, read on…
For years, the brand Gupshup has been synonymous with enabling business-to-customer communication. Starting from being the pioneer of SMS to leading the current wave of conversational engagement, we have come a long way. The space of customer communication itself has undergone a sea change with brands and customers looking at more one-on-one, personalized conversations on OTT messaging channels.
And so it was only natural for us at Brand Gupshup to freshen up not just how we looked but also what we stood for – leading this wave towards personalized & meaningful engagements between brands and customers alike. Today, we are delighted to introduce a refreshed and revitalized brand positioning and website design that honors the core of our brand identity, while keeping the user experience at the center of our design philosophy.

We host 10 billion conversations on our platform every month and ~6/10 of all business-to-consumer conversations are powered through Gupshup. In light of this and the expanded product portfolio across Customer Engagement Automation for Marketing, Commerce, and Support; Gupshup has augmented its positioning to become the #1 Conversational Engagement Platform for Marketing, Commerce, and Support.
Alongside the positioning, our website has undergone a significant transformation with its new, riveting design – featuring a sleek interface, insightful categorization, enhanced navigation, and an intuitive layout. The website has been designed factoring the latest trends in technology – from new age color gradients to 3D illustrations, bold headers to subtle shapes – ensuring that users can easily access the information they need, and interact with the brand in a seamless and immersive manner. The organic fluid shapes are vibrant, energetic, and recognizably Gupshup, giving meaning and unity to every interaction customers have with our brand. 
Gupshup's brand refresh reflects its focus on being a Customer Engagement Platform that delivers better Customer Experience across channels of messaging and voice.
45,000+ businesses in over 20 countries leverage our award-winning software, services, and support to transform how they connect, converse, convert, and delight customers. Composed of Gupshup's product portfolio – Conversational Marketing, Conversational Commerce, and Conversational Support, we offer companies an innovative way to create moments of magic across the customer lifecycle.
#LetsGupshup
Blogs you will want to share. Delivered to your inbox.
Business Email
×
Read: Why ChatGPT Cannot Replace Conversational AI Platforms?