Convenience. That's the one word to aptly suffice the no. 1 reason to have 
chatbot
 automation. You can never have enough of it! By that we mean, that chatbots can exist and operate for you to solve from pesky little to far more complex issues.
Your users may be very demanding and even after your bot repeatedly informs them about its limitations, they are still aggressive with their queries and on the verge to label your bots – "Dumb!" That's where live chat comes into the picture. A smooth means to keep your customers happy!
In a one line, live chat is a feature that you can integrate to your bots, wherein instead of putting the fallback response every time a complex or even an out of context query is requested by the user, the bot instead of replying with a spammy fallback response redirects users to or prompts them to write in their queries to and for a customer agent (a live person) to answer to from the other end. Pretty cool right?
Check out Robin Assistant, a multi-lingual, e-commerce chatbot that's helping people access and avail services through messenger.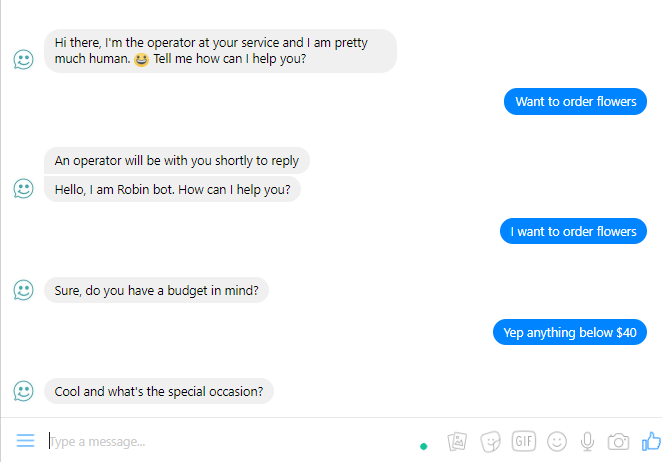 This is a live session with the bot, where you can see the switch from automated responses to a live agent
The opportunities for integrating live chat are immense. Adding live chat adds the much-needed layer of intelligence to the conversations people otherwise usually have with chatbots across different channels.
Do you have a bot, that you think can benefit with an added live chat feature? Drop us a message and let our team set up a call. Book an appointment