Danone transforms customer engagement with AI-powered virtual assistant
Danone enabled friction-less end-to-end customer care journeys, trained immense amounts of data, while also complying with legal regulations in the early nutrition space.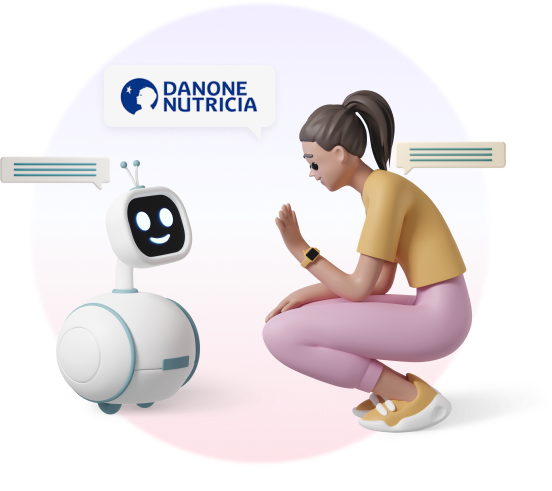 93%
Campaign engagement automated
90%
answers powered
through AI
83%
queries self-serviced
during non-office hours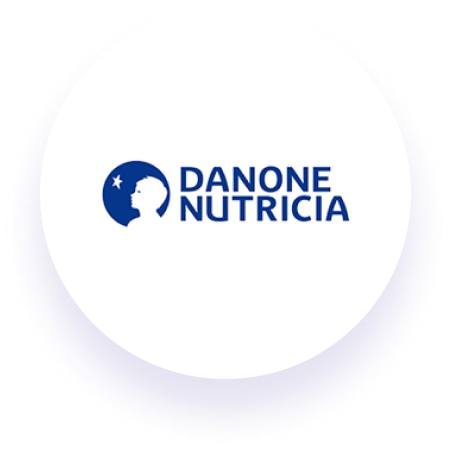 The Story
Transforming customer care and engagement in the early life nutrition category
Danone is a global leader in four key areas: Essential Dairy and Plant-Based Products, Early Life Nutrition, Medical Nutrition, and Waters. Their portfolio is centered on health and wellness, which enables them to play a significant role in the food industry's evolution. With over a century of research in baby nutrition, Danone Nutricia Early Life Nutrition uses both scientific knowledge and practical experience to assist parents, caregivers, and healthcare professionals.
As a provider of early-life nutrition products and specialized guidance, Danone's mission is to assist expectant and new parents with expert information, empathy, and care. However, it can be challenging to consistently offer this expertise across channels and languages around the clock.
Therefore, the Specialist Care team was searching for a solution that could create seamless end-to-end customer experiences, process large amounts of data, and comply with legal regulations in the field of early nutrition. The two key objectives were:
Automation of Scan & Spaar (Loyalty & Rewards) Campaign 
Danone implemented a loyalty program that offered discounts and cashback to parents who scanned the QR code on their product packaging and redeemed their loyalty points for repeat purchases. To support customers through the registration and redemption process, Danone enlisted the help of Gupshup to provide instant guidance and assistance. This allowed parents to easily claim their rewards and incentivized them to continue purchasing Danone products.
Intuitive Guidance for New Parents 
Expecting and new parents often have numerous questions and may require immediate guidance at any time of the day. To meet this need, Gupshup's digital assistant, powered by its Retail Al Brain, provided a single platform where parents could access specialized information and receive personalized support from specialized nutritionists. This helped ensure that parents had access to the expert guidance they needed to make informed decisions about their child's nutrition.
The Solution
Enabling Smart AI-Powered Conversations
Danone's Specialist Care team started by automating the Scan & Spaar campaign, after the successful execution of which, the brand provided specialized conversational support to the early life nutrition audience.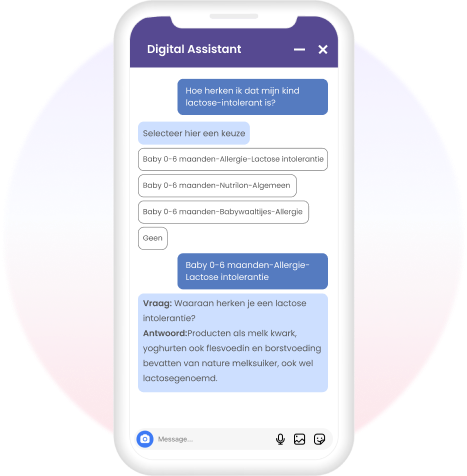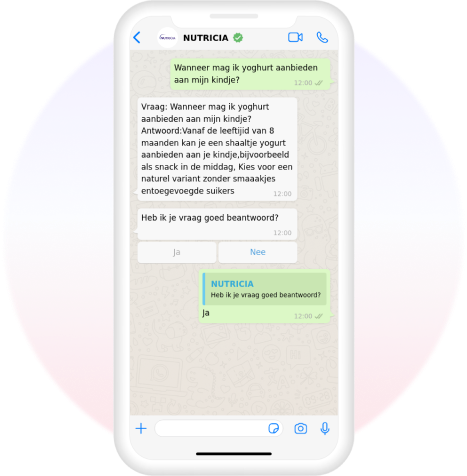 End-to-End Campaign Support

Seamless end-to-end customer experience management at every step.
The user-friendly digital assistant helped take Specialist Care Agents' first-hand knowledge accurately and efficiently to new parents.
Created a mobile-first experience aimed at driving customer awareness and engagement.
Supported friction-less hand-offs between the digital assistant and agents, which is crucial when parents are in urgent need of guidance.
Conversational guidance to new parents 
During the pandemic, when parents were facing issues like product shortages owing to panic buying, they reached out to Danone via the Nutricia Platform to access information that was reliable, easily accessible, and validated by experts. Helped new and expectant parents access to early nutrition information. Customer support engine was built to function even out-of-office hours, meaning no parent's queries were left unanswered.
Previously unknown customer insights 
The made-for-retail analytics engine helped Danone access real-time quantitative data covering every single customer interaction across their digital channels. A customised dashboard tracking live metrics lead to better customer journeys being created within swift turnaround times. Areas monitored included peak hours, conversational engagement metrics by the hour, out-of-office hours support, and most-asked questions by the hour. Identified key 'problem' categories that new parents were seeking guidance for.
Comprehensive campaign automation 
Automated the Scan & Spaar campaign on the brand website with minimal dependency on customer service teams to help design a customer journey that was both user-friendly and convenient.
Real-time analytics monitoring
The Specialist Care Team at Danone puts their customers above all else, and by identifying previously unknown insights, they were able to understand customer behaviour and patterns leading to proactive support.
FAQ automation 
The digital assistant was able to automate Frequently Asked Questions, thus scaling up the support offered to Danone's customers.
Solution
Conversational Support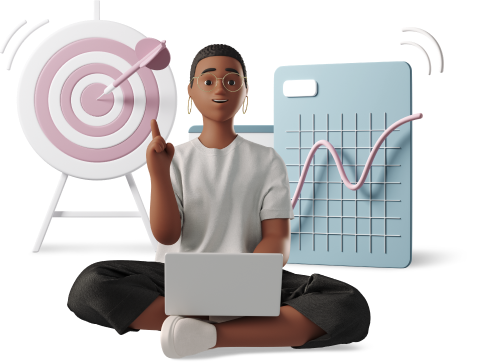 The Success
Handled 93% of campaign engagement 
With a product category like early life nutrition, customizing the retail intelligence of the digital assistant to engage with new parents in a human-like manner is crucial. Gupshup automated 93% of campaign questions leading to 24/7 support and gathered critical usage insights resulting in campaign optimization and overall success.
Al clocked an answer rate of 90% 
This is an important achievement because Danone's primary focus was to establish itself as a trusted provider of information on a plethora of complex nutrition-related questions a new parent may have.
Managed 83% of non-office hours engagement 
Danone receives a heavy inflow of queries during the early and late hours of the day, as that's when new parents need the most support. With Gupshup's Digital Assistant, Danone is now able to provide instant help to parents 24/7, with 83% of conversations being self-serviced.
Ready to get started on your conversational support journey?