Khan Academy optimizes learner support and improves onboarding
Gupshup provided Khan Academy with a conversational interface on WhatsApp helping them reach a wider audience delivering information and enable support across students, teachers and parents communities.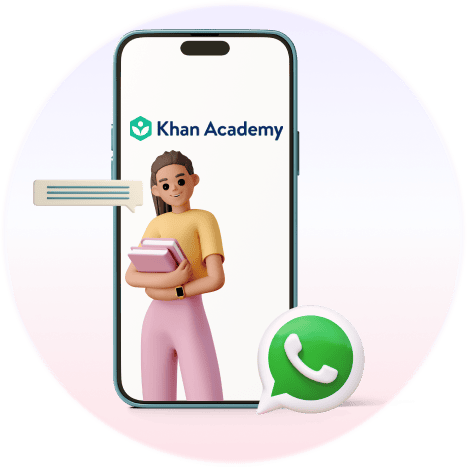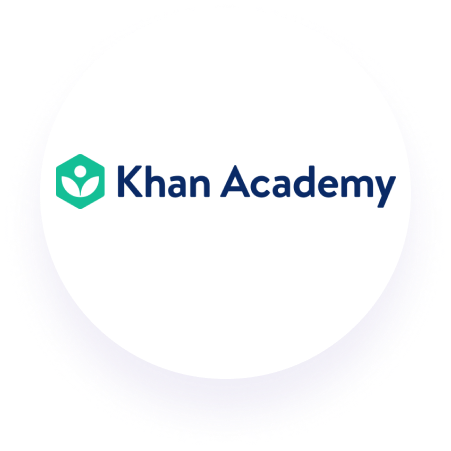 The Story
World-class education to anyone, anywhere
Khan Academy, a global educational organization established in 2008 by educator Salman Khan, offers free online resources to learners worldwide. Their platform provides video lectures and interactive exercises on various subjects such as math, science, economics, computer programming, and history, among others. Additionally, learners can access personalized learning tools, including progress trackers and practice exercises, to help them master specific topics and monitor their progress.
With over 100 million users globally, Khan Academy strives to empower teachers and provide parents with insight into their children's performance in class. They were using SMS, Email, and In-app notifications to provide support to their community of students, teachers, and parents and drive higher app adoption. However, as their user base grew, answering queries became a challenge, particularly since most of the questions were repetitive and related to app usage and resources. Moreover, traditional email communication was not preferred by the teaching community as it delayed communication.
The Solution
Providing a conversational experience from onboarding to support through WhatsApp
Gupshup collaborated with Khan Academy to develop a conversational messaging solution on WhatsApp. Through Gupshup's AI-powered conversational engagement platform, Khan Academy was able to deliver personalized responses and tailor messages to parents, students, and teachers on WhatsApp. Gupshup also implemented an automated process to comply with WhatsApp's consent policies and provided tools for managing opt-ins, leading to an increased adoption of WhatsApp. Furthermore, the integration of Gupshup's WhatsApp API with Khan Academy's app resulted in a more engaging messaging experience for users.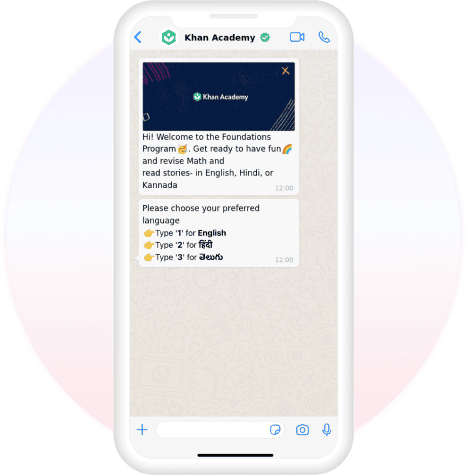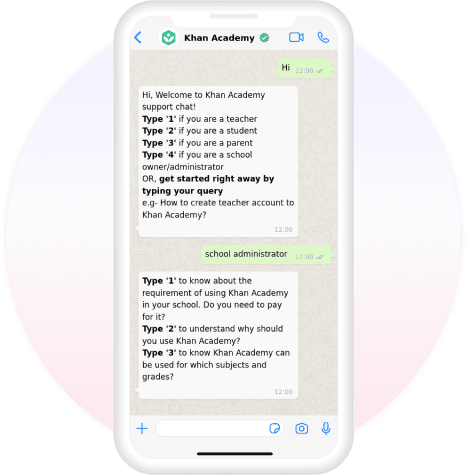 Khan Academy utilized the WhatsApp channel to efficiently distribute information such as assignments, guides, and learning tools. With the help of Gupshup's proprietary NLP engine, chatbots were able to answer frequently asked questions, simplifying the onboarding process. Additionally, Gupshup enabled support for multiple human agents to manage user queries on a single number, eliminating the need for multiple phone lines and reducing training time for support staff. In India, Khan Academy further expanded its reach by offering multi-lingual support for regional languages like Hindi, Kannada, and Tamil.
Solution
Conversational Support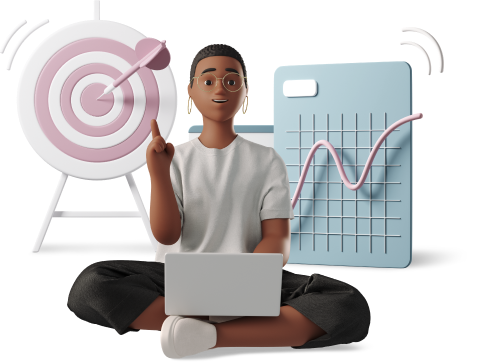 The Success
Reaching wider audience, streamlining onboarding and improving user experience
Khan Academy has successfully expanded its reach and audience by leveraging the popular messaging platform, WhatsApp. With its user-friendly interface and conversational features, WhatsApp helped Khan Academy streamline its communication with its users, allowing them to onboard new students seamlessly and ensure that they have a positive user experience. Teachers have also been able to engage more effectively with their students, creating a more collaborative and interactive learning environment.
Gupshup's chatbot feature on WhatsApp has been instrumental in improving user feedback and reviews for Khan Academy. By enabling two-way conversational messaging, users can communicate directly with the chatbot, receiving instant and personalized responses to their inquiries. This feature has not only enhanced user satisfaction but has also provided Khan Academy with valuable insights into user behavior and preferences, allowing them to continuously improve their services.
Ready to get started on your conversational support journey?