NoBroker enhanced its property listing experience, achieving 20X ROI and significant cost savings
Leveraging Gupshup's WhatsApp Business Solution, NoBroker elevated its property listing experience, streamlining the process and increasing ROI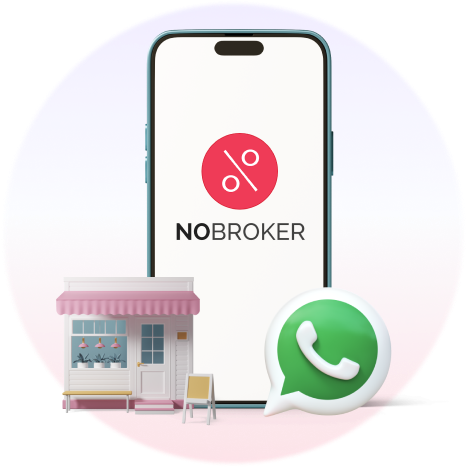 2.8x
Increase in property sold or let out
6 mins
Time needed to list a property with pictures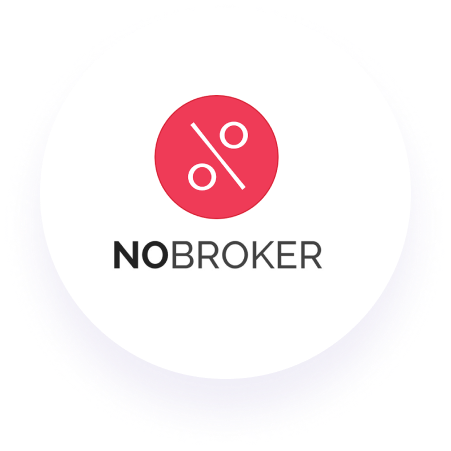 The Story
Streamlining property listing experience to maintain market position
A Bangalore-based real estate property portal, NoBroker directly connects owners with genuine, verified buyers, and tenants, in multiple cities like Bangalore, Mumbai, Pune, Chennai and Gurugram.
NoBroker noticed that many property owners were facing problems uploading photos of properties they wanted to list on the website or app. To help them, the team would reach out to the customers via SMS or email. However, the open rate for emails was less than 3%, and SMS had a poor click-through rate of 4–5%. Additionally, the company spent extensive time on support calls help property owners to collect and upload pictures onto the website and app.
NoBroker wanted to maintain its market position by giving owners a property listing experience that was simple, reliable and fast. The company was looking for a self-service platform and an automated communication medium that could streamline collecting and uploading property photos easier and hassle-free for property owners.
The Solution
Gupshup's WhatsApp API elevates property listing experience for customer delight
Because WhatsApp is a more widely preferred communication tool among customers of all ages across India, NoBroker partnered with Gupshup to use the Notification and Customer Service features on the WhatsApp Business API to connect with property owners.
When property owners first register for a NoBroker account, they can choose to opt-in to receive notifications on WhatsApp.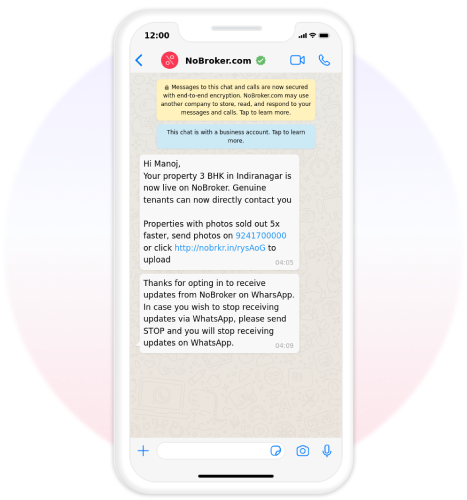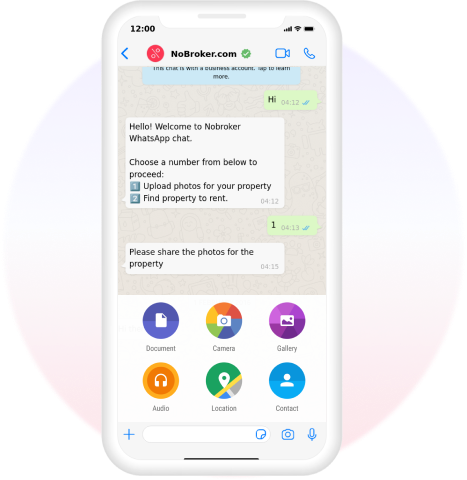 NoBroker also offers opt-ins to existing users through emails and through appropriate pages on the website. Over 88% of its users chose this option!
For property listings without enough pictures, NoBroker used WhatsApp Notifications to ask property owners to send pictures. Property owners could then interact with NoBroker through the
Customer Service feature on WhatsApp and reply with pictures on the chat window itself, just as they normally would with their friends and family. Once the real estate platform's deep-learning algorithm approves the photos, they are then automatically uploaded to the online property listing.
Solution
Conversational Support

Channel
WhatsApp
Industry
Real Estate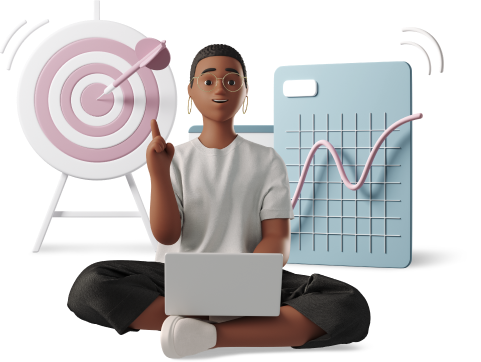 The Success
Gupshup helped NoBroker to successfully leverage WhatsApp
NoBroker became the first real estate company to offer WhatsApp as a communication tool. Gupshup's WhatsApp Business API streamlined the property-listing process, making it easier for property owners to upload photos.
It reduced the time taking to upload a property listing from 3 days to just 6 mins. It also helped NoBroker increase property sales and let outs by 2.8x
Ready to get started on your conversational support journey?