Swiggy improves customer engagement 2.3X with conversational marketing
Gupshup Conversational Engagement Platform that automates marketing across the customer lifecycle is the key ingredient in Swiggy's recipe for success.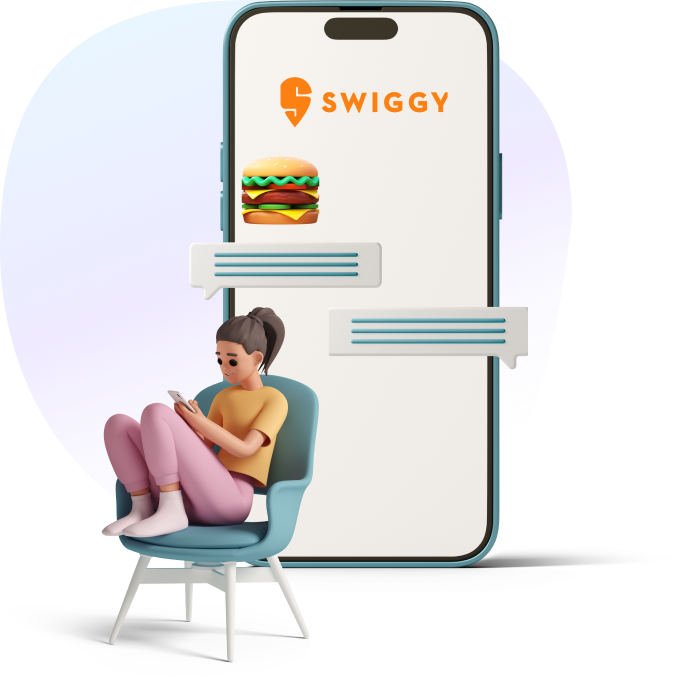 2.3X
Higher customer engagement
1.5X
Better reactivation rate over other channels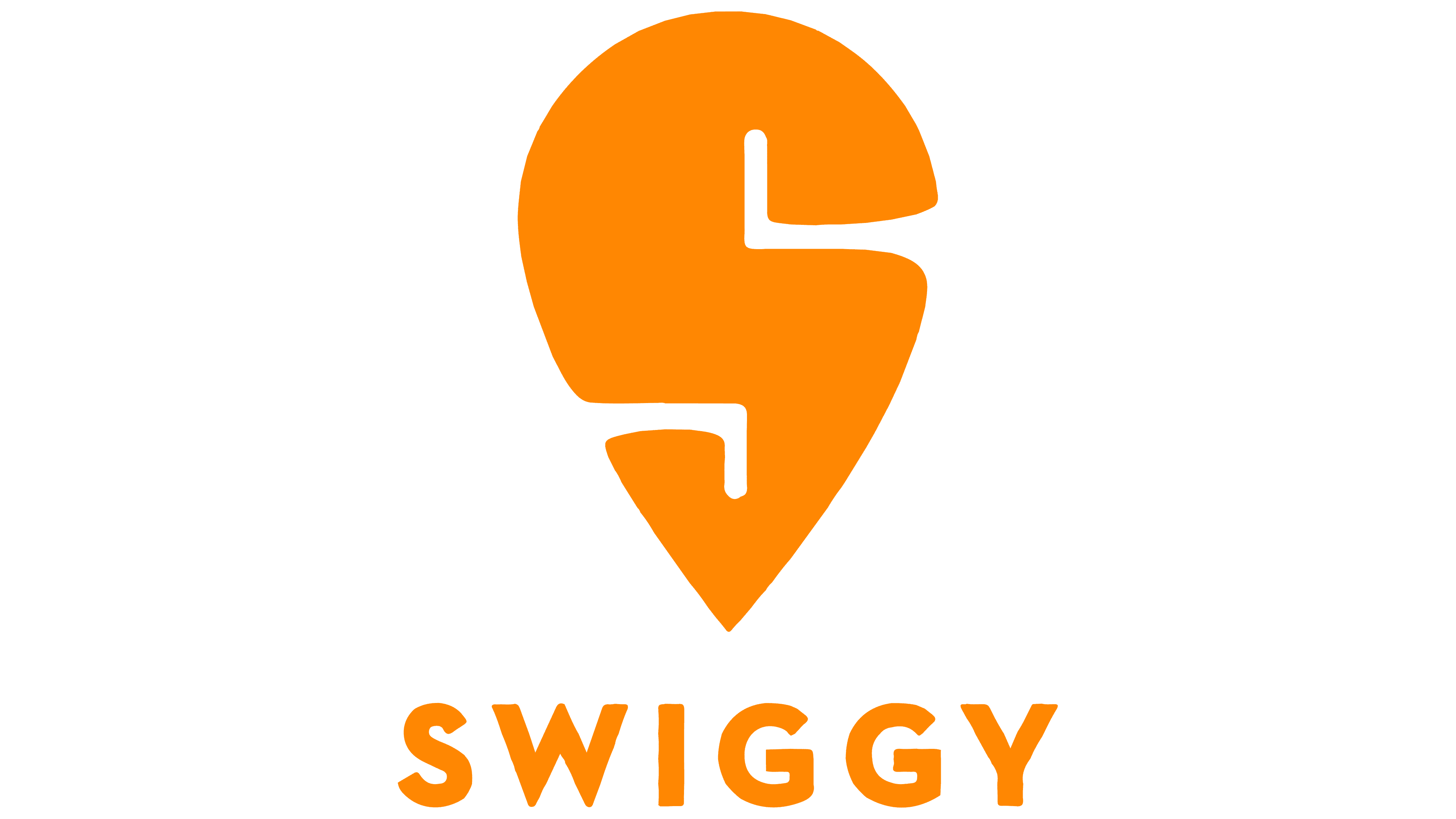 The Story
Elevating Customer Engagement with WhatsApp Marketing Conversations
Swiggy is India's leading on-demand food delivery platform with a tech-first approach to logistics and a solution-first approach to consumer demands. With presence in 500 cities across India, hundreds of thousands of restaurants on board, and a 200K-strong independent fleet of delivery executives, Swiggy strives to deliver unparalleled convenience with continuous innovation.
Objectives
The food ordering and delivery platform started out as a hyperlocal food delivery service in 2014. As a diverse company with a range of services, food delivery is the primary one. The platform also provides on-demand grocery deliveries under the name Instamart and offers a same-day peer-to-peer package delivery service called Genie. In 2022, Swiggy also acquired the dining and table reservation service Dineout.
The growth marketing team at Swiggy has two primary objectives: first, to attract new customers, and second, to encourage cross-usage of their offerings, with the top KPIs being orders per day and customer engagement.
In the past, Swiggy had successfully introduced WhatsApp as a channel for OTP and authentication use cases. Now, they wanted to take a step further and leverage WhatsApp for marketing promotions, growth campaigns, and optimizing the customer experience, adding it to their mix of app notifications and email marketing.
Swiggy aimed to leverage interactive and automated bot journeys as the icing on the cake to drive cross-selling.
The Solution
Putting the customer experience first with Dine Buddy
With ready access to the internet, searching for a place to eat was no longer a challenge for the customers. But being able to search for the right place with attributes that fit their requirements was the need of the hour. Recognizing this appetite for fast and simple interaction, Swiggy launched the Dine Buddy campaign on WhatsApp.
Leveraging Gupshup to design conversational journeys that elevated customers' experience in choosing the restaurant, Swiggy Dineout was not only able to engage users deeply and move them towards conversion but also get better insights to the user's choice.
In the past, Swiggy's email campaigns achieved a CTR of 2-3%, whereas the conversational journey on WhatsApp achieved a CTR of 7%, leading to an impressive 2.3X surge in customer engagement.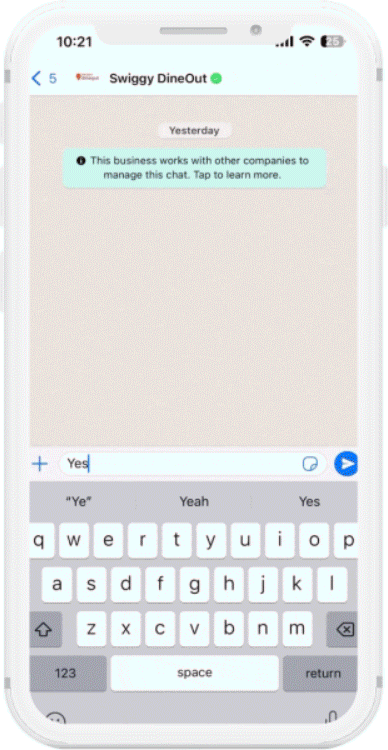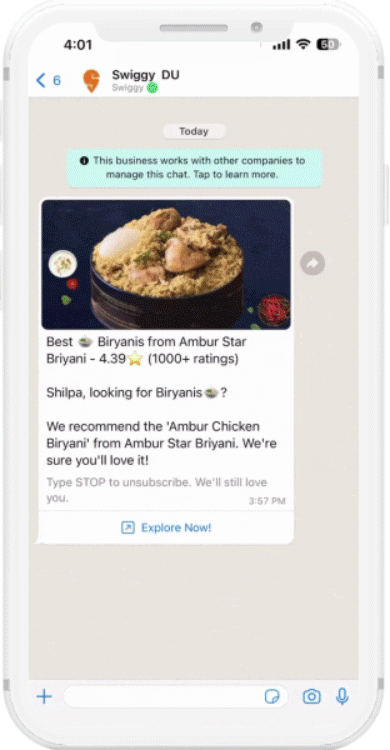 Giving customers what they want, when they want it with Fantastic Finds

Swiggy understands that customers come for the product but stay for the experience. Swiggy has carved out its top spot in the food delivery space by devising a marketing strategy that focuses on conversions without being pushy. When Swiggy noticed that their customers searched for their favorite food on the app but did not place an order, they decided to address the search drop offs with personalized nudges on WhatsApp.
The campaign included novel tactics such as sending customers a relevant video from an influencer talking about the attributes of the food item they searched for on the app, converting interest into orders.
Dormant users reactivation
Reaching out to the customers on a channel they are most active and engaging them with personalized communication can have a huge impact on improving CLTV.
Teaming up with Gupshup, Swiggy orchestrated reactivation campaigns aimed at its inactive users. The focus segment for this campaign was users who hadn't placed an order with Swiggy in the recent past. By nudging these dormant users through WhatsApp, Swiggy managed to establish a connection with individuals who either rarely used the app or had gone as far as uninstalling it.
This campaign on WhatsApp achieved 1.5 times better reactivation rate over other channels.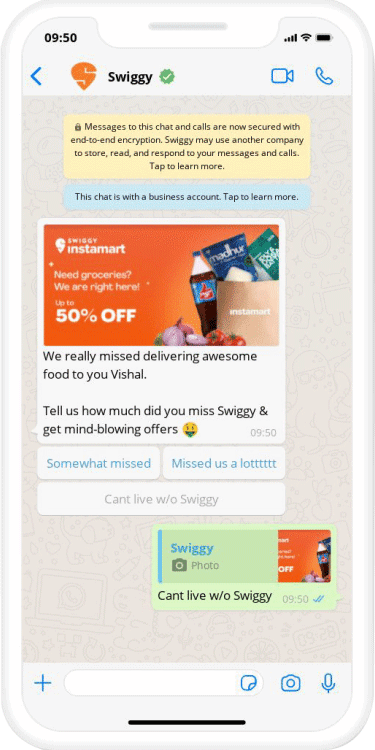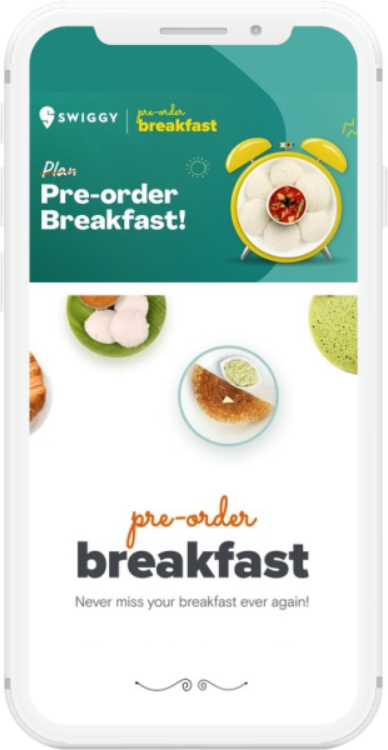 Encouraging customers to come back for more with Pre-order Breakfast
Swiggy recognizes that prioritizing quality customer experience provides companies an edge over competition. Hence they constantly strive to raise the bar of customer satisfaction with innovative campaigns. In an industry-first, Swiggy took their engagement a notch up with interactive bot journeys.
Swiggy's Pre-book breakfast campaign encouraged people to pre-order delicious breakfast from curated menu like Idli, Dosa, Vada, Mini-tiffin combo etc over WhatsApp & get it delivered in their chosen slot the next morning.
Pre-order breakfast with WhatsApp bot journey grew Swiggy's customer engagement by 3.5X
Solution
Conversational Marketing

Industry
Food Ordering & Delivery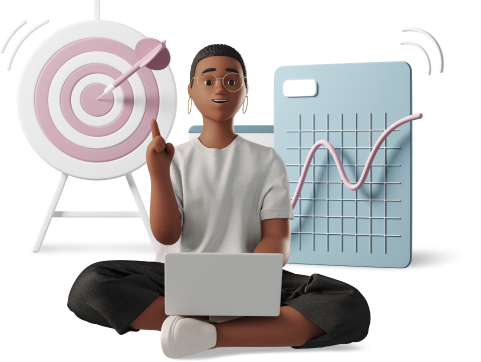 Continuous innovation
With a collaborative approach to innovation, Gupshup and Swiggy continue to experiment with new ideas
Swiggy is a pioneer, with a strong appetite for experimentation, open to trying and testing new ideas in the market, like their Tier 2 cities strategy. Swiggy is also strategizing to use conversations as they continue expansion into Tier 2 markets. This involves segmenting users into cohorts like quality-focused, discount-oriented, and those seeking speedy delivery, and curating custom offerings and programs for them.
Ready to get started on your conversational support journey?