Ace your Black Friday & Cyber Monday Sales with WhatsApp Business Solution
Black Friday and Cyber Monday aren't a US-only phenomenon but have become a global retail extravaganza. Hence, evangelizing AI in your communication strategy has become even more critical to attracting, engaging, and retaining your customers. In this Guide, we talk about the 5 key areas in which your brand can incorporate conversational commerce into the Black Friday and Cyber Monday sales strategy using WhatsApp.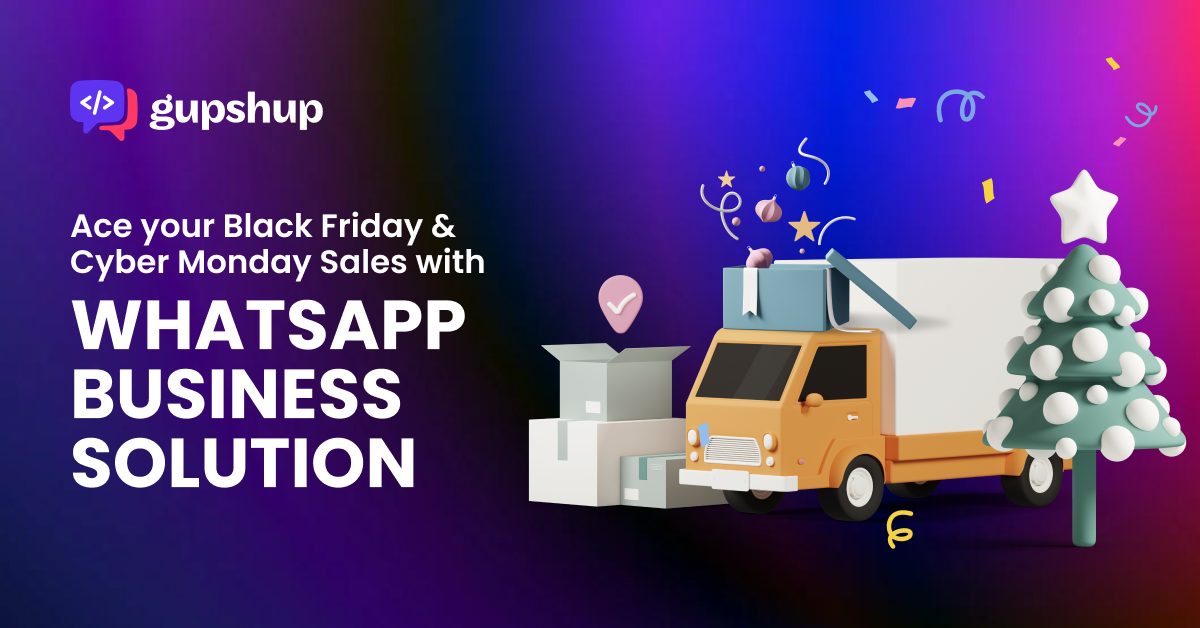 If you like Marvel Movies, then as a business owner, now is your 'Avengers Assemble' moment, as you need your entire team to huddle and support you through one of the busiest red letter days in the retail calendar – Black Friday & Cyber Monday. 
What's so special about Black Friday & Cyber Monday?
For context, according to a CNBC report, the US on any day sees about $2 to $3 billion in online sales. However, these figures dwarf the retail bonanza during Black Friday & Cyber Monday sales. To put this in perspective, US shoppers spent a record $9.12 billion online on Black Friday in 2022.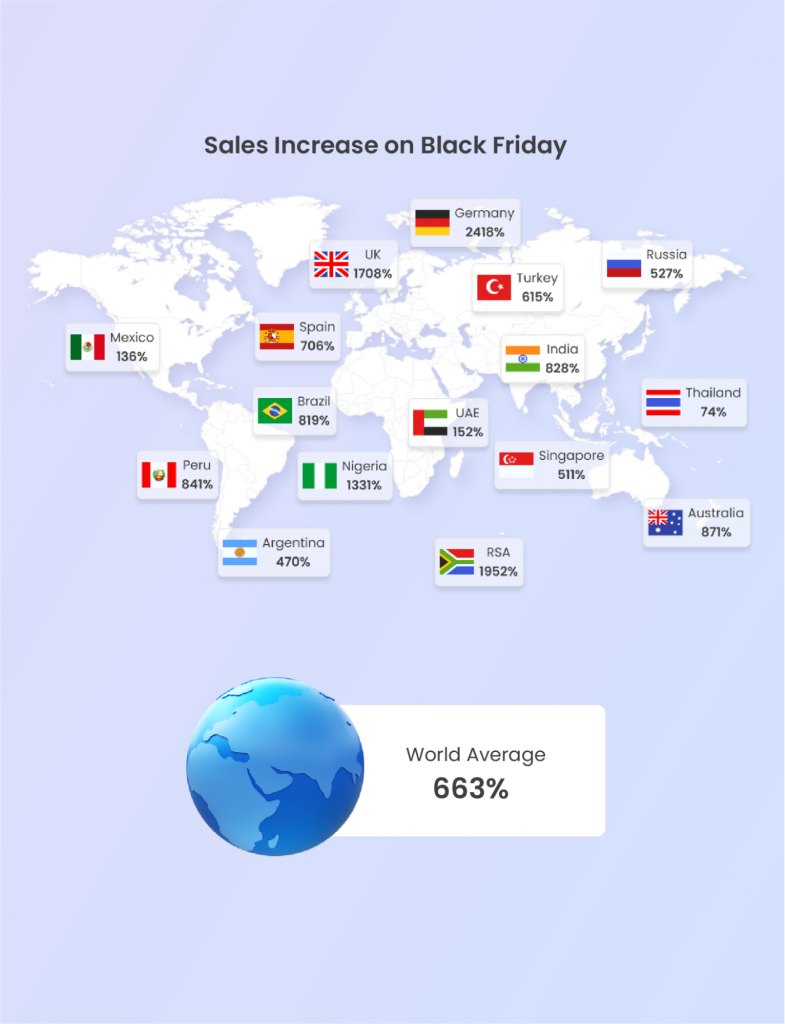 While all enterprises across sectors want to get the most out of this revenue-making period, most of them discount the importance of communication. As a brand owner, if you don't want your revenue to be rudimentary, why ignore customer communication? The answer to this does not lie in employing more staff or human agents, it's AI that can help. Evangelizing AI in your communication strategy has become even more critical, Black Friday and Cyber Monday aren't a US-only phenomenon, but have become a global retail extravaganza. 
According to Shopify, Canada and the UK are a close second to the US in Black Friday & Cyber Monday sales. India too isn't lagging behind, as shoppers increased their orders by 65% and their spending by 64% during the Black Friday sale, compared to the usual period. 
Hence, brands should not look at Black Friday and Cyber Mondays as a cash cow, but as a springboard that can help them sustain the same momentum throughout 2024. 
Consider these objectives while planning your communications strategy for Black Friday & Cyber Monday: 
Generate

new users

Engage

with existing/lost prospects

Build

brand awareness

Develop

a strong pipeline to reengage after the sale
Conversational AI can help brands achieve these critical KPIs. By infusing Generative AI-powered chatbots on platforms like WhatsApp, brands can optimize every chance of turning customer conversations into conversions. AI chatbots, built with conversational capabilities can facilitate the entire user journey.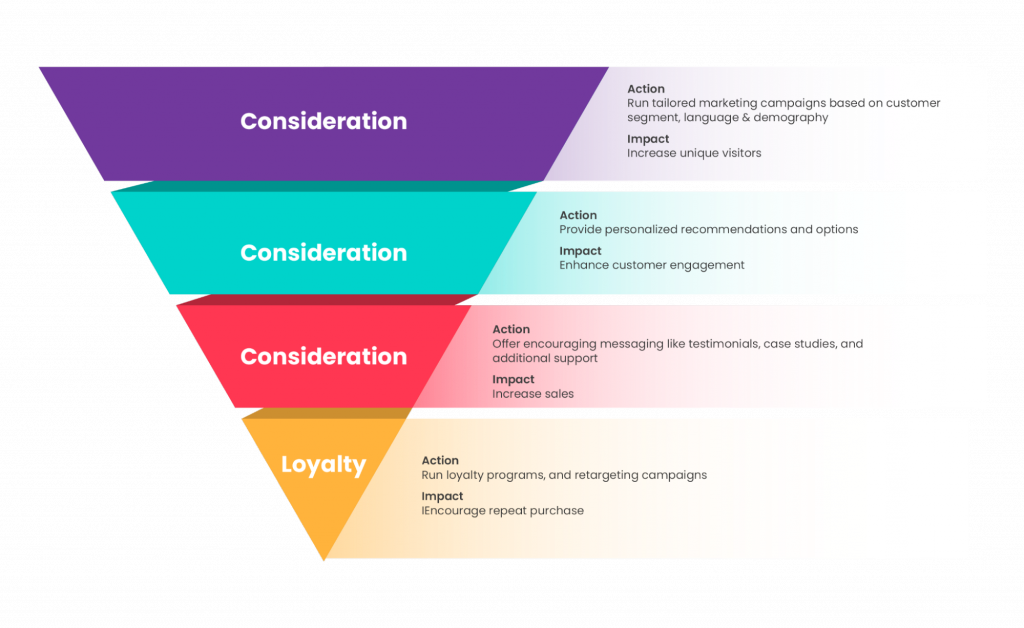 5 reasons to implement a Conversational AI-powered Chatbot on WhatsApp
Conversational commerce brings the experience of an in-store shopping environment onto a mobile phone through chatbots. Through Gen AI, natural language processing (NLP), machine learning, and on-site analytics, brands can create immersive chatbot experiences for shoppers that motivate them to go further in the buyer journey. 
Here are 5 key areas in which your brand can incorporate conversational commerce into the Black Friday and Cyber Monday sales strategy using WhatsApp. The best takeaway from this exercise is that you can deliver such engaging experiences and improved customer support all year round.
Make your ads conversational
It's only natural for brands to amp up their ad spends closer to Thanksgiving. In fact, as per a recent study, Google ad sales rose 16% YoY on Thanksgiving and about 19% on Black Friday. Traditionally, these ads would contain a 'Shop Now' button, which is redirected to a brand's campaign landing page. However, these websites fall short of giving all the necessary information to make a purchase or may lack the desired experience, thereby leading to opt-outs. 
In fact, according to recent reports, around 97% of visitors abandon websites before making a purchase or even filling out a form. It means marketing teams fail to get data from 97% of shoppers who visited the landing page. But here's where WhatsApp flips the conversion game for brands. By linking the ads to a WhatsApp for Business chat, brands give a conversational option for shoppers to explore their product, ask for additional details, reach out to customer support, and make a purchase.

What you achieve:
You enable a trusted platform for customers to share information critical to a conversion

You don't have to rely on third-party cookies 

The data retrieved from customer conversations on WhatsApp can be used for future retargeting and re-engagement activities
Offer personalized product recommendations
In the aftermath of the pandemic, more and more users prefer to shop online. According to Shopify, 73% of sales during Black Friday and Cyber Monday came from mobile phones in 2022, compared to 71% in 2021. Hence, it becomes critical for brands to provide the same in-store experience online. In fact, over 80% of shoppers claimed that it was absolutely necessary for online stores to provide personalized experiences to earn their business.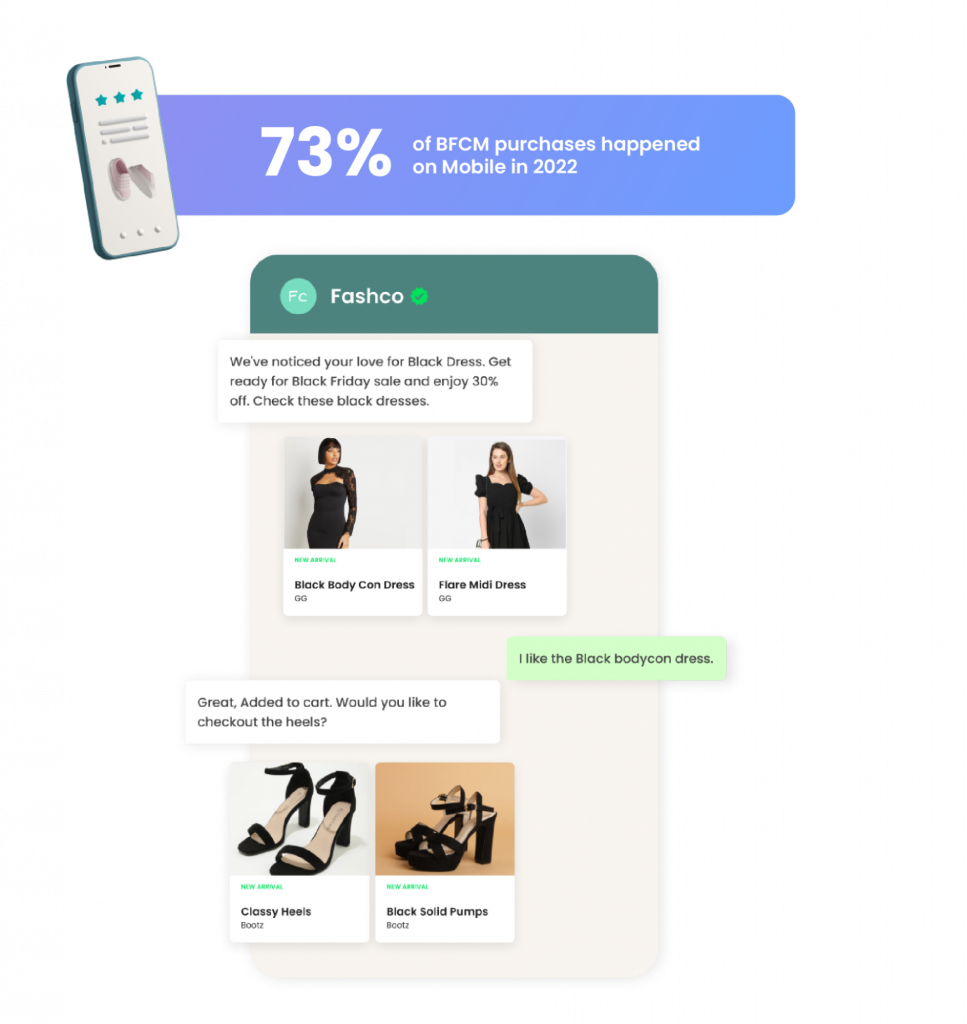 Digital-native shoppers expect brands to realize their tastes and purchasing preferences in advance. According to Salesforce, shoppers who browse product recommendations are 4.5 times more likely to add these products to their cart and finish the purchase. That's why integrating product recommendation systems within the sales strategy has become a critical action item for brands, especially during Black Friday & Cyber Monday.
Product recommendation opportunities
WhatsApp with its user familiarity and reach can be an ideal platform that brands can leverage to offer product recommendations to their customers based on browsing behavior and past purchase analytics.
Brands can send hyper-personalized messages and notifications to customers to their customers to pique their interest and bring them close to conversion. Moreover, with Gen AI-powered chatbots on WhatsApp Business Solution, brands can create pre-defined conversational journeys to ensure customer queries are addressed, and provide ample opportunities for them to make a purchase. 
Here are some Black Friday & Cyber Monday marketing strategies that you could deploy using WhatsApp for recommending products:

Customer buying history


Suggest similar or 'frequently bought together' products

Customer browsing pattern


Send a catalog of their recently viewed products with a CTA to the products purchasing page through WhatsApp

Sale Occasions


Send personalized product recommendations, discounts, and deals
Communicate Discounts and Promotions
It's no rocket science that higher discounts drive more sales. Hordes of brands offered deep discounts during this time last year, with Salesforce saying the average discount rate online in the U.S. was 30%, as per their research. In fact, some categories saw relatively better discounts, like 34% on toys, 20% on computers, and 18% on apparel.
Now most brands use channels like physical sign boards, emails, and SMS messages that have been long used to communicate discounts and promotions to their customers. However, WhatsApp outscores these channels effortlessly by combining the benefits of each of them into one platform.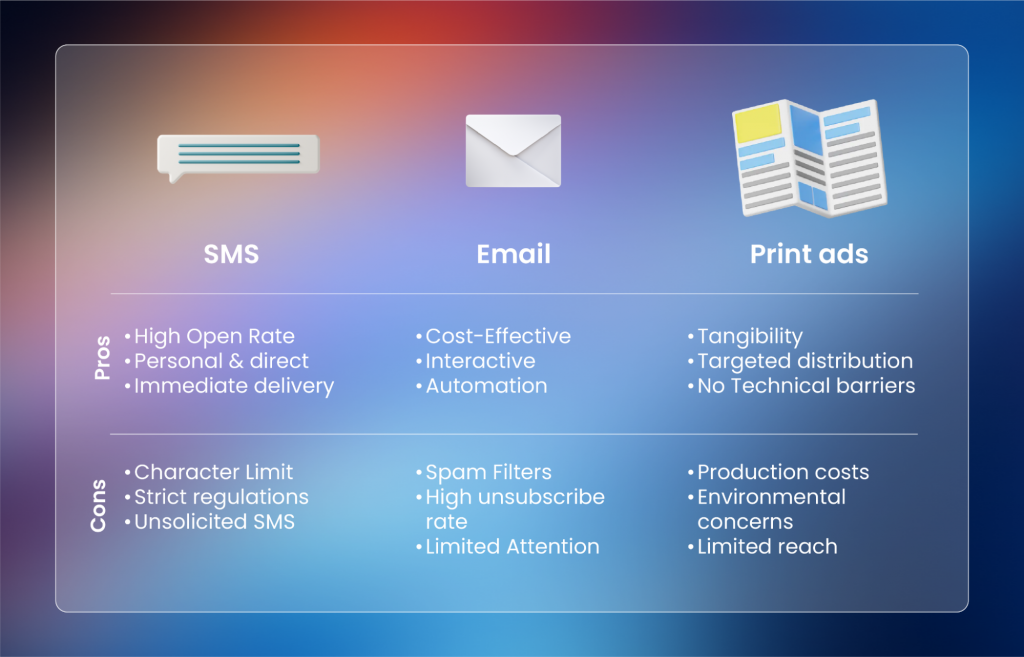 For instance, grocery stores can push their in-store visitors to connect with them on WhatsApp using QR Codes, and can then share digital leaflets featuring discounts and promotional messages FOR FREE and FOREVER with customers on WhatsApp.
Similarly, eCommerce brands can use the multi-lingual capabilities of WhatsApp to send discount messages to their customers in their preferred language.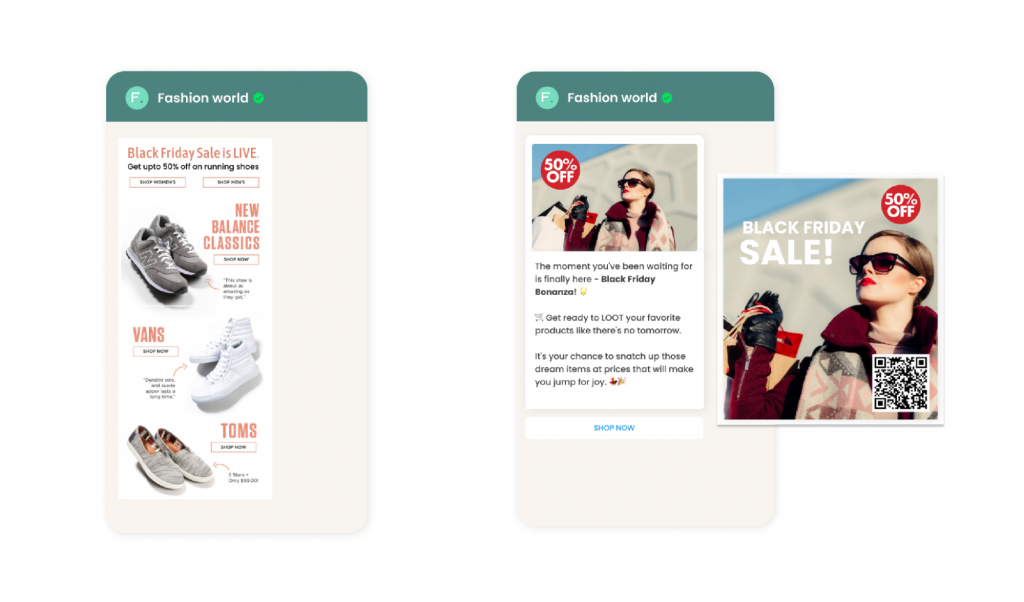 More shopper insights can lead to more personalization. This gives brands an opportunity to send personalized discount messages targeting specific customers who are at various stages of the buyer's journey. 
Waving off shipping costs is a fantastic way to influence shoppers' decisions. In fact, a recent survey indicated that nearly 49% of shoppers in the 2022 Black Friday sales were primarily influenced by shipping costs. Their buying decisions were swayed by the prospect of free shipping, underlining the importance of communicating Free Shipping messages.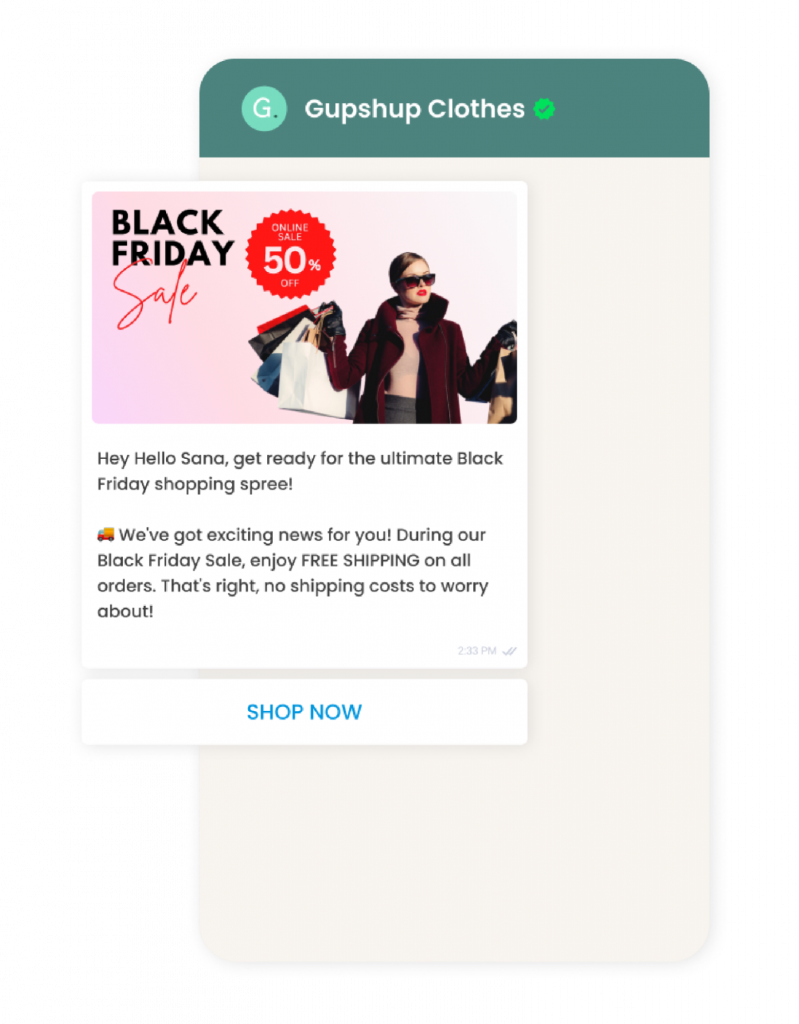 Convert abandoned carts
It is said that over 70% of online shopping carts are abandoned. This means, for every 100 potential customers, 70 of them simply leave without making a purchase. When your prospective customers close an app or just leave items in their shopping cart instead of completing the order, it's lost revenue for your business. In fact, eCommerce stores lose close to $18 billion in sales revenue each year because of cart abandonment. 
Since Black Friday & Cyber Monday clocks maximum sales, it also leads to maximum cart abandonments. As per Statista, a significant portion of online shopping carts were abandoned prior to purchase, at a daily average of nearly 80% during the 2022 Black Friday Sale period. 
Mobile shoppers who are used to fast information and quick solutions also expect a quick and seamless checkout and overall shopping experience. Studies show that 55% of consumers preferred to buy products if they were offered an easy and quick process. For instance, your first-time customers want a fast, friction-free checkout experience. That doesn't happen when they're being asked to create an account.
Offering a guest checkout option or an accelerated checkout option can significantly reduce cart abandonments.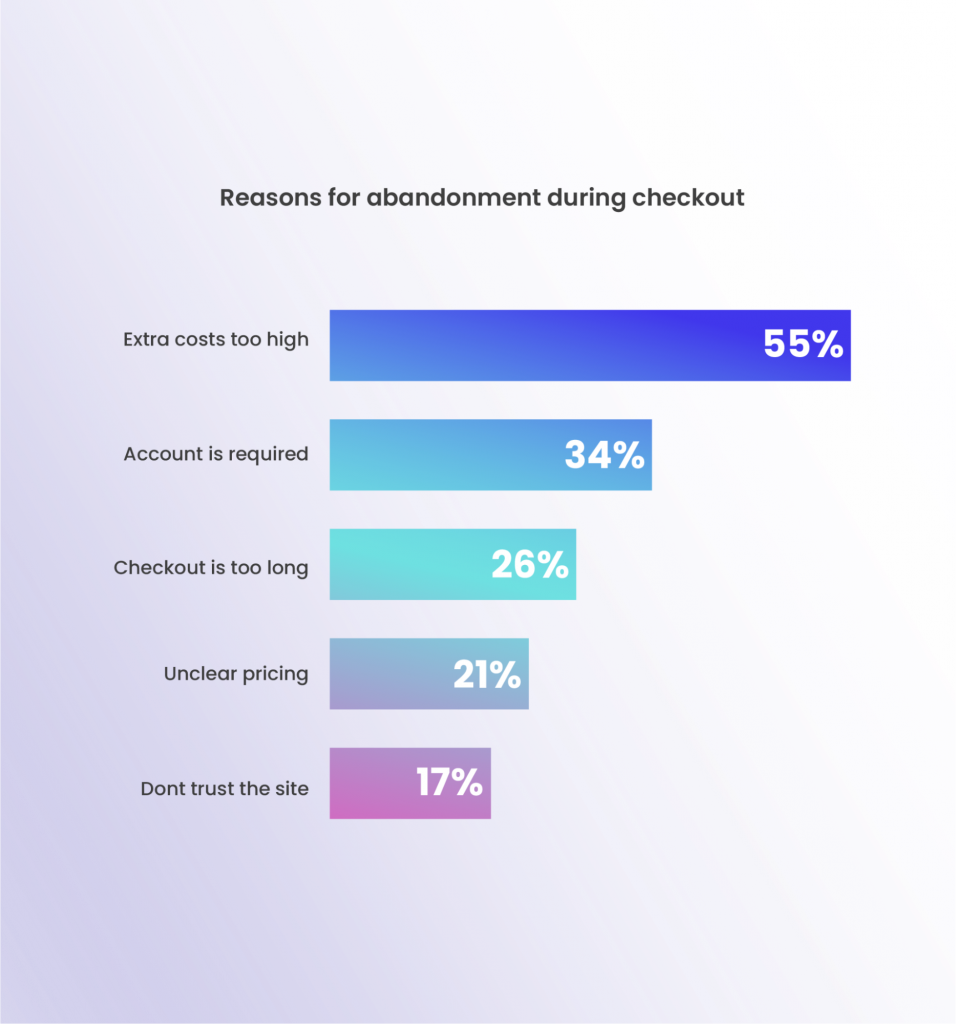 While most eCommerce brands lean on automated email reminders notifying shoppers about abandoned carts, they're only effective 8% of the time. Hence, WhatsApp Business API can be a great solution for brands to convert abandoned carts during the Thanksgiving Shopping Season. 
WhatsApp delivers a high open rate and click-through rate across campaigns. 
Owing to its ease of access among mobile users, WhatsApp makes for an excellent channel to send personalized messages to win back lost customers. Here's how:
Send instant and timely reminder notifications
Remind your customers about the items they left behind and allow them to complete their purchases.
Offer real-time shopping assistance
Offer support to your customers by addressing any questions or queries they might have about the product or assist them in finding the right products that fit their needs.

Share testimonials for validation
Share customer reviews, ratings, and testimonials, featuring your happy customers, and highlighting the quality of your products to further build trust among your prospective customers.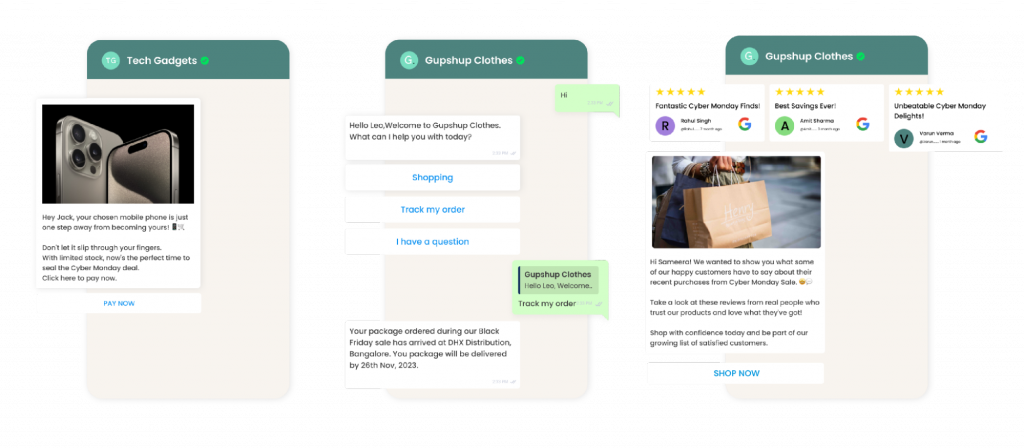 Offer additional discounts
Offer an instant timed discount to create a sense of FOMO and motivate your prospective customers to complete the purchase.

Seek feedback
Send a WhatsApp survey to seek customer feedback instead of nudging the purchase.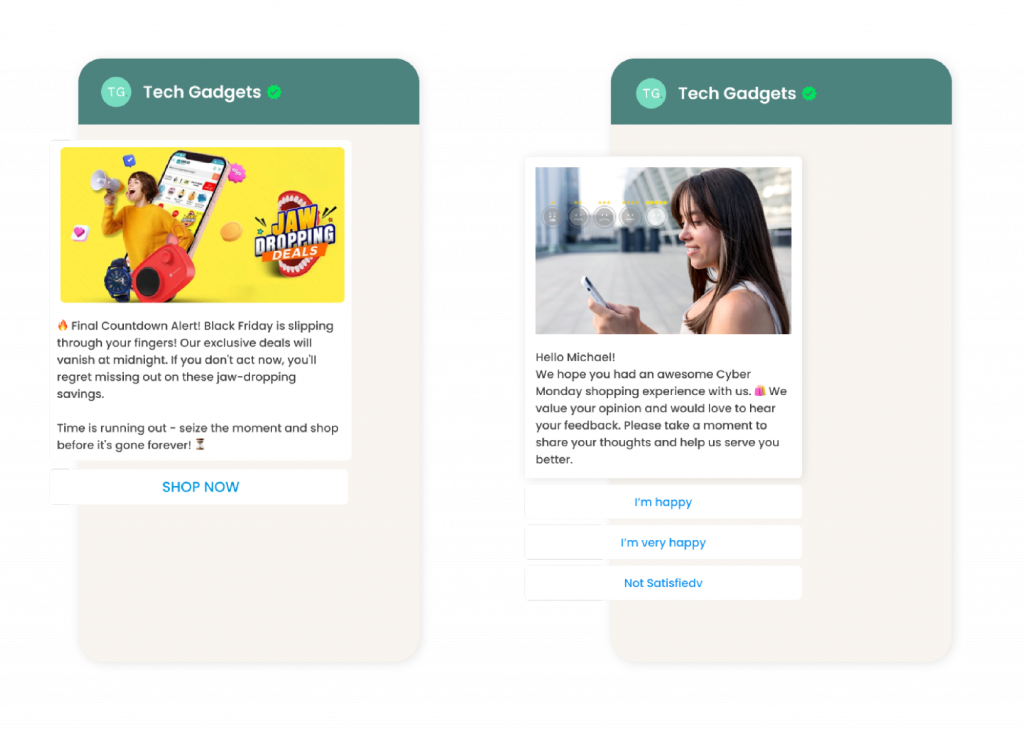 Empower your customer support team
Prompt and helpful customer service responses top every customer experience survey. A recent study indicated that 79% of customers expect a reply to any query within 24 hours. What's more, 40% expect a response within just one hour. Such heightened expectations are extremely crucial Black Friday & Cyber Monday sale days when every minute counts in converting sales and delivering the highest CSATs.
But how can brands deliver exceptional service without increasing headcount? The answer does not lie in employing more support staff, nor should your existing team spend all day answering common questions and FAQs. The trusted and secure messaging nature of WhatsApp makes it ideal for businesses to use the solution as an extension of their support team. 
From handling common customer queries to offering an option to connect to a LIVE AGENT, WhatsApp Business API truly acts as a great First Time Resolution Agent for brands. With WhatsApp, brands also have the option to program the chatbot flow intelligently to field any queries their customers may have. These can be extremely crucial, as over 67% of customers prefer to tackle things on their own rather than reaching out to customer support. Improving customer experience by addressing their queries can significantly improve sales, especially during Black Friday & Cyber Monday.

Handle common customer queries
Empower your customers to find the information they need quickly and easily.

Update your FAQs
Enable easy access for your customers to access your FAQ section to ensure quick resolution to queries.
Reduce response time with auto-replies
Create effective Gen-AI-powered chatbot journeys that anticipate customer queries and respond accordingly.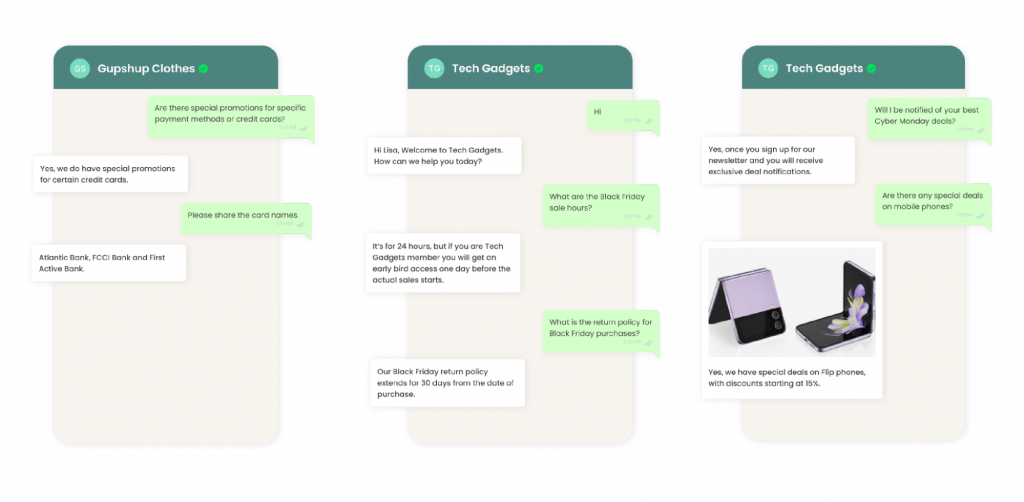 Conclusion
With great opportunity, comes great responsibility
If you have heard the story of the Golden Goose, you'll understand the analogy, that Black Friday & Cyber Mondays are big bonanza days in the sales calendar, and by applying the tactics mentioned in this blog, you can win BIG during these days. But the real magic happens when you build lasting relationships with your customers, which stretches beyond these key focus days. The relationships that you build with your customers and the conversational experiences that you deliver during peak sales traffic days can actually shape how customers perceive your brand. By easing the shopping experience, addressing queries quickly, and personalizing every touchpoint using solutions like WhatsApp Business, you can build a lasting first impression of your brand with your customers. Gupshup's ACE LLM-powered chatbots that run on WhatsApp can empower your brand to go the extra mile with your customers beyond Black Friday & Cyber Monday. Click here to experience.