Automate F&B Processes with Conversational AI
On June 25, 2021
|
5 Minutes Read
Conversational AI
Conversational Commerce
Conversational Marketing
Conversational Support
Food & Beverage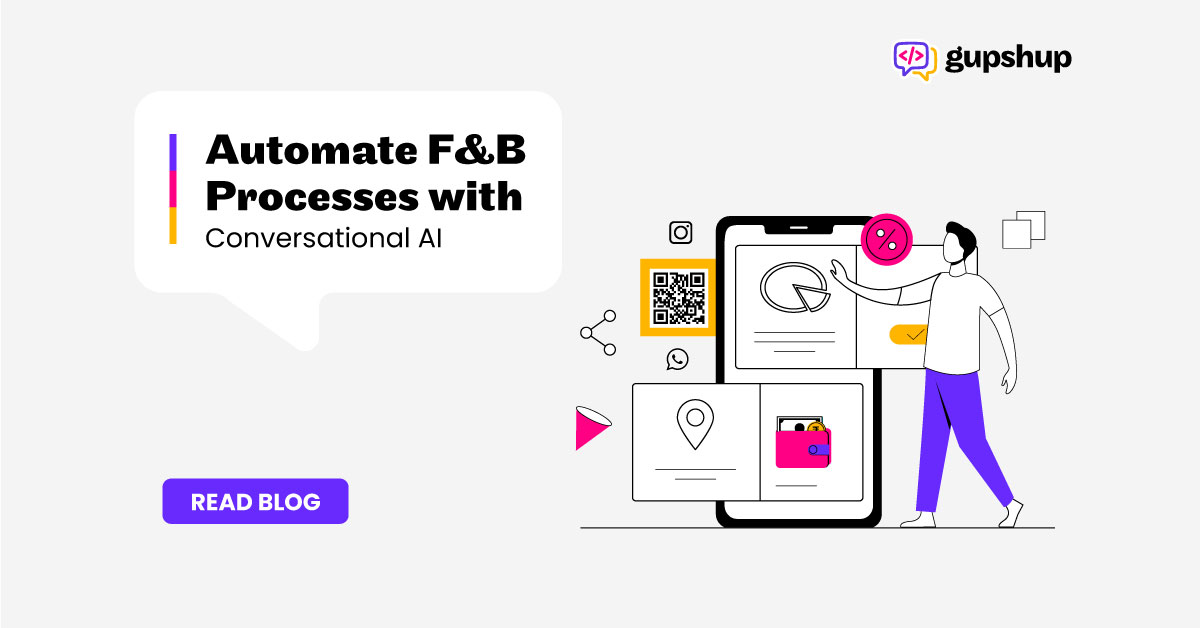 Introduction
Over the past few years, the food and beverage industry has seen considerable disruption. Businesses are moving their focus on trying new and innovative ideas to stay competitive and increase their customer base. Gone are the days when customers had to wait in long queues over the call or in the restaurant to place their order. The breakthrough in technology and the popularity of AI and machine learning algorithms have changed how the food and beverage industry operates. Keep reading this article to understand how conversation AI can be a gamechanger for the food and beverage industry.
Challenges
Product Traceability
Product traceability is one of the prime challenges in the F&B industry. Thanks to the internet and technology, consumers are more educated and informed today. They take a lot of interest in knowing how many calories they consume, what ingredients are in their food, what goes into their food. This situation has led manufacturing and supply chain departments to adopt ingredient labeling for packaging products.
E-commerce Presence
Continuous innovation in technology and the rise in internet usage have made people tech-savvy and socially informed. Consumers prefer to buy clothes, electronics, appliances online over visiting the store. While the other sectors such as textiles, electronics, furniture have already laid a solid online foundation, the F&B industry has been relatively slower in keeping up.
COVID-19 Pandemic Crisis
From manufacturing, supply chain, restaurants to food delivery vendors, all the sectors in the F&B industry have been hit severely by the pandemic.. Countrywide lockdown is preventing people from working from their place of work, impacting supply chain business severely. Sudden lockdown announcements result in buying and storing food items in bulk, creating food shortages and social disparity. People are likely to practice social distancing until they find the cure. Therefore, the F&B industry is expected to experience a downturn.
How Conversational AI is Empowering F&B Industry
From agriculture to defense, artificial intelligence is gaining prominence all over the world. AI is about applying powerful algorithms to depict human intelligence and involves self-learning by utilising the data. AI can empower all segments of the F&B industry and is the way forward to take this industry to new heights. From automating food manufacturing and supplying to gathering customer feedback and informing agriculture resources for more efficient production, AI can serve various purposes.
Here is a list of benefits that AI can bring to the food and beverage industry.
Safety and Quality
AI algorithms have the power to deliver quick, secure, consistent, and precise production results than human beings. Businesses can utilise AI algorithms and AI-based detection solutions to keep their staff and equipment safe by recognising danger. For example, a device can sound an alarm if a staff member forgets to put on safety gear.
Waste Reduction and Transparency
Wastage of raw material or processed food is the most discussed and scrutinised part of the F&B industry. The wastage does not come from a single source. Wastage comes from various sources like overproduction, fluctuations in raw materials, etc. Businesses can apply AI to entire production chain facilities. AI can be implemented in each stage of the manufacturing and supply chain process – production, tracking cost, measuring raw material requirement, overseeing stock level, etc.
Production Optimisation
AI is proving to be a key in streamlining production and making it more efficient. It empowers machines to administer themselves to reduce downtime, optimise asset utilisation, manage inventory, forecasting estimated delivery time, and predict failures. With AI in place, production can operate at an exceptional speed while reducing costs and enhancing staff experience.
Packaging
The sudden surge in food delivery demand is proving to be a bottleneck for the F&B industry. It does not have enough staff members to fulfill the increasing demand. Many companies are utilising AI to help teams achieve better results while reducing time and cost.
Future Possibilities with AI
Enhance Customer Experience
The F&B industry can deploy AI-based solutions to enhance the customer experience. They can collect their feedback to improve their services or products. They can also offer them loyalty points, rewards, complimentary meals based on their behaviour and experience.
Deploying Bots for Order Placement
Conversation AI will allow restaurants to deploy a bot and automate the order placing process. Customers don't have to wait in a long queue to place an order or make a payment. They can use their smartphones to choose what they want to eat and make an online payment. It will increase the value of orders by reducing waiting time and drive significant satisfaction and loyalty from existing customers.
Take Advantage of the Customer Data
Restaurant staff can maintain a customer database where they store vital information about their customers. Next time when the customer visits their restaurant, they can suggest options based on their previous orders.
Conclusion
Scaling up AI algorithms with a circular-economy vision could revolutionise the way food is grown, prepared, packaged, and enjoyed. Since AI's evolution is fast and ongoing, it is impossible to predict where this technology will be in the next few years. However, AI is already proving to be a gamechanger in the F&B industry.
Gupshup enables better customer engagement through conversational messaging. Schedule a demo with us.
Blogs you will want to share. Delivered to your inbox.
Business Email
×
Read: Journey of the BFSI industry through Conversational AI solutions