Journey of the BFSI industry through Conversational AI solutions
On June 28, 2021
|
6 Minutes Read
BFSI
Conversational AI
Conversational Commerce
Conversational Marketing
Conversational Support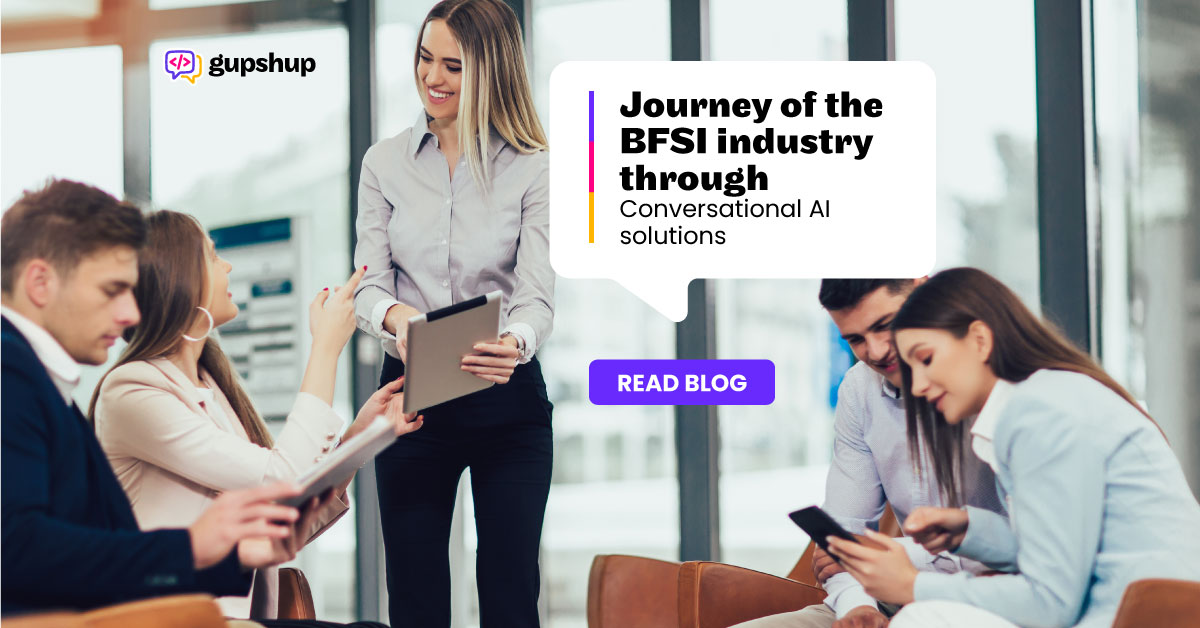 The BFSI industry has continuously adopted the latest technological breakthroughs to turn every challenge into an opportunity for their customers. However, the implementation of internet banking and fast transaction apps are still not enough. The companies under BFSI are yet to offer top-notch instant solutions, personalised experiences, proper cyber-security, etc. and become more customer-centric.
Well, Conversational AI adds "salt to the sth." Apart from satisfying customer expectations, it assists BFSIs in conquering them. Conversational AI bots replace manual CRM activities with automated and reasoning-based operations.
Let's know more about it:
Conversational AI Use Cases in Banking, Finance, and Insurance Industry
1. The Reliable Information Provider
Conversational AI tools make extensive use of intelligence, which essentially supports the data extraction generated both within and outside the institution. These platforms effectively track and handle volumes of data and place them in the proper structure, whether from competitors, employees, or users. 
In Finance, Conversational AI is one of the best tactics for performing real-time, facilitating successful decision-making, and providing competitive data analysis. For example, banking institutions use this technology to determine which sectors generate higher revenue, which zones require investment, competitors, and whether or not the company can create new solutions for customers and staff.
Agent servicing awareness:
Policyholders frequently turn to agents for answers to their questions about their packages. Despite this, many of these agents find it difficult to keep up with the minutiae of the coverages they need to promote. Insurance policy specifics, renewal processes, term limits, holding conditions, price and premiums, and other small features can all vary over time.
They may need to keep an eye on their platforms for alerts and their email panels for such critical information quickly.
Dealing with consumers in such an information-rich environment becomes difficult for agents to collect the facts they need at short notice. Thus, it may have an impact on their relationships with customers. Conversational AI can get the job done. Agents can use Conversational AI solutions to get the material they need at their fingertips by posing questions using a conversational interface.
Policy-Research Assistance: 
Consumers stay updated nowadays, and they like to conduct their homework before contacting a sales agent for quotations. Consumers can use Conversational AI insurance products to help them in their insurance policy study via e-offerings. 
However, most people fail to understand the terms of a policy they might be interested in due to the complexity of those products. With the aid of Conversational AI technologies, this can be solved by supporting active Q&A sessions between visitors and chatbots or digital agents. The automated assistants help clients through the buying process, minimising the need to explore a catalog and direct them to the final products once their qualms and worries have been resolved.
Viable Self-Service:
In the BFSI industry, Conversational AI can enable end-to-end self-service, promising to be a valuable tool in the relationship-building cycle. Businesses may now offer clients a self-service paradigm with more customised and faster interactions kudos to AI-powered conversational assistants.
Considering the complexity of insurance policies, this would have been unimaginable just a few years ago. On the other hand, Conversational AI tools can reply to clients in their language, utilising simple terms and words. Furthermore, because of natural language understanding features, they can refine their responses, allowing them to manage immensely complex consumer inputs better.
2. Efficient Operational Management
A chatbot's design cost is a one-time thing, and it must be upgraded with data over a short amount of time to manage thousands of consumers across numerous channels. Humans are far more expensive to train and pay for the same activity. Furthermore, developing a chatbot that works across numerous consumer touchpoints can be even more budget-friendly than developing specialised banking software when using cloud-based technology. 
According to research, Conversational AI would save banks $7.3 billion and around 862 million hours until 2023. There's still time to see if this forecast is correct, but there are compelling reasons to believe that AI-powered conversational bots are here to stay.  
Repetitive Query Automation:
Customers are inclined to inquire about the specific details of their plans due to the diversity and intricacy of insurance policies. Likewise, agents have to answer a lot of repetitive questions from customers. 
Conversational AI has the greatest advantage here. It automates the most common and repeated questions among them. The generic questions are resolved automatically without any involvement of the customer care team. This supports them to believe in more critical tasks that offer value to consumers and generate income for the supplier. 
Improved debt repayment:
When it comes to specific financial circumstances like debt collection, voice algorithms have outperformed human counselors. Debt collection bots can comprehend and gather information on non-payments and present options for future settlements. People are open and comfortable addressing debt with chatbots because they perceive the encounter to be safer and less intrusive.
Future Expansions:
Financial institutions can also use Conversational AI to ramp up operations and reach new markets. For example, suppose an insurance company plans to increase its market share internationally. In that case, chatbots can be used to develop a multilingual support system that caters to potential consumers from all over the world. These virtual agents may be programmed to engage with customers in various languages due to the AI and NLU capabilities.
3. Satisfied Customer Journey
Clients can use financial services chatbots to complete several financial activities communicatively and securely. The customer can do simple operations independently, such as processing a refund, changing credit card limits, renewing insurance, paying premiums, reporting stolen cards, or checking an account.
Because many firms are accelerating their digital transition, cybersecurity has become more important. Chatbots can actively monitor and recognize the warning signals of any sort of fraud and send alerts to both the bank and its customers.
Conversational AI also has a huge role in offering speedy and round-the-clock services. They copy the human pattern of interaction and provide solutions effortlessly. 
All in all, Conversational AI is a novel tool. It has taken the BFSI interaction with its customers to another level by giving real-time, personalised, and relevant customer service. Conversational AI powers have multiplied leads and sales for the industries. To engage your audience or lead them to take action, contact now or talk to one of our representatives today!
Blogs you will want to share. Delivered to your inbox.
Business Email
×
Read: How to use WhatsApp for Customer Support?