Chatbots Are The Paradigm Shift for E-commerce in COVID-19 Era
On November 2, 2021
Chatbots
Conversational Engagement
D2C & E-commerce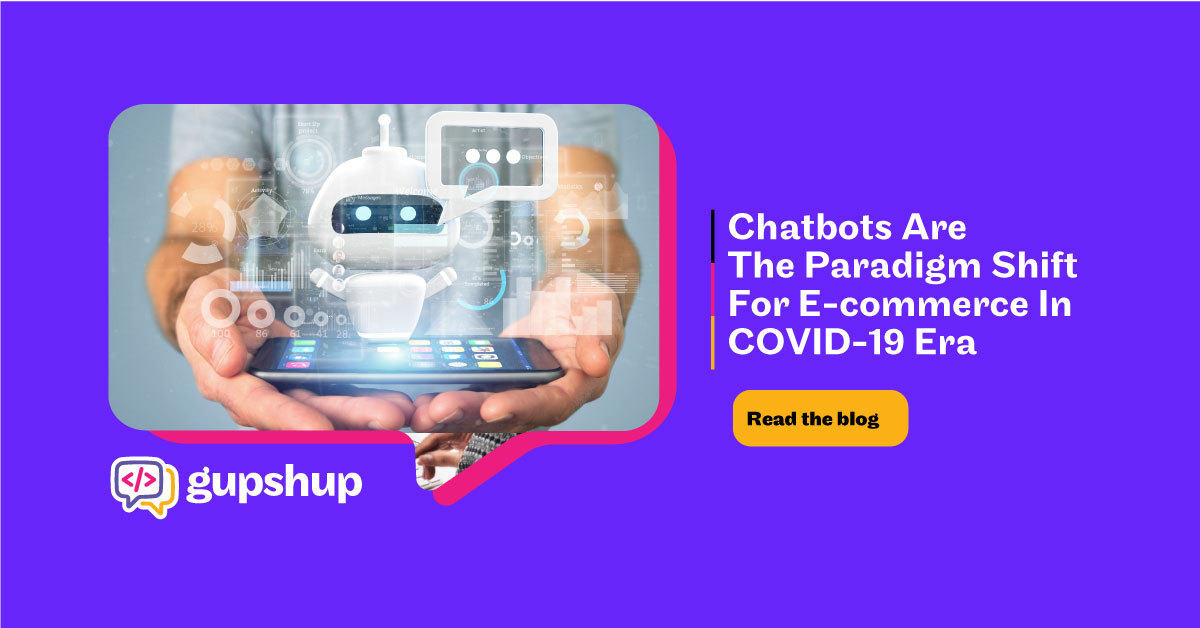 Chatbots & E-commerce go hand-in-hand. Whether it's a food & grocery delivery app or an electronics e-commerce store, chatbots are most likely to be used by consumers for resolving their queries. Nearly 67% of consumers have used a chatbot for customer support, across the globe. When surveyed industry-wise, 34% of the consumers accept the use of AI-powered chatbots for online retail followed by healthcare & telecommunication industry at 27% and 25% respectively.
With the pandemic disrupting traditional businesses, digital adoption is no more optional but a necessity to sustain the growth of your enterprise. Due to the lockdown, physical offices and retail shops have closed either temporarily or permanently which has pivoted a lot of businesses online.
Conversational AI-powered chatbots for e-commerce
Before diving into the relationship between e-commerce and conversational AI, let's take a look at what exactly is conversational AI.
Conversational AI-powered chatbot is a type of artificial intelligence chatbot which allows users to have a humanlike conversation with websites, apps & devices through voice, text, touch or hand gesture inputs. Instead of having more "looped conversations", conversational AI takes the message as you would convey to any other human being and translates that into meaningful action to proceed with your query or transaction.
Months before the pandemic started, Gartner's report in July 2019 suggested that "By 2025, customer service organizations that embed AI in their multichannel customer engagement platform will elevate operational efficiency by 25%."
E-commerce, chatbots and the pandemic
COVID-19 has transformed business in ways we couldn't have imagined, from a technological point of view. Expos & exhibitions started happening virtually along with regular team meetings. AirBNB started offering virtual travel experiences too!
E-commerce companies on the other hand were ready in some ways for this type of crisis and can be labelled as a "pandemic-proof" industry as revenue of the industry soared up while traditional businesses were crashing down. However, e-commerce companies can put more effort into giving a better customer experience. Here are some reasons as to how chatbots can help your online business to thrive in the COVID-19 era:
Reducing costs:
Pandemic has forced many businesses to reallocate resources. One of the ways  an e-commerce enterprise can reduce costs is by implementing AI-powered chatbots for customer service purposes. Chatbots are an interactive entry point and if users are satisfied with the conversation they are having with the bot, you can consider reducing the workforce.
Personalized responses:
AI-powered chatbots respond to queries based on the user input. This helps to have a customized conversational experience with the user. Machine learning creates a better conversational flow which helps to gain accurate responses, overtime. By offering personalized experiences to your users, your brand value will increase.
Customer satisfaction:
With instant responses and reduced waiting time to solve customer queries, AI-powered chatbots offer higher levels of engagement with personalized replies, all of which leads to satisfying your customers. This makes the job easy for you as an enterprise to retain valuable customers and help sustain your business, even in times of crisis.
Reduced abandoned carts:
AI-powered chatbots themselves can directly send reminders to users to complete their purchase orders, if they have added a product in their cart earlier and left without purchasing it. Chatbot messages get read 12x more than emails, hence, having more chances of retaining your sales in such unprecedented times.
The final takeaway
E-commerce companies implementing conversational AI-powered chatbots will thrive in the so-called "new normal" as they will be flexible in the way they provide support to the consumers and can adapt to changes more promptly & swiftly.
Looking to digitally transform your business & scale it up amidst the pandemic? Gupshup is definitely your go-to conversational messaging solutions partner. Gupshup's Single API enables seamless customer engagement across 30+ channels. Leverage our unmatched channel, operator and handset partnerships.
#LetsGupshup to know more!
Blogs you will want to share. Delivered to your inbox.
Business Email
Recommended Resources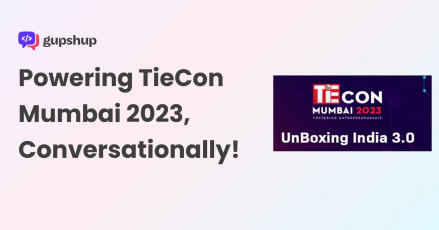 TieCon Bot, enables the event delegates to navigate the event intelligently allowing them to interact with...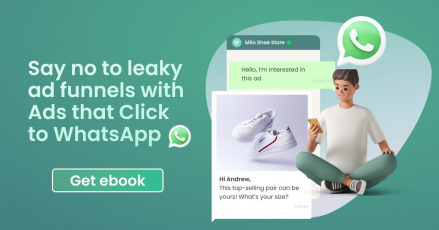 Read the eBook by Gupshup to uncover you can increase your return on ad spends by...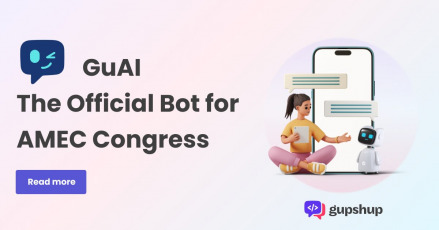 GuAI, the virtual assistant of AMEC Congress, enables attendees to interact with speakers and sponsors, access...
×
Read: Instagram Messenger API: A Game-Changer For Brands