Conversational AI solutions for Edtech
On September 6, 2021
|
5 Minutes Read
Conversational AI
Conversational Engagement
EdTech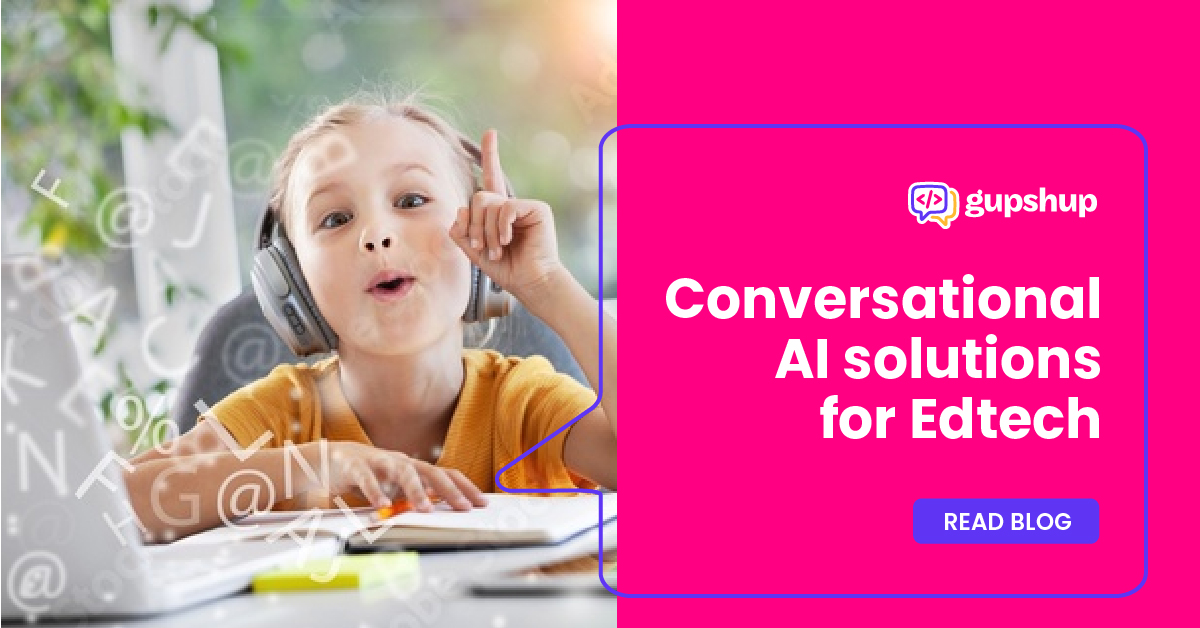 Technology has advanced our world at a rapid pace. According to some reports, it was estimated that by 2020, 50% of all jobs would be done by technology instead of people. While this may seem a little scary to some, the reality is that this technology will improve the quality of life of people in the workforce. Artificial Intelligence is already being used in fields such as healthcare, banking, restaurants, etc. These AI-powered solutions will be backed by chatbots, making customer interactions more accessible and more conversational.
The education industry is also undergoing a lot of changes. The traditional classroom is changing to include a lot of technology. With the ongoing pandemic, online classes seem the norm. There is heavy reliance on apps and websites for learning. AI and chatbots are also making their debut. With the advancement in technology, educational institutions are also trying to find innovative ways to boost student acquisition, improve conversations, answer student queries effectively, etc.
However there are many challenges in the same. Web experiences are often not very smooth. Apps are not easy to use for all. Attention span and digital distractions are increasing for many students. And overall, the mass personalization approach is a challenge for many. This not only impacts the quality of learning for students, the ability of educational brands to acquire, nurture and retain students also gets affected. There are specific inherent challenges faced by the edtech institutes today, like:
Student acquisition:
Converting students without counseling is a significant challenge as it forces hiring more human counselors. The overall process of taking students through the AIDA (Awareness, Interest, Desire, and Action) program is quite time-consuming.
Query solving:
Answering and resolving student queries is an integral yet challenging part of the entire e-learning process. There is a good amount of back and forth in communication and ongoing communication needed in real-time.
Continuous communication:
There is always a need to keep the communication channels open, be it for sending notifications to students, getting their acknowledgement, or making them act on it.
Student retention:
Making sure that students are retained for an extended period is another challenge, as many keep shifting from one course to another periodically, as per preference.
Our Conversational Solutions
Edtech is on the cusp of a revolution due to the recent advancements in artificial intelligence. Gupshup provides Edtechs the ability to take its users through various processes such as lead generation, onboarding of students, query solving, etc. Our AI-powered Conversational Learning transforms parent and student engagement for a better learning experience.
Course acquisition:
You can share a conversational workflow with your students to help them choose and pay for the right course.
Consultative selling:
You can upsell, cross-sell as well as make purchase suggestions to parents while answering their queries.
Generate leads:
When students and parents browse or access your website or app, you can proactively collect contact information of students and follow up with their parents who access your website/app.
Remarketing:
Create one-on-one communication and remarketing campaigns for users on a platform of their choice.
Doubt solving:
Trained AI models help answer frequently asked questions with context changes; complex or advanced-level queries can be transferred to human counselors.
Student feedback:
Chatbots help run surveys, capture NPS, record student feedback through a conversational workflow, which can be further processed to offer customized queries.
Benefits to Edtech Companies
Every edtech company aims to remain at the top of the market and also to improve its services. To do this, they need innovative ways to attract more students and retain them. The focus of the companies is shifting towards creating a better customer experience. They are trying to bring in the best possible services to their end customers. Gupshup's AI-based conversational interfaces ensure improved customer experience along with several other benefits.
All parent, student and teacher engagement is done on the messaging apps
Integrate with your existing CMS, website/app, and IT infrastructure
Acquire new students, nudge new lessons, assessments, upsell or cross-sell courses
Provide 24×7 assistance so that students can learn at their convenient time and engage for help if required
Convert digital workflows on website/app such as course purchase to conversational workflows
Control overheads by reducing staff involvement and deploying an AI-layer for intelligent conversations
Gain a competitive edge over other educational institutes in terms of technology and student experience
The final takeaway
AI-powered Conversational Learning can help transform parent and student engagement for a better learning experience. We have been working with various institutions. Our solutions are trusted by leading educational institutions like NIIT, Matific, Khan Academy, Doubtnut, ALLEN Career Institute, Lovely Professional University, Manipal University, BYJU'S, to name a few.
If you have any questions about Conversational AI or would like to learn more about how to use it for your institution, please reach out to us, and we'll be delighted to get you started. Initiate a conversation with us to know more about Gupshup for Edtech.
Blogs you will want to share. Delivered to your inbox.
Business Email
×
Read: Personalized D2C and e-Commerce shopping experiences