Conversational Banking For Improved Customer Experience
On October 27, 2021
BFSI
Chatbots
Conversational Engagement
Conversational Support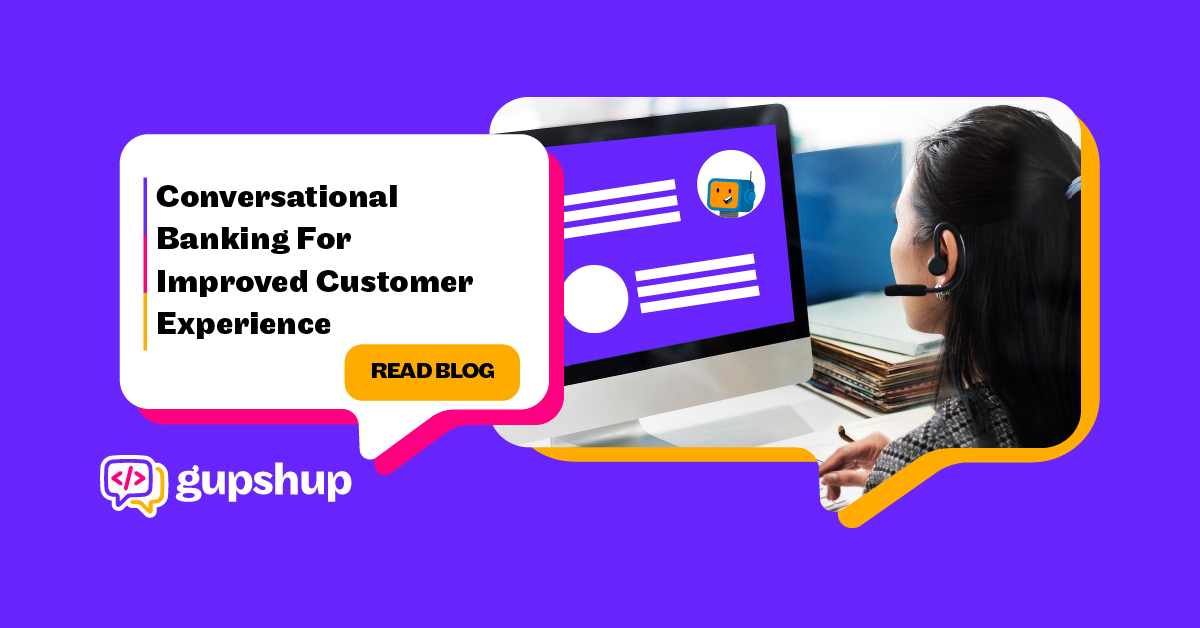 Over the last couple of decades, banks have been utilizing their legacy platforms to undertake commercial and retail banking. With rapid advancements in technology, these core banking functions are now evolving into modernized systems. When it comes to automation and digitization of banking functions, there is a vast dependency on technology and transformation. This is owing to benefits such as increased productivity, reduction in costs of ownership, integration of technology, better time management, delivery of superior customer experiences and the creation of digital and physical touchpoints through omnichannel approaches.
Organizations in the banking and financial services industries have websites and mobile applications integrated into their daily operations – both internally and externally. With increased digitization, comes better outreach and the ability to enhance customer experiences and involve more people in the banking network. One of the most interesting digital approaches that organizations in the BFSI sector have adopted is conversational banking.
Conversational Banking – The Art & The Approach
As a broad concept, conversational AI allows banks and financial institutions to facilitate direct conversations with their customers through text, chat, voice messaging, or tools that encourage visual engagement.  This strategy helps banks automate their customers' support services and improve their response rate to queries and clarifications. According to Accenture, more than 50% of people desire to switch to digital channels when it comes to their banking experience. Juniper Research predicts that 90% of banks will use chatbots by 2022.
This shows that the reliance on digital technologies in the banking sector is set to grow in the future. As highlighted in episode 2 of our podcast on Conversational Banking, when it comes to the topic, one word comes to mind – convenience. Whether you walk into a bank, an ATM, or undertake a transaction online, as a user, one values convenience.
Since the pandemic, the reliance on physical banking touchpoints has reduced significantly; more people are using digital banking channels to get their work done. So how well has the transformation taken place to adopt AI, ML and digital strategies to ensure ease of convenience for customers? Let's find out.
Transforming banking experiences
One of the biggest challenges that banks face nowadays is to create a seamless experience for their customers by moving operations and functions to online channels. This comes through three stages –
While banks have undergone massive development and transformation in the process of transitioning online, customers find actions like lending, borrowing, and making payments complex. According to Beerud Sheth, digital banking transformation will be successful only by breaking down these tasks into more simple processes that involve transactions through in-message platforms.
How have conversational interfaces evolved?
Over the last few decades, personal computing has undergone a massive transformation. As the world moved from desktops to laptops and smartphones, user platforms moved from websites to apps. This has now evolved into conversational digital experiences to help customers undertake a more natural approach to solving their queries. The transition has been smooth, and customers have adapted to these technological innovations.
Banks have also been quick to adopt this approach – from complex workflows where customers needed to sift through hundreds of screens and tabs to get their answers, or waiting in a long queue on the phone to speak to an executive – now one can simply chat with a bot and quickly resolve their queries through a conversation. While apps and websites are the faces of the digital revolution, customers crave for a more intuitive method to get help – and what's simpler than a conversational messaging platform that explains it all?
No more clicking buttons and tabs; all you need to do is drop in a query or choose from preempted queries to get quick resolutions. While digital apps may be seamless to use for younger generations, conversational banking has a huge advantage in making the banking system more inclusive. Whether the entry point into the conversation is a text message, push notification, or CTA, these are all conversation starters that help make customers more engaged.
Interested in learning more about how banks can swiftly make customer experiences more contextual to the current times? Or how banking experiences can be made more satisfactory by incorporating high levels of data security and user privacy? Find out how banks in Europe and the US have quickly worked on increasing customer experiences, and how India has expedited its digital experiences through the use of API. Tune into episode 2 of our Conversational Banking podcast for more insights.
Take the conversation ahead
Gupshup enables better customer engagement through conversational messaging. Gupshup is the leading conversational messaging platform, powering over 6 billion messages per month. Across verticals, thousands of large and small businesses in emerging markets use Gupshup to build conversational experiences across marketing, sales and support. Gupshup's carrier-grade platform provides a single messaging API for 30+ channels, a rich conversational experience-building tool kit for any use case and a network of emerging market partnerships across messaging channels, device manufacturers, ISVs and operators.
With Gupshup, businesses have made conversations an integral part of their customer engagement success. #LetsGupshup to know more.
Blogs you will want to share. Delivered to your inbox.
Business Email
Recommended Resources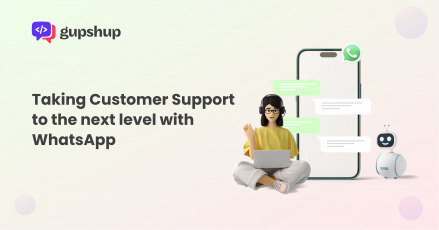 Discover how WhatsApp is revolutionizing customer support, providing a seamless & efficient communication channel to elevate...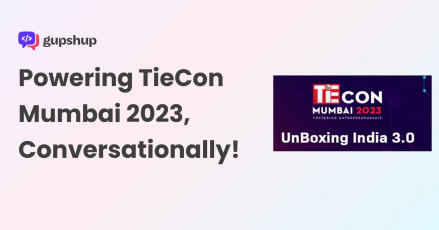 TieCon Bot, enables the event delegates to navigate the event intelligently allowing them to interact with...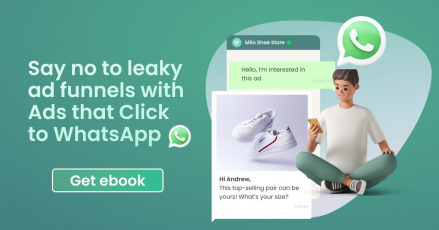 Read the eBook by Gupshup to uncover you can increase your return on ad spends by...
×
Read: Redefining Consumer Experience Through Chatbots