F8 updates for Bots
On April 25, 2017
Chatbots
Generic
Integrations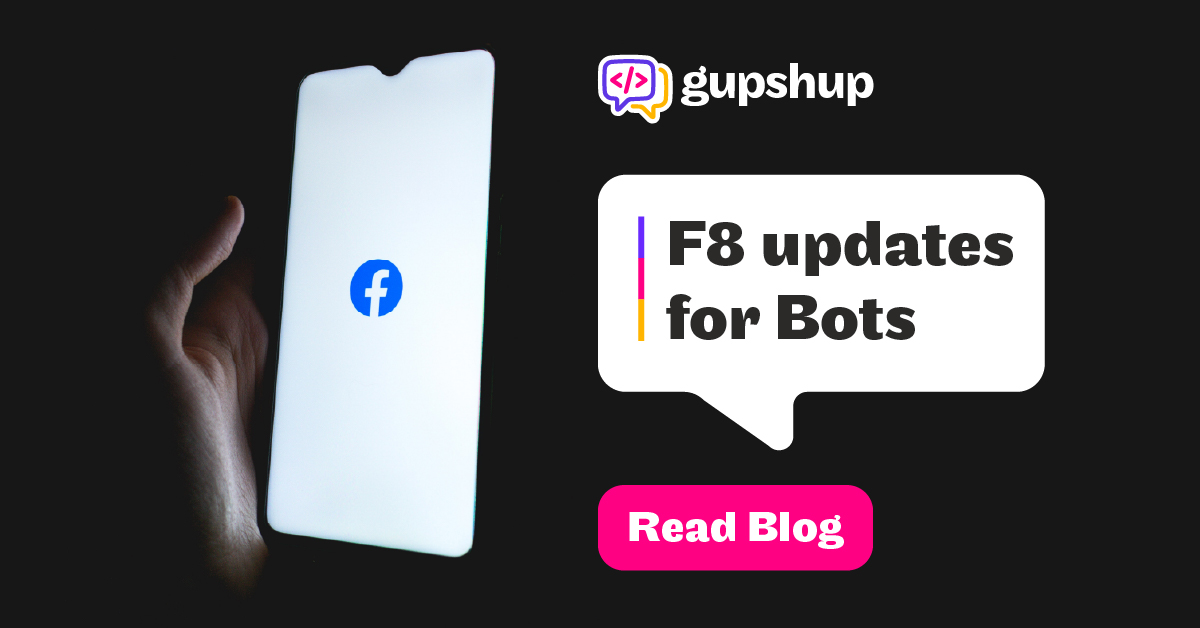 In 2016, Facebook opened up their messenger platform to developers and businesses to develop bots. Since then the messenger platform has come a long way with various updates which saw them bringing in templates, quick replies, persistent menus, webviews, messenger extensions, payments etc. This has helped developers continuously improve the experience of their bots. We have seen bots being developed for various use cases like Raising Awareness, Customer acquisition, Customer service, e-Commerce, Financial services etc.
Now in 2017 @F8 Facebook debuted Messenger platform 2.0 and gave us insights about the growing ecosystem.
Few stats from F8: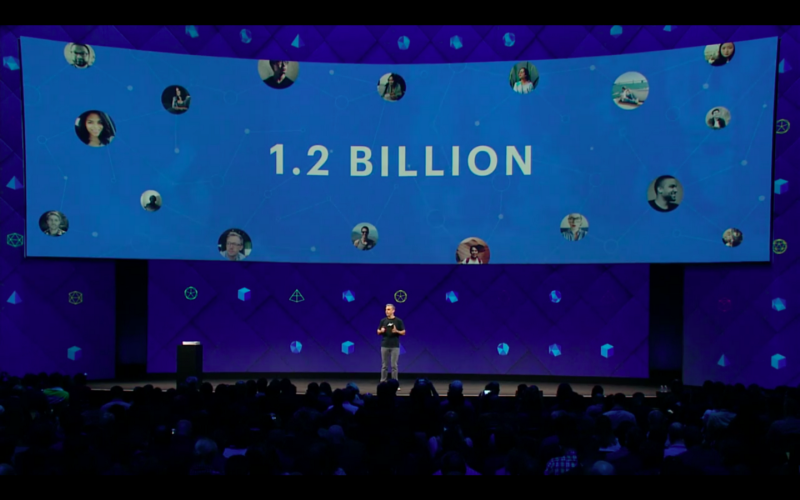 1.2 billion monthly active users
Around 100,000 monthly active bots
Around 100,000 developers building bots
2 billion messages a month exchanged between users and Businesses including bots
Key new feature updates:
Bot Discovery: Finally the most sought after feature by the bot developers is here. Everyone always asked this question "How can someone discover our bot". Facebook has introduced a new surface which will help users to browse and find the best bots, places and businesses that offer support on messenger. This feature also includes categories such as News, Food & Drink, Finance, Entertainment and much more. For your bot to feature in this all you need to do is to fill out the Facebook's Discover submission form.
Although filling this form doesn't guarantee that your bot will be displayed on the discovery surface but it is based on certain filters and ranking which is not disclosed.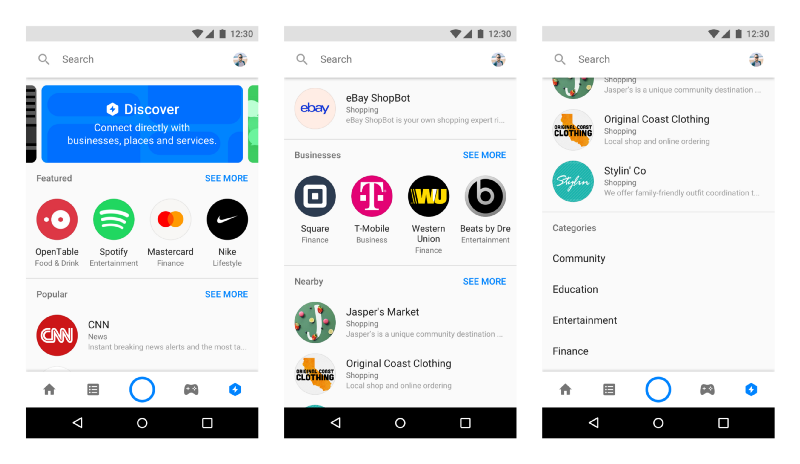 There are also few guidelines that can help your bot to get more visibilities:
Having low Block and report rates.
Having Get started button & Menu enabled.
Having Great responsiveness.
Roll-out plan:
18th April – Submissions open and testing begins.
May – Public rollout in the US.
Post that Global rollout begins.
Here is a demo video for better understanding.
Chat Extensions(Group bots): You can now add a bot into a conversation and collaborate on different activities like ordering food, splitting payments, tracking team tasks etc. These bots will only work through web view based UI created by the developer as Facebook doesn't want the bot to receive personal messages between the users of the group and also doesn't want to pollute the conversation thread.
Things to remember:
Webviews only
Messenger extensions has to be enabled
Bots can only send messages
Bots can't be mentioned by the user
Bots can't receive messages
Take a look at the demo video.
You can also read Facebook's documentation on this feature here
Few bots that already support this feature: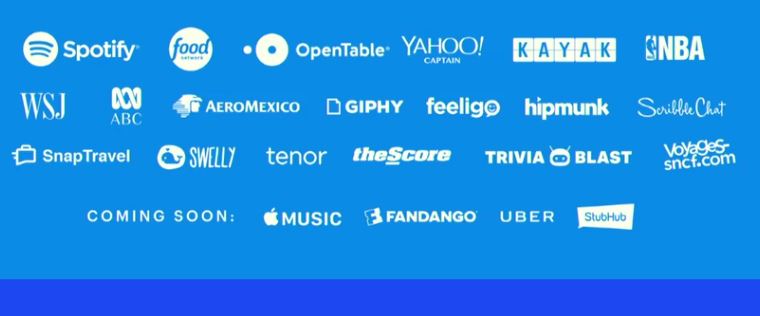 Parametric Messenger Codes: These codes are a great way to drive traffic to your bot. Users can now use the native messenger camera to scan these codes to start the interaction with the bot. Businesses can have multiple codes for the same bot delivering multiple experiences.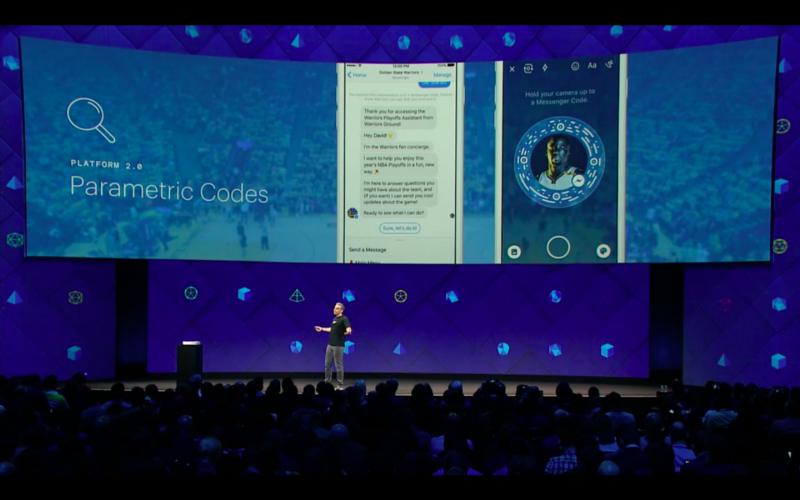 The ability to create multiple functionalities in the same bot through these codes will be really helpful for businesses. For instance, you provide different discount rates based on where the code was scanned, ie. either at your physical store or the e-store.
To know how to use them read through this guide.
Hand-over Protocol: Businesses can now work with multiple developers to create different experiences within a single bot. As per Messenger team: "With this hand-over protocol tool on our platform, various vendors and developers will be able to pass control back and forth based on the state of the conversation."
This is currently available in limited release for select businesses.
While Facebook has released a plethora of exciting updates, it will be interesting to see how developers merge and mould bot use cases here on.  One thing's clear unlike what a few sceptics had predicted earlier, chatbots are here to stay
Blogs you will want to share. Delivered to your inbox.
Business Email
Recommended Resources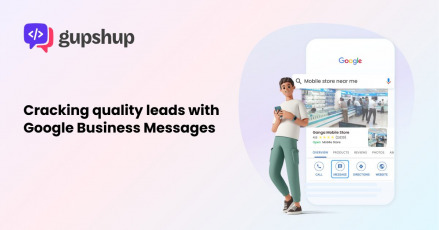 Learn how to revolutionize your lead generation strategy with Google Business Messages. In this blog post,...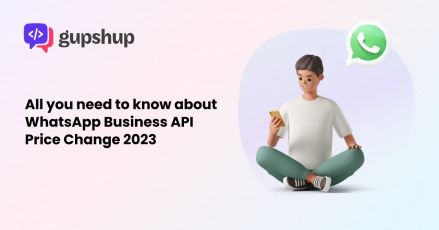 Learn about WhatsApp Business API's new value-based pricing and all the new features to look forward...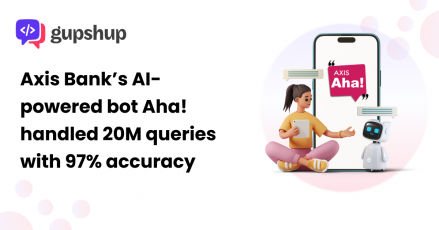 Learn how Gupshup's omnichannel conversational support solution helped Axis Bank increase user growth by 40X
×
Read: Omni-channel Messaging APIs are changing the way businesses communicate