Unleashing the Power of Function-Specific LLMs: A Glittering Jewel in the Generative-AI Crown
On August 24, 2023
|
8 Minutes Read
Agent Assist
Bot Builder
Conversational Engagement
Generic
WhatsApp Business API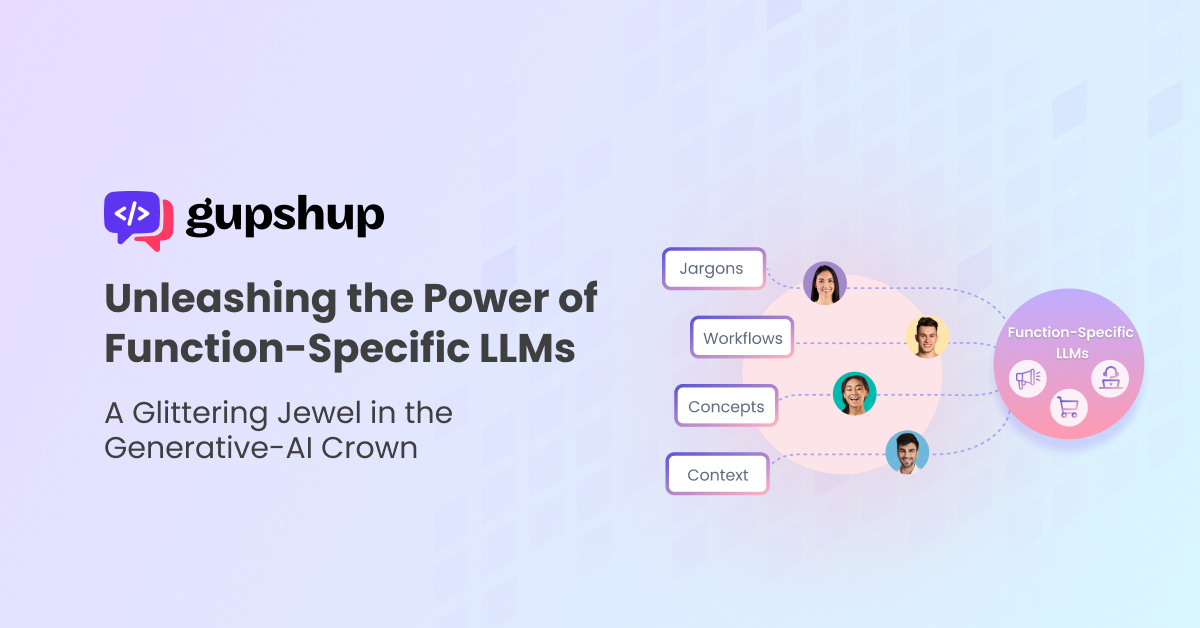 Large language models (LLMs) serve as immensely useful, versatile foundation models. However, the question remains: how far can we truly push the boundaries with a one-size-fits-all approach? While these models excel in tackling prevalent natural language benchmarks often found in deep learning research, their practical application frequently necessitates instilling new behaviors tailored to specific use cases.
An LLM that is too broad could lead to outputs that are confusing, or sometimes, just plain wrong. But what if there was an LLM that operated on the boundaries of a specific context? What if that context was information pertaining to specific functions of your organization?
This is precisely the purpose of Function-specific ACE Large Language Model. These specialized language models are designed to hold specific information about business functions, ranging from Sales, Marketing, Commerce, and Support to HR and IT.  ACE LLM empowers enterprises to quickly and effectively transform conversational experiences across various stages of the customer lifecycle. From product discovery, lead generation, and commerce to troubleshooting and customer support, these models enable more precise, human-like interactions delivered with speed, scale, and compliance along with data governance, all while maintaining a lower total cost of ownership.
What is the moat of function-specific LLMs?
The vital difference between Foundation LLMs and function-specific LLMs is their ability to be specialists. A non-AI world analogy that explains this best would be one of a neurologist who is vastly more adept at handling issues of the brain than a general physician.
When Domain-specific Large Language Models are used in a function-specific context, they are far more adept at enabling your AI to get you answers and insights that are clear, accurate, and devoid of noisy data. These LLMs are fine-tuned to understand the depths of their function and provide contextually relevant text, insights, and solutions.
Advantages of Function-Specific LLMs:
1. Domain Expertise and Accuracy
One of domain-specific LLM's greatest advantages is its ability to be an expert in any of your organization's functions. Extensive fine-tuning of LLM using data specific to a function ensures that they are key repositories of information that spreads across functional context, organizational processes, and terminology. 
An AI that operates on these specialized LLMs will turn out to be a worthy ally and an unendingly enthusiastic colleague who is extremely knowledgeable, ever-present, lacks bias, and speaks your language. 
2. Enhanced Efficiency and Productivity
With large functions comes great inefficiency! 
Domain-specific LLMs are designed to automate tasks, and have knowledge about the function's process and goals, resulting in automation that delivers more than conversations – resolutions. This process and function knowledge lower manual intervention (and therefore, operational overhead), and maximize workflow efficiency. 
Their ability to be malleable in any domain is evident from their use in diverse functions ranging from Marketing to Support. to Healthcare.
3. Personalization of Customer Experience
Personalization is a pivotal factor in ensuring high customer satisfaction. AI that operates on LLMs that are tuned by function enables highly personalized experiences by analyzing individual preferences, behaviors, and interaction patterns.
This personalized experience can be achieved by deploying function-specific LLMs in specific areas ranging from marketing (targeted campaigns based on customer purchase history) to customer support (analyzing customer support history).
4. Data-Driven Decision Making
Using function-specific LLMs greatly aids in decision-making as they are valuable in extracting meaningful insights from vast amounts of a function's data. One of the key benefits of an AI that uses function-specific LLMs is the speed with which it can surface key information that facilitates apt and effective decision-making.
It is indispensable in areas such as customer support where on-the-spot problem-solving is needed and supporting insights are provided in real time. 
Mitigating the effects of knowledge loss
An important facet of function-specific LLMs is their perpetual and persistent nature. This allows for mitigating the effects of knowledge loss that occurs from a churn in the personnel belonging to a particular function. An LLM will continue to retain knowledge of processes and data of a function and continue to enable an AI to use this information. 
Flexible Modelling for Optimal Output
Ensuring that only non-obsolete information is surfaced by an LLM is an important factor in cementing the trustworthiness of your AI. In this regard, domain-specific LLMs provide mechanisms to incorporate updates to company policies, flag obsolete processes, and remove redundant tasks.
Allowing only the latest workflows to be in the LLM will ensure your AI always provides the most relevant information that is in line with company policies and procedures. 
Enable all your functions to work smarter with ACE LLM
Beyond the generation of text or responses, domain-specific LLMs play a broader role. They act as intelligent coordination layers, overseeing tasks and procedures within their specific domains.
Check out an example of how the combination of Retail and Commerce ACE LLM are playing out responses to the same customer query, differently: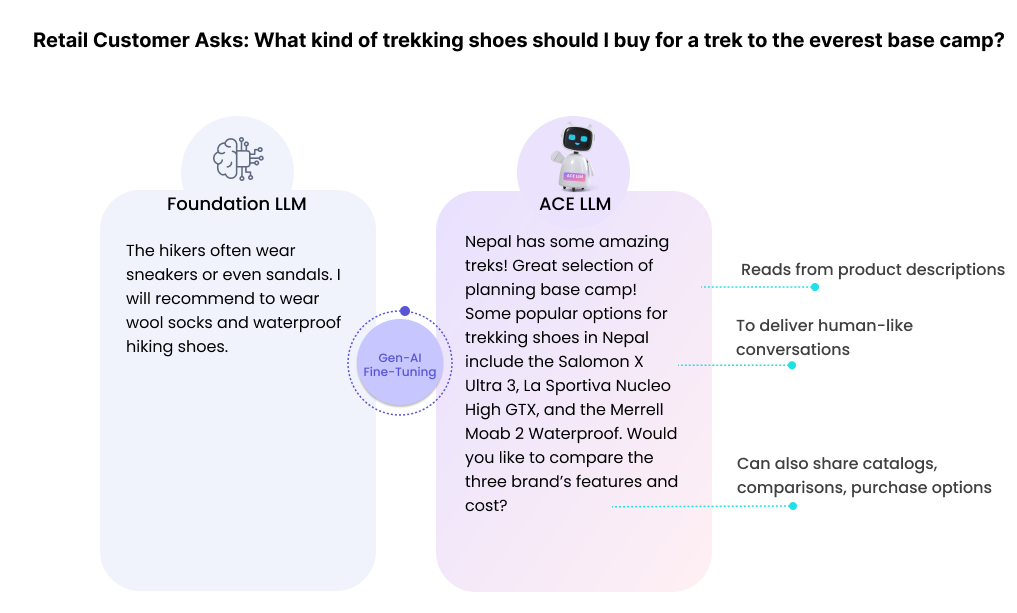 These models utilize domain-specific information and expertise to guarantee that the outcomes they produce adhere to the industry's standards and criteria. And what's even better is that there is a domain-specific ACE Large Language Model, for all your teams.
Sales: Empowering your Sales Workforce
When ACE LLM is enriched with your organization's sales data, it immediately dons the hat of an experienced consultant who is innately knowledgeable about your sales function. By providing timely assistance in lead generation, customer nurturing, and objection handling, they aid in higher customer satisfaction and assured customer acquisition.
In addition, an AI operating on ACE Sales LLM can instantly provide product details, pricing information, and customized strategies to a salesperson thereby enabling them to close deals with new customers and strengthen the relationship with existing customers, in real-time, even when they're in the field.
Marketing: Move from "This is what we sell" to "Let's talk about what suits you best"
A great question to ask during a revolution, is "What if?".  It is the question of victors. Let us ask you this… What if marketing your product meant speaking about benefits and not just features? With domain-specific LLMs, that is a very real possibility.
This metamorphosis in customer conversations means that you can speak more about what you can offer from your entire arsenal, without even having the prospect to specifically ask for it. Because you know, what they want.
An AI-powered chatbot working over fine-tuned, function-based LLMs will be able to provide a "like a glove" fit solution for your customers. This would be personalization at its absolute pinnacle. The conversations built atop ACE Marketing can help you acquire customers, remarket with context, and convert with confidence.
Commerce: Show me the money!
Domain-specific, fine-tuned LLMs can draw insights from an incredibly vast assortment of commercial data. As a result of which, AI that operates on these models can draw inferences from data sets that are far too complex for humans to derive.
This could mean that if you have a need to look at the revenue generated by the sale of Easter eggs during the non-Easter season for 15 to 20-year-olds in the Pyrenees region of France, it will be readily available to you. LLMs that store this information can also push the envelope by personalizing a buyer's experience thereby ensuring increased sales and revenue. 
Imagine the next level of futuristic virtual assistants assisting customers from product discovery, and queries, right up to the checkout stage. ACE Commerce LLM is tuned into exactly what a specific domain's customer is looking for – this helps tune the conversation to their intent and liking.
Support: Quicker Answers to "What's going on??"
Vertical LLMs tuned on customer support data can analyze and categorize incoming queries, provide instant responses to repeating issues, and even escalate more complex problems to human agents. While bringing about consistency in customer interaction, this also means that workflows can be far more automated and optimized.
ACE Support enables freeing up the customer support personnel's time to deal with one-off and more serious issues thereby greatly reducing the overhead that comes with solving repetitive issues.
To go a step further, the ACE Support can also shift gears from helping customers resolve queries to assisting support agents deliver their best customer support, every day, across issues and complexity.
Too much knowledge never makes for simple decisions; hence ACE LLM.
By tailoring language models to specific functions like Sales, Marketing, Commerce, and Support, companies can harness the power of AI to enhance communication, optimize processes, and deliver personalized experiences. All your customers have to do is ask! 
Blogs you will want to share. Delivered to your inbox.
Business Email
×
Read: Transforming citizen services with WhatsApp