Gupshup powers omni-channel messaging
On April 13, 2016
|
3 Minutes Read
Conversational Commerce
Conversational Marketing
Conversational Support
Generic
Omni-channel Messaging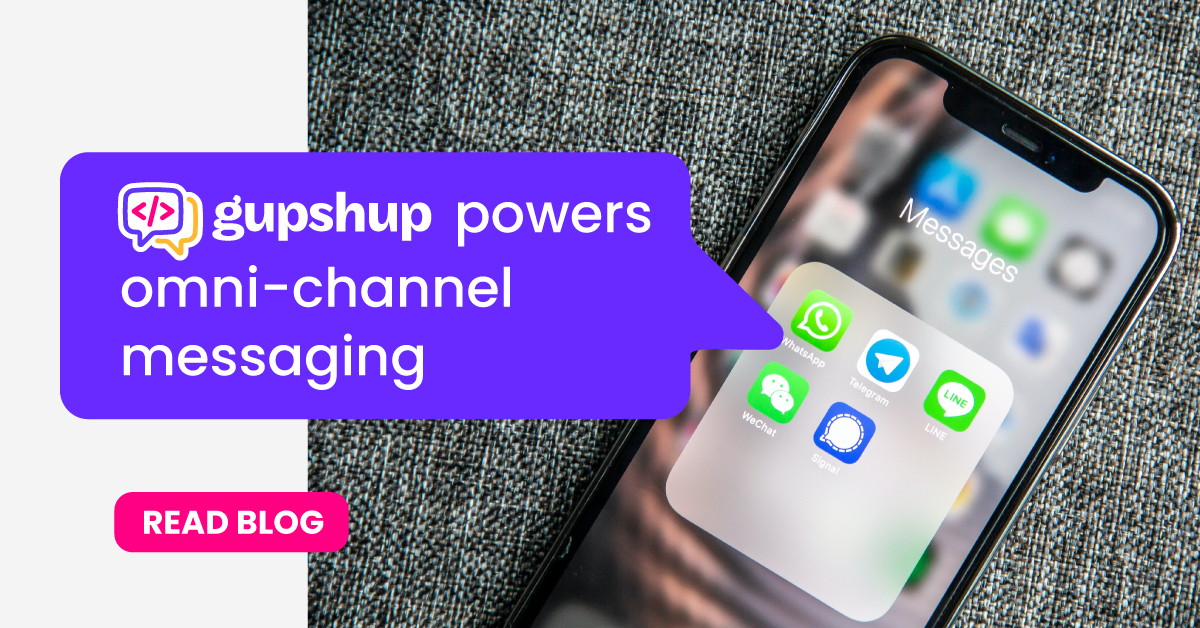 Gupshup is a smart messaging platform that offers advanced developer tools for messaging – handling over 4 billion messages per month. It enables developers to build bots for SMS, Twitter, Slack, WeChat, Teamchat and messaging apps with a unified API. It also enables developers to embed smart messaging into their app or website for a seamlessly integrated user-experience. Over 30,000 businesses use the solution according to the company. The following is an API of the Week interview with CEO Beerud Sheth which is being done in conjunction with the All about the API conference to be held this July in Las Vegas.
What APIs do you have available?
Our primary APIs are for omni-channel messaging i.e. a single API to send and receive messages across any channel. Our APIs enable not just plain-text messaging, but also "smart" messages, such as polls, surveys and forms. Developers use these APIs to create advanced messaging bots. Developers can program the bots to enable messaging workflows on a bunch of messaging platforms – such as Twitter, Slack, SMS, Email and WeChat.
What are the benefits/ solutions they help provide?
There are many benefits to using this API.
Gupshup API enables a whole range of new capabilities. Chat applications are evolving from P2P communications into full-fledged platforms for businesses. Imagine being able to book a cab, order food or check the score of your favorite sports team through the messaging app of your choice. Messaging Bots can do all of this and more. Similarly, on the enterprise side, imagine being able to do CRM, ERP, and HR related activities through messaging bots.
Gupshup APIs reduce the cost and time of bot development. Using Gupshup's simple and powerful REST APIs, developers can build a bot in minutes using their favorite language.
These examples of using the API just scratch the surface of what is possible with the Gupshup platform.
What new business opportunities do they potentially open up for your partners?
Gupshup APIs enable our partners to seize substantial new opportunities. Enterprise developers can automate business process and deploy instantly within their organizations. Startup developers can launch new startups rapidly. Our reseller partners have a new, innovative solution to take to their end-customers.
Why should developers/ decision makers choose to be part of your ecosystem?
Developers and decision makers should choose to be part of our ecosystem for a variety of reasons. Firstly, the market opportunity is here and now! Gupshup offers the most powerful messaging APIs that enable developers to build advanced bots. Also, the messaging space is highly fragmented with roughly a dozen messengers with over a 100 million users. Our APIs give developers the power to make bots for different messaging apps very easily.
What are some of the cooler solutions that have been developed using your APIs?
Developers have built bots that enable CRM and HR workflows such as sales tracking, leader board creation, employee engagement etc. Developers have also built bots to enable e-commerce and other workflows as well.
How do you market your APIs?
We attend industry events and conferences across the world. Our latest event (where we had a booth too) was MWC at Barcelona. We also get the word out by hosting developer meet-ups across the world.
Who is the "customer" for your API's?
Our API 'customer' can be pretty diverse. It can be any developer who wants to extend his service onto a messaging app. Developers who create bots to automate tasks, extend workflows or just provide cat GIFs on command are welcome to try out our platform.
Blogs you will want to share. Delivered to your inbox.
Business Email
×
Read: Gupshup launches its new bot builder platform- gupshup.io