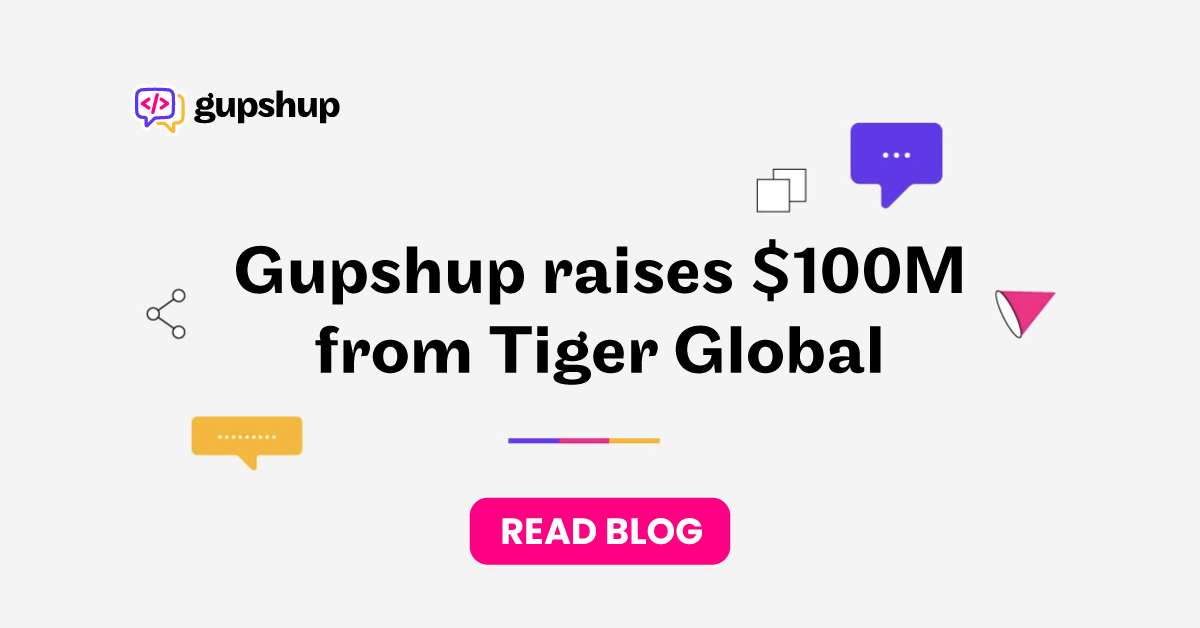 Gupshup raises $100M from Tiger Global
Conversational Commerce, Conversational Marketing, Conversational Support, Generic
On April 8, 2021
I'm excited to share that Gupshup raised a $100m funding round, led by Tiger Global Management. Click here to read the press release.
I want to take this opportunity to share below a few personal thoughts about what this means for our vision, mission, customers, partners and employees. In other words, a little gupshup about Gupshup. ("gupshup" means chitchat in hindi).
This funding will greatly accelerate our R&D efforts. Gupshup has a long history of innovation, of always pushing the limits of messaging. While some of the attempts may not have been commercially successful, we certainly uncovered something new every time. Some of our innovations and related activities over the past few years include an sms-based social network (twitter like sms-gupshup), reply-all group-sms, teamchat messaging app, thought-leadership on bots, earliest bot platform, multiple bot builder tools, interbot platform, launch partner with Facebook Messenger and Google Assistant, earliest global partner of WhatsApp, launch partner with Amazon .bot TLD, partnerships with handset OEMs, Gupshup IP (GIP) messaging channel, on-device AI software for message classification and visualization, conversational messaging on feature phone and more. These products include the earliest instance of combining intelligent automation with messaging APIs – what we now call conversational messaging. Some of these products were way ahead of their time, some required ecosystem changes that never happened, but a few have been breakout successes that are propelling our growth today. This spirit of innovation guides us as we continue to bring market leading solutions to our customers.
While many others in our space were content to offer basic messaging services, we've always pushed harder to create better messaging experiences. While others offer standard connectivity, we also help businesses build conversational experiences on top of that connectivity. While others talk about how big they are, we focus on how good we are for our customers.
We're on a mission to enable businesses to engage their customers better through conversational messaging. Our vision is a future where it's as easy for a customer to chat with a business as it as with a friend. These conversations will be simple, easy, quick, smart, contextual and personalized. Consumers get the responses they want, when they want it without waiting or digging around. Businesses can deliver more effective marketing, sales and support driving higher revenues and greater customer satisfaction. For businesses, conversational experiences will become the new digital storefront – where the users will look for brands. Messaging apps have more usage than social media or the web and therefore will become the most important engagement medium for businesses. Basic SMS is great – it's truly ubiquitous and effective. But there's so much more yet to be invented. It can be so much better. We're just in the first over of the first inning of a long cricket test match.
This funding will also accelerate our go-to-market efforts globally. While telco ecosystems are fragmented by country, IP messaging works the same way globally. Products we build for one region work equally well everywhere. We're building teams around the world wherever messaging is used. We've been a multi-national company since founding, and will get even more so. We have a deep, native understanding of mobile-first, messaging-first ecosystems like India and are seeing great traction in countries with similar dynamics.
To our customers: we are grateful for your business and for trusting us with your mission-critical requirements. We believe we have to earn your business every day, with every message sent – we do not take it for granted. We see it as our obligation to resolve every issue that comes up, even if it happens outside the Gupshup network. With this round of funding, we'll be making even greater investments in infrastructure, customer success, technical support and more. Even as we offer you enterprise-grade infrastructure for current services, we will continue to be the first in bringing new ideas and solutions to you. We do all the heavy lifting so you don't have to. The messaging industry is undergoing a huge transition to conversational messaging and we are committed to being the best partner you can have. To those who are not our customers yet, we hope to win your trust sooner or later. If you have any suggestions on what you'd like us to do better, email me directly (email below).
To our partners: we're committed to helping you grow your business. Our success depends on helping you succeed. We're looking forward to scaling with you. As we do more, it enables you to offer even more services to your customers. We know there's far more execution required than Gupshup alone can do, so partnerships will remain a key part of our growth strategy globally.
To our investors: we thank you for your continuing support and vote of confidence in our business and us. We realize that more funding comes with higher expectations. We remain committed to growing value in the business.
I'm so happy for our employees as they achieve this milestone that recognizes years of effort, perseverance, creativity and customer-commitment. At Gupshup, every employee, without exception, has stock options, leading to an owner mindset. Our culture is open, collaborative, entrepreneurial, apolitical, customer-centric and innovative. We get the greatest joy from taking risks, experimenting, pushing the limits of technology and bringing new ideas and products to our customers that help them better achieve their goals. We take pride in offering the most reliable platform with the  highest quality of service. Our employees like being here and many often return after leaving. To those out there looking to work on exciting challenges with amazing people, we're hiring and growing fast. Our organization will evolve as we grow, but our core values will never change.
On a personal note, I'm excited about the resources this gives us to accelerate our future vision. As the famous quote goes, the best way to predict the future is to invent it. As some of you may know, this is my second stint as an entrepreneur. I previously founded Elance, now called Upwork, a publicly listed company that defined the category of remote work. When we started evangelizing remote work to the world in the late 90s, few believed it and many were openly skeptical. Two decades and a pandemic later, it's now conventional wisdom. Similarly, a few years from now, we'll wonder how anyone did business without conversational messaging. And, with this new funding, Gupshup is already busy inventing that future.
PS. For other entrepreneurs reading this who may yet be in the struggle phase of their startup journey, I'd advise them to keep the faith. The media covers the highlights of the entrepreneurial journey, but the lowlights are what gets you there. The daily blocking and tackling, the failing and learning, when no one is watching, is when the real work happens. Use the media for inspiration and motivation, but don't let it, even for a minute, discourage you from toughing it out. The media stories make it look easier than it really is.
See link:
https://www.linkedin.com/pulse/founders-note-gupshup-funding-beerud-sheth/?published=t
Blogs you will want to share. Delivered to your inbox.
Recommended Resources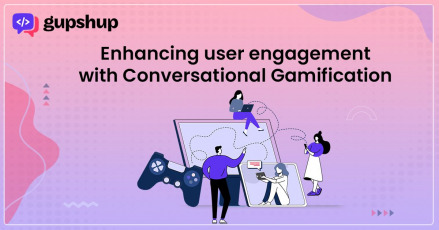 How gamification using Conversational AI builds engagement for customers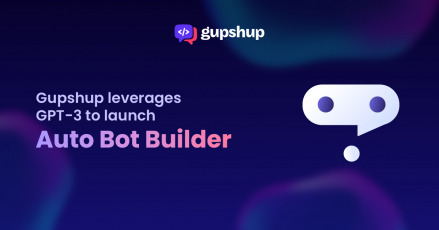 Discover the power of GPT-3 with Auto Bot Builder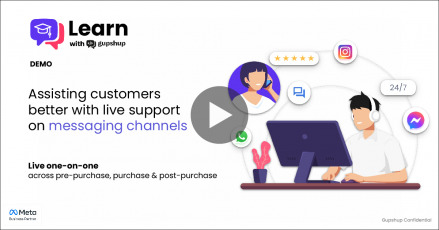 Customers today expect businesses to be there for them on messaging apps. Learn why and how...
×
Read: WhatsApp and AI-powered Chatbots for Customer Support