How can you take your restaurant online
On August 12, 2021
|
4 Minutes Read
Conversational AI
Conversational Commerce
Conversational Marketing
Conversational Support
Food & Beverage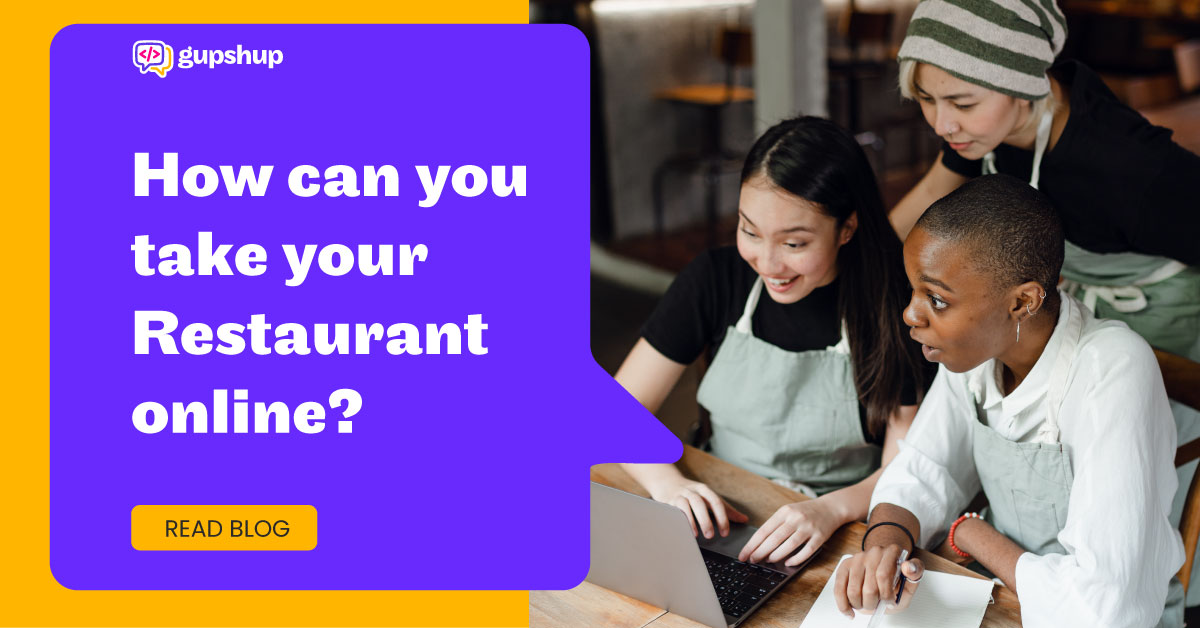 The ongoing pandemic has forced many traditional businesses to go online. Among other industries, food establishments have found that going digital is one way to survive. Since the pandemic, most countries have enacted strict regulations for restaurants, bars, and coffee shops. Serving fewer people in your business means you need to find innovative ways to connect with more customers and drive sales.
For restaurants, this would mean getting more direct business from customers, implementing touchless dining for safety, and owning customer relationships through marketing efforts. Another challenge faced by the food industry includes poor data management. This can have detrimental effects such as lost or delayed orders, inefficient tracking and execution of orders as they come in from customers.
Gupshup is transforming the F&B experience and how. We work with the world's leading restaurants to help them engage with customers over 30+ messaging channels across commerce, marketing, and support.
The Gupshup solution
Gupshup provides food and beverage (F&B) establishments the ability to digitize their customer service experience to order, pay and receive home delivery directly and also the ability to market to their customers through messaging-based marketing tools. Our chatbot for restaurants enables all this and more.
Contactless menu / dining
Intelligent chatbots can help you automate the order-taking process without your customers downloading a menu or making a call to order.
Contactless orders
Make ordering as simple as sending your business a message. And let customers know once their dish is ready for pick & collect or will be delivered.
Contactless payments
With the ongoing go-cashless, go-digital movement, you can enable payments via messages as well. The chatbot will bring you to a secured portal to make a payment.
Queue management
Smarten your queue management by informing customers once their table is ready so your business doesn't lose valuable time.
Increased customer loyalty
The chatbot can also be utilized as a CRM and sales tool. Gather more information about customer preferences through the chat history, so you will be able to craft custom promotions to entice them to return for seconds!
Features & Benefits
Experience an online restaurant yourself and grow your restaurant business with Gupshup
Get a digital onboarding kit, which includes –

Complete Business Listing
Activated Delivery Fleet at Store
In-Store QR Scanners
Stickers and Danglers for Marketing and Promotions

Create an online menu 
Take your menu online with GIP and activate it either with a direct ordering link sent via a message or via a QR code within your restaurant.
Freebies
Provision for easy menu updation, delivery fleet coordination, tracking of orders, etc.
Enable online payments 
Our network of payment partners accepts online payments through credit cards, debit cards, UPI, etc. Go cashless with our digital payment support and 48-hour payment settlement provisions.
Deliver with aggregators or own fleet
With our network of nationwide delivery aggregators, ensure that home delivery is done on time.
Access our marketing and support tools 
Access our end-end business marketing tools to interact with your customers on their messaging apps. You can send reminders, alerts, notifications, offers, promos, improve CSAT with timely customer feedback.
Access our management tools
Take complete business control over mobile and web. Keep all departments in sync with printer support.
Let us now quickly round up the many benefits attached with the Gupshup solution for your F&B business:
First and foremost, you can take your restaurant online – instantly
Digitize your menu, orders, payments, and deliveries
Smarten up your queue management by informing customers with a notification once their table is ready
Send offers, deals, loyalty programs with our marketing messaging tools
Lastly, fast forward and manage your restaurant efficiently!
Join the bandwagon
At Gupshup, we work with the world's leading restaurants to transform their F&B experience. We deliver a sound 6 billion messages per month, and our single API enables 100k + customers and developers.
Restaurant owners of stand-alone restaurants and F&B managers of hotel chains can now power key dine-in and online ordering experiences for their customers. Enable table reservation, take orders right, note down special requests, collect payments and send receipts, promote deals & offers, present your menu in a better way, increase sales & conversions, make personalized recommendations, increase social media followers, speed up the customer service process, generate new leads, answer repetitive queries, collect customer feedback, personalize customer communication, provide excellent customer experiences – the list is endless.
Get in touch with us today and get started with receiving orders and payments directly. Also, better manage your home deliveries, marketing endeavors, and more.
Blogs you will want to share. Delivered to your inbox.
Business Email
×
Read: Make Out-of-Home Advertisements Conversational