How Does Conversational AI Transform Logistics?
On September 17, 2021
|
4 Minutes Read
Conversational AI
Conversational Commerce
Conversational Marketing
Conversational Support
Logistics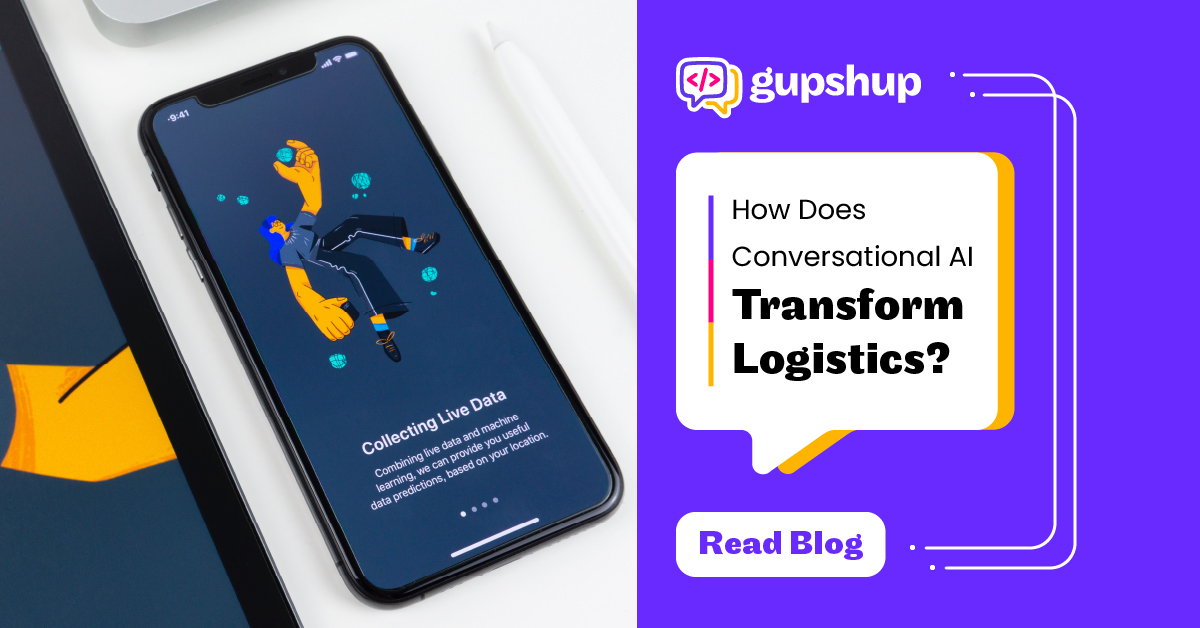 The sheer demand for cutting-edge technology in the logistics and supply chain industry is at an all-time high. According to McKinsey, the logistics industry can generate up to $2 trillion every year in economic value simply by adopting conversational AI.
The idea behind conversational AI in logistics is to automate repetitive processes and attempt to eliminate human errors. In this article, we'll examine the many ways conversational AI is revolutionizing the realm of logistics and supply chain and discuss its use-cases in the practical world.
What Is Conversational AI?
Conversational AI broadly refers to the role of artificial intelligence and natural language processing (NLP) in understanding and responding to human queries in a meaningful manner. The technology behind this automates both text and voice-based messaging between humans and computers and offers an informal, seamless customer experience.
Be it a chatbot, a messaging portal on social media, a voice assistant, or any device that's voice-enabled—it opens up a whole new dimension for business leaders who are looking for an intuitive, innovative solution to their age-old problems. With a conversational AI platform, you can automate replying to customer queries, execute transactions, or achieve any related goal, all conversationally.
Benefits of Conversational AI in Managing Logistics
According to a study conducted by Accenture, 57% of businesses have claimed chatbots deliver high ROI on very minimal seed investment. There are numerous reasons why that is so. Let's look at some of the broad advantages conversational AI has to offer to the logistics industry.
Mitigated Operational Risks
Conversational AI platforms automatically evaluate user interactions and reduce operational risks by thoroughly monitoring all customer dealings. Apart from ensuring compliance with your regulations, investing in AI chatbots can immediately bring down your operating costs.
Optimized Workflow
Conversational AI systems in the logistics industry eliminate hiccups during interactions with customers and thus improve workflow. Since everything is interpreted through keywords, the application regulates your roadmap by making orderly analyses and managing data at scale.
It also optimizes your lead times—one of the most vital parameters for determining whether a supply chain is streamlined. For example, it can take care of tracking, reporting, and even improving your current routes, something that is troubling even for businesses with teams dedicated to this purpose. It also reduces the need for arbitrarily checking for cheques and balances since everything is systematic.
Boosted Productivity
All businesses, without exception, are concerned about meeting their deadlines while delivering their final product. When you bring an inventory management chatbot and your existing logistics systems together, you will be surprised by how well it records and keeps track of all demand and supply.
Conversational AI essentially channelizes your priorities by taking care of all your redundant tasks like generating documents, scheduling meetings, updating CRM (customer relationship management), etc.
Practical Applications and Use-cases In Logistics
Having settled how conversational AI is the metaphorical magic wand for modern businesses, let's briefly overview its critical applications in managing logistics.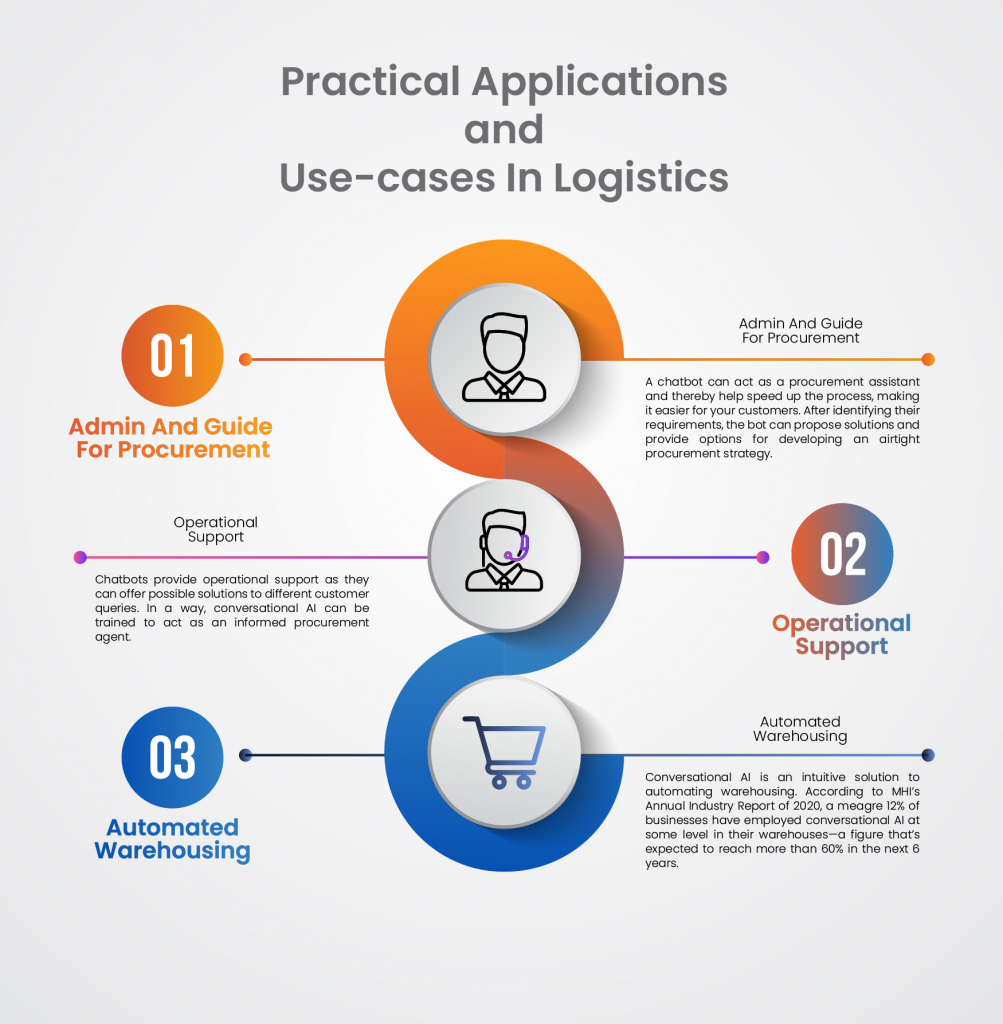 Admin And Guide For Procurement
A chatbot can act as a procurement assistant and help speed up the process, making it easier for your customers. After identifying their requirements, the bot can propose solutions and provide options for developing an airtight procurement strategy.
Operational Support
Chatbots provide operational support as they can offer possible solutions to different customer queries. In a way, conversational AI can be trained to act as an informed procurement agent.
Automated Warehousing
Conversational AI is an intuitive solution to automating warehousing. According to MHI's Annual Industry Report of 2020, a meager 12% of businesses have employed conversational AI at some level in their warehouses—a figure that's expected to reach more than 60% in the next six years.
Where Do We Go From Here?
Conversational AI systems bring you the promise of plain sailing and smooth processing. With something so minimal for a seed investment, you get a deeper look into your supply chain.
Besides what's already listed above, it has benefits like letting you automate various processes like generating notice, monitoring supplier performance, managing vendors, conducting analytics based on orders, awarding contracts based on rules, etc.
Schedule a demo with Gupshup to learn how to set up a chatbot for your business today!
Blogs you will want to share. Delivered to your inbox.
Business Email
×
Read: Comprehensive Guide to Low-cost Insurance Chatbots