Comprehensive Guide to Low-cost Insurance Chatbots
On September 20, 2021
|
11 Minutes Read
Chatbots
Conversational Commerce
Conversational Marketing
Conversational Support
Insurance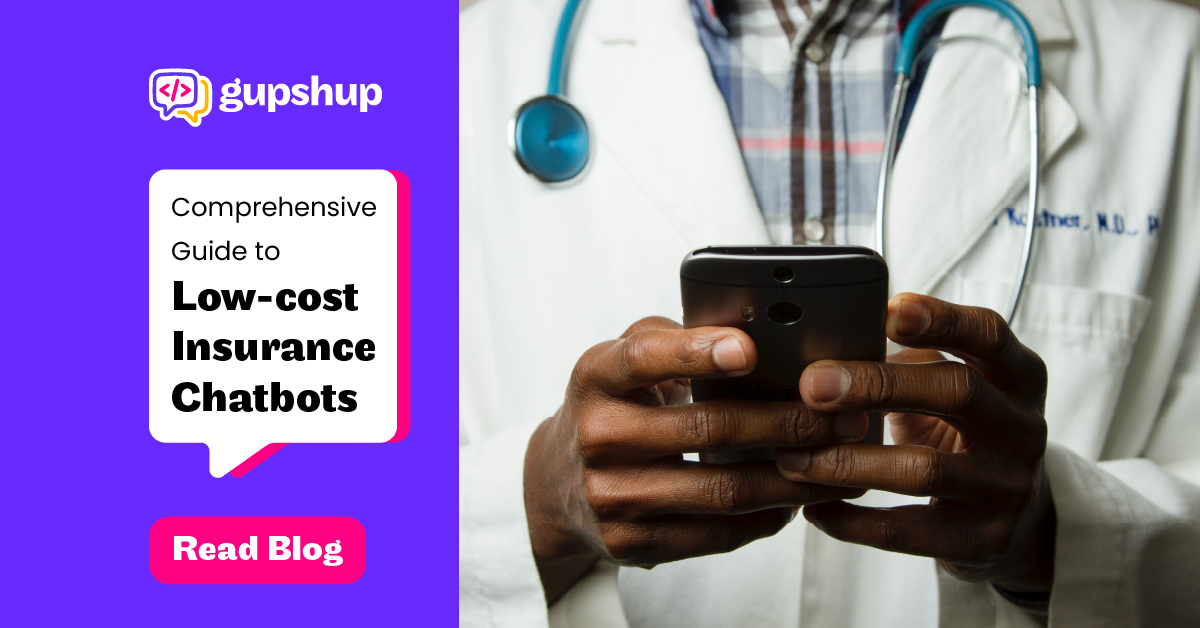 According to McKinsey, changes in customer behaviors and expectations, particularly around their demand for digital channels, are causing a "fundamental shift in the insurance distribution model." As the growth and profitability of the industry are impacted through 2021 and beyond, insurance companies realize that to maintain business continuity and compete effectively in the challenging environment, they must cut costs, focus on new product development, and provide a "digitally enhanced" customer experience.
An AI-powered insurance chatbot provides one of the best ways to meet the last goal – at low cost, at scale, and with an eye on the future.
So,
What is an insurance chatbot?
What is the possible role of chatbots in the insurance industry?
What does an insurance chatbot conversation look like?
Is there a chatbot for health insurance? What about a life insurance chatbot?
This comprehensive guide will answer these questions about insurance bots and their most popular use cases. We will also explore the many benefits that make insurance chatbots a must-have digital solution for the insurance industry.
But before we get into the details of insurance chatbots, let's explore the concept of conversational AI for insurance.
AI In the Insurance Industry
"AI and its related technologies will have a seismic impact on all aspects of the insurance industry, from distribution to underwriting and pricing to claims."

–McKinsey, Insurance 2030—The impact of AI on the future of insurance
AI is helping to bring the insurance industry into the future, affecting everything from underwriting, pricing, claims handling/processing to fraud detection and, of course, insurance chatbots.
In the post-COVID world, digital transformation within the insurance industry has accelerated since a growing number of customers turn to digital channels to research and buy insurance solutions. According to Accenture, in 2020, 27% of consumers said they would consider buying insurance from online service providers like Amazon or Google. Another 24% are even open to buying it from a supermarket or retailer. Insurers must provide alternate distribution channels to keep up with these trends.
Moreover, modern consumers also expect seamless experiences across multiple channels and access points throughout their journey. Consumers are becoming increasingly comfortable with digital insurer interactions, with 71% of older consumers (55+) saying that they would prefer a chat/video insurance claim process over the traditional in-office claim process. From these trends, it's clear that AI-powered insurance bots are invaluable for modern insurance firms.
What is an Insurance Chatbot?
Insurance chatbots are specifically designed to meet insurance companies' evolving needs and, more importantly, their customers. The best insurance chatbots are versatile and can be used as either customer-facing applications (e.g., to provide quotes) or internally to help companies with applications like claims processing. This guide addresses both these aspects.
For customers, an AI insurance company chatbot extends office hours. They don't have to pick up the phone or make a face-to-face appointment with their insurance agent to find answers to their questions. Instead, the chatbot can help them find the correct quote and right product in just a few minutes. For example, a health insurance chatbot can find the best insurance product based on their age, gender, medical history, current health status, and several other factors.
An insurance chatbot can integrate with its backend systems to create claim tickets and speed up claims management. It thus provides a cheaper, easy-to-use solution than a bespoke software build or a large support team.
But these are only two of the many applications of Artificial Intelligence insurance chatbots. In the following few sections, we explore more such applications and use cases.
Insurance Chatbots for Enhanced Customer Experiences
The only way to win (and retain) customers in the modern insurance industry are by providing excellent customer experiences. And this has nothing to do with the prettiest website or the fanciest brochures. For customers, great experiences in insurance are directly related to inexpensive premiums, self-service options, and prompt, personalized services. Customers also expect insurance companies to quickly acknowledge and process their claims and provide seamless support without long queues, multiple transfers, or complicated documentation. Websites, emails, and phone calls cannot meet these needs.
So what can?
Answer: insurance chatbots.
Unlike older digital tools, insurance bots are:
Quick
Available 24×7
Intuitive
Easy to personalize
Easy to monetize for a high ROI
Low-cost
Scalable
With a WhatsApp insurance chatbot, companies can easily offer solutions and services previously in human agents and support staff. From policy information and selection to premium calculations and claims submission and tracking – chatbots in the insurance industry are changing how customers relate to insurance companies and experience their products and services. Thus, a chatbot set up over a familiar interface like WhatsApp can be a real game-changer for insurance companies looking to meet their customers' new needs and get ahead of the competition.
How Insurance Chatbots Benefit Insurance Companies
A life insurance chatbot or chatbot for health insurance can enhance customer experience is a powerful reason for insurance companies to add it to their customer communications stack. Nonetheless, insurance chatbots also deliver many other advantages that make them worth the (minimal) investment required.
Scalable, Continuous Support
Customers can interact with insurance chatbots at any time to find policy details, pay premiums, make claims, update their accounts, initiate renewals, etc. Since chatbots are available 24x7x365, customers don't have to wait – or worse, jump through hoops – to find the solution they need.
AI chatbots are expected to generate cost savings of almost $1.3 billion by 2023 in the insurance industry. Thus, besides simplifying life for current and potential policyholders, an insurance chatbot also provides a scalable, low-cost communication/support solution for insurers.
Omnichannel Capabilities 
Insurers can provide customer support anytime across multiple digital channels – including channels that their customers prefer and are already comfortable with. This includes:
WhatsApp
Slack
Facebook Messenger
Company website
Email
Text message
And many more.
Regardless of the channel, an insurance chatbot can provide immediate, just-in-time support that's difficult and very costly with an all-human team of support agents. Since chatbots are channel-agnostic, insurance companies can be where their customers want them to be. They can also give customers more choices in how they want to communicate, when, from where, and from which device. Conversational AI in insurance makes all of this possible – and even easy.
Greater Conversational Coverage 
When customers have to go through a website or app for support, they're often required to navigate complicated menus and multiple screens and input various pieces of information to get the help they need. This impacts their overall experience and doesn't guarantee that they will find what they require in the least amount of time.
Insurance chatbots are an effective solution to these challenges. Powered by Natural Language Processing (NLP), Natural Language Understanding (NLU), and Machine Learning, insurance bots can converse with customers in a natural, human-like manner. They can understand linguistic cues and draw the proper context from the exchange to provide the best answers in an easy, conversational way. This "conversational coverage" approach is a great way to resolve queries, provide information, and engage with customers through personalized interactions.
MultilingualMultilingual Support
Chatbots in the insurance industry can be easily set up to provide support in multiple languages. For a country like India, where English is not the language of choice for a majority of the population, this capability can be a real value-add for insurers.
A multilingual insurance chatbot can speak to users in their native tongue, thus eliminating language barriers and improving customer experiences without adding human language specialists or translators to the support ecosystem. This further reduces operational costs while enhancing the insurer's ability to connect with customers in a language they feel most comfortable with. In addition, the best insurance chatbots make it easy to enable a new language, so the insurer doesn't have to rebuild a new chatbot every time they want to expand their geographical reach.
End-to-end Support
Many insurance companies provide mobile apps to assist customers. Although better than old-fashioned voice and email, these options are limited in their ability to satisfy customers' needs fast and with minimal friction.
For one, apps can only be accessed via a few channels. For another, customers cannot continue conversations seamlessly across different channels. Third, apps cannot provide end-to-end assistance that simplifies life for insurance customers.
An insurance chatbot is a perfect solution to these limitations. It provides fast, relevant answers to common queries. For more complex interactions, it can seamlessly hand over the conversation to a human agent. In either case, customers appreciate the ease of use and convenience of chatbots in the insurance industry.
Top 7 Use Cases for Insurance Chatbots
AI insurance company chatbots are ideal solutions for delivering world-class, self-service, and omnichannel customer experience at a low cost. In addition, AI chatbots are amazingly versatile and suitable for numerous use cases in the insurance sector.
Automate Lead Generation and Qualification 
With a conversational AI-powered chatbot, insurers can effortlessly automate the lead qualification process, so sales staff have all the necessary information to go after the most qualified leads and increase their conversions.
Provide Information to Customers
Customers can interact with the insurance chatbot – on their preferred channel – to find information about:
Policy types
Premium amounts
Coverage conditions
Quotes
Additional options
Using dynamic logic, integrations, NLU, and NLP, the bot can ask leading questions to customers and provide relevant information based on their responses.
Help with Policy Selection
Customers often struggle to choose the policy best suited to their needs, lifestyle, goals, etc. An insurance chatbot can reduce the overwhelm and help them choose the right approach in the shortest possible time.
It can collect information about the customer and available policies and help them narrow down their choices based on their coverage needs and risk profiles. They also help them pay premiums from within the same interface for a seamless end-to-end purchase experience.
Document Submission
Document submission is often a hurdle in completing the purchase process. The insurance chatbot simplifies this step so that customers can submit all required documents and personal information. The application processing can proceed, and the customer gets the coverage they need without delays or hassles.
Automate Customer Support
Customers can have queries and doubts (and complaints) at any time during their journey. However, they don't always get the support they need from traditional contact centers. Even with websites and apps, the support process is rarely fast or straightforward.
An insurance chatbot automates these aspects to provide fast, relevant answers via an easy-to-use conversational interface that reduces customers' stress and enhances brand experiences. Since the chatbot takes care of all low-level queries and frequently asked questions, it also reduces support volumes and the burden on human agents – who can focus on more high-value tasks like sales closes, upsells, and cross-sells.
Automated Updates and Alerts 
Customers often ignore (or fail to see) alerts about premium payment due dates sent via emails or SMS. When they miss premium payments, they may lose coverage and go through a long process to reinstate it. This impacts their experience and brand affinity.
A WhatsApp insurance chatbot can send automated alerts about renewal due dates, policy status; dividends declared, etc. Plus, WhatsApp boasts 95% open rates, making it easy for the insurer to reach out to customers. It also enables customers to stay on top of important updates that may affect their policy and coverage status.
Simplify Claims Processes 
Traditional, paper-based claims processes are usually long, cumbersome, and frustrating for customers. For insurers, this challenge increases the risk of unhappy customers and also increases churns.
Thanks to conversational AI for insurance, insurers can now simplify the claims process through easy claim filing, effortless document submission, instant confirmation of claim status, and regular updates.
In addition to the above critical use cases, an AI-powered insurance chatbot is also helpful to simplify, streamline or accelerate processes like:
Policy cancellations
Customer re-engagement
Account updates
Customer data updates (e.g., in the CRM)
First notice of loss
All in all, with a versatile, low-cost insurance chatbot, insurers can connect with customers on their preferred channel to offer personalized services, meet their insurance needs, and deliver enhanced experiences that garner their long-term loyalty and support.
An Easy Way to Set Up a Customised Insurance Chatbot
The best insurance chatbots focus on the customer, their needs, wants, behaviors and preferences. Powered by Artificial Intelligence, these virtual bots engage with customers in a friendly, natural way that puts them at ease. They "listen" to customers, simplify tasks, provide customized advice, and help them save time and effort.
Chatbots can also deliver numerous advantages for insurance companies, from lowering costs and improving customer support to automating multiple processes and maximizing ROI.
If your insurance company wants to build a user-friendly, customer-focused insurance chatbot quickly, Gupshup can help. Contact us to know more about our low-cost bot-builder platform and bespoke bot development services.
Blogs you will want to share. Delivered to your inbox.
Business Email
×
Read: Gaps in conversations? Conversational AI to the rescue