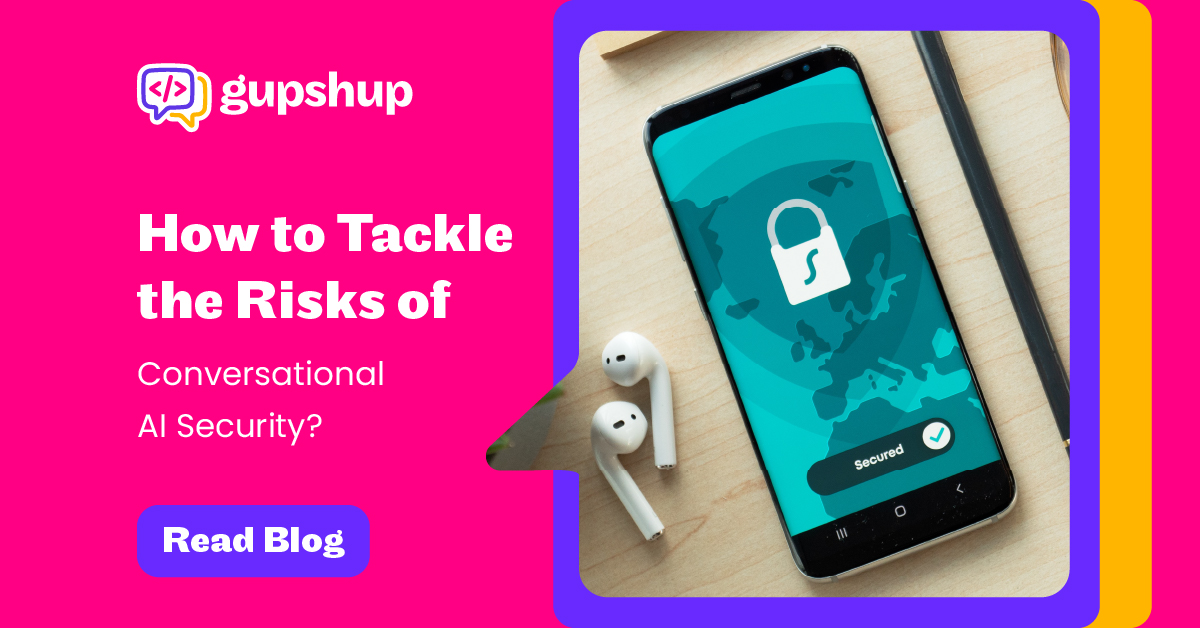 How to Tackle the Risks of Conversational AI Security?
Conversational AI, Generic, Security
On September 16, 2021
With changing times, every business is leaning towards using a conversational chatbot to engage with customers. Artificial intelligence is the fuel for this revolution to benefit every industry. Chatbots and virtual agents will raise a billion customer requests autonomously by 2030, according to Gartner experts.
But, what they forget are the security concerns with using such technology. Allow us to highlight the troubles and the counter-measures to address them. But first, let's understand what conversational AI security is.
What is Conversational AI Security?
Conversational chatbots, who respond to their questions promptly and accurately help customers, are a fascinating development since they make the customer service industry somewhat self-sufficient. A well-automated chatbot can decimate staffing needs, but creating one is a time-consuming process.
Voice recognition technologies are becoming more critical as AI assistants become more popular like Alexa.
Chatbots in the corporate world has advanced, technical connections with clients, thanks to improvements in artificial intelligence.
Contrary to this belief, these chatbots' increase in sensitive information has raised serious security concerns. However, our security experts believe in being ahead of the pack.
Security experts took steps to protect information.
Chatbot technology gathers and secures personal information, because of which it naturally draws hackers and other harmful software towards it. Here are a few steps were taken by companies to protect data:
Despite the growing potential of cyber-attacks, businesses have implemented conversational chatbots and automatic answering technology on their websites and social media platforms.
We expect the wide usage of chatbots in customer support functions through messaging channels like Facebook, WhatsApp, and WeChat.
Following the implementation of, General Data Protection Regulation (GDPR) in 2018, guaranteeing chatbot security has grown in importance.
Many companies have employed chatbot security professionals to understand the concerns thoroughly and suggest measures to tackle them.
What are the risks associated with Conversational AI chatbots?
Threats and vulnerabilities are the two types of security issues associated with chatbots.
Threats are one-time events such as malware and DDOS (Distributed Denial of Service) assaults. Targeted strikes on companies are familiar, and it frequently locks workers out. User privacy violations are becoming more common, emphasizing the dangers of employing chatbots.
Vulnerabilities are systemic problems that enable thieves to breach in. Vulnerabilities allow threats to enter the system. Hence they are inextricably linked.
What are the different security threats?
Threats come in a variety of forms, such as:
Team member impersonation
Ransomware and malware
Phishing
Whaling
Bot repurposing
Threats can lead to data theft and modifications if we do not address them, causing substantial harm to your organization and customers.
What are the different vulnerabilities?
Vulnerabilities such as unprotected chats and an absence of clear measures allow attackers to enter. If the HTTPS protocol is unused, hackers may gain rear access to the database via chatbots. However, the hosting platform can occasionally be the source of the problems.
How can you tackle the risks associated with conversational AI security?
There are four techniques to safeguard your system against chatbot security risks. Encryption, authentication, processes and protocols, and education are among them. Let's inspect each of them.
Encryption
Does the statement "this chat is end-to-end encrypted" ring a bell? It implies that apart from the sender and receiver, no one can access your chat. It ensures a high level of security. End-to-end encryption has been favored among chatbot designers to improve safety, and it is one of the most powerful strategies to do so. The GDPR stipulates that "firms take efforts to de-identify and safeguard private information." To comply with GDPR rules, you require end-to-end encryption.
Authentication process 
Chatbots employ a set of security processes known as authentication. These procedures guarantee that the individual utilizing the gadget is genuine and not a fraudster. It can be biometric authentication, two-factor authentication, timeouts, or user-id.
Procedures and protocols
HTTPS is a security system's default configuration. Any data transfer should take place over HTTPS and encrypted connections, according to your security teams.
Other methods include educating your employees, self-erasing messages, web application firewall, etc.
Conclusion
Artificial intelligence and conversational AI are both a blessing and a curse in the digital world. It can be used to both break into and defend systems. Artificial intelligence will improve cybersecurity as its use across industries develops. Humans can only scrutinize up to a certain extent, while AI has an infinite reach. With the ability for in-depth analysis, it will allow companies to react to threat-prone customers as required.
Gupshup.io, a leading conversational messaging platform, offers chatbot services.
Request a demo and see your organization transform with its conversational AI bots.
Blogs you will want to share. Delivered to your inbox.
Recommended Resources
What are AI-powered chatbots, how do they work, the benefits of chatbots and why are they...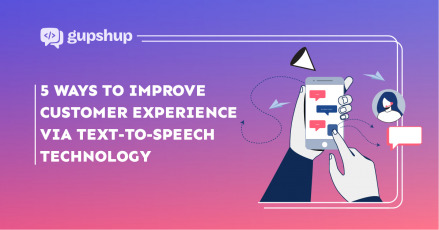 Take your customer support to the next level with text-to-speech technology! Read the blog to dig...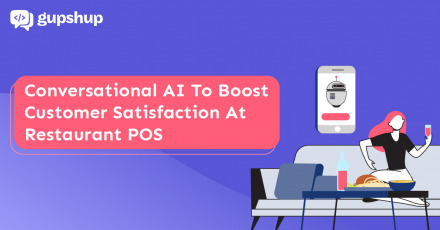 Conversational AI is helping the Food & Beverage industry enhance customer satisfaction at POS. See how...
×
Read: How Does Conversational AI Transform Logistics?