Improve Customer Experience with Conversational AI
On July 23, 2021
|
10 Minutes Read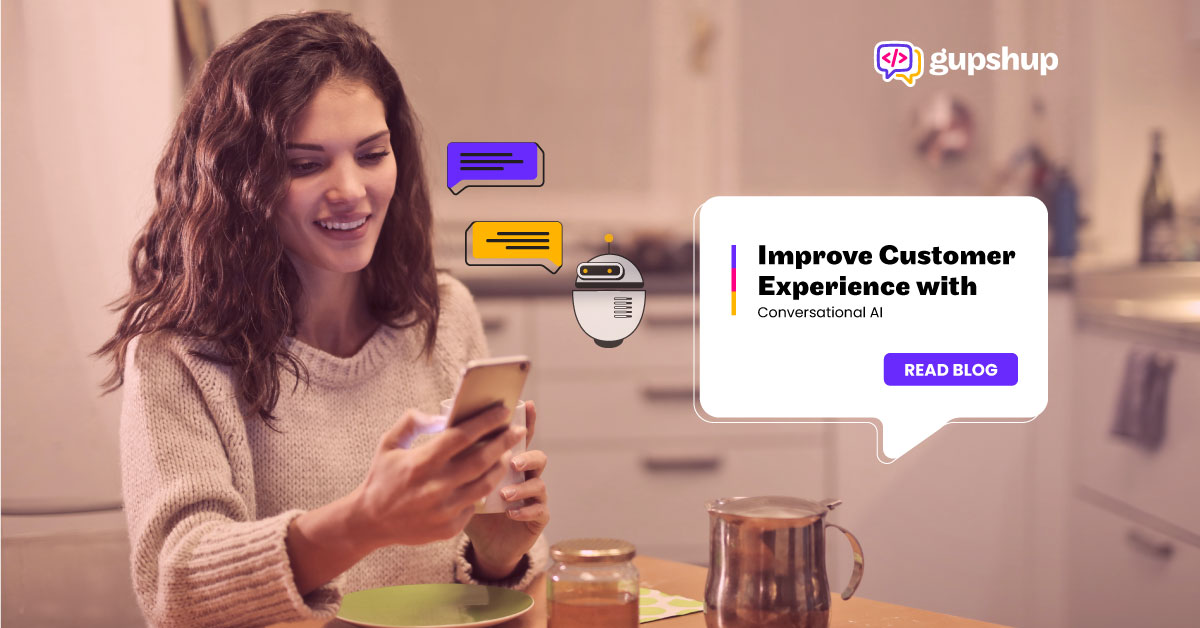 In the present-day "buyer's market", terms like customer engagement, customer satisfaction and customer experience (CX) are all the rage. And with good reason.
The modern customer is informed, digitally-savvy, and demanding. Great products and suitable prices are not enough to satisfy them, much less earn their loyalty. They expect brands to understand them, hear them, and treat them as unique individuals. Instead of generic, cookie cutter-type shopping experiences, they expect smooth, convenient, and personalised experiences at every touchpoint, and every stage of their buying journey.
For all these reasons, companies must better engage with customers and create memorable experiences that improve their satisfaction. Over time, great experiences translate to happy customers, which means improved retention, repeat sales, recommendations, and increased revenues (and profits). Even  research shows that among companies that make an effort to improve CX, 84% report increased revenue.
But in a world where customers are impatient and more willing than ever to sever brand relationships, the big challenge for brands is: how to improve customer experience? Another challenge is how to boost customer engagement.
The answer to both questions is Artificial Intelligence (AI). By leveraging AI to improve customer experiences, brands can realise all the benefits mentioned earlier.
In this article, we explore how your company can utilise Conversational AI for customer engagement. We also show you how to improve the customer service experience with AI.
But before we get into the details of the role and importance of AI for customer experience, let's take a slight detour into a more basic challenge: how to increase customer engagement and how to improve customer experience in a crowded, noisy world.
Strategies to Increase Customer Engagement and Improve CX
Customer engagement is vital for success in today's business landscape, because it influences the ability of a brand to acquire, convert and retain customers. By engaging with your customers in meaningful, friendly, appropriate ways, your brand can build enduring relationships with them and ensure that they choose you over the competition. Great engagement also impacts customer loyalty, advocacy and "word of mouth" marketing – something that accounts for 13% of consumer sales.
Customer engagement is also vital to CX because the way you communicate with them has a strong bearing on their satisfaction, and ultimately their loyalty.
Here are 3 powerful strategies to boost customer engagement, and deliver amazing CX:
Map out the customer journey
Regardless of the business type, size or industry, today's customers almost always pass through several touchpoints when interacting with brands. Some of these touchpoints come into play before purchase, some during, and some after. But all are important because at any touchpoint, a single bad experience can derail your efforts to deliver a great overall CX.
This is why it's critical to map out the customer journey and identify all the steps they take while engaging with your company. The customer journey map tells the visual story of your customer at every point along their brand journey. The more touchpoints you have – in-store, social media, call centre, live chat, email, etc. – the more necessary a map is.
Map out all the interaction touchpoints to:
Understand customer actions, motivations and uncertainties
Define their needs and problems
Identify common pain points that you must address
Recognise their expectations and use these insights to offer personalised service, and ultimately to
Deliver great CX
Create a relatable brand
When a brand is relatable and meaningful, customers would want to engage with it. For this, brand awareness is crucial. Tell customers how your brand is unique, relevant and useful. Communicate a sense of authenticity by telling your brand story and by engaging in ethical business practices. Authenticity matters because 86% of customers say that it influences which brands they like (and therefore support). It also helps create meaningful connections that customers would want to sustain through ongoing brand engagement.
Pay more attention to social media marketing
In 2020, about 3.96 billion people were using social media worldwide. That's over 50% of the global population. Social media is an influential and low-friction way for brands to communicate with customers with focused engagement strategies.
Respond to every comment, even negative ones. Take the time to address every complaint. Post regularly and frequently, so customers have a consistent stream of content to consume and engage with. Also have two-way dialogues with live chat and Conversational AI chatbots. Invite their participation with contests, polls and quizzes.
Other great ways to improve customer engagement:
Send occasional push notifications with interesting content and compelling offers that excite customers and encourage them to engage further
Create a great brand narrative with video storytelling
Use native advertising (video ads, app install ads, carousel ads) to capture customer attention and promote interaction
Make sure your customer engagement is not focused on any one channel. Companies with weak omnichannel engagement strategies retain only 33% of their customers. In contrast, companies with a strong omnichannel strategy retain a massive 89% of customers.
Another powerful way to take your customer engagement and CX to the next level is through Conversational AI. We will discuss this next.
AI for Customer Engagement & AI to Improve Customer Experience
There's no such thing as a "9-5 store" or "regular business hours" anymore. As businesses expand and become increasingly borderless, they have customers in different countries and time zones. These customers expect to connect with the brand whenever it suits them, and on a channel they feel most comfortable with. But what if your brand cannot provide 24x7x365 engagement with human agents? Well, you have a great alternative option – Conversational AI.
Conversational AI chatbots, self-help systems and virtual agents can understand human language and intent, respond in human-like ways, and deliver smooth, natural engagement experiences. Using Natural Language Processing (NLP) and Natural Language Understanding (NLU); bots "converse" with audiences, and with Machine Learning, they constantly "learn" to improve their ability to engage with and delight customers. Even if the customer knows they're chatting with a bot, as long as the communication is friendly, natural and effective, it can create great engagement opportunities – and results – for your brand.
In the next few sections, we shine a spotlight on some of the many ways you can leverage Conversational AI for customer engagement, and to improve customer experiences.
Conversational AI for Customer Service
How to improve customer service in retail?
How to improve customer satisfaction in the hospitality industry?
Healthcare?
Travel?
Media?
Education?
Multiple industries, multiple use cases, one cutting-edge technology – Conversational AI.
Today's "customer care" is about "AI customer care". Here's why:
Thanks to AI and NLU technologies, a chatbot or voicebot can understand customer queries, process them, and then respond to them with fast, relevant answers. Even better, these answers mimic human language and syntax, so customers get a seamless, hassle-free support experience which goes a long way towards enhancing their overall brand experience.
AI customer support tools also yield multiple benefits for your company. For one, you can provide high-quality support to customers at any time, no matter where they are. Unlike human support agents, chatbots can work 24x7x365, so you can provide fast, timely support to every customer – even outside business hours, during holidays, or during volume surges. With chatbots, you can easily expand the capabilities of your support team, without adding additional (costly) human resources.
Chatbots can easily manage repetitive or common questions that customers usually ask. For more complex queries, they can hand over the customer and the conversation to a human agent, ensuring a seamless transition and a consistent customer experience from start to end.
So the answer to "how to improve customer service in retail business" (or any business for that matter) is very simple – Conversational AI!
Conversational AI for Lead Generation
Your brand's customer engagement and CX efforts should start from lead generation, and for this Conversational AI is a potent tool. Conversational AI-based chatbots, mobile assistants, voice assistants, etc. can decipher the intent of your visitors. Accordingly, they adjust their responses, and help boost your lead nurturing efforts.
Traditional lead gen methods like cold calling, dedicated landing pages, lead capture forms, etc. often yield a lot of irrelevant information that end up wasting your Sales team's time. Instead, leverage a Conversational AI chatbot to capture and nurture your leads in these ways:
Identify customer intent, ask qualifying questions, and assign them to the Sales team
Use visitor behavioural data to make recommendations and help them discover the right product
Ask visitors who engage for their email or other contact details
Automate journeys and move leads to CRM
Engage in contextual conversations to move them down the sales pipeline
Offer the right products, promotions and prices to improve conversions
Add bots to dozens of channels to expand your brand presence, and boost lead generation, qualification and conversion
Improve omnichannel engagement with ML and NLU
Conversational AI to Understand Customers
Earlier we mentioned how customers don't appreciate cookie cutter-type experiences. They also don't appreciate generic, "spray and pray" type brand communications. To retain customers, and earn their loyalty and advocacy; it's important to engage with them in personalised ways. In an earlier section, we showed you 3 ways to improve your customer engagement programme. But to do this, you need to understand customers – who they are, what they want, what they don't want, etc.
Conversational AI can help you tap into the customer's psyche by analysing their past behaviours. With the technology, you can examine information about transactions,  interaction history, and even review transcripts of past calls and chats. Even if the data is unstructured, you can find links, patterns
and trends that provide great insights into customer behaviours and preferences.
A Conversational AI tool can monitor its own conversations or listen in to agent-customer interactions, and use sentiment and keyword analysis to understand customer reactions. It can also anticipate their needs and make predictions about what they want. This can help you take a certain action to engage with the customer in a deeper, more meaningful way, and provide the right information or service that enhances their experience. These are just some of the ways Conversational AI for customer experience is a great tool for your brand.
You can also use Conversational AI to improve your engagement and CX results in other ways:
Email marketing: Send automated, personalised email campaigns based on specific user behavioural triggers
Social media outreach: Deliver personalised content, simplify "social listening", and respond in real time to comments
Engage across the customer lifecycle: Auto-send enticing promotions in the pre-purchase stage, guide customers during purchase, and provide support in non-intrusive ways after purchase
Conclusion
To build trust with customers, it's vital to engage with them in ways they feel most comfortable with. Only then can you create the great brand experiences they expect and demand. Conversational AI is a great way to do all of this at scale,  and at very low cost. The use of AI has also been shown to cut costs by up to 30%. Use these savings to improve your engagement and CX strategies, and you will surely see great results in your revenues, profits and competitiveness.
The best thing is – you can build a Conversational AI chatbot in next to no time with a low-code, low-cost platform like Gupshup. Take advantage of a user-friendly interface, simple workflows, built-in templates, as well as no-code and IDE bot builders to deploy a customised chatbot on multiple channels. Click here to know more or contact us for a free, no-obligation demo.
Blogs you will want to share. Delivered to your inbox.
Business Email
×
Read: Conversational AI : The future of Insurance Companies