Conversational AI : The future of Insurance Companies
On July 26, 2021
|
4 Minutes Read
Conversational AI
Conversational Commerce
Conversational Marketing
Conversational Support
Insurance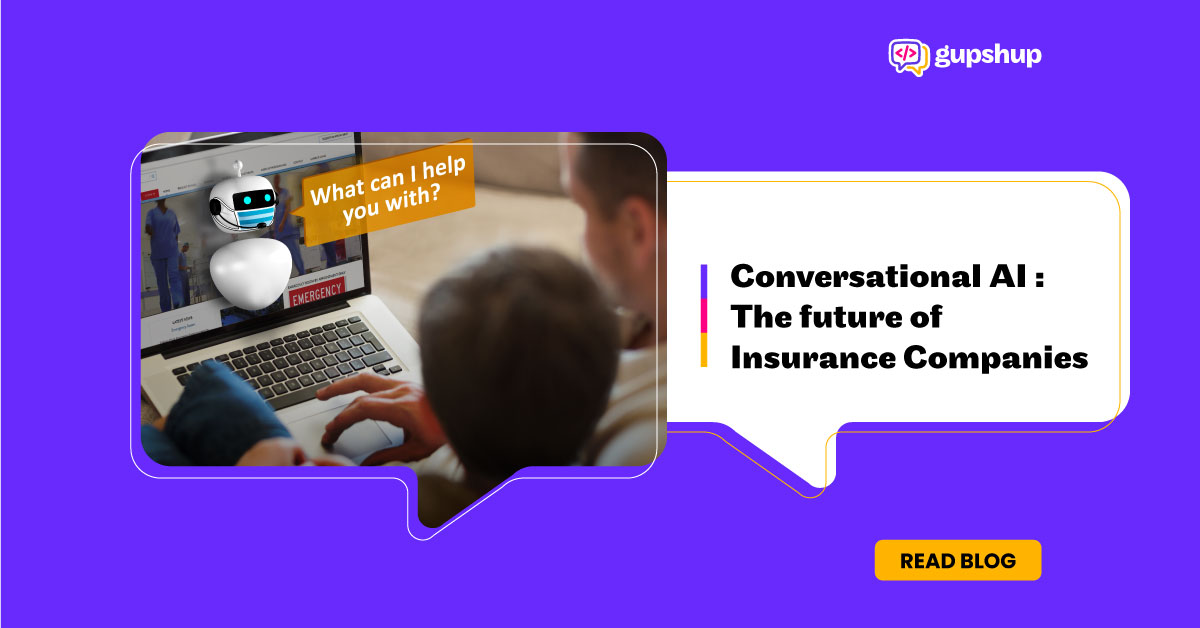 While talking about the insurance industry, the very first thing people discuss is its inadequate staff, extensive forms, poor customer service and loads of paperwork. Since the sector has realized these issues, it has started investing more in AI and virtual assistants.
With this change, Conversational AI seemed to bring about a revolution in the insurance industry. The top Insurance companies can transform their customer service through AI chatbots while slashing operational expenses dramatically.
Here's how Conversational AI benefited the Insurance Companies and their customers with their use cases:
Customer-friendly Insurance
Many customers believe insurance is a confusing tangle of policy selections, quotations, contract terms, and claims procedures. Thus, they are hesitant to purchase it. Conversational AI bridges these knowledge gaps and provides a more transparent and clear insurance atmosphere.
A customer questions policy plans, features and coverage, price, financing options, and more that the AI Chatbots readily answer. Insurance chatbots usually act as digital insurance advisors for the users. It asks the user about their needs and makes individualized policy suggestions based on their replies, just like an actual insurance representative does.
It also allows customers to compare plans quickly and smoothly and gain a better knowledge of the benefits of various coverages. In this way, insurance agencies could give their customers greater support on their insurance journey.
Simplifying the Transactions
A customer usually has to read dozens of pages to complete the insurance transaction. They might have to meet the agents personally or communicate through phones to know about the complete transaction process.
All this demands the potential customer to devote a significant amount of time, and they might still be confused about the payment steps. Well, Conversational AI made the purchase and post-purchase transaction easier and simpler than ever before.
Making Filing Claims Easy
Another instance where Conversational AI comes to the rescue is when customers need to file a claim. The customer only needs to answer the chatbots about the claim's type. Then the assistants obtain their policy information from the insurer's database, ask the consumer for any further information, and then start the claims procedure. This saves the time and effort of both insurer and insured.
Customers do not have to follow up with their agent, and insurers don't have to manage each claim manually. With the assistance of Conversational AI, the consumer gets assured that their complaint is processed quickly. Likewise, insurance companies succeed in providing a better customer experience.
Boosting Employee Efficiency
Conversational AI tackles all tedious and time-consuming tasks. Thus, it aids the companies in utilizing their time more efficiently and reducing overall recruitment, staffing, and training expenses. The employees could handle more difficult back-office procedures by automating the manual tasks.
Reducing Digital Frauds
Insurance companies are usually concerned with maintaining the privacy and confidentiality of their customers' information. But, Conversational AI also assists there. Chatbots are excellent at detecting and identifying signs of any fraud. Hence, they notify both the company and the customers as soon as there is some possibility.
The Future of Conversational AI for Insurance Companies
Implementing Conversational AI by the insurance agencies have proved to be successful. But this is not the end, as it has much more to do in future:
Semantic Search
Semantic search is a strategy for retrieving information in which the algorithm searches for the meaning and purpose behind a query before returning a result. It goes further than a simple linguistic search.
Bots will react to requests whose solutions are not immediately or explicitly mentioned in a block of text by employing semantic search. In the case of insurance, this means that bots would be able to respond to questions about the products by looking at policy papers and product descriptions rather than being taught those particular questions.
Insurance agencies will become more proactive
One can foresee the insurance business being more strategic since conversational AI is getting advanced daily. Besides helping the customers with their right coverage, agencies can provide other information related to the policy. For example, agencies can help their customers recognize any discounts in their premium.
Through this, it will not be a mistake to say that Conversational AI for insurance companies will turn out to be a positive outcome. Do you want to have AI chatbots for your insurance firm? Try Gupshup.
Blogs you will want to share. Delivered to your inbox.
Business Email
×
Read: Start real-time conversations with customers via Conversational Marketing