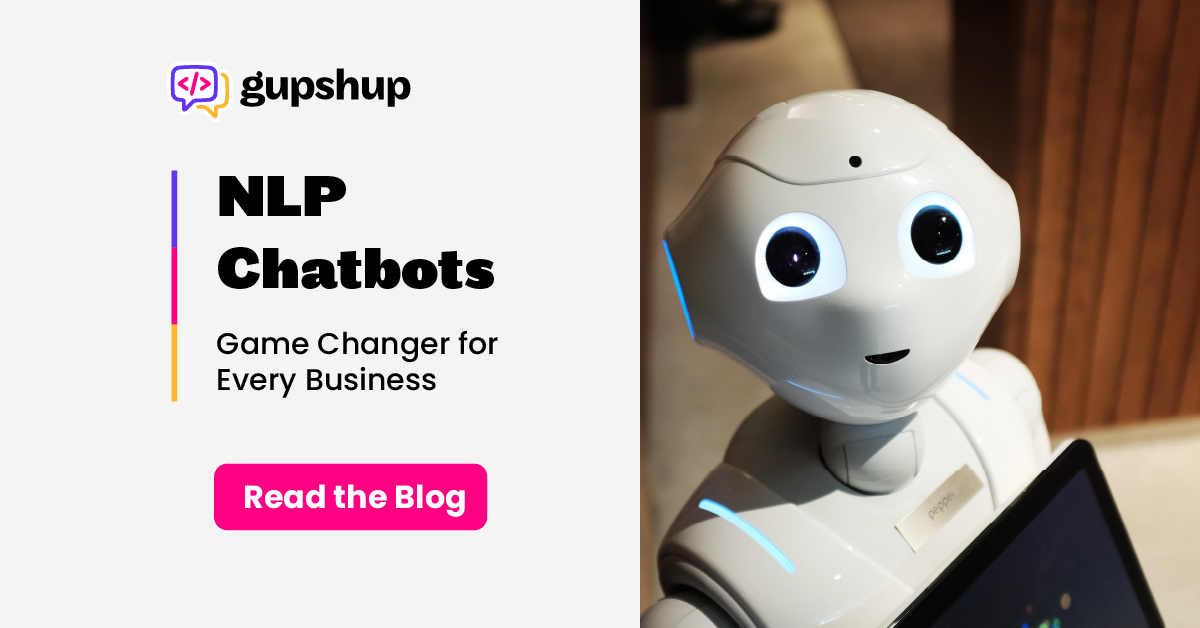 NLP Chatbots – Game Changer for Every Business
Chatbots, Conversational AI, Generic
On September 9, 2021
With the increasing customer demands for better business service, it becomes a must for online businesses to solve customers' queries to ensure consumer loyalty. Earlier, an assigned person would handle the calls and give solutions for the customers' questions. It soon became a cumbersome and time-consuming process for both the customer and business owner. This marked the rise of chatbots for nearly every business due to their unprecedented efficiency.
Today, nearly 80% of businesses use a chatbot for offering customer services. Chatbots have been becoming prevalent over the last couple of years. They are capable of being useful in different scenarios across industries. The customer service industry was to be revolutionized, and the invention of chatbots has made it achievable. They are now considered the future of customer service. For new businesses looking to invest in a chatbot, the Natural Language Processing (NLP) technology-based chatbots will fuel their profits by responding professionally as per the customers' intent.
After AI and machine learning gained prominence, there has been a surge in businesses who wanted to deploy an NLP-based chatbot that assesses, analyzes, and communicates with users, just like a human, for an unparalleled experience. Let us now understand what NLP chatbots are to know then the advantages they offer to businesses. We will also learn how they help in overcoming customer service pain points in communication.
What are NLP-based Chatbots?
Natural Language Processing (NLP) is a deep learning-based AI technology with which the computer can acquire user inputs and derive its meaning. With chatbots, the NLP assesses the user input intent and creates a response with contextual analysis. The developers can train the bot on conversations it will go through to evaluate and interpret queries efficiently.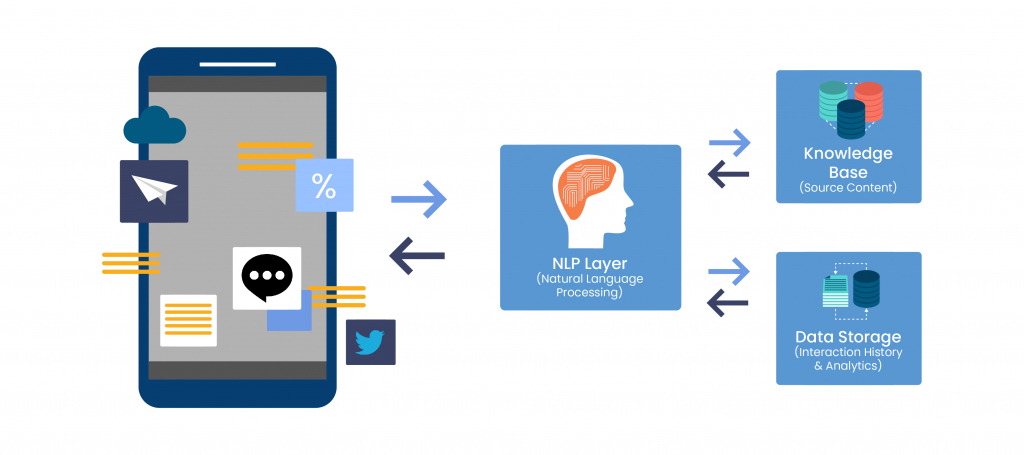 Along with responding to queries, developers can automate chatbots to better understand the intent of a personal conversation. NLP makes it easier to streamline tailored and unique responses to improve the customer experience. The initial NLP training can be challenging, but businesses can reap unlimited benefits after a successful adaptation.
How Can NLP-based Chatbots Help Every Business?
In today's 'hustle' lifestyle, the younger generation prefers to text a brand than call directly. In this case, a conversational bot with NLP will be much more helpful. NLP-based chatbots amplify customer service and help with surging market demands by enabling machines to communicate like humans. Here's how:
Instant Customer Service
NLP-based chatbots help customers get immediate answers at any time. They effortlessly work as a customer service executive by offering predefined, programmed responses, reducing customer wait time. In addition, they can handle endless queries related to sharing an instruction link, making a reservation, or searching for a particular product. According to research conducted by Opus, companies will invest more than $4.5bn in chatbots by 2021.
Boosting Conversion Rate
Marketing executives always look for methods to optimize conversions to lower customer acquisition costs. NLP-based chatbot solutions help propel the conversion rates manifold by offering advanced features such as auto-complete text and search functionality. These features result in visitors spending more time on your website, which raises the probability of more sales.
Improving the End-User Experience
NLP lets website visitors find what they have been looking for using semantic search engines, get instant help, and extract high-quality content using user-generated content moderation tools. All these factors impact a user's experience with a business. With a positive experience, they are more likely to tell their network about your offerings.
Team member Satisfaction
Along with customer satisfaction, chatbots are equally competent to offer team member satisfaction too. The NLP software can handle time-consuming or routine tasks by automating processes like:
Answering frequently asked questions
Working as customer support
Restricting comments
Scanning and filtering documents for keywords
Monitoring a company's references on social media
Categorizing emails
Checking spellings
Several more tasks can be automated using NLP, which will improve team member efficiency and job engagement.
Overcoming Language Variations
NLP-based chatbots can be programmed to understand language semantics, text formations, and speech variations and analyze large amounts of unstructured data. They also interpret slang and learn abbreviations like a human being while understanding emotions via sentiment analysis.
Some Practical Instances of NLP Chatbots
We have learned the gains businesses can obtain with NLP chatbot implementation. Some of them are already making the most of this phenomenal invention, like the ones below:
NLP is what allows Amazon's Alexa to understand human words and react to them.
Royal Bank of Scotland has been employing NLP technology in their chatbots to interpret customer trends from feedback received in surveys, complaints, or emails and improve customer service.
Virtual Medical assistant MedWhat has been using chatbots, paired with intelligent NLP systems, to offer an authentic customer experience.
Airline customer support chatbots are NLP-powered that recognize customer queries and provide the needful assistance for better customer satisfaction. They can deal with voluminous customer support inquiries related to critical information, boarding passes, or refund status.
NLP chatbots can work as back-to-back virtual assistants post-lockdown after employees resume working from the office. They can provide helpful tips on safety and travel for safe traveling.
In a Nutshell
In this article, we have tried to explain the significance of conversational AI-enabled NLP technology and how NLP chatbots have disrupted almost every industry. We have also highlighted some key points on how NLP-powered chatbots have benefited businesses and what makes them a must for every business. They exceed customer expectations and drive conversions at scale.
At Gupshup, we're making the technology accessible to businesses to help them launch and optimize chatbots that have significantly impacted their ultimate ROI. If you need to know more about Gupshup chatbot offerings, visit gupshup.io today. You can also enroll in our webinar by registering on our website.
Blogs you will want to share. Delivered to your inbox.
Recommended Resources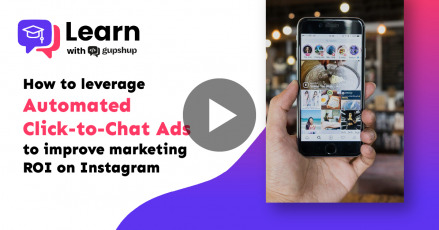 Click-to-chat ads enable brands to reduce drop-offs and increase conversions by engaging with prospects in one-on-one...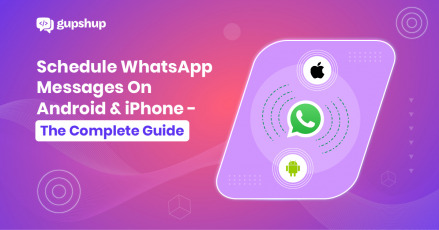 Read our blog to learn how to schedule WhatsApp messages on Android and iOS with simple...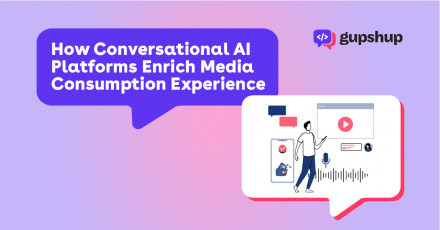 Conversational AI can improve media consumption by incorporating chatbots throughout the consumer journey.
×
Read: Re-imagining CX across sales, marketing and support