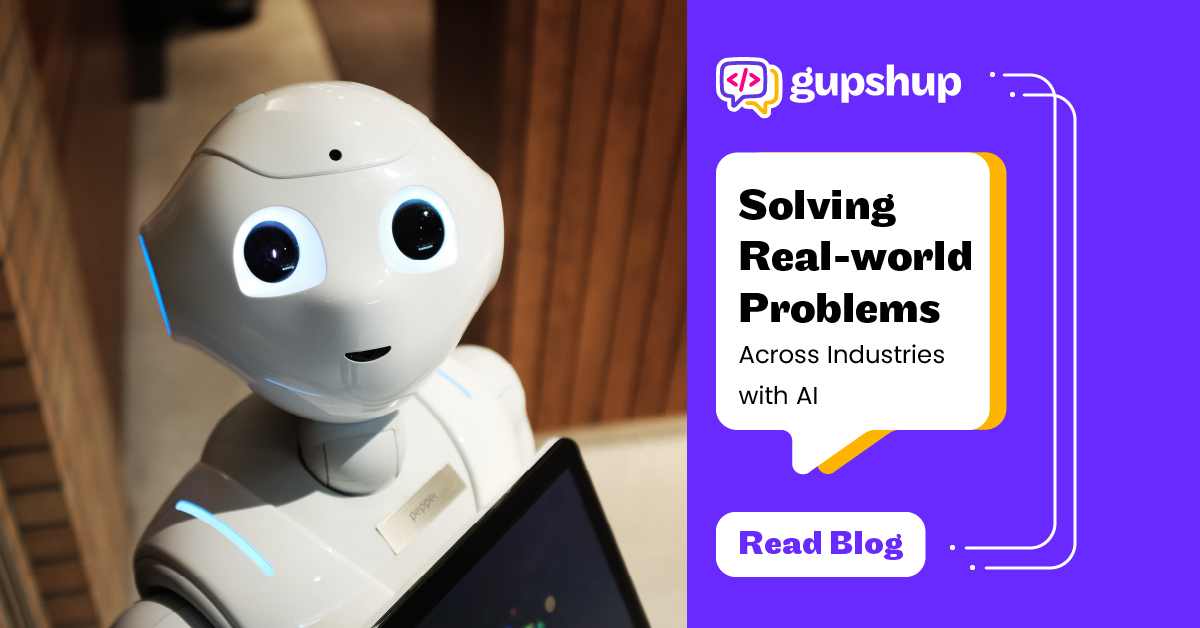 Solving Real-world Problems Across Industries with AI
Chatbots, Conversational AI, Conversational Messaging, Generic
On September 30, 2021
Rethink, redesign, reformat and rebuild old experiences with Artificial Intelligence. That is the motto embraced by brands today. With over 80% of businesses stating that AI is a strategic priority for their business today, it has been proven that artificial intelligence and big data give brands a competitive edge over their competitors. By 2025, 95% of customer interactions will be powered by AI; solving customer care issues in the real world with chatbots is inevitable now.
Conversational experiences transform every business function, and understanding the consumer journey is a critical part of every business strategy. The different stages are evident in the RACE model.
Reach: Promote the brand
Act: Generate quality interactions with the target audience
Convert: Ensure that leads become customers
Engage: Increase customer retention and loyalty
The chatbot mimics human intelligence to understand the visitor's queries and replies accordingly with conversational messaging. Therefore, it plays the role of your sales consultant and customer care support to nurture the entire path that the prospect follows on his way to becoming a loyal customer.
Customer's Biggest Problems
Making a purchasing decision is not always done on a whim. The bigger the product or service, the longer the time taken by the visitor to become a customer. That would explain why the SaaS cycle is a long one. It is only fair to give your visitors the time and information they need to purchase. They need to be satisfied that they have taken the right call.
Let's make a list of all those obstacles that would come between the conversion of the prospect into a loyal customer.
Lack of personalization
Slow response time and lack of real-time engagement
Incompetent customer care representative
Customer's questions not clearly understood by chatbot or assistant
The customer gets transferred multiple times
Unnecessary upselling and cross-selling
When the brand does not revert with the correct information
Inability to reach the human customer assistant
Lack of omnichannel customer care
Poor after-sales service
2021 has been said to have been the year with peak customer problems. Brands must understand that customer care issues are inevitable. It is vital to be prepared for it and be ready to put out the fire immediately. All it takes is one disgruntled customer's unhappy review to cause havoc to your online reputation.
Conversational AI to the Rescue
Keeping the criticality of the customer journey in mind, Artificial Intelligence brings you the right solutions to solve general customer care issues.
What is Artificial Intelligence (AI)?
According to John McCarthy from IBM, "It is the science and engineering of making intelligent machines, brilliant computer programs. It is related to the similar task of using computers to understand human intelligence, but AI does not have to confine itself to biologically observable methods." Artificial intelligence leverages machines to imitate the problem-solving process and decision-making capabilities of the human mind.
The forecasted AI annual growth rate between 2020 and 2027 is 33.2%. (SemRush)
What is Conversational AI?
Conversational AI is the set of technologies behind automated messaging and speech-enabled applications that offer human-like interactions between computers and humans. Bridging the digital divide through Artificial Intelligence, machine learning, and other emerging technologies will help all users benefit from the digital revolution, regardless of who they are and what their purchasing habits look like. Conversational AI provides personalized communication by understanding the needs and wants of various target segments across all verticals and channels.
"Combined with edge computing and big data, as well as the ability to harness the enhanced connectivity of 5G, AI will bring each aspect of our lives into a seamless connected experience. — Jo Seong-jin, Chief Executive Officer, LG, at IFA 2018
Providing solution to obstacles
| Obstacle | Solution via AI |
| --- | --- |
| Lack of personalization | Get an understanding of customer preferences and behavior to provide the right solution. |
| Slow response time and lack of real-time engagement | Chatbot's 24/7 solution provides quick responses to ensure continuous conversations. |
| Incompetent customer care representatives | Programmed with the correct data, the chatbot cannot fail the customer. |
| Customer's question not clearly understood by chatbot or assistant | With smart keyword analysis, misunderstandings can be avoided vastly. |
| The customer gets transferred multiple times | One chatbot can handle multiple requests. There is no question of customers being put on hold. |
| Unnecessary upselling and cross-selling | Thanks to smooth conversational messaging and personalized content, any upselling or cross-selling will be very relevant and appreciated by the customer. |
| When the brand does not revert with the correct information | Chatbots are programmed with accurate data to understand and answer queries accurately. |
| Inability to reach the human assistan | At the end of the conversation with the chatbot, customers have the option to request a human assistant. |
| Lack of omnichannel customer care | Mapping the customer journey and streamlining the conversation to the preferred channel with live chatbots brings eloquent customer care. |
| Poor after-sales service | Personalized thank-yous and regular updates can be programmed to ensure smooth customer support post-sales. |
Solving Real-world Problems across Domains
With Gupshup, you can accommodate all your customer care support requirements, no matter which industry you are in, and carry out a detailed analysis for a comprehensive customer journey solution. The customer is looking to your brand for directions. Presenting them helpful information to accelerate their decision-making process is critical to a smooth transition from a curious visitor to a loyal customer.
AI-powered Conversational Solutions For Every Industry
Gupshup brings you the ability to connect to your target audience and ensure a smooth customer journey with
Single messaging APIs
Rich media libraries
Agent dashboards
Best-practices for conversations
AI-powered chatbots help drive more sales, improve customer experience, bring more market share and reduce operating costs via automation. Connect with us now to know more about solving real-world problems across industries with Gupshup's innovative chatbot solutions. Remember: when a 10-click experience is changed to a 1-click journey, the returns are immeasurable.
Blogs you will want to share. Delivered to your inbox.
Recommended Resources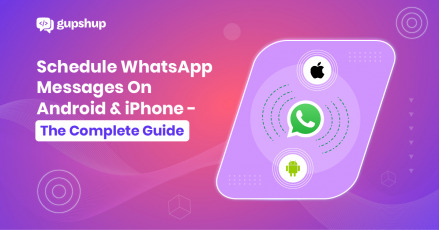 Read our blog to learn how to schedule WhatsApp messages on Android and iOS with simple...
Conversational AI can improve media consumption by incorporating chatbots throughout the consumer journey.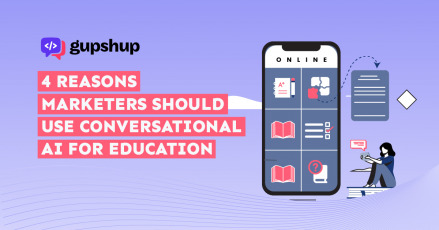 Read this blog to learn how EdTech players can leverage conversational AI to expand their reach...
×
Read: Chatbots are revolutionizing customer service across BFSI