There was once a time when we could only send a limited number of text messages per month. But times have changed. In less than a decade, tech companies have designed free messaging apps without any limitations. For individuals who were notorious for going over their text limits every month, this was like winning the lottery!
However, since then, messaging apps have become a lot more than just texting. Companies have started using them for digital interactions and transactions. Chat apps began integrating other features, such as making voice calls, sending images and videos, playing games, and even purchasing products. These added features have attracted new users.
Today, messaging apps have over 5 billion active users each month. In fact, according to an article published by Business Insider, the top four messaging apps have a larger user base than the top four social networks.
Over the last several years, more businesses began using messaging to market, to reach, and engage with their audiences and reach new leads. Apart from the standard app features, some marketers also built chatbots for timely customer service, answering queries, and aiding users in making purchase decisions. According to a Report by Ubisend, 35% of consumers want to see more businesses using chatbots, and 21% see chatbots as the easiest way to contact a company.
So, what messaging app should your business use in your marketing strategy?
How to Choose the Right Chat App For Your Business
Step 1: Understand Your Audience
Before you can choose the best messaging app for your marketing strategy, you first need to get to know your audience. Understanding who they are, where they are located, their interests and hobbies, their challenges and pain points, their age range, and where they hang out online are all key insights.
For example, if you choose to use Facebook Messenger, but you need to target an audience under the age of 18, then you may be missing the mark. Kik, another messaging app used by 13 to 24-year-olds, might be a better choice.
Step 2: Set Marketing Strategy Goals
Once you have assessed your target audience, it's time to focus on your marketing goals as well as your overall marketing strategy. What are you trying to promote? Are you trying to increase brand awareness, sell a particular product, or inform your audience about a new feature?
What you are trying to promote will surely have an impact on how you promote it. For example, if you are trying to increase event engagement, Facebook Messenger with its chatbot capabilities might be a good choice. Encourage people to sign up for your event via Messenger. Then, before, during, and after the event send them reminders, updates, and follow-ups through a chatbot.
Now, WhatsApp is one of the most popular messaging apps used today. However, it has limitations. Marketers can only broadcast messages and group chat up to 256 people. For some businesses, this may be enough, but companies that are trying to target a larger audience might need another solution. Therefore, WhatsApp is the best for businesses that are marketing a smaller, targeted, and more personalized campaign.
If you are launching a time-sensitive campaign, good old SMS might come in handy. Because it doesn't need an Internet connection, text messaging remains 3rd in terms of global reach. SMS can be used for seasonal sales offers, appointment reminders, and plenty of other promotional activities.
Step 3: Figure Out What App Your Audience Uses and Why
The overarching goal is to determine the messaging app that your target audience uses. The to determine how and why they use it. Plus, you have to determine if the particular app is the best option for your campaign.
For example, according to Hubspot, WhatsApp has over 1.3 billion active users monthly. Its user base ranges from ages 25 to 44 and it is mainly used in Latin America, Europe, Southeast Asia, and India—just to name a few. On the other hand, Facebook Messenger has 1.2 billion active users monthly. The majority of its users are between the ages of 16 and 44 and are based mainly in North America.
If you are targeting millennials, Snapchat could be the best option. 73% of people who use this app are millennials.
Again, depending on the demographics of your target audience, one messaging app may be a better fit. You may also need to do some testing to determine which app generates the most response from your users.
How Some Companies Use Messaging Apps
Here are a few examples of what some big brands are up to, and how they use messaging apps in their own marketing and customer engagement strategies:
BuzzFeed and WeChat
BuzzFeed uses chatbots on WeChat to send subscribers immediate and personalized content whenever they enter specific keywords. In the example shown here, a user typed the word "cute" and BuzzFeed sent them an article "The 29 Most Adorable Facts Ever."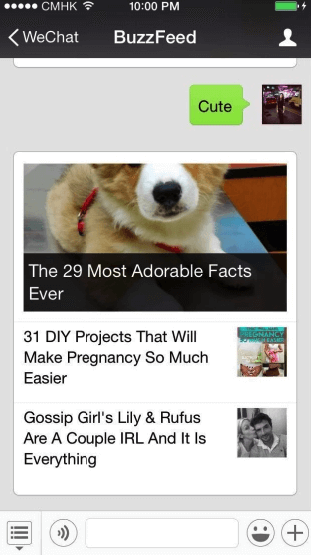 Hyatt and Facebook Messenger
Hyatt relies on Facebook Messenger to reach audiences in various locations all over the globe.
By using Facebook Messenger, clients can make reservations, request room service, check vacancies, look up other pertinent reservation information and chat with customer service right in the app.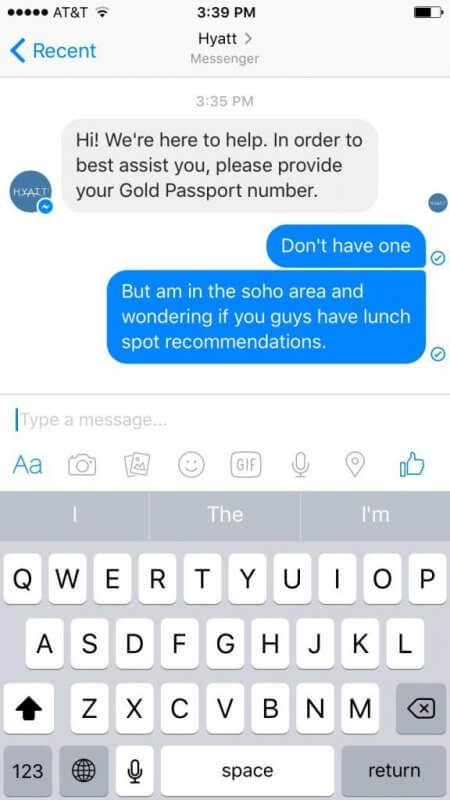 Hubspot and Slack
Slack is the best messaging app for B2B communications. In fact, 77 percent of Fortune 100 companies rely on Slack for their daily operations and internal and external communications. HubSpot is one of them. HubSpot creatively uses Slack to deliver content to users and to also set up a Slack blog subscription. Also, a great way to build advocacy.
In a few simple steps, users can integrate the HubSpot blog app to their Slack application to receive weekly roundups of content and also search for content using hashtags or keywords.
More Than Messaging…
All in all, mobile messaging apps have seen tremendous growth in a short time. As we explored above, the majority of messaging apps have billions of monthly active users. Meaning there are endless opportunities and immense potential for growth for many businesses and brands.
It's true that many marketers are still trying to figure out the best ways to use messaging apps as well as choose the best application for their marketing strategies. However, more and more companies are investing their marketing budgets into messaging services to reach active and engaged audiences and build relationships.