Why Gupshup?
On September 14, 2023
|
16 Minutes Read
Agent Assist
Conversational Commerce
Conversational Engagement
Conversational Marketing
Generic
Omni-channel Messaging
WhatsApp Business API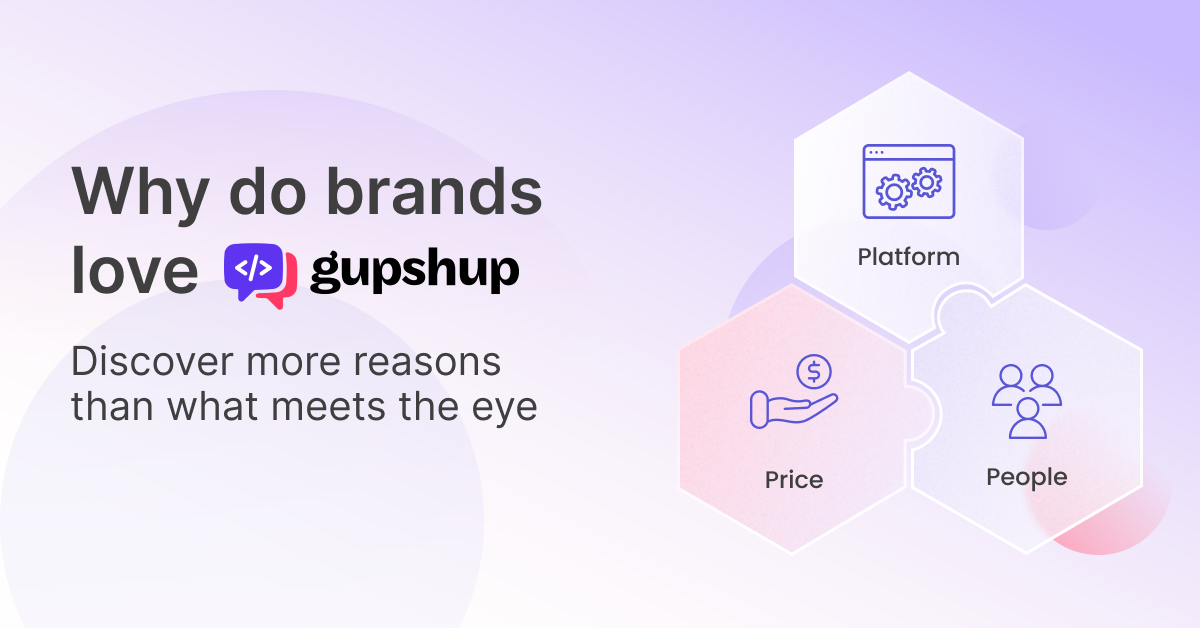 TL;DR
Gupshup delivers the most comprehensive set of features and robust infrastructure.

Gupshup has the best team with the strongest culture.
Gupshup is the ideal long-term partner for you, now and forever.
Gupshup is committed to your success.
Enterprises using conversational messaging platforms often come across different service providers offering similar-sounding products at a wide range of prices. Sorting through these options can be challenging for the customer who is not familiar with the underlying dynamics. This problem is further compounded by the fact that the conversational space is changing rapidly with new channels, features, and capabilities being launched all the time. The factors that might be helpful to your evaluation should include the 3Ps: Platform, People and Price
1. Platform: Breadth and depth of capability
Gupshup's conversational engagement stack consists of 4 layers, the 4Cs: Channels, CPaaS, CX, Consultation.
1. Channels:
These consist of the underlying pipes that deliver messages to the consumer, including, SMS, RCS, WhatsApp, Instagram, Telegram, Viber, and a few dozen more. These are either built on the telco networks (SMS) or the IP-based data networks (all the rest). The operators of these channels charge a fee for delivering these messages. These rates are fairly standard in the market and often available in a very narrow range.
2. CPaaS:
Short for communication-platform-as-a-service, it refers to the APIs and infrastructure built by companies on top of the channels. This infra layer is often invisible to customers, but has significant impact on message delivery. It includes a whole set of capabilities that enterprises need to manage a high volume of messaging with low latency. Below are just a few examples of what it takes to enable a high-scale, high-performance CPaaS platform:
Store and Forward: this module ensures messages don't get lost when different components process messages at different speeds. For eg, enterprises may send messages at 10k TPS, but the channels may only be able to accept 1k TPS. Or, a channel may suffer an outage, and messages have to be redirected to another channel or stored for later delivery. Additionally, some of the value-added processing modules (e.g. availability check, opt-in check etc) may also have different processing speeds. This requires a sophisticated store-and-forward queueing architecture across every module of the stack. 
Prioritization: multi-level prioritization of messages is a critical need for messaging platforms. It's like the express lane on the roadway for high-priority vehicles. For eg, if an enterprise has a large campaign running and then has to send an OTP message, the OTP cannot be put at the back of the queue, but has to be delivered through an "express lane". Prioritization eliminates interference between different types of messages. Furthermore, it's also necessary to prevent interference across enterprise customers – one enterprise running a massive campaign shouldn't block other lower-volume customers. In reality, the prioritization system at Gupshup handles dozens of levels of priorities with complex variations to accommodate the diverse needs of enterprises. 
Opt-in / Opt-out: Every channel has some version of user opt-in required for enterprises to send messages to consumers. The opt-in database keeps changing in real-time, which means the opt-in check has to be done at delivery time, and cannot be done earlier. Also, opt-ins themselves can have many different variations: to a category, or an enterprise, or a message type. Many enterprises choose to have their own layer of opt-in in addition to the default ones required by the channel. Ensuring the message is sent to the right user with the right permission is critical for user-experience and compliance. 
Duplicate Check: Enterprise systems sometimes trigger multiple identical messages to the same user. This may happen depending on the design of their CRM systems. However, it can create a terrible experience for the user. So the duplicate-check model eliminates that from happening. 
Business-hours Management: Different channels and countries often have restrictions on the times during the day when business messages can be sent. Additionally, enterprises may have self-imposed restrictions to optimize their customer experience. Like all other modules, this problem is trickier than it sounds. For example, if the enterprise triggered the message during the day, but the channel had delays, do the queued messages still go out after business hours? If not, do they go out the next day? Once again, there are many variations on how this issue is  dealt with. 
Channel Failover: If one channel has an outage, or more likely, a user is not reachable on one channel, does the message failover to another channel? In what sequence? How should the differences in formats, prices, opt-ins etc between channels be dealt with. All of that complexity is dealt by the Channel Failover module. 
Media Manager: many channels allow delivering rich media messages such as images, audio, video, documents and more. It's simple if it's the same image being delivered to millions of users, but it's much more complex when, say, personalized videos are sent to each user. The size of the media, its storage site, can introduce latency or other complications. Also, channels often take longer to process rich messages than text messages, which can slowdown throughput or latency. 
Template Management: Most channels require template matching to ensure compliance with differential delivery params such as sender-ID, price, or opt-ins. Creating and managing templates can become complex when businesses are dealing with thousands of them. Additionally, templates may have differential delivery rates or throttles based on user's negative feedback ratings. So, a large campaign may get blocked mid-way and may require contingency measures to reactivate. 
Infra Ops: this requires serious investment in cloud infra to enable high uptime, reliability, scalability and cost-efficiency. When an issue does happen, it requires rapid detection, triaging, fixing and preventing recurrence. 
Messaging Bus: there's an immense need for a sophisticated messaging bus to route messages across different modules. A campaign triggers an outbound message which elicits a user response which goes to the journey builder / AI builder which then routes to catalog or agent-assist dashboard (see CX modules below). All these modules need to be loosely coupled for seamless message flow in all its diverse permutations.  
3. CX
Short for Conversational Experience, or even it's more popular cousin, Customer Experience, this is the layer of the stack that provides the intelligence layer to orchestrate advanced 2-way conversational interactions. This layer again consists of many different modules that have to work tightly together to accomplish enterprise goals. This includes:
CTX Ads Manager:

The core focus of CTX Ads Manager is to empower brands to gather actionable performance insights through precise attribution while managing every aspect of the process through a single, comprehensive, easy-to-use tool. 

The tool enables precise attribution at various levels of granularity including campaign, ad group, and individual ad. It provides an exhaustive analysis of campaign performance and return on ad spend (ROAS). Pulling data from both Meta Ads Manager and Gupshup's conversational platform, it aggregates them to provide deep and actionable insights. The optimization module uses these insights to enhance performance through A/B testing of ad allocations, ad content, bot journeys, remarketing campaign rules, and more. It leverages Generative AI  to recommend or even make changes to ad creatives. The last-click data can also be sent back to Meta via its conversions API to improve ad targeting. 

With in-built end-to-end automation of conversational advertising, brands can quickly and easily set up conversational journeys and link them to campaigns, ad groups, or individual ads. Qualified leads automatically flow into a customer data platform along with its conversation history and related meta-data – thus enabling brands to gather first-party data. Advertisers can set up re-marketing campaigns, triggered by time, event, or manually, and link them to specific campaigns. Qualified leads can be presented with the option to transact and pay immediately or be optionally redirected to either a chatbot or human agent to drive conversion, immediately or in the future. All data is available through real-time reports that provide a holistic view of the ad journey such as ad spend, ad impressions, clicks, conversions, chat analysis, and campaign performance. 

The benefits to brands of this tool are immense. It increases the overall conversion rate through future re-marketing to users that don't convert immediately. That's because the data of every user that clicks on a Click to WhatsApp ad is captured and added to its first-party database with zero drop-offs. The new tool, along with the rest of Gupshup's engagement platform, provides brands with a single, unified, comprehensive platform to drive every aspect of conversational engagement.

Journey Builder: the Gupshup platform includes a powerful tool to build conversational journeys. It's simple and easy for a non-technical user to use the no-code interface or pre-defined templates. It also sophisticated and advanced for a technical developer who wants to add API calls or even embed code. It also includes deep links to AI modules, and even includes many AI capabilities by default. It comes with a comprehensive library of template journeys. The journeys can recursively call other journeys enabling very sophisticated workflows. This tool will be the heart of your conversational experiences.
AI Builder: Gupshup launched an Auto-Bot Builder in Jan 2023, which enables businesses to quickly build advanced chatbots powered by LLMs. This tool takes in enterprise specific content, fine-tunes the LLM and adds additional guardrails to build an enterprise-ready chatbot.
Domain-specific ACE LLM: Gupshup was the first company in this space to launch its own domain-specific LLMs optimized to industries (e.g. banking, commerce, travel, etc.) and business functions (e.g. marketing, support, finance, etc.) Built on open-source foundation models, these domain models are fine-tuned, more secure, precise, contextual, data-resident and cost-effective vs the alternatives.
Conversational Customer Data Platform (CDP): Unlike other CDP platforms built for web, app and email experiences, Gupshup's CDP platform is optimized for conversational experiences. Its conversation-first design captures the extensive user signals available through private 1-on-1 conversations. This enables businesses to build rich first-party database to drive hyper-personalized interactions.
Campaign Manager: Unlike other campaign management tools built for web, app and email experiences, Gupshup's campaign manager is optimized for conversational experiences. Its conversation-first design enables interactive campaigns with 2-way elements that drive greater engagement and conversion rates.
Catalog Manager: This tool enables businesses to setup shop right inside WhatsApp by setting up their catalog. WhatsApp enables users to browse and search the catalog, view item details, add items to shopping cart, and place an order. This is a complete game-changer for e-commerce businesses that can frictionlessly acquire, engage and convert users in-channel.
Payments Manager: Gupshup has integrated with various payment methods to enable businesses to collect user payments. This includes not just credit cards, but also different payment methods around the world such as UPI in India, Pix in Brazil, CoDi in Mexico, etc.
Agent Assist: the platform includes a tool for agents to respond to user queries that the automated chatbot cannot handle. The Agent Assist tool supports various assignment configurations, ticket management, AI-based copilot for reply recommendations, reporting and analytics, and more. In particular, it seamlessly handles the handover from bot to agent or vice versa.
Analytics Dashboard: this supports real-time tracking and full-funnel analytics to measure conversion rates, drop-offs, A/B testing, goal-tracking, journey optimization and more. It also pulls data from the Meta Ads Manager to calculate and display ad performance across the whole journey. It also leverages Meta's conversions API to send signals back to Meta to further improve ad targeting.
4. Consultation
The topmost layer of the stack consists of modules custom-built for specific industries to enable faster and easier deployment of the conversational engagement platform. Since we see repeatable patterns across customers from the same industry, pre-built template deployments provide a huge head-start to a new customer.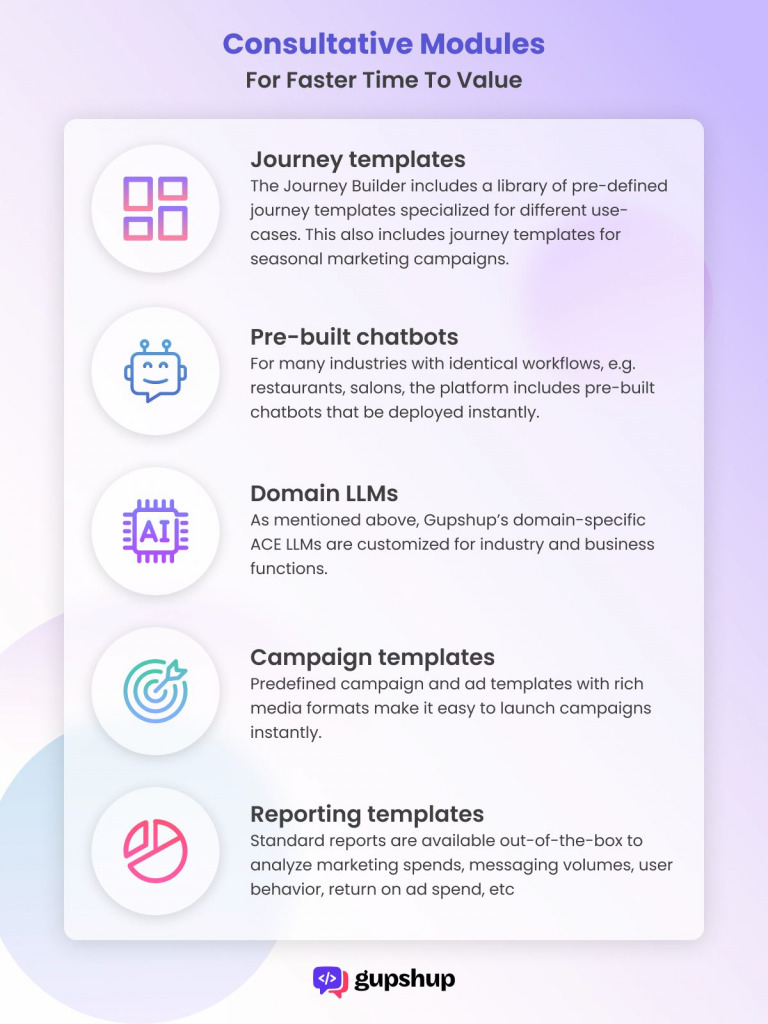 2. People: Culture of Tech Excellence
As detailed above, a world-class Conversational Engagement Platform needs to have comprehensive capabilities across every layer of the stack. Success requires dozens of modules to work well together. Failure can happen if any one of those modules malfunctions. It takes massive investment and a culture of excellence to succeed in this space. Gupshup has always been committed to making the required investment in infrastructure and talent, along with a strong culture of excellence in product & technology. In our (admittedly not-so-unbiased) view, we've built the most advanced, reliable conversational engagement platform. Our approach to building our product reflects the following: 
Hire the best talent: we have the largest and best collection of experts in messaging. Whether it's pedigree (top-ranked universities like MIT, Stanford, Wharton, Columbia, IIT, IIM, or gold and silver medals from said universities, graduate degrees, etc.) or experience (hundreds of employees with decade plus experience in the messaging business), we've got the best and most in the business. 
Techies in heart and head: We pride ourselves on our tech culture. Our engineering and product teams hold themselves to global standards in our software development practices. We invest heavily in research and development (see our LLM models we launched recently). We're always tinkering with innovative technology and are almost always the first in the space to launch new products. Our customer success and support teams are technical too. Even our CEO is a techie, can get deeply technical when required and can even write code (though, he's a bit rusty, but please don't tell him we said that). 
Productize everything: We prefer product over services, pre-building it into the software rather than custom-building for the customer. Every time we come across a new custom-request, we build it so it can be repeated easily. 
Architect to anticipate: As they say, the only way to predict the future is to invent it. We're always tinkering, experimenting, inventing and pushing the limits of messaging technology. Consequently, we tend to see sooner than others where the industry is going. And we embed that in our architecture so that by the time the market wakes up to the opportunity, we're ready to support it, with all its variations, in scale. We build the flexibility in there, so that even if the customers haven't asked us for a feature yet, we know they will, and are prepared for it. 
Build for scale: anything we build (except maybe the lab experiments, which are optimized for speed) is built for scale. We work with the most demanding, challenging, large customers in the messaging industry and know very well what they expect from us. Any outage is very expensive for our customers (and for us), so we'd rather invest in the platform than in fixing it after the fact. 
3. Price: and its relation to value 
We believe in offering the best value at the best price. We continuously benchmark ourselves with the competition and are convinced that Gupshup offers the best value at the best price. Of course, you'd expect us to say that, but here are some supporting factors to consider: 
Buy insurance wisely: As mentioned above, we prefer to invest more in preventing outages than fixing them. We know competitors that prefer the opposite: they offer a nominally lower price up-front to win the customer but cut corners on their infrastructure. Ultimately the enterprise ends up paying more in customer satisfaction and lost business. Buying messaging services from an infrastructure-weak platform is akin to buying insurance from a financially-weak business: they will disappear precisely when you need them the most. We've had enterprises chase lower prices and come back to Gupshup after paying the hidden cost.  
Buy cars, not wheels: Sure, buying wheels is cheaper, but how will you sit on them, steer them or get to your destination. We know competitors that will offer a lower rate, but all they offer is the cpaas platform, no CX. Yes, cpaas can deliver the message, but how would one steer the conversation without a full-fledged CX platform? What about journeys, campaigns, catalogs, payments and more? How does one reach the goals of customer engagement without the whole stack? Often, since the price of CX and Cpaas is bundled together, enterprises don't realize what they're really getting. We've had numerous enterprises that start off the basic solutions and then come to Gupshup once they've outgrown them. 
Buy products, not services: If a platform or a product is ready for prime-time, then it won't need much professional services to configure, setup, customize etc. As mentioned above, Gupshup believes in productizing everything to minimize the need for professional services. We believe in making the product easy enough to use that it should need a professional services army. We know of competitors that will send a team of dozen services people to configure and setup their own product. The high-touch engagement feels good in the beginning, but soon outlives its value when enterprises realize they have to call the team for even the smallest changes. Services revenue, if significant, can create a perverse incentive for platform providers to have a weak or incomplete product. 
It's a long-term relationship, not a one-time transaction: A mission-critical conversational engagement platform will get deeply embedded into your business processes, workflows, customer experiences and more. You'll use the platform across the entire customer lifecycle from advertising, marketing, commerce, support and more. This will become a long-term relationship. If you discover later that the platform is not growing with you, or is not compatible with your diverse requirements, it can become a huge problem. Divorces are expensive. Evaluate the platform carefully as you would a long-term partner; evaluate the features, vision, values, roadmap, etc. Meet the "in-laws" to understand where the platform came from. Meet the "friends" to see which other enterprises like to hang-out with them. 
Align price with value: In an ideal world, as the enterprise derives value from the platform, so does the platform provider. We know competitors who don't believe the platform will deliver value over time, so they try to front-load the fees. This can be fees for setup or professional services. It may also be in the form of MAU pricing where just having a user in the database counts as an "active" user. We believe such pricing strategy leads to misaligned interests. We prefer to align our interests with our customers, by minimizing up-front costs, and scaling revenue with message volume or actual active users over time. 
Price for scale: Scale platforms can amortize their costs over a larger customer base and benefit from economies of scale in every part of the business. It may seem counter-intuitive, but sometimes the largest scale platforms may also be the inexpensive ones. Sub-scale platforms have fewer customers to recover their costs from, and therefore price high. Also, sub-scale platforms tend to build new features through their professional services teams, which can become very expensive very quickly.
There is a lot more to Gupshup than what meets the eye. We've built the best-in-class product, with the right people in the organization who are committed to help our customers succeed, at a price that justifies the value derived.
#LetsGupshup
Blogs you will want to share. Delivered to your inbox.
Business Email
×
Read: Future of CX in QSR Industry: Insights from Industry Pioneers