Rajasthan Royals drives fan engagement and monetization opportunities
Leveraging WhatsApp to deliver personalized and interactive  fan experiences that drive engagement and monetization opportunities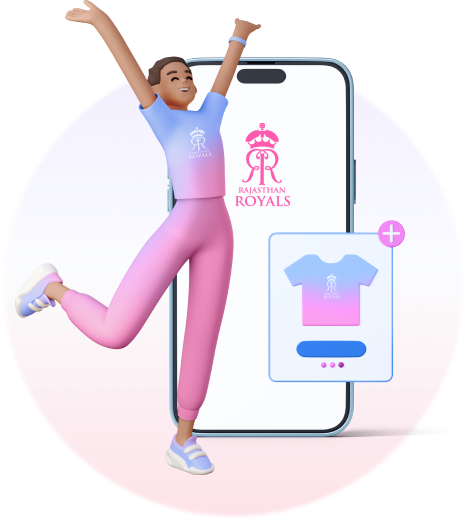 50%
of merchandise orders attributable to WhatsApp over one season
4
fold increase in sales attributable to WhatsApp over 2.5 months
2x
order-to-visit ratio over one season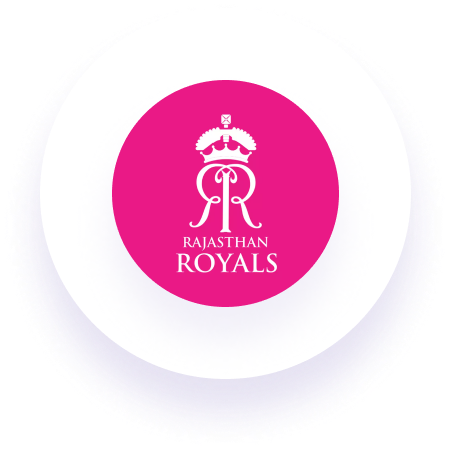 The Story
Transform society through cricket;
transform cricket through innovation
Based in Jaipur, the Royals are one of the founding franchises of the Indian Premier League (IPL), which is now the second most valuable sports league in the world (on a per game basis). The 2022 season recorded a cumulative viewership of 528 million people, giving the 2022 season the highest viewership ever.
Rajasthan Royals is the inaugural champion of 2008 season, finalists in 2022, and is known for harnessing the youth potential to shape the future of Indian cricket. Rajasthan Royals (RR) wanted to create interactive, personalized fan- led experiences throughout the season. To keep their fan base engaged, a series of community building initiatives were planned with a strong focus to drive merchandise sales the team needed an effective communications channel that could facilitate frictionless online shopping.
Cricket fans have watched their favourite teams take the field for centuries. As a popular team in the Indian Premier League, the Rajasthan Royals (RR) give modern-day fans that old thrill of watching players score big. However, the team wanted to spark excitement among its loyal fanbase by providing more interactive, personalised fan-led experiences beyond big moments like a match.
The global popularity of cricket means that fans of the franchise are worldwide, requiring RR to develop a holistic digital engagement strategy. Initially, the team connected with fans and promoted its merchandise rough social media, email, SMS, and its owned platforms – website and app – but these channels supported more limited, often one-sided interactions. To hold fans' interest beyond attending a match or receiving an email blast, the team needed a more efficient, interactive way to engage them.
The Solution
A game-changing virtual assistant
RR observed that WhatsApp is widely used among fans around the world, the team partnered with Gupshup to develop a WhatsApp virtual assistant.
Once fans are connected to the team's WhatsApp, they're greeted by menu options inviting them to experience the Royals brand by watching exclusive content, play games, quizzes, interact with players, engage with fellow fans through the Royals fan lounge or Royals Chat room, earn Royal Coins (part of the fan reward and loyalty program). and encourage them to purchase RR merchandise.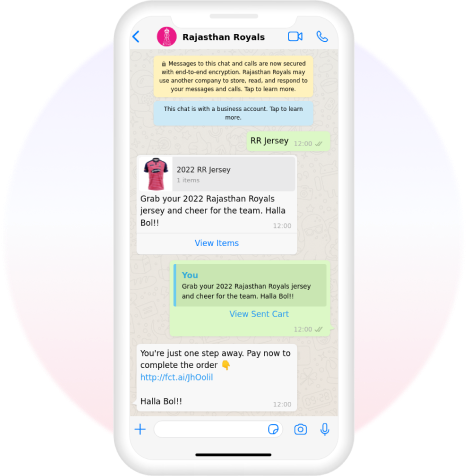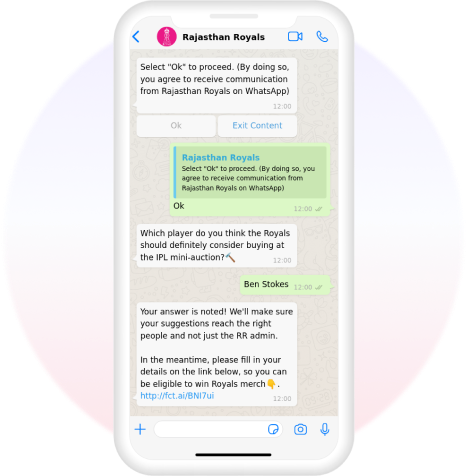 RR can segment fans based on how frequently they use WhatsApp and target them with relevant notifications – from updates about individual players to community initiatives and contests-to keep them active and engaged in the RR community.
RR actively promoted its WhatsApp business account number across its social media platforms, encouraging fans to "come say hi." The virtual assistant responded to hello messages, providing fans with the option to browse from the merchandise catalog on WhatsApp. With the mi-product feature in WhatsApp, RR can connect merchandise in its online catalog with WhatsApp, enabling fans to add their preferred size and style of jersey to their cart. Once a customer has made their pick, RR sends a payment link in WhatsApp that routes directly to the team's website to complete their order.
When customers respond to a campaign directing them to the online catalog in WhatsApp, they're already receptive to making a purchase. As the process becomes faster and easier, customers are encouraged to shop directly through RR instead of going to outside vendors.
Inspired by its success in building fan relationships and increasing sales, the team is looking to add ticket sales and other fan engagement opportunities through WhatsApp. As the team prepares to hit the road for its latest season, RR uses geo- location and calendaring features within WhatsApp to target fans in different regions and its priority markets like Rajasthan and Kerala, to name a few.
Solution
Conversational Marketing and Commerce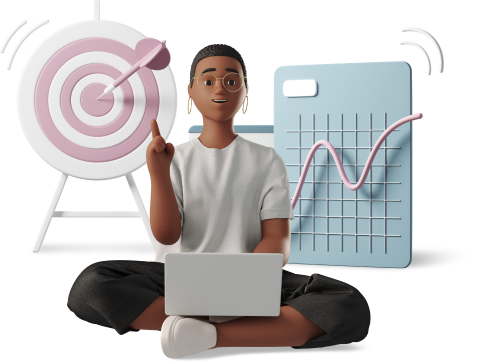 The Success
Increased sales and orders
Virtual assistant enables the Royals to engage fans more consistently while creating seamless shopping experiences that increase merchandise orders and drive revenue from sales.
50% of merchandise orders attributable to WhatsApp over one season 4-fold increase in sales attributable to WhatsApp over 2.5 months
2x order to visit ratio over one season
60% of first party data collected through WhatsApp in 5 months
Ready to get started on your conversational marketing and commerce journey?