5 Things to Keep in Mind when Choosing a Chatbot
On July 19, 2021
|
5 Minutes Read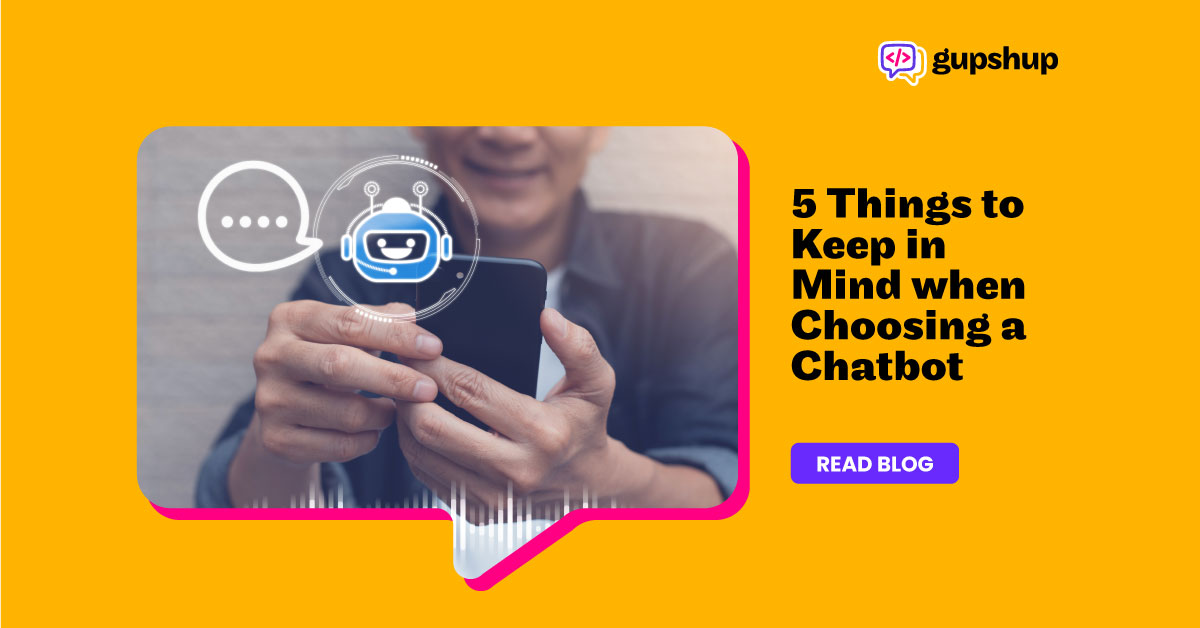 Artificial Intelligence (AI) and Machine Learning (ML) are two technologies that are making every tech-savvy business owner motivated. These technologies are reshaping businesses by closing the gap between ambition and action. Almost 85% of business executives believe opting for AI, and ML-based solutions will increase productivity and help gain a competitive advantage. There is no doubt that investment in AI, ML, and automation technologies will put businesses at the forefront of innovation and creativity.
Customers and users prefer chatbots over other solutions as they deliver quick results and efficient services. The social media platform Facebook created around 300,000 bots in 2018. This has enrolled these tech giants and start-ups in a never-ending race; to get an edge over your competitors, you must speed up your business growth by integrating chatbots.
This article lists the top five criteria that every business should consider before choosing a chatbot.
Map Company's Business Needs with Customer Requirements
Gone are the days when customers needed to fill paper-based forms or wait in queues to get their work done. This technological breakthrough has changed how businesses operate. Customers will always prefer a platform that addresses their concerns and delivers quick results. If you are still following these traditional methods, it would be difficult for you to survive in the long run.
Good business practices have always considered the customer as king. Therefore, you must adopt a customer-centric development strategy. Evaluate your customer's experience or take their feedback to understand how chatbots can enhance customer experience and engage them more effectively. Analyse customer feedback and talk to your staff to understand the processes that can be automated using AI and ML technologies. Schedule meetings with stakeholders, send survey emails or launch a campaign to understand the customer's pain points and their expectations.
Omnichannel Integration for Cross-Channel Support
Make a list of the platforms like social media, mobile, and computer websites through which you are planning to provide support to your customers. This is crucial if you are going for omnichannel support. The chatbot must bridge the gap between multiple platforms in terms of consistent interaction with the user.
Select a chatbot that can provide an omnichannel experience. It should be flexible enough to be deployed on various platforms like social media, mobile, website, digital ads, etc. The user interface must be flexible and easily customisable to deliver a top-notch and seamless experience across all platforms.
Bilingual or Multilingual Support
While the majority of chatbots provide 24/7 and 365 day-customer support across the globe, the ROI starts dipping when your chatbot fails to engage customers who speak multiple languages. Integrating all international languages is indeed challenging. But adding multiple languages, at the least, can quickly become part of your brand's differentiation and success story.
The recent breakthrough in technology like NLP and deep learning made it possible to develop chatbots with multilingual support. Consider this especially if developing an international clientele is a priority for your business or if you already have international customers.
Chatbot Multi-functionality
Businesses should not compromise on integrating multiple functions into a single chatbot as it reduces the overhead charges of having customer service executives and software programmers. A multi-purpose conversational AI-based chatbot automates various tedious tasks related to answering customer queries, engaging customers, building revenues, intent analysis, API integration, etc. Choose a platform that allows for customisation so that you can address the above use-cases and align it with your business workflow.
Make Customer Experience Your Top Priority
Customer engagement and satisfaction rating levels are more than simply scores. It plays an evident and significant role in increasing or decreasing business revenue. The personalisation level can significantly influence a customer's experience. Therefore, you must invest in a chatbot platform that offers a high level of personalisation and comes with a simple, flexible, customisable, and scalable interface.
Customise chatbots to deliver an experience tailored to your customers' expectations, interests, and requirements. Furthermore, don't forget to feed your chatbot with an enormous amount of data like domain knowledge, industry experience, and a human-centric approach. This data helps in understanding the context of the issues customers would raise and providing relevant information.
In a Nutshell
Technology innovation has made chatbots a must-have requirement for almost all businesses. Chatbots empower businesses to automate monotonous or time-consuming tasks so that they can focus on other revenue-generating strategies. Furthermore, they save costs, increase engagement, and enhance customer experience. Which is why, any business that wants to garner more profits, MUST invest in a good chatbot integration platform. Today, chatbots need to be smart and enable smart messaging by being more conversational and intelligent in nature.
Gupshup enables better customer engagement through conversational messaging. You can engage your customers with smart messaging campaigns that bring results and better conversion to your business. Schedule a demo with us or enrol for our regular podcasts and webinars on related topics.
Blogs you will want to share. Delivered to your inbox.
Business Email
×
Read: Guide to Conversational AI in eCommerce & Retail