Guide to Conversational AI in eCommerce & Retail
On July 21, 2021
|
9 Minutes Read
Conversational AI
Conversational Commerce
Conversational Marketing
Conversational Support
D2C & E-commerce
Retail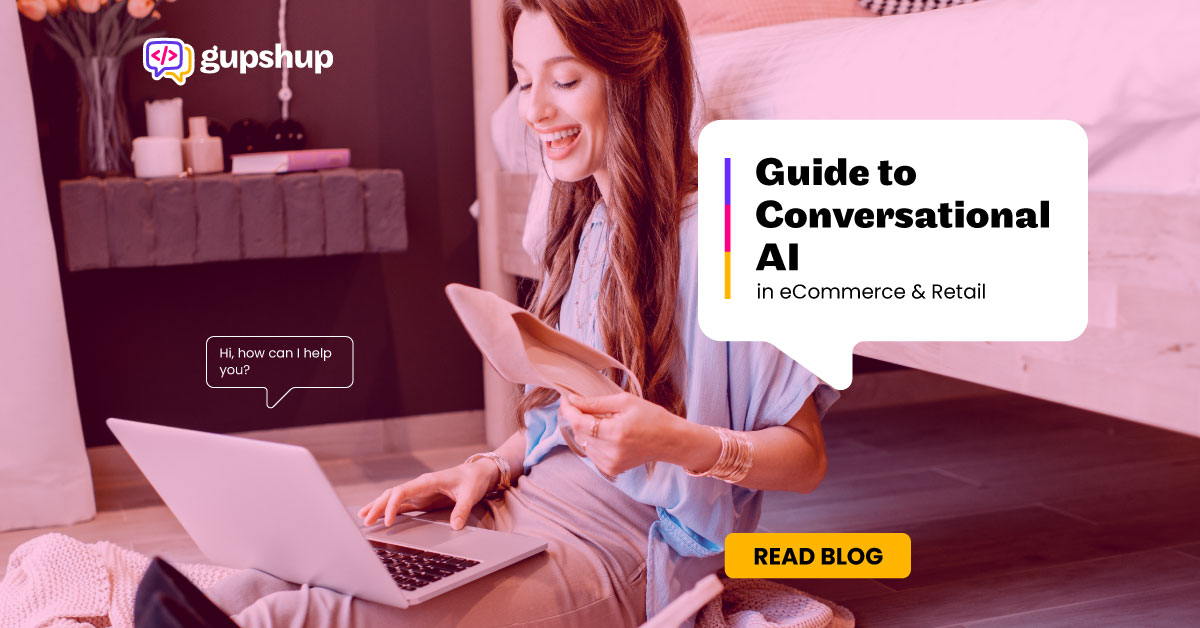 eCommerce has transformed the way the world shops, does business, and even lives. Whether it's Business to Consumer (B2C), Business to Business (B2B) or some other model, eCommerce platforms and marketplaces provide numerous advantages over traditional "brick and mortar" stores – for both buyers and sellers. The opportunity to sell online enables businesses to reach more customers and earn more revenues. Customers get access to a wider variety of sellers, more choice in goods and services, better prices, and of course, convenience and hassle-free payments and delivery.
Digital shopping has become even more important in the post-COVID world. In 2020, 18% of retail sales took place via eCommerce, with worldwide sales reaching well over $4 trillion. In 2021, eCommerce sales are expected to approach $5 trillion, accounting for 21.8% of all retail sales. These massive numbers will be driven by 2.14 billion digital buyers. From these numbers, it's clear that eCommerce is booming, and will drive the future of retail over the coming years.
And yet, the eCommerce industry faces one big challenge: conversions. Recent research has found that the average conversion rate of e-commerce websites is 2.86%. This means that only 2.86% of customers who visit an eCommerce site purchase from it before leaving. Moreover, many of today's customers buy across multiple screens and channels, expecting a seamless, consistent shopping experience and a cohesive brand experience, every single time. Not all eCommerce providers can deliver on these demands.
AI in eCommerce and AI in retail – specifically Conversational AI – can help address these challenges. In addition to conversion optimisation and seamless omnichannel experiences, Artificial Intelligence retail solutions like eCommerce bots and virtual assistants also deliver many other game-changing benefits. Keep reading to learn more.
Artificial Intelligence in the Retail Industry
AI in the retail industry and AI eCommerce platforms are primarily driven by Conversational AI solutions like chatbots. Research has found that by 2023, 70% of chatbots will be retail-based. Further, 47% of customers are already open to making purchases from chatbots. These facts indicate the growing popularity of chatbots in eCommerce.
Automated Customer Interactions
Conversational AI chatbots help eCommerce brands automate and scale consumer interactions on popular messaging channels. They also provide a deeper understanding of their customers – that too at an individual level. This allows them to improve their customer engagement and drive personalised multi-channel experiences that resonate with and delight customers, regardless of whether they're at home or in-store.
Cart Abandonment
Virtual assistants and chatbots are also an effective way to address a prevalent problem in retail eCommerce: cart abandonment. According to the Baymard Institute (an independent web UX research institute), the average online shopping cart abandonment rate is just under 70%. With mobile users, the abandonment rate is even higher at 85.65%.
A Conversational AI assistant can help reduce cart abandonment by sending such customers cheery reminders, special offers and tempting discounts to entice them back to the store. Further, they can send such communications on the customer's preferred channel. This minimises friction for the customer, and the brand can increase the chances of the customer coming back and completing the transaction.
Easy Store Navigation
With Conversational AI (eCommerce), customers can navigate to the eCommerce store, either through the website or mobile app, and quickly find what they need or want. All they have to do is ask – using language, words and syntax they're most comfortable with. The chatbot's underlying Natural Language Processing (NLP) technology is clever enough to understand their request, ask clarification questions if required, and then deliver the best answers. Some chatbots can even suggest cross-sell or upsell options to increase the order size.
Almost all (97%) eCommerce shoppers look for deals while shopping. A virtual assistant or chatbot can provide relevant, personalised offers, coupons and discounts to encourage them to move towards checkout. It can also provide referrals and rewards to loyal customers to increase basket size and repeat sales.
Improve the Customer Journey at Every Stage
One of the biggest advantages of Conversational AI solutions in retail and eCommerce is that they can help improve the entire customer journey:
Discover: "What is the price of the women's blue jeans from ABC company?"
Transact: "I want to buy the women's blue jeans from ABC company in Size M"
Track: "Can you tell me when my order for the women's blue jeans from ABC company in Size M will arrive?"
Support: "I purchased women's blue jeans from ABC company in Size M. I want to exchange them."
Re-engage: "We have a special Valentine's Day offer for you on women's blue jeans from ABC company in Size M!"
eCommerce bots powered by Conversational AI can support customers and ease their experiences at any stage of their purchase journey. They can engage with them in meaningful ways, answer queries in friendly language, and help them with everything from product search and billing to order tracking, cancellations and refunds. Moreover, these bots can be enriched with multilingual capabilities to engage with customers in their preferred language.
Post-purchase support
According to research, 88% of customers expect a response from a business within 60 minutes. However, the average response time from brands is 12 hours and 10 minutes. For eCommerce companies to retain customers and keep them coming back; high-quality and timely post-purchase support is critical. A conversational AI chatbot is perfect to meet these needs. A bot can work 24x7x365 and answer all kinds of repetitive or common questions, while also building a real connection with customers through human-like, friendly conversations.
Conversational AI and Enhanced CX
For eCommerce customers, the online shopping experience is as – or even more – important than product range and price. Moreover, their first-time experience with an eCommerce platform will inform their future decisions. To ease their own experience, many shoppers go to the search box instead of navigating to the site's product categories. If the search does not deliver the right results, they will lose patience and move on to another retailer.
To keep them online and interested, brands must first index their sites with multiple combinations of search results. More importantly, since customers will not waste time sorting through dozens of irrelevant results, the eCommerce platform must provide easier search functionality. Here's where a Conversational AI eCommerce platform can be a game-changer.
Easy Visual Search, Relevant Results
With Conversational AI, eCommerce companies can implement a user-friendly Visual Search functionality that allows customers to ask for what they want in everyday, conversational language. The chatbot can understand their requirements and provide accurate, consistent answers without the need to involve a live/human adviser. It can also be configured to divert some queries to live advisers according to specific parameters like keywords, business rules, etc. Both are great ways to enhance Customer Experiences (CX) along their shopping journey.
Hassle-free Customer Engagement
Another key CX-enhancing factor: seamless brand communications. A conversational AI platform like Gupshup enables eCommerce brands to harmonise all their contact channels into one user-friendly interface. This intelligent and capable interface can address the majority of user queries with relevant, personalised answers that ease the shopper's experience and keep them moving towards checkout and sale. The high level of automation and self-service means that brands can keep customers engaged for longer, and at a low cost.
Understanding Customers Better with Conversational AI
By effectively leveraging the power of Artificial Intelligence in retail, eCommerce companies can consistently deliver great CX for every customer, every single time. The technology is backed by powerful algorithms that access, interpret and understand useful customer information from email conversations, live chats, contact forms, and website search results. Post this analysis, it creates live charts and graphs that show patterns, trends and other actionable data.
Based on this information, the organisation can better understand who the customer is, what they like, what they dislike, what their interests are, etc. They can also identify sentiments and purchase intent, and take action to offer the right information, personalised recommendations and timely support to each customer.
Personalised Recommendations
With Conversational AI and machine learning, eCommerce companies can provide personalised recommendations to customers across multiple devices. Deep Learning analyses how customers interact with the eCommerce platform from various channels, e.g. websites, mobile apps, social media, etc. It can even analyse their position in the purchase funnel, and accordingly, send push notifications that enable them to make the best choice in the easiest way possible.
Virtual Personal Shoppers
Virtual personal shoppers can do a lot of things a real-world personal shopper can do. They help customers find the best products per their preferences, budget, etc. They also show them special deals, make personalised recommendations, and send shipping notifications. With this AI-powered tool, eCommerce brands can enhance the way they engage with customers, and move them towards more-frequent and higher-value sales.
With Artificial Intelligence retail solutions, retail and eCommerce brands can thus influence buyer behaviours to ensure conversions and the highest possible basket value. They can also drive more transactions, and boost confidence in the brand. In the long term, this creates more loyal customers and brand advocates.
Summing Up
In the modern world, "AI in eCommerce" and "AI in retail" are two powerful phrases with immense potential for improving the lives of both eCommerce businesses and their customers.
In this article, we highlighted some of the many ways Artificial Intelligence retail solutions create amazing value for eCommerce firms. AI eCommerce solutions like chatbots and Virtual Assistants imitate human agents to converse with customers in a natural, smooth way. They also anticipate customers' needs, and fulfil their requests quickly and seamlessly. Moreover, they help create seamless experiences throughout customers' journeys, increasing the chances that they will make a purchase.
This means higher conversion rates, lower cart abandonment rates, and more loyal customers. In the near future, differentiation and growth in eCommerce will not be driven by products or prices, but by how well eCommerce companies and platforms understand their customers' needs, meet them on their preferred channels, and create seamless CX throughout their journey. All of this is possible with Conversational AI. If you're still not sure of the value of Conversational AI or eCommerce bots for your brand, take a look at some amazing eCommerce chatbot examples like eBay, Staples, Etsy and H&M.
Ready to build an intelligent, Conversational AI-powered Virtual Assistant or chatbot for your eCommerce brand? Contact Gupshup! With our user-friendly platform, no-code bot builders, and built-in templates, you can design and deploy a fully-customised chatbot for your company in next to no time. Get in touch with us today.
Blogs you will want to share. Delivered to your inbox.
Business Email
×
Read: Improve Customer Experience with Conversational AI