Conversational Messaging – The Ultimate Guide
On May 21, 2021
|
13 Minutes Read
Conversational Engagement
Generic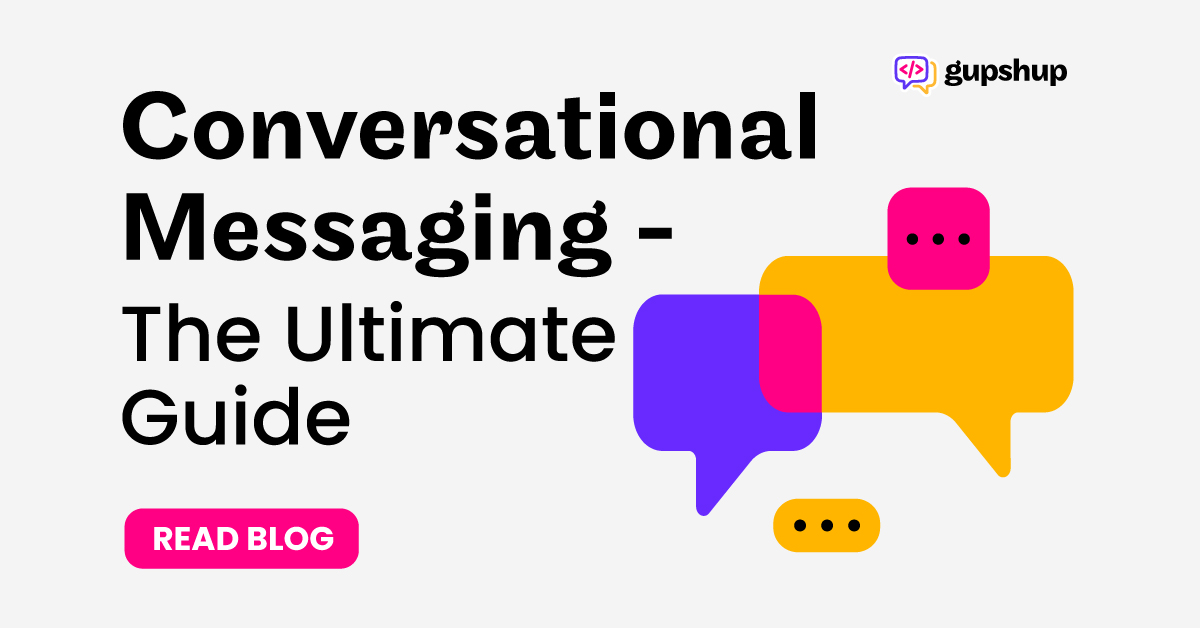 "Connecting with customers in a valuable, relevant manner is as old as marketing itself. But we've seen a shift recently in how, exactly, customers want to connect with brands. Strong brand connections are about whether or not the brand helps customers present themselves in a way that's consistent with their own value."
Every kind of business ultimately comes down to two main stakeholders: the provider (company or brand) and the customer (buyer). As they do business and engage in transactions, companies and customers often communicate with each other. In the olden days, this happened via phone or snail mail, and later via email and voice-based call centres. But today, the world of brand-customer-brand communications has opened up to include many more channels than ever before – thanks to conversational communications messaging.
But what exactly is conversational messaging?
Why should companies add conversational apps to their sales, marketing and customer support ecosystem?
What are some popular conversational apps and channels?
And what are some examples of key messages in a communication plan that businesses can send to customers via conversational apps?
In this comprehensive guide, we will address all these questions. Whether you check out this information-rich resource from cover to cover or dip into specific sections, we hope you find it useful!
Boosting Traditional Customer Support with Conversational Messaging
The average response time for brands to respond to customer service requests is 12 hours and 10 minutes. That's too long! Also, 62% of companies do not even respond to customer emails. These are huge problems. Here's why.
88% of customers expect a response from your business within 60 minutes. Furthermore, 30% expect a response within 15 minutes or less. Fast responses make your customers feel heard. More importantly, they make them feel that they matter.
This is why 75% of customers say that a fast response time is the most important attribute of a good customer experience, ahead of consistency across channels, clear messaging, and the availability of multiple contact points. Other research shows that many customers are willing to spend more with a business that responds quickly to their enquiries, while 70% of them will discourage their friends to buy from a company that delivered a poor service experience to them.
Today's digitally-savvy customers expect fast answers, proactive service, and 24×7 availability on their preferred messaging platforms. They're also looking for meaningful experiences where they feel valued for their uniqueness, not just pursued for the size of their pocketbooks.
Old-fashioned email and voice-based customer support just cannot keep up with these customer expectations demands.
Enter: conversational communications messaging.
As customer expectations continue to evolve, organisations can connect with them better and faster via user-friendly, conversational messaging interfaces. 56% of consumers prefer instant messaging to a phone call and conversational apps make this possible.
Through conversational text messaging, brands can engage in 1×1 personalised interactions to deliver enhanced conversational experiences. These solutions provide a balance between automation (via chatbots) and human customer service agents, thus providing the best of both worlds for the person that matters most – the customer.
What are Conversational Apps?
Conversational apps combine text-based messaging with graphical elements, real-time responses, and even automation in a user-friendly interface that customers are already familiar with. Through conversational SMS and other kinds of messaging, brands can have personalised, warm, one-on-one conversations tailored to the needs of specific customers.
With conversation marketing, conversational advertising or conversational customer support, users can get relevant, timely information without having to leave the app. This reduces friction in the brand-customer communication process and delivers the enhanced conversational experiences they crave and appreciate. Moreover, brands can deliver these experiences on different messaging channels, including WhatsApp, Facebook Messenger, Skype, Slack, Telegram, and more. This inherent omnichannel capability enables customers to connect with brands at a convenient time on a channel that they're already comfortable with.
Conversational communications messaging combines familiar, easy-to-use texting with the rich graphical and interactive elements of websites and apps. So, with a conversational app, organisations can send much more than just boring text messages. They can also send brand communication messages with attachments, audio and video files, GIFs, photographs, product carousels, forms, buttons, and other embedded elements to wow their audience. We discuss the various conversational communication message examples that can be sent via conversational messaging apps throughout this article. They can even send messages in business communication – examples refusals, rejects, policy changes that may not benefit customers, etc.
In summary, some of the key benefits of conversational apps are:
For customers
Personalised and conversational user experiences
Convenience
Fast answers
Low friction
Contextual conversations
For brands
Low cost
Reach more customers at scale
Share useful information in a timely and secure manner
Support customers at any stage of their journey
Gently guide customers towards the desired conclusion (e.g. a sale)
Useful for sales, marketing and customer support functions
4 Most Popular Conversational Apps and Channels
Conversational messaging is effective on any channel, since it enables instant, convenient and personal communication between customers and companies. Nonetheless, it is most effective when it is part of an omnichannel communication strategy, and implemented across multiple channels.
The most popular conversational messaging and conversational texting channels are:

AI-based chatbots
Also known as Conversational AI, a chatbot enables organisations to quickly resolve customer queries, provide 24×7 support, and deliver personalised experiences. It helps automate many aspects of customer support, even as it provides context-appropriate responses to customers in an easy-to-understand format.
Another advantage is that it easily integrates into the brand's website to provide a consistent user experience that benefits both customers and the company. For all these reasons, Oracle CEO Mark Hurd predicted in 2018 that by 2025, 85% of customer interactions will be automated.
Chatbots are already making a difference in many organisations. For instance, a chatbot on the website of a company that organises entrepreneurial events worldwide, was able to take over 64% of requests from the firm's "human" customer support team. It also led to 55% more conversations between prospects/customers and the company, compared to the previous year. In another case, a railway company in the U.S., deployed a chatbot on their site's pricing/ticket booking page. Following this decision, their booking rate increased by 25%, revenues from online booking rose by 30%, while user engagement increased by 50%.
For smaller organisations that are unfamiliar with chatbot technology, building a chatbot from scratch can feel overwhelming. But with a low-code bot builder platform like Gupshup, it's easy to build a chatbot, embed it into the brand's website, and get going with rich, contextual interactions right from the get-go.

SMS for Business Communication
Text messaging has been around for almost three decades, and most people who use a mobile phone are familiar with it. Despite its limitations regarding message length and lack of support for rich graphical elements, the popularity and reach of SMS make it perfect for conversational text messaging.
These stats prove the potential of conversational SMS for customer support, and for sending communication messages in marketing:
Some 37% of devices are still SMS-only
75% of consumers under the age of 44 like contacting businesses via text
SMS has a 98% open rate
As with conversational AI chatbots, the right platform makes it easy to integrate conversational text messaging into a brand's customer communications strategy. With a messaging API (Application Programming Interface), brands can programmatically send and receive SMS messages via an SMS gateway.
They don't have to worry about the carrier, deliverability, pricing differences, etc., because the API takes care of it all. Conversational text messaging with a messaging API is also much cheaper than regular carrier-based SMS.
With such a platform, brands can build a tailored SMS channel to communicate with customers in multiple countries and enable rich, interactive experiences across multiple channels. They can also send many types of messages in communication, including notifications, cross-promotions, surveys, reminders, and verification codes (OTPs).
With conversational texting via SMS, brands can also:
Review message status in real-time
Queue messages for delivery
Verify message delivery
Track interactions
Retrieve message history
Send group messages

WhatsApp for Business
WhatsApp boasts over 2 billion monthly active users globally, and delivers over 100 billion messages a day, making it the world's most popular mobile messenger app. That's why it's not just a tool for personal communication, but also a powerful medium for conversational communications messaging between brands and their customers.
WhatsApp provides two ways for companies to connect with their audience:
WhatsApp Business App
WhatsApp Business API
With the WhatsApp Business App, small businesses can personally connect with customers to answer questions, enhance shopping experiences, share product catalogues, etc. The app is free to download and is ideal for brands looking to automate, sort and quickly respond to customer messages.
The WhatsApp Business API is targeted at medium and large businesses looking to leverage WhatsApp's popularity and reach to improve sales, marketing, and customer support. Using the API, they can easily introduce WhatsApp into their tech stack, say, to create automated chatbots without any coding.
With the chatbot, they can communicate with customers all over the world in a simple and secure way to send links, images, documents, audio, video, templates, and much more. They can even format message text with flourishes like bold, italics, strikethrough, emojis or monospace.
Some of the best examples of messages in communication via WhatsApp include:
Notifications
Alerts
Purchase updates
New product updates
Auto-replies
Away messages
With the WhatsApp Business API, senders can also participate in multichannel or multiparty interactions, and integrate WhatsApp with their CRM.
Unlike the Business App, the WhatsApp Business API cannot be simply downloaded. Companies need to either contact Facebook for Business by filling out the form here or work with a trusted provider like Gupshup to integrate the API into their customer support ecosystem.
RCS
RCS or Rich Communications Services is a next-generation SMS protocol and universal standard. It provides another powerful means for conversational communications messaging between brands and their audience.
RCS supports both person-to-person (P2P) and application-to-person (A2P) messaging, delivering impressive user experiences in either case. It combines the global reach, popularity, and high open rates of SMS and MMS with the feature-rich, engagement capabilities of chat applications like WhatsApp, Facebook Messenger, WeChat, etc.
With RCS, brands can engage in rich, interactive conversations with their audience, using elements like:
Emojis
Video
Audio
High-resolution images,
all from directly within the user's messaging app.
The easiest way to roll out RCS for engaging customer interactions with a rich UI and contextual messaging is with an out-of-the-box RCS Business Messaging solution. With a single API, they can reliably send and receive RCS messages on many channels. Plus, with features like intelligent routing, smart dashboards, and template translations, they can take full advantage of this fast-growing medium for conversational experiences.
In addition to the four channels described above, conversational communications messaging can be deployed on many other channels to send different types of messages in communication:
Multimedia Messages (MMS)
Apple Business Chat
Google's Business Messages
Twitter Direct Messages
Instagram Direct
How are Conversational Apps Different from Live Chat?
Conversational communications messaging is often confused with live chat.
Live chat refers to real-time, live, dedicated conversations between customers and real human support agents. With live chat tools and widgets, agents can connect instantly with customers through a messenger app or chat window on the company's website.
It offers convenience and fast resolution speeds and enables customers to multi-task. However, to start this dedicated session, users must wait for an agent to become available. During busy times like Christmas or Black Friday, or on public holidays, wait times for live chat can be quite long. This can be very annoying for customers, and affect their brand experience.
Another issue with live chat is that if the chat window is closed by either the customer or the agent, the session is cancelled. In many cases, the interaction history is not saved, so if the customer wants to restart the session, they will have to go back to the beginning without the benefit of the previous contextual history.
Conversational messaging eliminates these issues. It allows for personalised, one-on-one interactions between customers and the brand via a device's SMS interface, or a text messaging platform like WhatsApp or Facebook Messenger.
An Artificial Intelligence-powered chatbot is a great way to implement conversational messaging for marketing or customer support. It can carry on conversations as it shares information, answers queries, or sends reminders, notifications or alerts.
It leverages contextual and language cues to provide the right response to simple or repetitive queries. For more complex interactions, the chatbot can involve a human agent, and thus ensure that the conversation keeps going towards the right conclusion.
Unlike live chat, conversational apps allow for always-on, 24×7 connections with brands. So customers no longer have to wait for a live agent. Instead, they can simply start conversing with the chatbot through their preferred channel for quick, relevant answers.
Most people are already familiar with conversational text messaging with friends and family, so they find this customer support method to be authentic, personal, and stress-free. Previous conversations, visitor demographics, and interaction history are saved in the platform, so every conversation results in meaningful results, near-zero friction and enhanced conversational experiences. Many chatbots also "learn" over time, which allows them to consistently improve the quality of their support.
Using a user-friendly, no-code messaging API or bot builder platform, brands need to deploy a conversational app only once. Then they can easily scale it up or down to match customer demand. A chatbot can be trained to handle more queries during busy periods, and even handle multiple chats simultaneously.
Thus, chatbot-based conversational communications help reduce the pressure on human agents, and also effectively eliminate bottlenecks in the support process. All in all, chatbots are a cost-effective, low-maintenance, and scalable addition to any brand's support ecosystem.
Conclusion
In today's buyer's market, customers don't just care about the quality or price of goods and services. Now, 73% of buyers say that customer experience is an important factor that influences their purchasing decisions. On the other side of the table, about 58% of consumers are also willing to sever a relationship with a business if the latter cannot meet their expectations.
Conversational communications messaging provides a powerful means to deliver great experiences. That's why it should be an integral part of every brand's customer experience strategy. Through conversational messaging, companies can reach customers on their terms, quickly satisfy their needs for information or service, and deliver hyper-personalised experiences at scale. They can also nurture and build relationships to boost customer loyalty and convert them into brand advocates and super-fans. We hope you found this guide to conversational communications messaging useful!
Gupshup empowers businesses of all kinds and sizes to engage with customers in meaningful, personalised ways via conversational apps. Using our conversational messaging platform, customer-focused brands can deliver rich interactive messaging experiences when they send positive messages in business communication.
With our APIs, bot builder tools, conversational marketing services and bot development services, you can effortlessly incorporate conversational messaging into your CX strategy. Over 39,200 brands have already leveraged the potential of Gupshup's messaging platform, WhatsApp API, SMS API, and other solutions to integrate conversational messaging into their business – with zero coding. You can too!
To know more about our services, explore our website, or contact us here.
Blogs you will want to share. Delivered to your inbox.
Business Email
×
Read: Everything you need to know about Conversational Commerce