Everything you need to know about Conversational Commerce
On May 24, 2021
|
5 Minutes Read
Conversational Commerce
D2C & E-commerce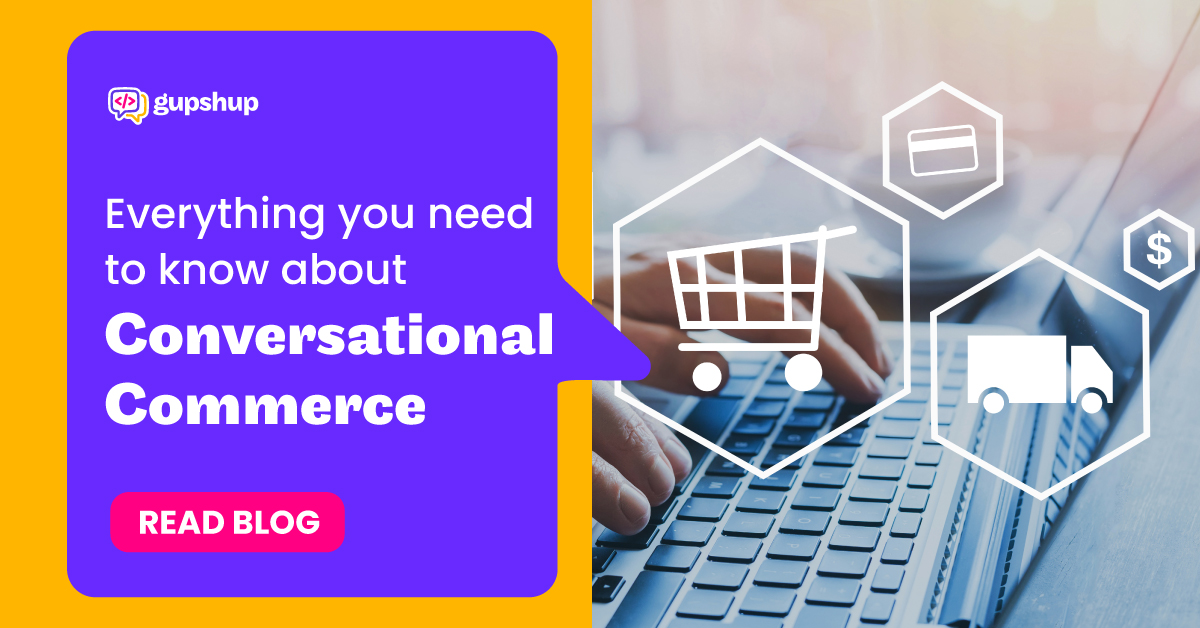 For every industry, staying ahead of the most recent trends is the only way to survive, excel, and thrive in this fast-paced, hyper digital world. An important point for businesses always is to understand how to better interact with the customers, which is why having a strong strategy is necessary to navigate through changing times. The emerging approach hence for eCommerce retailers, and startups around the world is conversational commerce.
What is Conversational Commerce?
Going by the definition found on Wikipedia, Conversational commerce is e-commerce done via various means of conversation and using technology such as: speech recognition, speaker recognition, natural language processing and artificial intelligence. However, the term gained popularity in 2015 when an article written by Chris Messina, an American blogger and the inventor of the hashtag, became popular. Chris drew immense attention in his article towards the trend of selling products and services through messaging apps.
Conversational commerce helps brands use interactive media to communicate with customers. This isn't restricted to just customer service; sometimes conversational commerce aids retailers in generating sales. So in hindsight, conversational commerce is more than just a one-way promotional messaging from a brand to a customer.
Conversational platforms
Live chat: Live chat is one of the most popular communication channels, since it is quite easy to use and the customers get immediate answers through the retailer's website. Live chat enables one agent to chat with multiple customers at a time, and this in turn reduces wait time and boosts customers' satisfaction.
Messaging Apps: Social media messengers such as WhatsApp, Facebook Messenger or Telegram are the most popular ways people communicate today. According to statistics, social media messenger apps have an active monthly user base of more than one billion people, which means one in every ten people in the world interact via either Facebook Messenger or WhatsApp.
Chatbots: Chatbots are software applications that allow an online chat conversation via text or text-to-speech, instead of providing direct contact with a live human. Customers' queries are catered with the speed and agility they expect, with convenience, security and flexibility.
In
Voice Assistants: Voice assistants like Alexa, Google Assistant and Siri give a complete new dimension to "comfortable" customer experience. Voice assistants make conversations with the customers more fluid by adding voice commands via text or speech.
Conversational commerce has till date been adopted by many big brands in the world. It is fast becoming an integral and powerful part of the customer journey.
How does Conversational Commerce impact Online Retailers
Conversational commerce is a sort of resurgence for the retail industry. For retailers, it is a creative zone with a plethora of opportunities. Famous brands like Domino's Pizza, H&M, Sephora and many more have, for example, employed chatbots for delivering personalized experiences to their customers in the market.
The vast reaching impacts of conversational commerce on online retail can be judged by two trends: Exploding popularity of mobile messaging apps and Advances in artificial intelligence
These factors enable a new generation of tools that enable brands to communicate with customers in powerful new ways at reduced cost. Many retailers are experimenting with chatbots, with a combination of machine learning, natural language processing, as well as live operators, to provide enhanced customer service, driven sales support, and excel at other commerce-related functions.
How does Conversational Commerce impact Shoppers
Customer shopping experience can be enhanced greatly by having a conversational platform like interactive chatbots in place.
Hands-on customer support
Consumers who generally have low attention spans, prefer to shop mobile first, and tend to use peer recommendations and online research methods before making purchases, can engage with brands 24/7.
Product alerts and notifications – Brands can use chatbots to send upcoming trend alerts and casual notifications to customers and promote products in real-time, instead of sending promotional emails, which mostly remain unread.
Processing of orders – Customers can book appointments, inquire and order products by chatting with a bot. Customers can enter personal details like name, etc and the payment method. The checkout process can be directly within the app or a channel of their choice.
Monitoring and tracking orders – Customers can better monitor and keep track of their purchases as well as shipped orders by simply chatting with a bot and learning the status of a purchase quickly.
Push promotions on holidays – Retail bots can help in delivering highly targeted seasonal offers and to update customers regularly on current and upcoming holiday promotions.
The overall impact of Conversational Commerce
Conversational commerce has picked up pace as more and more customers have become comfortable with online messaging and digital shopping. In keeping with the times, it is emerging as a sensible way for retailers to provide customers with a satisfying shopping experience. Businesses with conversational commerce have seen improvements in conversion rates, increase in sales and decrease in overall customer call volumes.
Platforms like gupshup.io help create and deploy intelligent bots that will help in faster personalized interactions with customers and increase productivity marginally. Learn more about how you can create a conversational bot.
Blogs you will want to share. Delivered to your inbox.
Business Email
×
Read: Conversational Commerce is changing the retail shopping experience