I recently watched the horror movie 'It' in the theater (side note: It is one of the better recent Stephen King adaptations). I booked my ticket on BookMyShow and was pleasantly surprised to receive my ticket via WhatsApp. The ticket was an automated message from a number 'named' BookMyShow and included the QR code as well.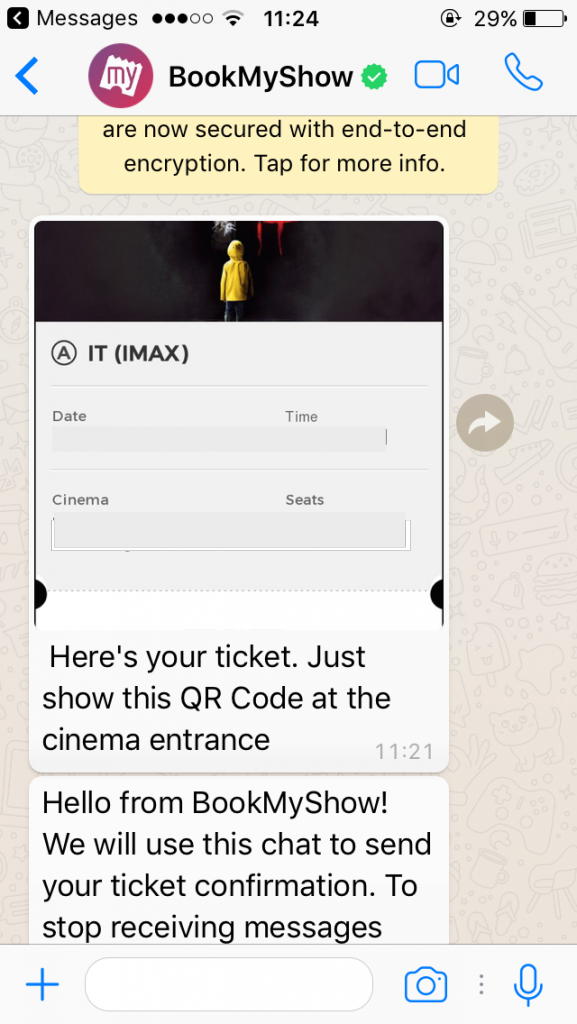 A cursory Google search told me that WhatsApp is currently testing Verified Business Accounts. This belated news comes as no surprise since WhatsApp announced in early 2016 that they would launch Business Accounts soon. Currently, they are working with select partners and users to roll this program out. In fact, Dutch carrier KLM Airlines were also part of the rollout and were the first airline to get a Verified Account. Users can opt-in to get their booked tickets via WhatsApp. While the message from BookMyShow was purely an automated message and not a chatbot, the video in the KLM announcement page indicates that the Business Account will have a customer support chatbot built into it as well. This is hardly surprising. Out of all the major messaging apps in the world, Whatsapp is the only one that doesn't support bots. In fact, Facebook (who own Whatsapp) recently announced that Messenger had over 100k bots on its platform. So it does make sense that Whatsapp – with over 1.3billion monthly active users[1], will soon open up its platform for brands and businesses to engage with their users via bots.
Businesses will be keen to get the ball rolling too! Whatsapp has a staggering number of users in many emerging countries, especially in South East Asia with India alone accounting for 200m active users.
The blue tick next to an Instagram or Twitter handle is now a veritable status symbol in the social media world. Soon, WhatsApp's own green tick, adjacent to the Business Account's name, will have the same significance in chatbot world. The WhatsApp founders have traditionally been very cautious with adding new features to their product but every feature they've launched has shown significant traction instantly. Their new Snapchat-inspired status messages, for instance, is already used by a quarter of its daily users. Thus there is no doubt in my mind that when WhatsApp does open up its platform for chatbots, the impact will be tremendous.