WhatsApp Business Accounts: What It Means For Enterprises
On May 8, 2019
Generic
WhatsApp Business API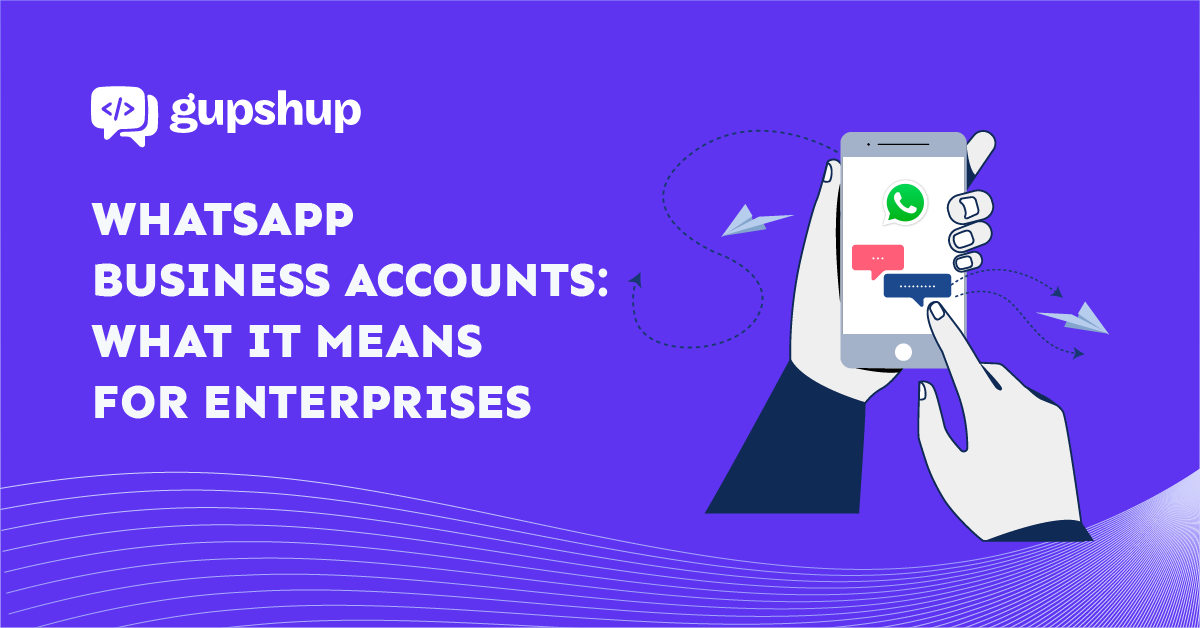 WhatsApp Business Accounts (WABAs) are redefining the way businesses communicate with their customers for good. Since its emergence in 2018, WhatsApp Business has proven useful for offering exceptional customer service, one-on-one communications, and unconventional marketing campaigns.
Like WhatsApp, WhatsApp Business is popular among businesses in India, with more than 15 million users in a global user base of around 50 million.
In this blog post, we'll discuss the features and the advantages of using WhatsApp Business. But, let's first understand what WhatsApp Business is and the difference between the two WhatsApp Accounts – Business App and API.
What is WhatsApp Business?
WhatsApp Business is a messaging app created by Meta for small businesses to improve their customer interactions. The Business App is similar to the mainstream WhatsApp Messenger app, with additional features like quick replies and labels to help businesses automate, sort, and quickly respond to customer messages.
There are two WhatsApp accounts that business users can choose from:
WhatsApp Business App: For small businesses with one account user.
WhatsApp Business API: For medium to large businesses with several account users.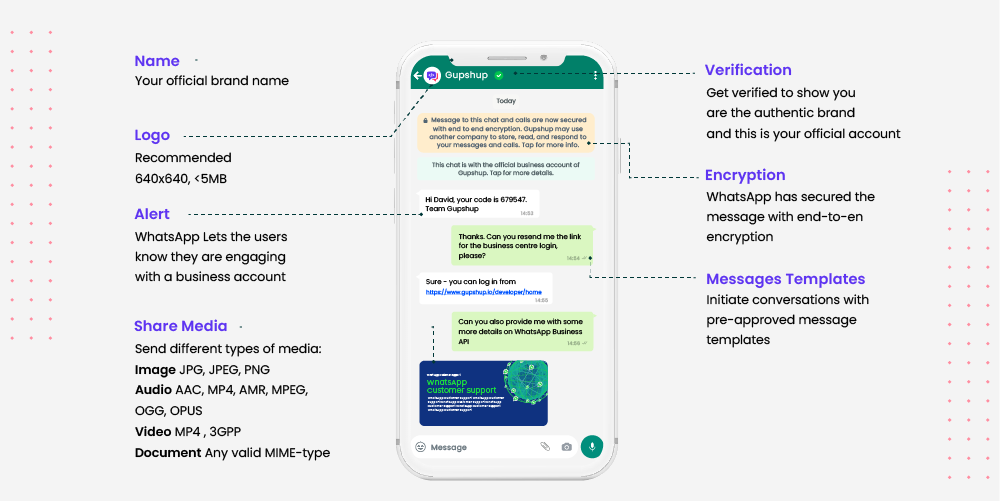 WhatsApp Business App Vs WhatsApp Business API
Any small and medium-sized company can sign up for free with the WhatsApp Business App by downloading it from Google Play or App Store. The business app offers advanced, easy, secure and reliable communications tools that support customer relations and enable businesses to analyse and monitor their performance.
However, medium and large-scale businesses will probably need a more powerful tool if they deal with a vast customer base or want to add more functionality. That's where the WhatsApp Business API comes into play.
The WhatsApp Business API is more advanced than a business app with scalable features suitable for a global customer base and can only be accessed via WhatsApp Business Solution Providers such as Gupshup.
The WhatsApp Business API uses a REST API Architecture that follows the standard HTTP request-response exchange plus JSON data formats. This WhatsApp Business API documentation is designed for developers and business teams looking to get a handle on all the specifications of the Gupshup Messaging API for WhatsApp Business. With this guide, you will understand everything you need to know about sending and receiving messages on WhatsApp via a simple REST API through HTTP/HTTPS modes.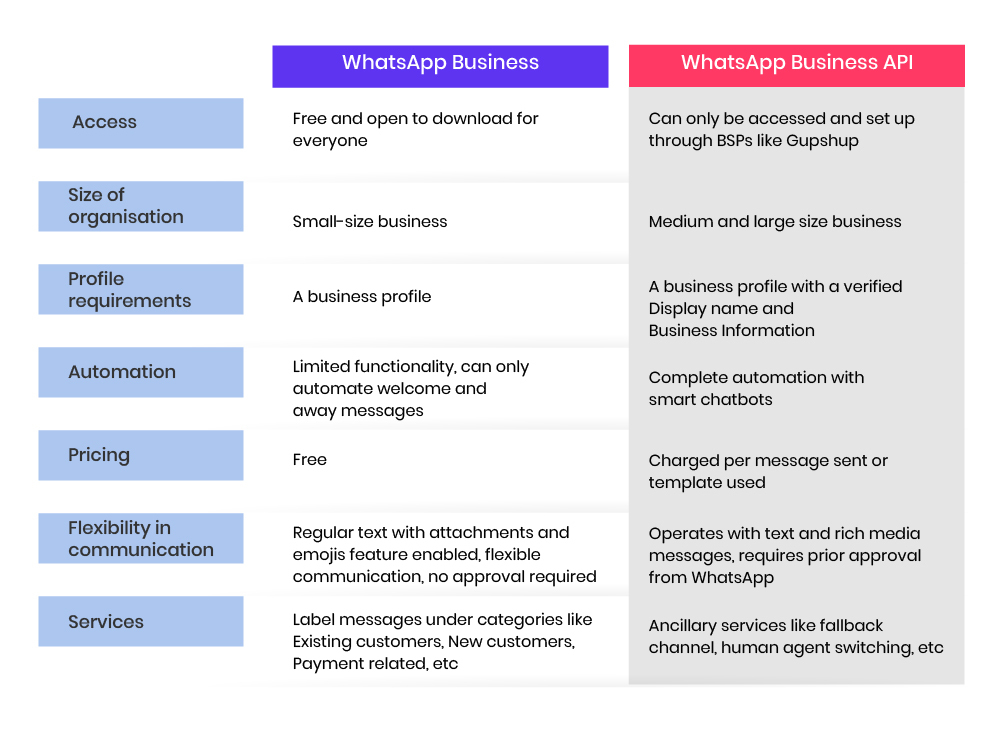 What Features Does WhatsApp Business Account Have?
With WhatsApp Business Account, there's more that businesses can do than communicate with customers. Here are some useful features that brands can benefit from:
Messaging Tools
The messaging tools help businesses to build key conversations with customers and engage with automated messages. With the WhatsApp Business messaging tool, brands can set up automated greeting messages, away messages, and build quick replies to answer FAQs.
Greeting Message: The automated greeting messages help brands introduce their product and services to customers.
Quick Replies: This feature allows brands to save and reuse frequently-used responses to easily answer common questions in no time. Brands can easily access a quick reply by typing short command starting with "/". 
Away Message: These are pre-set messages that are sent to customers who contact your brand during non-working hours. This feature helps customers know when to expect a response and create a better customer experience.
Labels
With labels, brands can organise conversations, create customer segments and manage customer profiles separating them into different colours and categories. Businesses can add up to 20 custom tags.

Catalogues
Catalogues are mobile storefronts for businesses to showcase their offerings, so consumers can easily browse and discover products or services they want to purchase. Brands can display images, descriptions and web links for up to 500 products or services.
Payments
The WhatsApp Pay feature enables users to send and receive money on chat via UPI. Users can even access account details and transaction history through the payment section.
5 Advantages Of WhatsApp Business Accounts
Having a WhatsApp Business account provides several benefits to your business. Some of them are as follows:
SMEs Will Be Easily Discovered
With the verification that business accounts now get from WhatsApp, businesses will be easily seen and discovered by prospective clients. Also, because a brand can share its email address and location, customers will have more avenues to interact with a business.
Seamless Communication Across 180 Countries
With WhatsApp's global reach, small businesses can interact with customers across the globe. Brands can offer impeccable services to their customers round the clock by automating responses to common queries.
Onboard Customers Easily
Most of the customers and prospects might already be on WhatsApp, and a brand can onboard them by asking for basic details like their name, phone number and email address to complete the registration process. Brands can also share a URL link that directs them to the registration page on the website.
Tracking Ability
WhatsApp for Business allows brands to track messages to identify who reads their messages, which demographic within a population reads them, who acted on the message, and who ignored it. This will help businesses personalise their content by identifying the gender or age bracket they want to target.
Boost Sales And Marketing
WhatsApp allows businesses to provide immediate assistance to customers throughout their buying journey. Brands can incorporate abandoned cart messaging, access chatbots for quick responses and send offers or shipping notifications to their customers. The app also helps brands analyse their strategy by providing stats regarding the number of messages sent, delivered, read, etc.
Businesses can use the app to target customers and supplement their other marketing efforts by sending personalised messages and offers at regular intervals.
WhatsApp Business Accounts Pricing
Unlike WhatsApp Business App, which is free, the WhatsApp Business API comes with a paid model. There are broadly two kinds of WhatsApp Business API conversations, and they are priced differently. That said, WhatsApp API pricing in India can also vary from one business solution to another.
Business-initiated Conversations: Triggered by the user's response to the message sent by a brand. All messages exchanged between the two parties within the 24-hour window are a part of the business-initiated conversation. The cost of a business-initiated conversation for India is INR 0.4843.
User-initiated Conversations: Begins with the brand's response to a user's message. All messages exchanged between the user and the brand within the 24-hour window, are treated as a part of the user-initiated conversation. The cost for India is INR 0.2906.
Getting Started: How To Set Up WhatsApp Business Account?
To get started, you need to set up your account first. The WhatsApp Business app is available for free to download for Android as well as iOS mobile device users. A step-by-step process:
Search for 'WhatsApp Business' on your Google Play/App Store.
Accept the 'Terms and Conditions, and tap 'OK'.
Once the app gets downloaded on your mobile device, add the required information like business phone number, business information, etc.
View the business settings and set your parameters/requirements.
Set up the WhatsApp pay option; this is required if you want to send and receive payments via WhatsApp.
Your WhatsApp Business account is now set up. You can get started by sending messages to your contacts and notifying them of your new business number.
Final Thoughts
Irrespective of your business size and activity, you can have a customised WhatsApp solution for your business. And Gupshup can help you. With Gupshup, you not only get a hassle-free, quick setup; you also get pay-as-you-use pricing, world-class technical support, and zero worries about country-specific telecom regulations.
Gupshup is the biggest category partner for WhatsApp, having onboarded over 900+ enterprises and 10,000+ SMBs for WhatsApp Business. Connect with our experts today and create an immersive conversational experience for your customers on the WhatsApp Business Platform.
#LetsGupshup
———————–
FAQs
Is there a WhatsApp Business API?
Yes, there is a WhatsApp API. It's specially designed for small and medium businesses that want to take advantage of WhatsApp's popularity to improve their sales and boost their customer support. With this API, companies can easily introduce WhatsApp into their tech stack. Then they can provide the best possible customer care in multiple ways. They can participate in multichannel/multiparty interactions; create automated chatbots; deliver notifications, alerts and updates; integrate WhatsApp with their CRM; and more. Since WhatsApp is popular worldwide, brands can leverage this API to talk to customers, no matter their location.
Is WhatsApp Business API free?
Unlike the WhatsApp for Business app, the WhatsApp Business API is not free. The price depends on the WhatsApp Partner – also known as a Business Solution Provider (BSP) – that will set up the API for the business. BSPs pay WhatsApp to connect to the API and then provide the service to their customers, i.e., small/medium businesses. Every BSP sets their own price.
What is the use of WhatsApp Business API?
With a WhatsApp API, businesses can:
Talk to customers anywhere in the world
Share important information, e.g., business address, description, website, email address
Send timely notifications and alerts
Bring customers closer to the brand to boost its equity and recall value
By partnering with a BSP like Gupshup, small/medium businesses also get access to data-rich analytics to gauge the effectiveness of their sales or customer support functions.
How do I get WhatsApp API?
Business users cannot simply download the WhatsApp API. To get the API for their small or medium business, they need to go through a BSP like Gupshup. Another option is to work directly with Facebook for Business by filling out the form here with relevant information about the business. However, this method will take longer as Facebook and WhatsApp review each application individually. It's faster to go through a BSP because these firms are already vetted by Facebook and part of their Partner Network.
How much does WhatsApp API cost?
The price of the WhatsApp API solution differs by BSP. Apart from the setup/deployment cost, BSPs also charge their customers for the two types of WhatsApp API messaging.
With Session Messaging, businesses can reply to customer messages within 24 hours. WhatsApp does not charge BSPs for these messages, and they may pass on this saving to businesses. But usually, BSPs do charge a small amount per session message (outgoing and incoming) that can range from $0.001 to $0.073. Gupshup, for example, charges only $0.001 per session message.
Template Messages also attract a small fee (WhatsApp destination charges) that BSPs must pay to WhatsApp. This fee is based on WhatsApp's rate card and depends on message destination and volume. BSPs then charge companies on a per-message basis.
Blogs you will want to share. Delivered to your inbox.
Business Email
Recommended Resources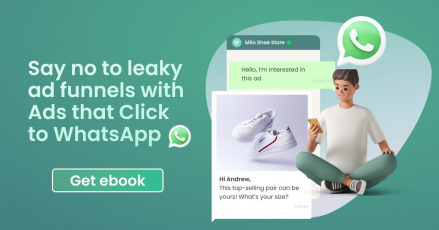 Read the eBook by Gupshup to uncover you can increase your return on ad spends by...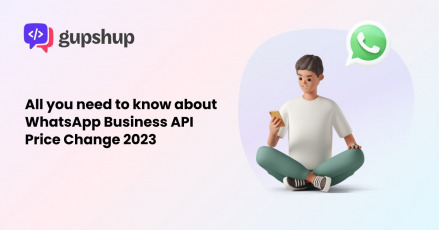 Learn about WhatsApp Business API's new value-based pricing and all the new features to look forward...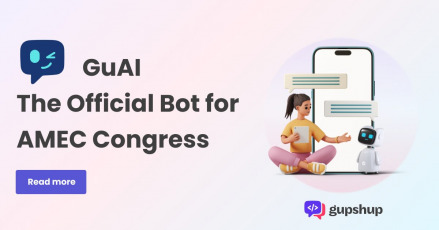 GuAI, the virtual assistant of AMEC Congress, enables attendees to interact with speakers and sponsors, access...
×
Read: WhatsApp for Business App vs WhatsApp for Business API (WABA)