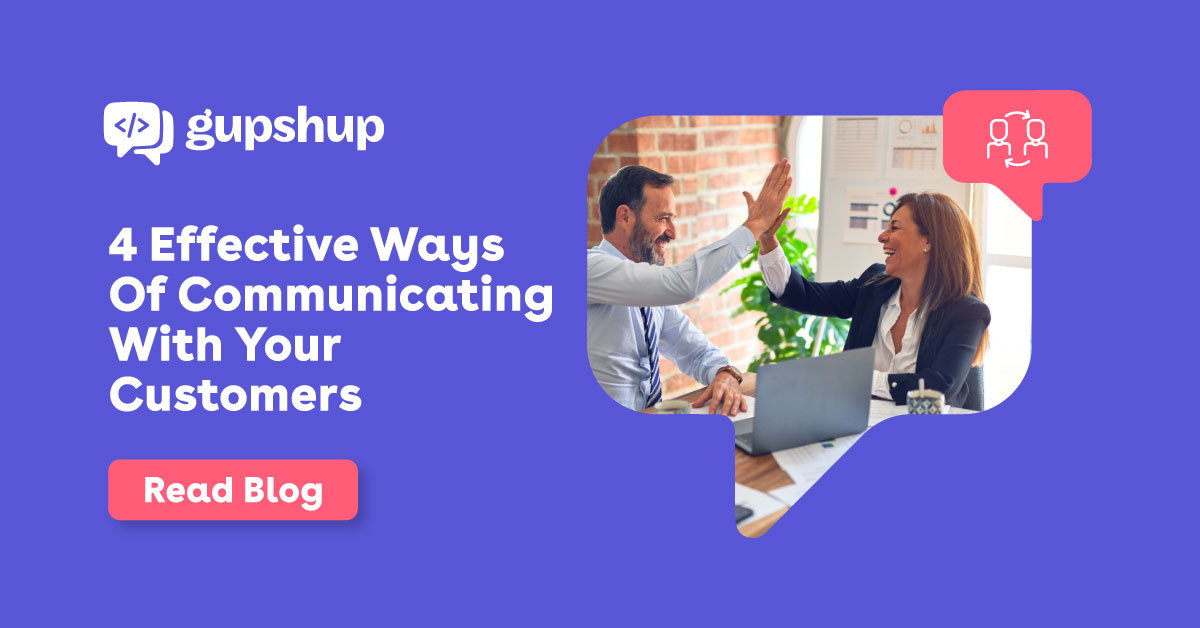 4 Effective Ways Of Communicating With Your Customers
Chatbots, Conversational Messaging, Conversational Support, Generic
On April 27, 2022
Being in business would be the easiest thing in the world if not for the customers.
As grateful as we are to them as business owners for supporting our ideas with their patronage, giving them the amount of care and support they want at scale is a difficult, tiring thing. And that's before you even get to the truly badly intentioned customers.
You'll need to turn your original, slapdash version of "customer support" into a systematized, reliable, and effective machine at a certain point in your business journey. Not just to tame the angry customers and resolve genuine problems, but also to delight and support people who purchase something from your store in order to turn them into lifelong supporters and brand advocates.
Accordingly, we've put together a list of different approaches to take in your customer support efforts to boost its effectiveness, save time, and turn your most challenging customers into your most supportive fans.
How does great customer support benefit your business
Firstly, let us clarify exactly why great customer support can mean so much to a business.
It's not just that having good customer service and support pleases your existing customers. The breadth of the effect is much wider. Here are some other benefits of good customer support that you may not have considered:
It's a powerful differentiator — Even if company A and company B have identical products, an identical purchasing experience, and equal delivery times, the company that has made the most effort in their support will naturally be preferred. It can make all the difference in a competitive marketplace and be a major selling point.
It creates a more positive work environment — It's not just the accounts that take a beating due to critical customer feedback and reviews. It's your employees. No one would be enthusiastic about working for a company whose customers hate them. Better support means better talent and higher employee retention.
It might be the key to your longevity — Not only does great customer service make acquiring new customers easier, but it also has powerful effects for your existing customers. Pareto's principle suggests that around 80% of your revenue is generated by only 20% of your customers. The key to living a long life in business is to make sure your loyal customers stay loyal, and they will if you offer them nothing less than great service.
Effective ways of communicating with customers
1. Understand your customer and design bespoke systems
As with the marketing function of your business, you wouldn't craft advertising materials without first making efforts to understand your audience's needs and desires. Knowing what makes your customers tick ensures that you get the best return on your ad spend.
The same goes for customer support.
Your primary audience's demographic profile, digital habits, and expectations will tell you everything you need to know about how the support system should be structured. The foundation of your customer support system should be built on a deep understanding of your customer.
2. Have a meaningful presence on as many channels as possible
With the ever-expanding and fast-paced nature of social media, you have to stay locked into where your customers are hanging out.
Ever had a customer service interaction over Instagram?
Increasingly, customers are demanding that we interact with them on their terms. This is probably because the dynamic of public-facing customer service interactions means that customers are more likely to be heard and responded to, given that the brand's reputation is on the line.
The importance of offering some form of support via social media is that 48% of consumers expect a response to social media questions and complaints within 24 hours, according to Statista. Thus, it's wise to establish a presence on all the social media channels where your customers congregate.
While it may be difficult to manage these accounts simultaneously in theory, some tools can synchronize the stream of customer input across all channels into one, manageable stream.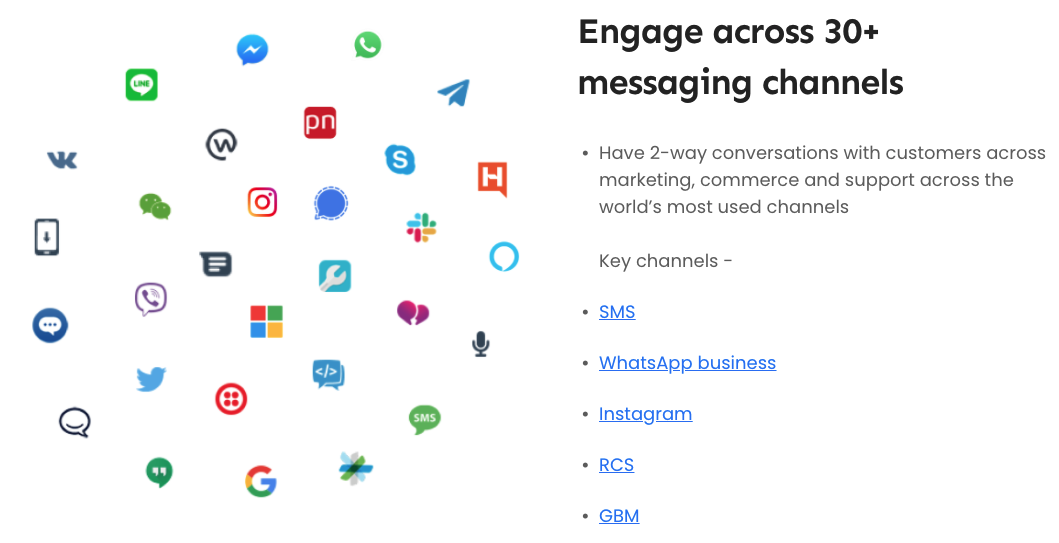 3. Carefully automate some customer support functions
Automation is the hot-button topic of the customer support scene right now. Robotic Process Automation (RPA) is the use of software 'bots' to act on basic business functions without the need for human intervention. Conversational AI powered chatbots are an example; they have basic interactions with customers based on commonly asked questions and relevant responses.
According to Gartner, 88% of corporate controllers were expected to implement RPA by 2020 — and not just in customer support. Marketing automation, lead management, HR, and other business areas are ripe for automation.
And you only need to look at the businesses you interact with to see how common some form of RPA is becoming. Here's an example of a chatbot in personal finance software brand Personal Capital's help page.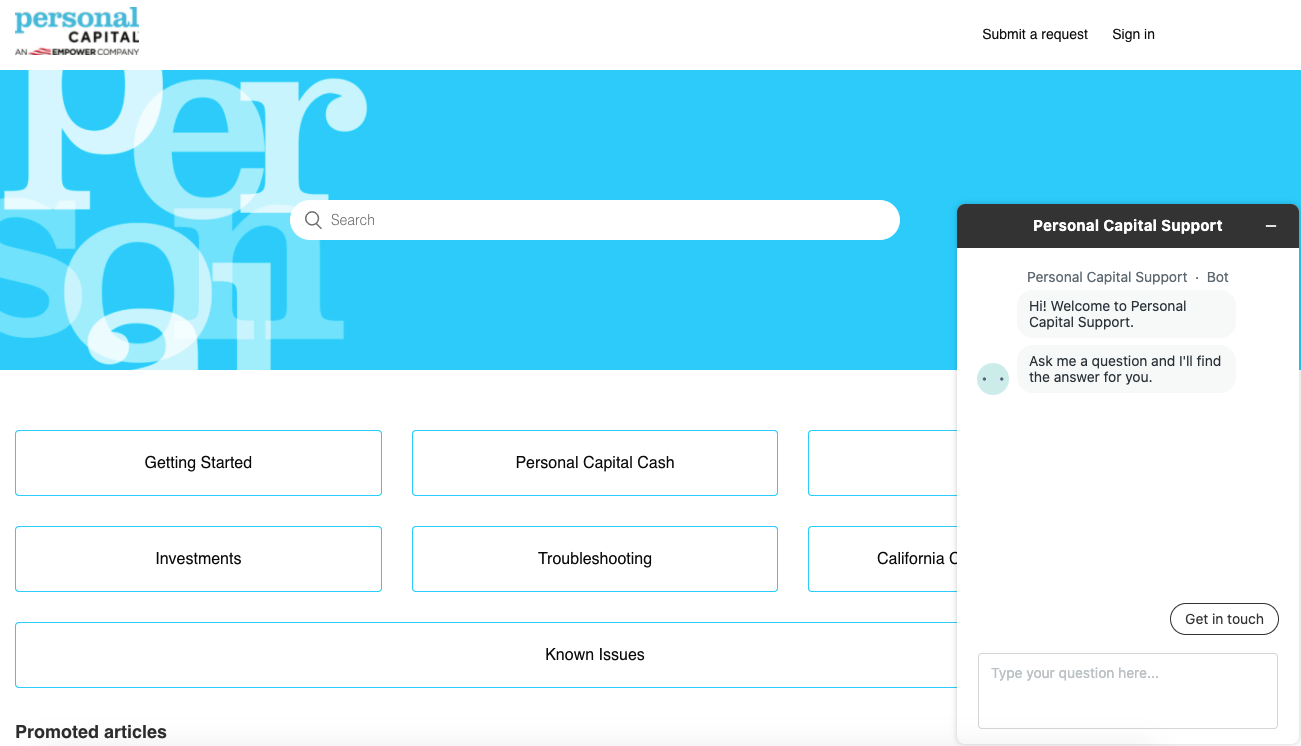 Chatbots can effectively solve customer issues, but only the most basic and commonly cited ones. You should implement a chatbot system but outline its limitations and provide alternative forms of support for customers unwilling to engage with them.
4. Offer a phone service with a real human for endgame interactions
It's tempting to avoid implementing a human customer support phone operator as your business grows. After all, you didn't need one in getting to this point. Maybe you can keep your customer support system fully digital?
In our opinion, this is a mistake.
As we mentioned, contemporary digital customer support solutions like chatbots are useful but limited. Customers get frustrated when they're funneled into engaging with a system they know can't solve their issue. The same goes for "static" support pages like the FAQ page. They have their uses, but chances are the customer has already trawled through the depths of your help page and come up short.
There's nothing more advanced in dealing with customer problems than a human being who knows your processes and can act with a wider variety of functions. Customers really appreciate the speed, abilities, and flexibility of a human operator, so don't put off hiring one just because it's expensive. At a certain point in your business growth journey, the investment will pay you back two-fold.
Nailing customer support
It's the most daunting thing in business. Your customers are your bread and butter, and you don't want to take any risks when managing their communications with you. Doing it right will guarantee your success and longevity. Doing it wrong will risk your reputation.
So, we recommend starting with a strong foundation of customer research. Find out what they want and need, and set up systems that match their preferences precisely. Be everywhere, automate carefully, and don't ignore your customer's deep appreciation for real-life human care.
Guarantee 24/7 availability for your customers with Conversational Support. Combine automated conversations with timely live-agent handovers.
#LetsGupshup to know more.
Blogs you will want to share. Delivered to your inbox.
Recommended Resources
D2C businesses can personalise user journeys for customers using conversational AI from Gupshup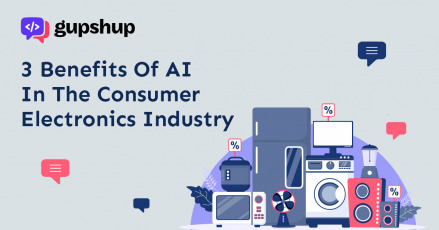 Learn how conversational AI is helping consumer electronics business owners boost user satisfaction and engagement. See...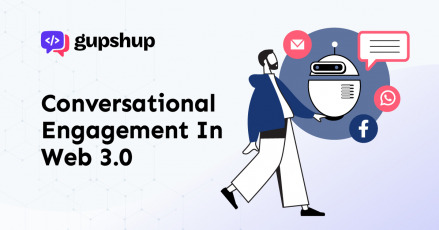 Read on to understand the need for creating conversational engagement in web 3.0
×
Read: Enhance Retail Customer Experience With Conversational AI