Enhance Retail Customer Experience With Conversational AI
On April 29, 2022
|
6 Minutes Read
Chatbots
Conversational AI
Conversational Commerce
Conversational Engagement
Retail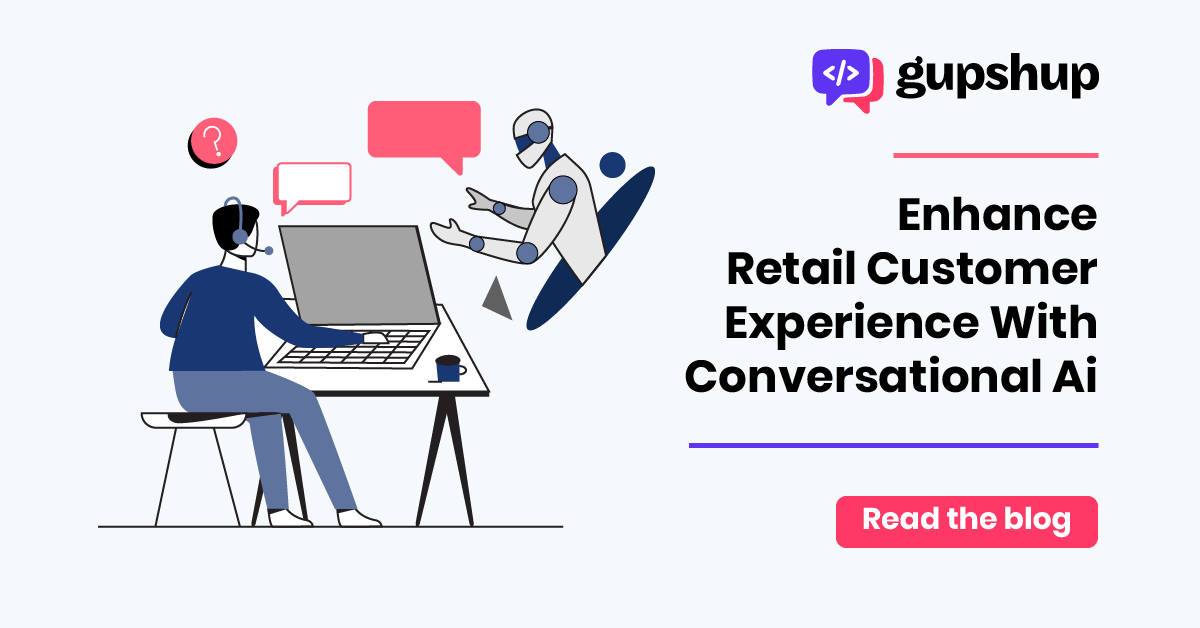 Businesses and customers have been going digital over the years, and businesses must adopt modern strategies and become competitive. You might have heard about businesses integrating chatbots to make their system automated. Chatbots make the process faster by cutting down on late response problems – one of the use-cases.
However, every chatbot lacks the fundamental essence of human touch to the conversation. A CGS survey on 1,000 US customers showed that 86% preferred humans over artificial bots, and 71% said they would not use a brand if human customer service representatives weren't available.
As businesses go digital, they go global, which leads to an increasing number of customers. It's hard to appoint human representatives to deal with every customer that visits your business and inquires about a product.
Here's why most retail businesses find it hard to convert prospects to customers:
Unable to respond or give late responses to customer queries
Not offering regular discounts or hot deals
Not lending an ear to customer complaints or problems
Other retailers are charging a low price while giving a higher value
The unsatisfactory or uneasy shopping experience at a store
So, how can you speed up the process build strong relationships by adding human touch without letting users know they're talking to a bot?
The answer is Conversational AI.
Conversational messaging in retail makes the user journey interactive and engaging for customers. Customers can get answers to their queries about a product, place orders, give feedback, raise issues, and do more using a smart chatbot. The best part is, it never feels like a bot talking to them; it feels like a human.
Conversational Messaging At Retail Entry Points
Online fashion retailers can transform their shopping experience by integrating Conversational AI. Conversational AI helps patrons go through shopping journeys conversationally and interactively.
A conversational chatbot is a salesman for your online customers. The major drawback of regular chatbots is no personal touch in their conversation. It's not even a conversation most of the time. An AI messaging bot makes the shopping experience engaging by helping customers browse catalogues, place orders, track them and give feedback without hassle. Customers don't have to call anyone to get their questions answered. They have a friendly chatbot.
Conversational commerce could provide a satisfying shopping experience to customers even during the pandemic. Your retail business can boost customer satisfaction by providing users with a delightful and contactless shopping experience. You can now improve your store's reach and engagement by offering a secure and end-to-end encrypted shopping experience via WhatsApp with Gupshup—a conversational messaging API.
Gupshup is safe for noth businesses and customers. This API is complies with information security principles and your enterprise data is secure with Gupshup.
Here's how retail businesses can overcome major entry point problems with Gupshup's conversational solutions.
Offering support and help at the entry points to customers
Integrating intelligent support chatbot to handle customer inquiries without delay
Offering WhatsApp-based support that route to single or multiple human agents
Improving Retail Customer Experience At Entry Points
A good retailer offers great convenience to their customers and engages with them throughout the shopping journey. Customers want their shopping experience to be easy at every step—from when they inquire about a product till it reaches their doorstep.
But for startups or a growing retail business, it can be challenging to connect with each customer and maintain a smooth customer experience in the long run. However, Gupshup makes this process quite easy. This smart API smoothens the shopping experience for customers by understanding their needs and generating data in human-like dialogues.
AI Multiple 2021 said that approximately 50% of large firms surveyed by Gartner and Accenture plan to invest more in chatbots. Customers like conversational chatbots because of the 24×7 service, fast responses and the personal human-like experience they offer that also improves user experience.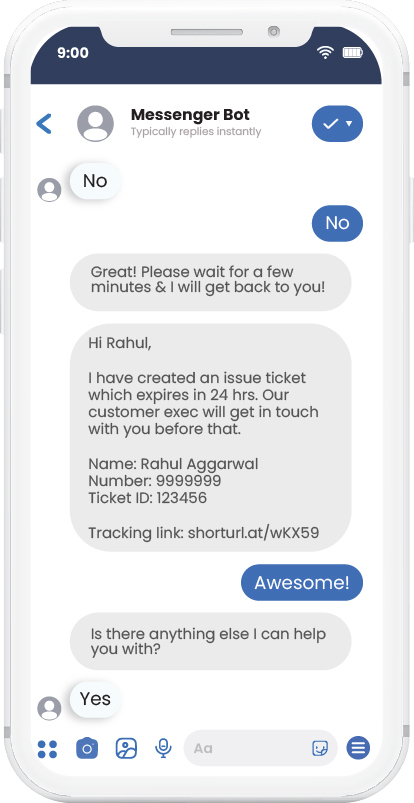 Let's take a deeper look into how you, as a retail business, can benefit from Gupshup.
1. Building an innovative social media profile, feed, and stories
With Gupshup's conversational AI, you can make your business's social profile engaging and innovative. By integrating the chatbot with your social profile, users can connect with your business and enquire about a product they like.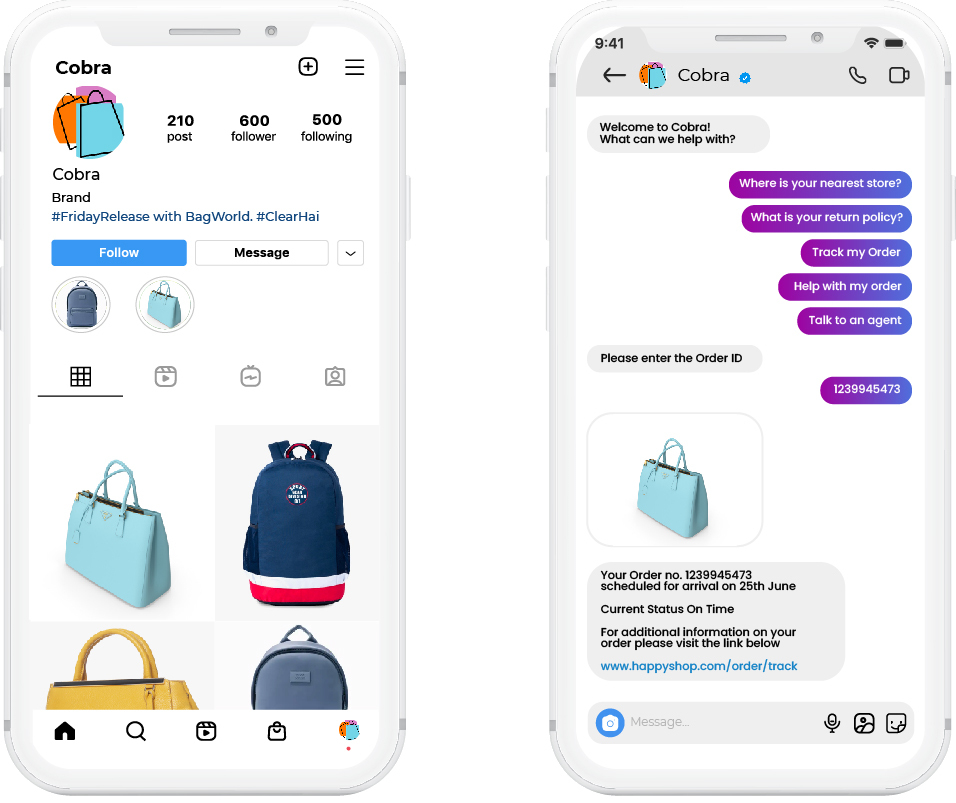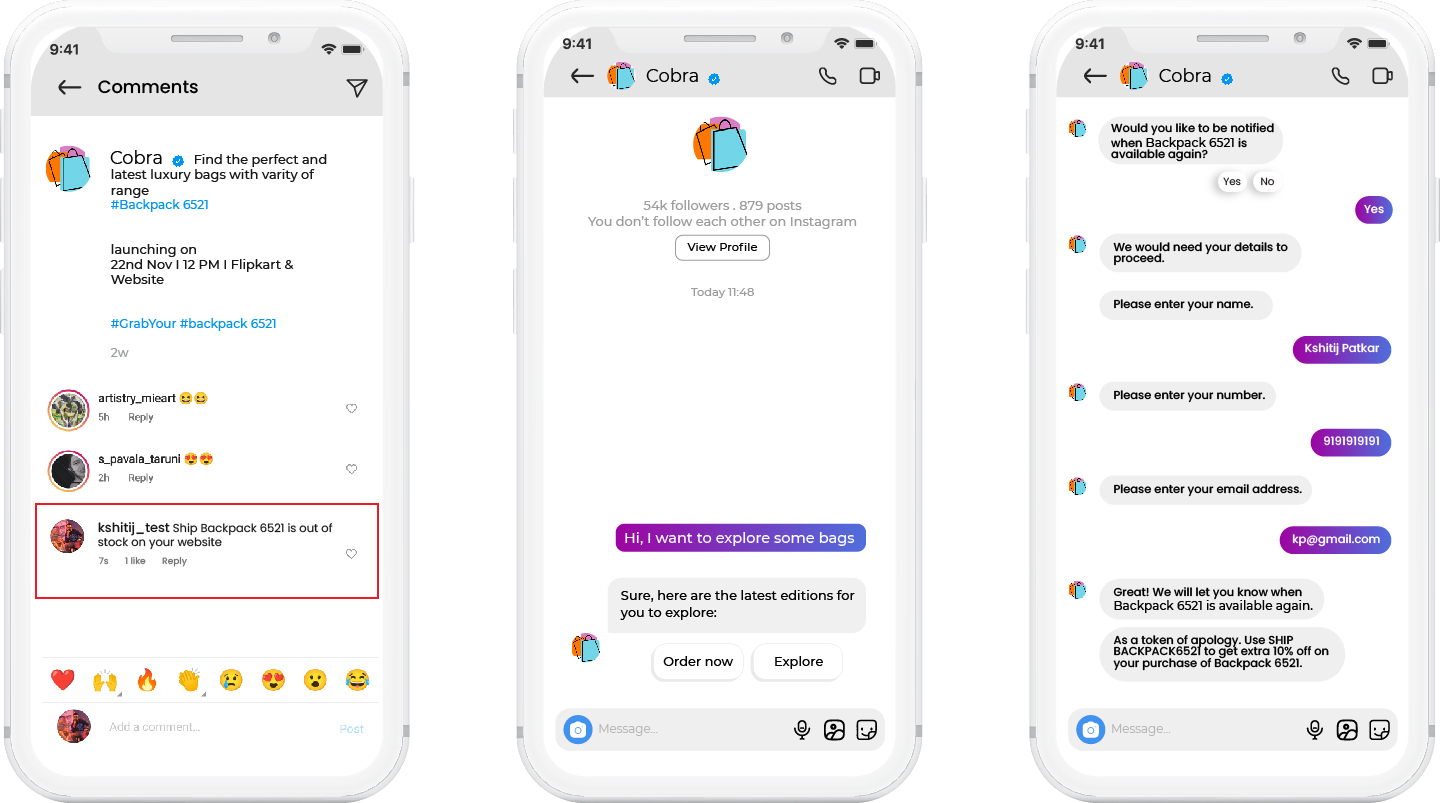 When users interact with your profile by swiping up on stories, clicking on the message button, or posting a comment, the Gupshup chatbot will respond and help prospective customers get their queries answered. It can also help them add items to the cart and make payments without hassles, ensuring a smooth shopping experience.
2. Secure shopping experience with WhatsApp Commerce
You can help your store gain traction by taking advantage of WhatsApp. Enhance the WhatsApp shopping experience for customers by creating a conversational and hassle-free WhatsApp user journey with Gupshup.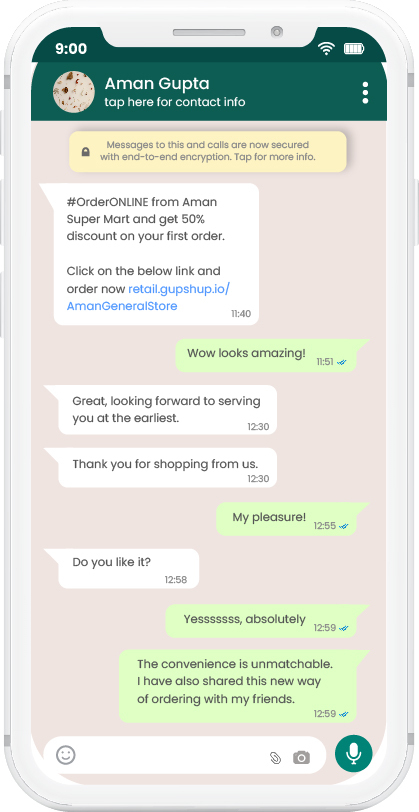 Do you see how casual and chatty the conversation was between Gupshup and the customer?
A CGS study in 2019 shows that 43% of consumers think that AI chatbots make it easier to solve their issues than human agents. Gupshup's WhatsApp-based commerce can help enhance customer engagement by conversationally sending offers or making recommendations directly with customers. Users can instantly browse product catalogues, place orders, make payments, and give feedback through WhatsApp and Gupshup.
You can recreate an in-store shopping experience for patrons for your online store using the Gupshup API across WhatsApp and other social media channels like Instagram, Telegram, Viber, Messenger, voice-based messaging and more. Schedule a demo with Gupshup and learn how.
3. Enhancing customer engagement with SMS
With Gupshup's SMS-based messaging feature, you can stay in touch with your customers throughout the shopping journey and improve their post-sales experience by offering discounts and limited deals via SMS.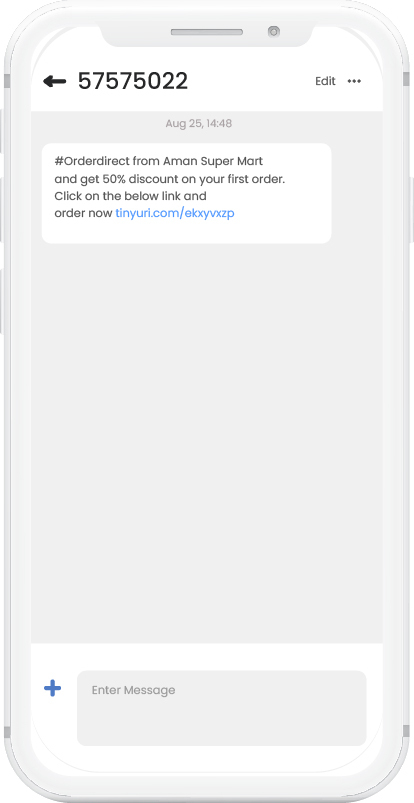 Customers get notified of the latest deals in your store and can even purchase your product by visiting the link in the text message. Once they place an order, they receive a notification about the purchase and a tracking link for the item.
These steps can help customers feel valued and allow them to stay in the know about any new offers you have for them, making the experience of shopping quicker and more convenient.
Conclusion
With Gupshup's chatbot APIs, your retail business can enhance the shopping experience for your patrons from the entry point of the shopping journey. Offering an everyday experience with convenience in shopping boosts user experience and engagement. Retail businesses can incorporate conversational AI messaging chatbots into marketing, commerce, and support processes to serve customers 24×7 anywhere in a highly engaging and human-like manner.
Request a demo today and look for yourselves how Gupshup can be your best friend in boosting customer engagement and enhancing customer experience.
Blogs you will want to share. Delivered to your inbox.
Business Email
×
Read: Google Business Messaging & Conversational AI: The Perfect Match