Gaps in conversations? Conversational AI to the rescue
On September 21, 2021
|
6 Minutes Read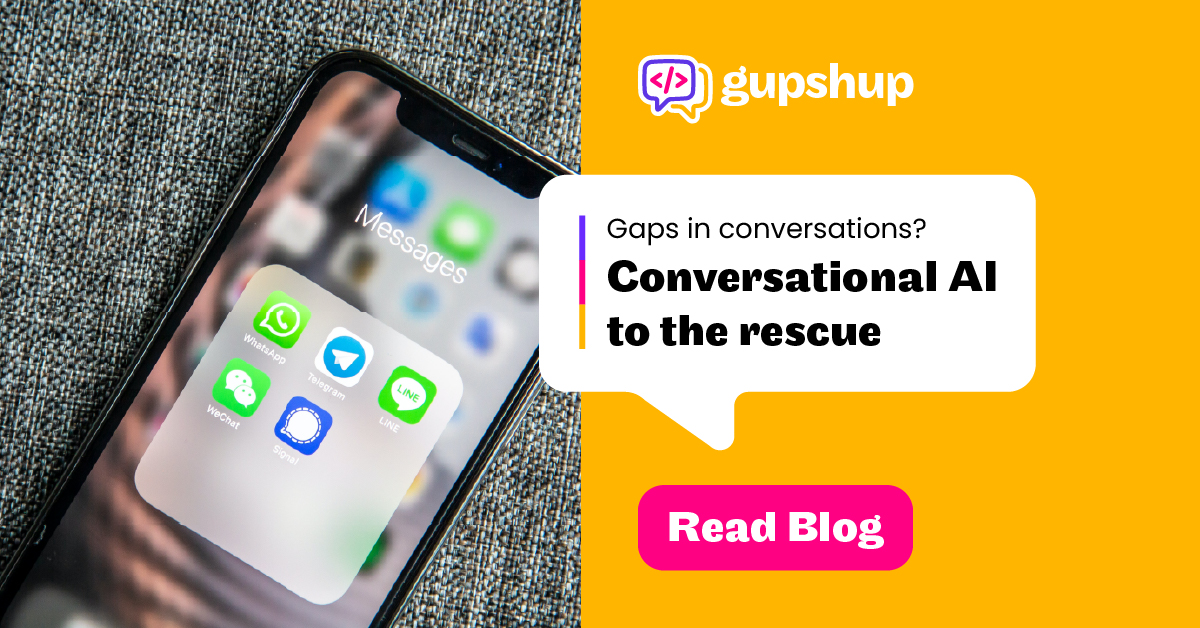 Understanding how consumers make brand decisions and buying choices is a tremendous asset for any company. This is especially important for businesses that want to increase their customer base with low acquisition costs. Conversations lead to results by driving business impact. The data speaks for itself – 33% of consumers would recommend a brand that provides a quick response (Nielsen-McKinsey)
This is because prospects are looking for specific information before making a purchase. More often than not, they do not wait to get their questions answered. Immediacy becomes not just merit but a necessity. With decreasing attention span of consumers and increasing expectations from brands, consumers tend to make the most of the stiff competition in the market and do not hesitate to shift preferences. Brands lose both visitors and existing customers when conversations are not built and nurtured carefully.
The Gap Between the Brand and the Consumer – What, Why and How
And thus comes another critical issue – the conversational gap. It occurs when the brand promotes its product and service unassumingly without understanding the needs and wants of the target consumer. It takes place when digital marketing becomes all about the brand and not the customer.
What is the conversational gap: Difference between customer expectations and customer perceptions.
Why does it happen: Lack of touchpoints, clarifications
How to bridge it: Solve it with conversational messaging, powered by AI-led tools for a better connection and customer experience
The Covid-19 pandemic has ensured that every conceivable consumer's priorities and purchase behavior have been influenced one way or another. What was considered essential back then is now being put in the backseat. Consumers have placed health and increased digital adoption as their priority. Conscious shopping, local buying, and homebody economy have taken over.
Brands need to change how they understand and connect with consumers radically to ensure that they are on the same page. Without this connection, the conversational gap is only bound to increase in a directly proportional manner.
Impact of the Conversational Gap on Brands
The consequence of the conversational gap lays heavy on brands. The B2C ecosystem is much more complex today as knowledgeable customers dictate the experience. Brands need to embrace a customer-first approach, and this cannot work if brands do not appreciate and acknowledge the consumer's needs, wants, and desires. The presence of this conversational gap pushes the consumer away from the brand and creates a negative online reputation about the brand itself.
The impact 
Reduced brand access to the consumers and target audience
Increased gap between what the customers want and what the brand can provide
Poor customer experience
Higher dissatisfaction
Decreasing customer base
Falling revenue
Higher cost of customer acquisition
Enhancing Touchpoints to Bridge the Gap
Businesses are slowly applying innovative technology to achieve a customer-first approach. But then again, it is not about approaching the target audience at every possible junction and spamming them with marketing collateral. It is about engaging them and converting them into loyal customers.
Here is an interesting statistic that elaborates on the above point.
While seven out of ten businesses believe they communicate effectively via Facebook Messenger and Facebook Stories, just 20% of their customers agree.
(Source: https://www.marketingweek.com/messaging-brands-customers/)
Random acts of digital communication and unsolicited calls would only increase the friction between the brand and the consumer. Replacing 'selling' with 'conversations' is the recipe for success. This is because conversations are very contextual. And they take place only when the prospective buyer shows interest in participating in a dialogue. And it will take place at its own time and pace. Buyer enablement is the first step. Revenue acceleration and customer success will automatically follow.
The above paragraph has defined what goes into a carefully planned interaction between a brand and the customer. This is what is known as conversational marketing. When a value is derived from these conversations, brands can bridge the conversational gap. But then, it is not possible to assign an assistant or a relationship manager to every visitor that messages a brand. That is neither humanly possible nor would it be a scalable model. Thus, conversational AI was born.
Conversational Messaging with Artificial Intelligence
Conversational messaging that is led by AI-powered chatbots have been the game-changer in the customer engagement dimension. Before a visitor on your website becomes a customer, they expect a positive experience from the conversation. They look for quick answers from the expert. It does not matter if the answers come from humans or machines. Clarification of the doubt is what would convert a prospect to a customer. As brands, it is essential to offer friendly, knowledgeable responses within a short period as you converse with your buyers. You need to drive qualified conversations at the right time and right place with the right people for a buyer-centric experience. An intelligent AI-powered chatbot enables a smooth and effective conversational messaging platform.
Gupshup – Engage Better Through Conversational AI
Gupshup helps you connect with the customer on their preferred platform and allows you to derive value from that conversation. This provides a delightful experience on the whole and enables you to bridge the gap between what you offer and what the customer wants.
Conversational messaging, powered by conversational AI, is the new customer engagement paradigm that brings businesses and customers closer by enabling human-like conversations on commerce, marketing, and sales, on messaging channels that customers are already comfortable with. Conversational AI solves the problem of engaging meaningfully with customers in real-time.
Brand conversations are the total of the models by which you communicate with your visitors, clients, and prospective target customers. Build engaging conversational experiences with –
Benefits of integrating Conversational AI on your platform with Gupshup –
Higher conversion rates
Lower cost of acquisition of customers
Higher ROI
Superior customer care
Optimal data collection
Chatbots are the key to ensuring availability, optimum customer care, and alleviation. Ensure human-like interactions with automated messages and intelligent communication. Gupshup helps you decide the tone of the language, context, and solutions you want to bring to the conversation. Retain your branding and ensure a smooth customer experience while handing over the first point of contact to Artificial Intelligence.
Make the perfect first impression and retain exquisite customer care for increased customer retention and enhanced consumer journey. Get started today!
Blogs you will want to share. Delivered to your inbox.
Business Email
×
Read: Conversational AI can transform your restaurant business