3 Ways Connected Packaging Is Changing The FMCG Industry
On April 11, 2022
|
5 Minutes Read
Conversational AI
Conversational Engagement
CPG & FMCG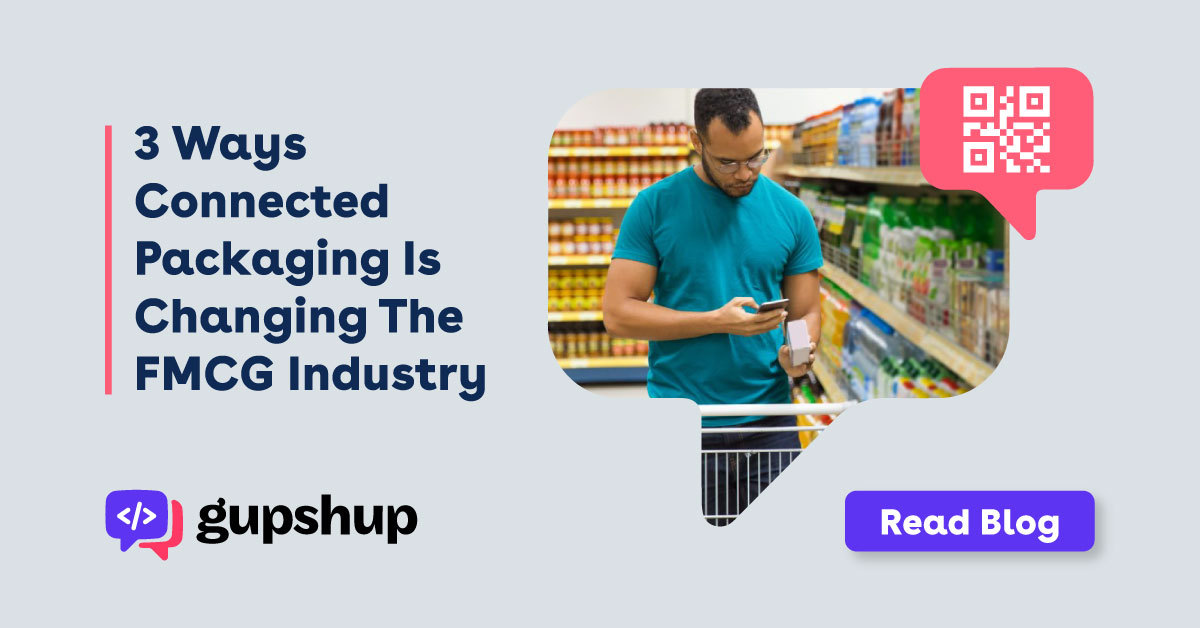 Connected packaging, an embedded technology that turns a product label into a brand's dynamic media channel, could usher in a new era for consumer products. Keeping in mind all the movements that point to connected packaging as the next big breakthrough in marketing, consumer product brands can begin to identify their specific engagement opportunities.
Speaking of perceived value, there are a number of ways brands can increase or change their position in the market leveraging innovative packaging design. Perceived value can also be influenced by the functionality and overall appeal of consumer product packaging design; beautifully designed packaging can increase sales, and promote positive word of mouth advertising.
The main trends in the FMCG industry aimed at changing customer behavior are related to sustainable product development and packaging solutions, improving the customer experience and the adoption of digital technologies. Consumer Packed Goods (CMG) brands are adapting product design, manufacturing and packaging to meet consumer demand for sustainable processes and greater convenience. Among other things, the development, production and packaging of sustainable products using artificial intelligence, blockchain and advanced analytics, as well as opportunities to increase customer engagement, experience and satisfaction, will change the FMCG industry.
It's more important than ever that consumer goods companies meet customers anytime, anywhere, when and how they want. As consumers shop online and data becomes more accessible, brands are exploring new ways to improve relationships with their customers and gain insight into their behavior.
The Trends Are Changing In The FMCG Industry
Data on buying habits, trends and customer preferences will help you develop successful strategies for your current product lines and new product launches. By understanding the complex and intersecting motivations of people, companies can begin to think about how consumers feel about brands today and how they would like to change perceptions and behaviors. A marketer with the right data on various consumer groups can develop separate and customized conversational marketing programs for each group. Consumers will seek to interact with brands and purchase products easily and cost-effectively through new digital channels and touchpoints.
1. Build Brand Loyalty
Packaging helps build consumer brand loyalty as easily identifiable brands attract attention with their colors, symbols or packaging type. Consumer goods brands are increasingly using a solution to better control their relationship with consumers: connected packaging, which allows shoppers to interact with products by pointing their smartphones at codes printed on the packaging. With this solution, consumer goods brands have increased customer engagement, even in categories typically seen as low activity, such as cleaning and laundry products. This connects brands with consumers and ensures continued support and engagement with the product.
2. Connect With Customers
In the current digital age, e-commerce and loyalty programs offer consumer goods brands the opportunity to connect more closely with consumers. By connecting with consumers through a loyalty program powered by a trusted, intelligent AI platform, brands can communicate with consumers through the right channels at the right time. Retail and consumer goods brands can use vast amounts of data to run marketing programs, create personalized shopping experiences, and strengthen relationships with shoppers.
3. Better Understanding Of Needs Of Customers
Due to competition, the FMCG and retail sectors will prioritize niche customer development and micro-targeting, while conversational AI will play a vital role in strategizing for FMCG companies. Companies using conversational AI in retail and FMCG are facilitating product discovery and offering products that understand the needs of their customers. A growing number of consumer goods companies (CPGs) are using conversational artificial intelligence (AI) in their operations to make it easier to manufacture, distribute and consume products.
Retail and consumer brands need to invest in tools that help them bring data from multiple sources together in one central location. CPG companies are well positioned to use powerful technology tools to adapt to the changing demands of their customers. AI-based solutions will help FMCG companies better understand the needs of their target customers.
The Final Takeaway
Reckitts' foray into net packaging is helping the company build relationships with consumers and forge connections that it can use to further influence consumer behavior. Connected packaging is highly effective and targets consumers who buy a product and choose to engage. Done right, this is a potential equalizer in the battle between CPG and DTC (digitally savvy) brands, redefining the role CPG plays in the lives of its consumers. While some brands are using connected packaging to drive traffic to their e-commerce platforms, others are using consumer connectivity to direct product redemptions to local or regional retail or e-commerce partners.
Because brands often have control over product packaging and labeling, interactive codes (often QR codes used in conjunction with cloud-based product platforms for experience management and data collection) create a proprietary link between brands and consumers. This enables brands to collect data directly from consumers and influence and initiate transactions. The technology creates a solution for food safety and consumer confidence in the cold chain, where consumers can directly access and share information in smart codes on packaging with brand owners.
Keeping track of changing consumer preferences in the vast data warehouses of POS terminals has resulted in consumer product brands gaining great benefits. How brands deliver their products – and the customer experience of that delivery – is now a top concern for marketers.
Build a direct relationship with your consumers with Conversational Messaging. Initiate a conversation with us to know more about Gupshup for CPG & FMCG. #LetsGupshup
Blogs you will want to share. Delivered to your inbox.
Business Email
×
Read: Instagram Bots – How Can They Help You Improve CX