Start real-time conversations with customers via Conversational Marketing
On July 27, 2021
|
5 Minutes Read
Chatbots
Conversational Marketing
Generic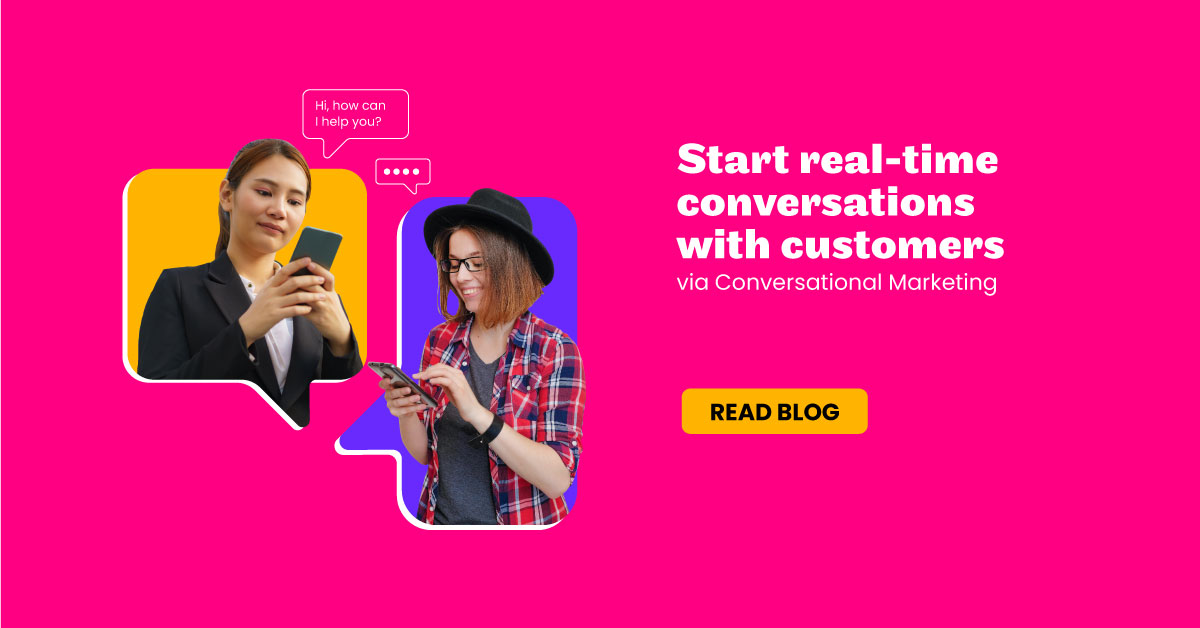 Messaging is the most preferred way of communication today, and for good reason too. It's fast, easy and is more conversational in nature. For all these reasons and more, consumers are now preferring to communicate with businesses and their favorite brands via texting or messaging. Brands and businesses can make a choice today to cater to customers' needs and take them through the marketing funnel through a series of personalized conversational experiences. It's time to make your business feel personal again.
What is Conversational Marketing?
Conversational marketing helps businesses build relationships with customers by creating a series of personalized conversational experiences. These could be across physical and digital platforms. However, mass personalization is no longer the goal. Marketers want to have one-on-one conversations with their customers through the Awareness-Interest-Decision-Action (B2C) sequence to learn what they are looking for, and develop a stronger, long-term relationship with them. Hence, the importance of conversational marketing in a customer journey cannot be emphasized enough.
The framework to follow while implementing a conversational marketing strategy can be broken down to 3 steps:
Engagement of the customer – generating and capturing leads via personalised chats
Understanding customer requirements – analyze the leads collected and nurture them by dissecting the information collected
Recommendations to be made – making the right next move / suggestions to lead the customer through your sales funnel
Gupshup's Conversational Marketing Solution
Gupshup can take any digital or physical entry point to make it a conversation starter. This could be done with QR codes or URLs. Some examples being:
Place your scannable QR code on a website, store front, billboard, product package or digital ad.
Scanning a QR code can lead the user to a signup page or any relevant landing page or the company's website.
Once on these pages, a marketing chatbot will pop up to assist the customer further.
Starting with any entry point, you can maximise the benefits of conversational marketing to help in lead generation, lead nurturing and lead conversion in a frictionless manner.
Role of chatbots
With AI-powered branded bots you can take your customers through a personalized journey. With Gupshup's Conversational Messaging, these bots can be deployed on any messaging app that your customer is on already.
Messaging-based marketing
We have a plethora of marketing tools for different types of businesses. For example, if you have a smaller customer database, our P2P messaging-based marketing solution offers an end-to-end business marketing tool to interact with your customers on their messaging app.
You can send reminders, alerts, notifications, offers, promos and keep your audience engaged. All you need to do is download the tool to your phone, register your mobile number(s) to send P2P messages, import your list of contacts, segment them into different lists, design messaging workflows, choose your messaging channel for the list and send the message. It's that simple!
If your business caters to a larger customer database, use our A2P messaging-based marketing solutions. Our enterprise messaging product portfolio includes following methods of reach-outs:
IP messaging
You can push messages through the following channels to your customers for far reaching impacts of your campaigns:

WhatsApp Notifications
Web Chat Widget
Facebook Messenger
Telegram

Emails
Send out emails for stages of sales:

Transactional Emails
Promotional Emails

Global SMS
With the power of SMS , get benefited with the following:

Transactional Messaging and 2-Way Messaging
Long Code, Short Code
Two-Factor Authentication
Open, Multi-channel Middleware
Promotional Messaging
Cross-Promotion Campaigns
Link Tracking

Voice
Leverage the power of voice messaging with:

Missed Calls
Interactive Voice Response (IVR)
Outbound Dialing (OBD)
Two-Factor Authentication
Missed Call Verification
Click To Call
Number Masking
Toll Free Numbers
Outdoor media
If you are into running regular advertising campaigns, think about leveraging outdoor media networks such as billboards, hoardings, carousels, kiosks and other physical display elements. We have got your back. Position our QR-code enabled chatbots that can convert any physical surface into a conversational interface.
Enable QR code scanning, generate leads, offer deals and promotional discounts, enable app downloads, get customers onboarded quickly, upsell or cross-sell products, offer store navigation to drive in more footfall to the physical store, etc. Gupshup also helps simplify your processes by integrating with leading CRM, ORM, social media and marketing automation systems.
Summarizing the benefits of integrating with Gupshups Conversational Marketing model
Create a powerful entry point for your brand by making customer conversations personalized.
Understand better what a customer is looking for and how they ended up on your website / social media accounts
Create and document leads with authentic key information like phone numbers and email addresses
Measure the conversions and make sure the leads reach the final stage of the brand funnel
Analyse lead captures and accurately measure ratio of visitors (website visitors or ad clicks as applicable) to pursue further
Measure the average improvement among all campaigns over the benchmark campaign
Track customer engagements as well as average engagement rate (read / click / reply rate as applicable on every bulk message sent) on all messages.
Overall, with a sound conversational marketing strategy with Gupshup's solutions in place, as a business, you can increase your sales pipeline, as well as shorten your sales cycle.
Conclusion
Create personalized experiences for your customers via our Conversational Marketing solution. Our solution caters to everyone's needs, from an enterprise CMO to a D2C business owner.  If you have a consumer-focused business, we have the solution for you on how to engage your customers conversationally and drive your marketing and sales campaigns.
Implement your conversational marketing journey with Gupshup today.
Blogs you will want to share. Delivered to your inbox.
Business Email
×
Read: Conversational AI is transforming the Fintech industry