Conversational Commerce is changing the retail shopping experience
On May 26, 2021
|
3 Minutes Read
Conversational Commerce
Retail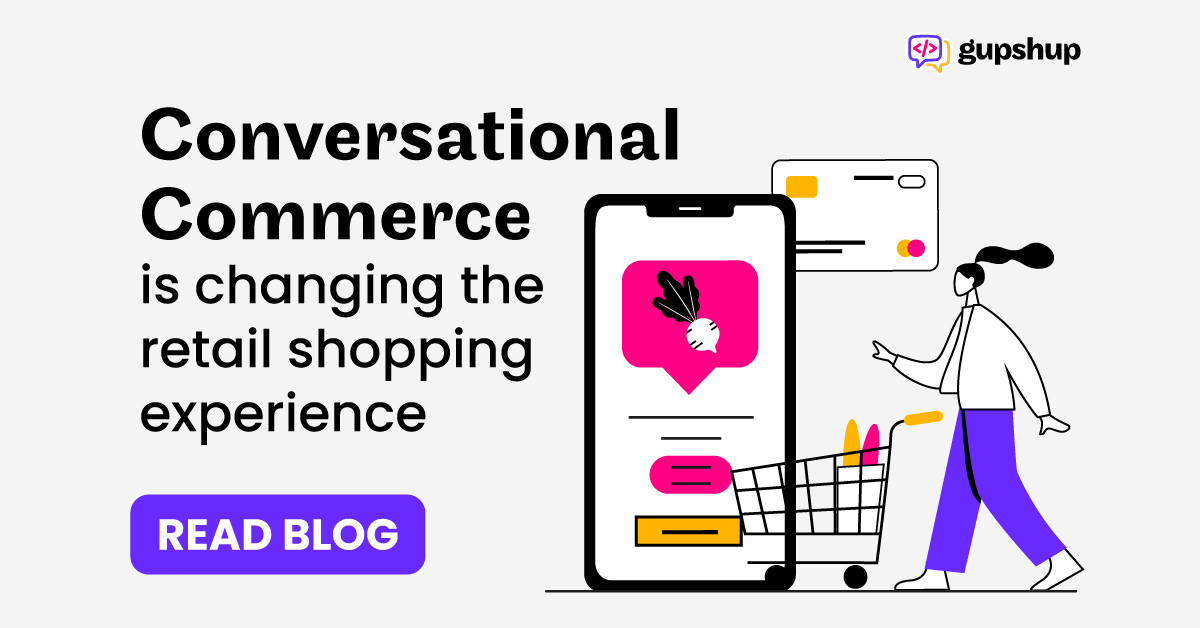 The summers are here and that means a few things. The weather is warm, and famous brands are offering a lot of discounts on their new line of summer wear! But instead of stepping into stores, more and more people are heading towards retail apps for their shopping needs. The world of shopping has seen a marginal shift to the digitized platform and the pandemic has further added to the cause.
Online shopping has evolved significantly over the years – first with the Internet, then mobile apps and now with the rise of conversational AI technology in retail and e-commerce.
Customers' expectations of how they should be able to interact with retailers has changed significantly over the last few years. Speed and convenience are driving the consumer agenda today, when it comes to shopping.
What is Conversational Commerce?
Going by the definition found on Wikipedia, Conversational commerce is e-commerce done via various means of conversation and using technology such as: speech recognition, speaker recognition, natural language processing and artificial intelligence. However, the term gained popularity in 2015 when an article written by Chris Messina, an American blogger and the inventor of the hashtag, became popular. Chris drew immense attention in his article towards the trend of selling products and services through messaging apps.
Conversation commerce in the retail space is a perfect mix of human brand specialists with artificial intelligence (AI) chatbots, to deliver a personalized shopping experience for consumers on the retailers' online stores and social media platforms. Conversational commerce helps brands use interactive media to communicate with customers. This isn't restricted to just customer service; conversational commerce also aids retailers in generating sales.
Platforms such as messaging apps (WhatsApp, Facebook messenger, etc), chatbots, etc work with customers' needs and provide them with a seamless, on-demand shopping interface. Customers can engage with sales or support associates (both live and virtual), have their questions answered, preview items, and complete the transaction – all in one application.
How Does Conversational Commerce Work?
A retailer's online store or app attracts probable customers who are looking to shop for a certain product. Once they are on the app, they will be prompted to connect with a personal shopper to aid in their search or purchase. The shopper can converse with a chatbot, which is capable of providing information on products such as size, color and price. Conversational commerce further enhances the messaging experience by swapping in a real person to provide recommendations when the chatbot is faced with a more open-ended or subjective question
Retailers can use chatbots to send upcoming trend alerts and casual notifications to customers and promote products in real-time. Customers can better monitor and keep track of their appointments, purchases as well as shipped orders by simply chatting with a bot and learning the status of a purchase quickly. Retail bots can also help in delivering highly targeted seasonal offers and to update customers regularly on current and upcoming holiday promotions.
The Impact on Retail Industry
Conversational commerce has helped retailers in converting more shoppers into buyers. This in turn helps build brand loyalty by measuring customer responses to products in real time. As the technology involved in conversational commerce evolves, there will be improvement in consumer experience and benefits to the retailer.
As can be seen from the recent trends, more and more people are moving away from traditional in-store shopping. The future of the retail industry depends on how closely they mirror the customers' online shopping experience with that of an in-store process, with the help of conversational commerce.
Blogs you will want to share. Delivered to your inbox.
Business Email
×
Read: Conversational Messaging improves Customer Support Experience