Conversational Messaging improves Customer Support Experience
On May 28, 2021
|
3 Minutes Read
Conversational Engagement
Conversational Support
Generic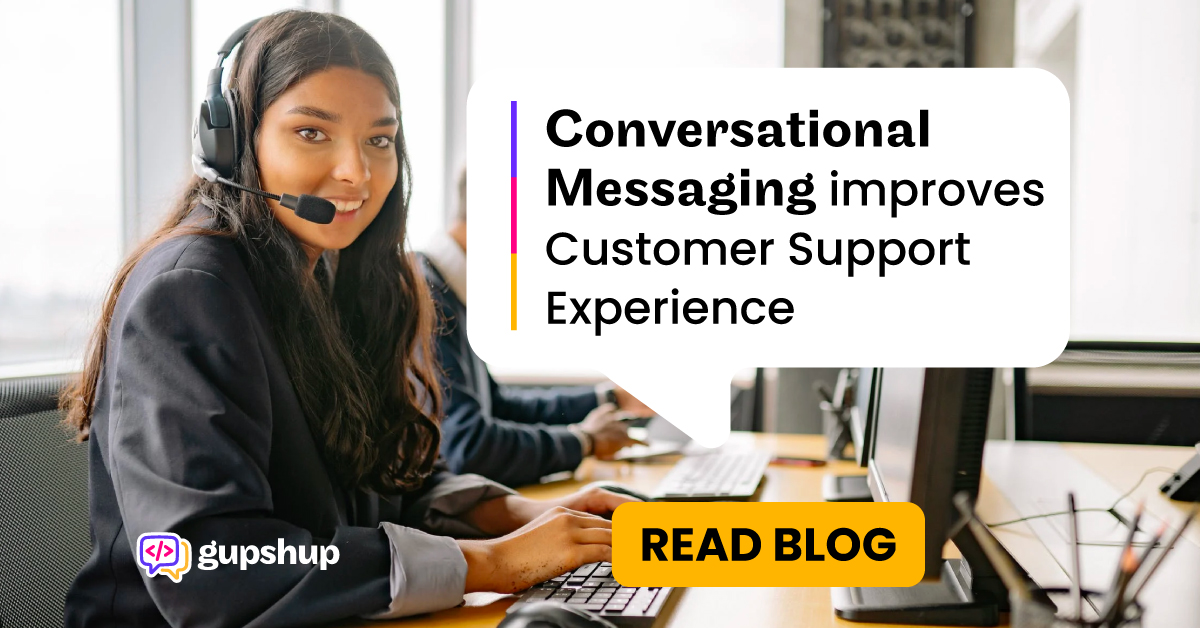 Providing great customer experience (CX) is the most important goal for companies today, whether it's through support, pre-sales or post sales service. Conventionally, businesses tend to tackle customer support requirements by deploying specific channels for certain scenarios; voice or phone support (for pre-purchase support), emails (for post-purchase support), etc. But these are definitely not conventional times. Call centres are blocked with customer requests, hold times for calls have increased beyond minutes, turnaround responses for customer emails have become irregular and to top it all, businesses have had to reduce supply of support agents in this pandemic. Yet, customer queries continue to rise.
It's now obvious why businesses prioritize customer experience above all else as part of business growth. With the help of conversational messaging, different sectors like banking, telecommunications, e-commerce, etc are exploring new ways in which to reduce the biggest pain points in customer service and to improve their customer engagement further.
3 ways conversational messaging can improve customer support
Multi-lingual bots for better engagement – Customers prefer to engage with bots that can communicate in their preferred language. Bots with multilingual capability can switch languages based on the user's inputs. Chatbots can be integrated to multiple channels like WhatsApp, FB messenger, Slack, etc to enable conversational texting with customers in real-time.
Enhanced CX via two-way messaging – Customers can get personalized support, get recommendations as per preference, read reviews, initiate purchase, make payments, get after-sales queries solved, get diverted to relevant app download pages – all from within the messaging apps. Smart messaging aids customer experience during the entire customer journey, right from sales to after-sales service to re-purchase and support.
NLP built bots for personalized support – Bots built with NLP (Natural Language Processing) can understand customer queries fairly better. It makes customer conversations with chatbots more human and personal. Furthermore, AI-powered bots provide human agents with information they need to help create a personalized experience for the customers.
Engage customers on THEIR channels with Gupshup
Customer service and support are increasingly moving online. With the many benefits attached to implementing conversational messaging, businesses are finding it important to engage customers on the platform they are comfortable with most. Learn how Gupshup can help you create bots that aid in creating a better customer support tool. Gupshup's single API enables seamless customer engagement across 30+ channels, which makes it easier for your customers to interact with you directly via Facebook Messenger, WhatsApp, direct SMS text, and more.
Blogs you will want to share. Delivered to your inbox.
Business Email
×
Read: Conversational Messaging provides you with a competitive advantage