Conversational Marketing Takes Brands Closer To Customers
On September 23, 2021
|
4 Minutes Read
Conversational Marketing
Generic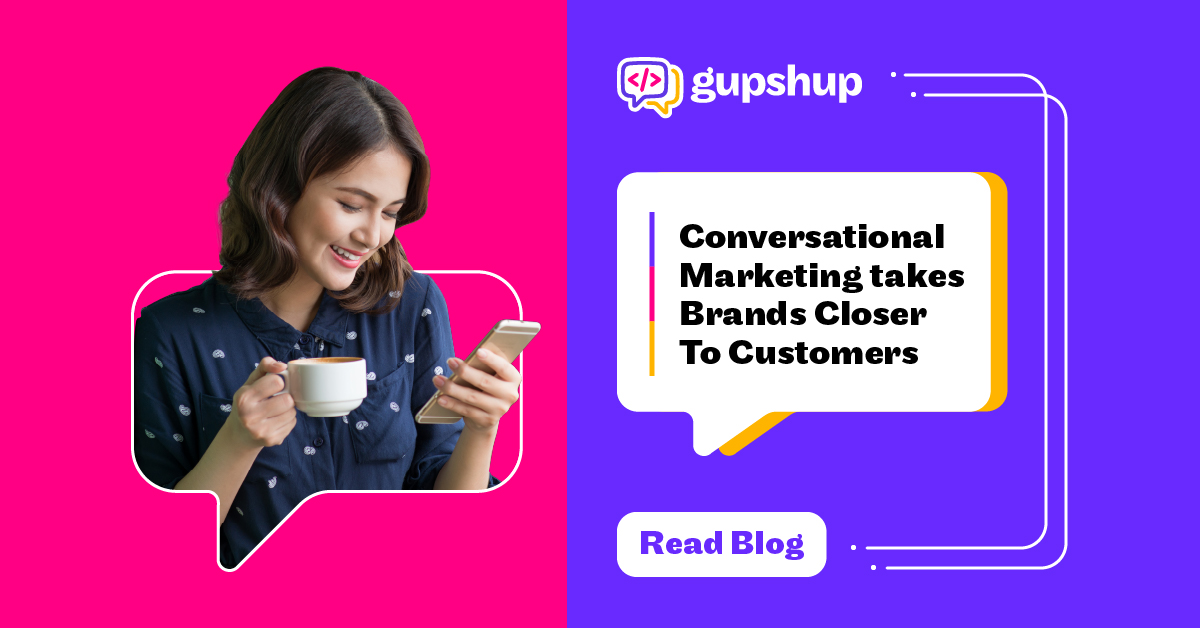 Conveying your brand message to your target audience or consumer base is not an easy task. There have been numerous ways invented and discovered by marketing agencies to reach out to customers. Even then, brands come across many challenges in marketing their products/services. Marketing, too, has evolved and developed with new technology. Email marketing, social media marketing, and brand placements have become quite common. Apart from these tried and tested ways, there are many ways like conversational marketing which can be used to reach out to your customers.
Starting with any entry point, you can maximise the benefits of conversational marketing to help in lead generation, lead nurturing and lead conversion in a frictionless manner. Gupshup CEO Beerud Sheth and VP of Marketing Srinivas Vijayaraghavan broke down the process of how incorporating conversational marketing in marketing strategy can be beneficial. Listen to their conversation at length here.
What is Conversational Marketing? How is it Different from Offline Marketing?
Conversational marketing aims at engaging customers by way of conversations. Conversational marketing remains close to other digital marketing strategies as you need a digital interface to interact with customers and conversational AI to power it. In simple words, conversational marketing creates a sense of specificity and personalization for the consumer. By creating this personalized consumer experience, brands are more likely to hit their targets, generate sales, and rake in profits.
Building the Connection with the Audience Through Conversational Marketing
If employed in the right way, conversational marketing helps brands communicate with their customers interpersonally by replicating the human-to-human interaction. Consumers no longer interact with a faceless brand even when they are fully aware that they are interacting with an AI-powered chatbot. It has created a difference as it was tough for brands to reach out to their target audience and engage them in the traditional marketing methods. Things are changing, and how.
With conversational marketing, consumers can not only interact but also clear their queries by asking questions about products and services. They can register complaints and initiate return requests quickly in almost no time. Brands are entertaining questions and queries before selling their products and this has created a significant difference for shoppers. It has helped build a network of trust between the brand and the consumer.
No More Sacrificing Consumer Trust
When we look at the traditional forms of marketing, we see that only certain sections of the consumer group were allowed to get in touch with the brands. These were the ones who had paid subscriptions or VIP subscriptions. Due to this fact, interacting with the entire consumer base was not possible for a brand.
Now with the help of conversational marketing, brands have been able to deal with this problem. All it requires is a one-time investment and time-to-time supervision. They no longer have to sacrifice consumer trust because of lack of resources. Once you have connected with your customer, you as a brand can find entry points to have more enhanced conversations and engage them better.
Development with Personal Assistance
With the help of conversational marketing, brands have replicated the entire idea of personal assistance. It provides a VIP or a luxury experience for all their customers and creates a trustworthy and direct relationship. From years of research and trials, marketing experts have tried to reach out to every potential consumer via their marketing strategies. Conversational marketing is the peak of marketing development today because it helps achieve what marketers have been trying to do with different methods.
Conversational marketing is basically speaking to every consumer individually, carving out a personalized experience, and adding them into a network of trust and mutual benefit. Brands have been quick to ride on the evolving technological advancements and reap all the help they could. Consumers and brands should realize the impact, importance, and changes that conversational marketing can bring.
Ready to bring in conversations into your business? Gupshup enables better customer engagement through conversational messaging. Gupshup is the leading conversational messaging platform, powering over 6 billion messages per month. Across verticals, thousands of large and small businesses in emerging markets use Gupshup to build conversational experiences across marketing, sales and support. Get in touch with our team and put into place a sound conversational marketing strategy for your brand.
Blogs you will want to share. Delivered to your inbox.
Business Email
×
Read: Conversational Technology In Customer Support